Gravel riding, componentry and rider needs have been evolving at a blistering pace since we first introduced the Routt in 2014.  We are lucky enough to have front row seats to watch our  bikes and riders being pushed to the limit from DK200, to Crusher in the Tushar, to your favorite local routes across the world.  We have had an extra long winter here in Steamboat Springs to stew on the trends and move those conversations and ideas into evolution of our bikes. 
Here's what we know.  Bigger, better and more capable tires are available and that's what our customers are choosing.  We need to be able to accommodate a wider range of target tire sizes per bike without compromising a tight well connected rear end.  As riders venture out on harder, more challenging terrain, add more gear to their bikes and choose bigger tires, gear ratios need to be lower.  Gravel bikes need to handle a bit of single track trail.  We know that you don't want limitations to where you can ride your Routt, and being able to ride a mellow single track trail is a must.  From events like Grinduro, to incorporation of some trail sections on our local SBT GRVL course for 2021, there is a new standard of capability being demanded.  Thus, we needed to address a more stable front end and ability to maneuver tight turns and technical sections at lower speed. 
We've baked in changes to address all of these demands and are updating all 3 models in our Routt gravel family for 2021.  These new bikes are beginning production and can be ordered in the configurations seen on our model pages.  Here's the down and dirty changes that have been made and why.
ROUTT RSL
Tire Size – Everyone wants to talk about tire size first thing in a gravel bike.  So lets start there. The Routt RSL is first up.  It moves to a 45mm maximum tire from a 40mm maximum tire. We all love to go fast and the goldilocks tire size for most fast paced gravel rides and races lands right at 40mm.  So the update will allow you to go up to a 45mm for those extra chunky courses or those bike packing overnighters you might have planned the following weekend.  When we say a 45mm fits, it does more than "just fit"  it clears with room for mud should you take that one turn you might not have.  We were able to keep the chain stays at 43cm for an agile handling bike and great climber. The Routt RSL retains its double butted tube set, 3D printed dropouts and brake mount and comes standard with 3 water bottle locations, fender mounts and multiple choices of Moots finishes.  7 stock sizes and customs are always available. You can check out all the details here:  ROUTT RSL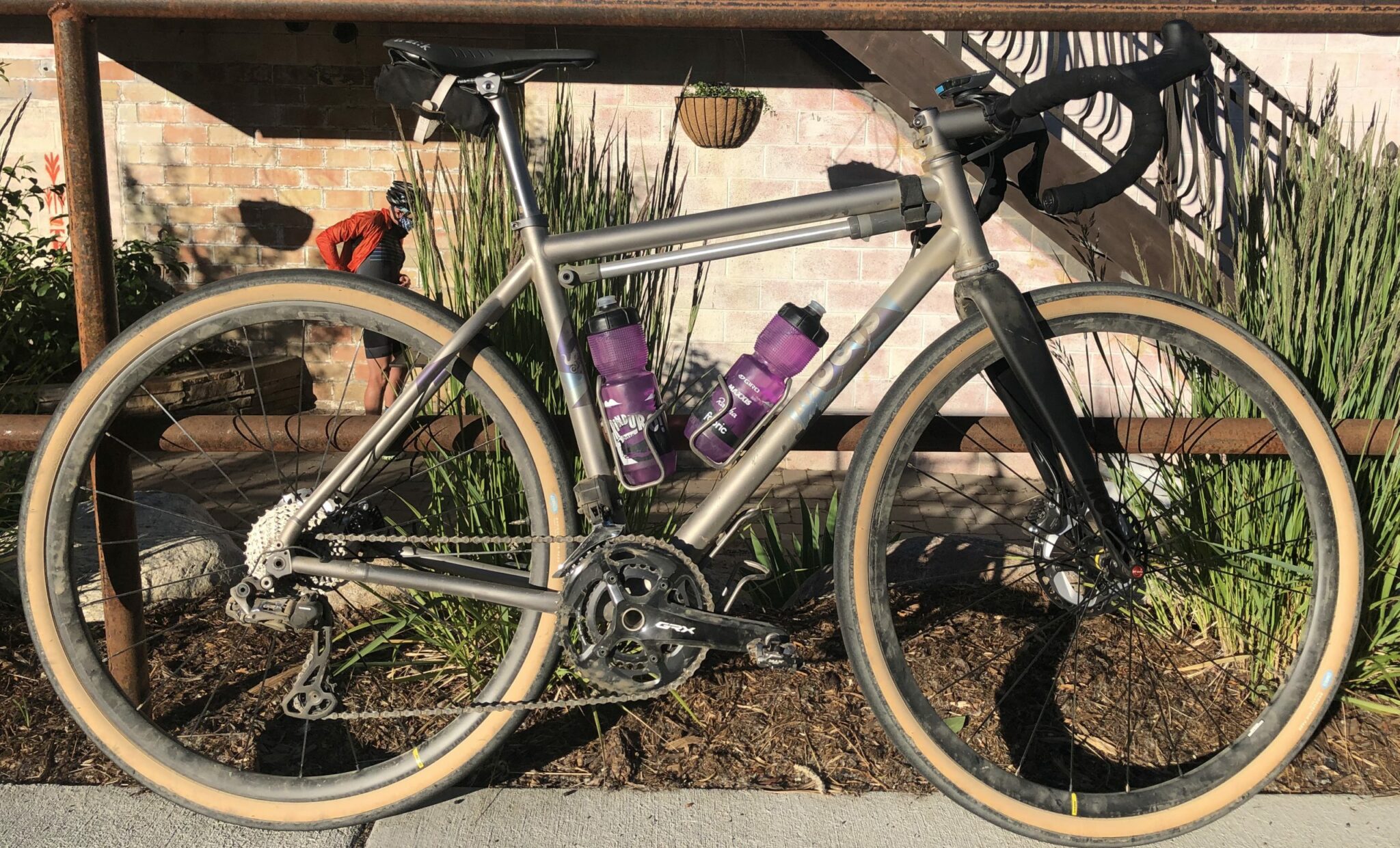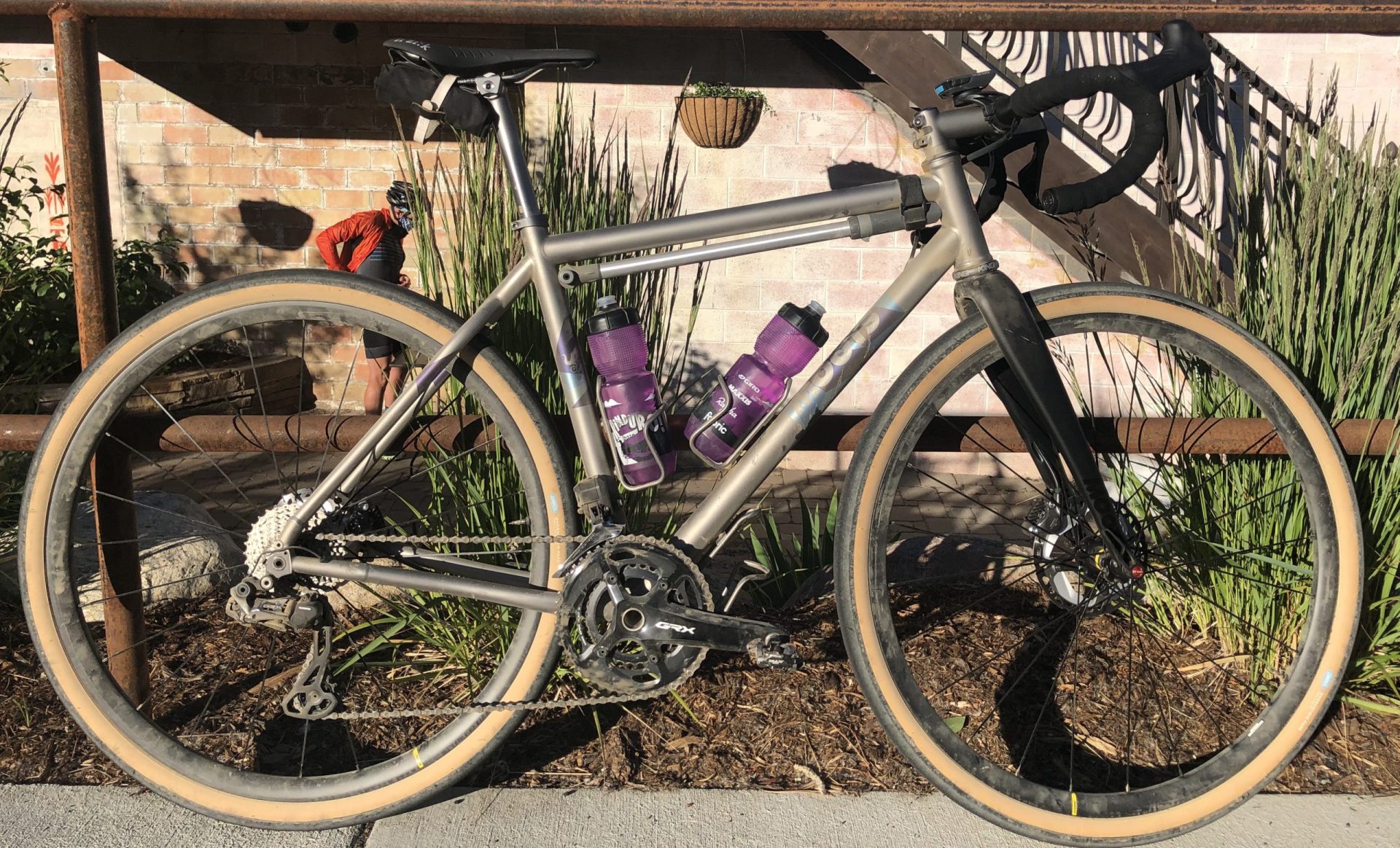 ROUTT RSL with GRX GRAVEL WIDE AND 44mm rubber ready to roll.
Angles, Stems & Bars – The head angle goes a bit slacker to give us a bike that tracks straight on lumpy roads.  It's not a big change from the past geo, just a refinement that we think rides better. It's still very nimble and responds very well to rider input.  As the Routt RSL has traditionally run a longer top tube vs. the Routt 45 and Routt YBB, we want to see it paired with a shorter stem and a wider bar than in the past.  More leverage on the wider bar, more direct with the shorter stem.  All three of these things add to the already sublime ride of the Routt RSL and enhance its capabilities..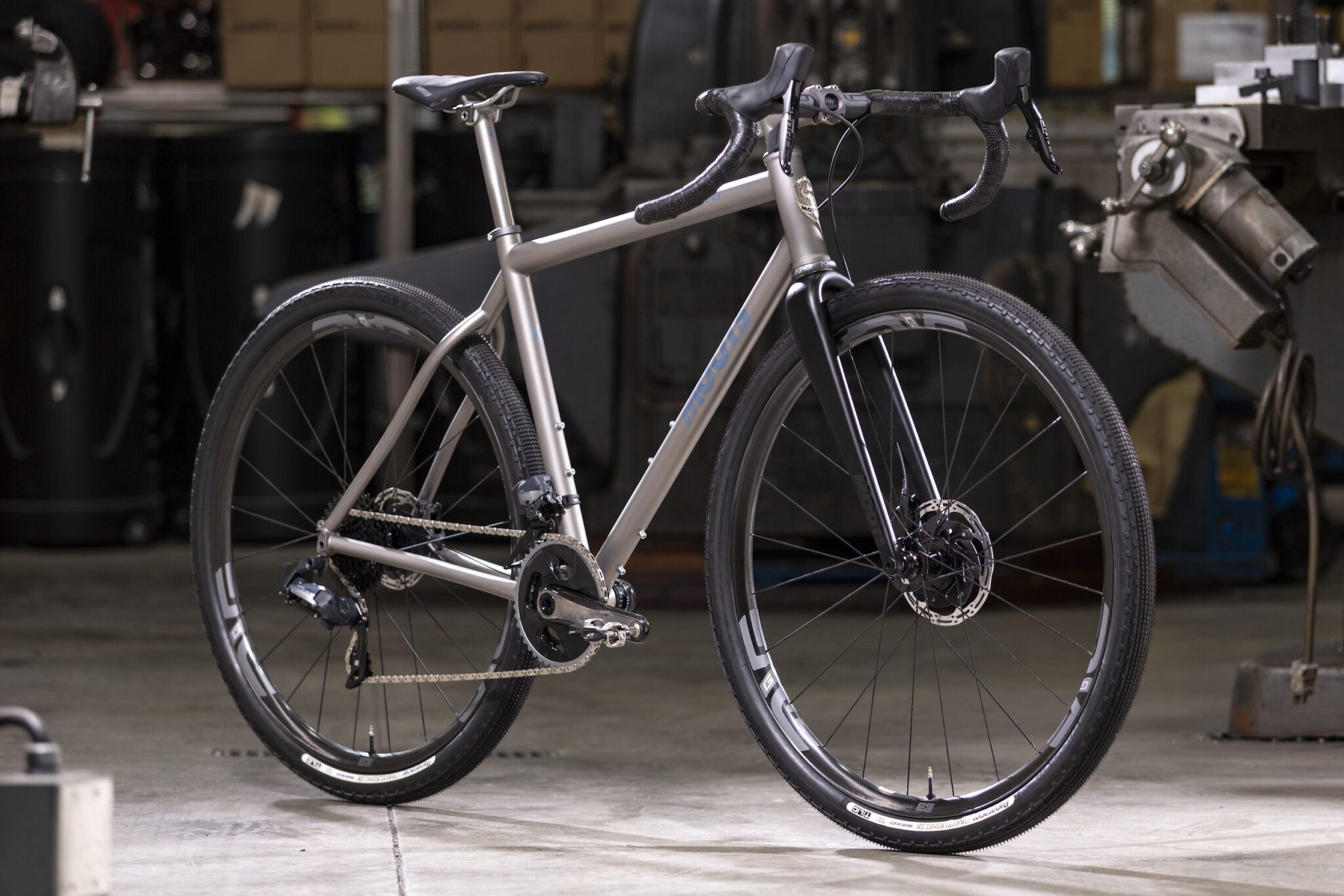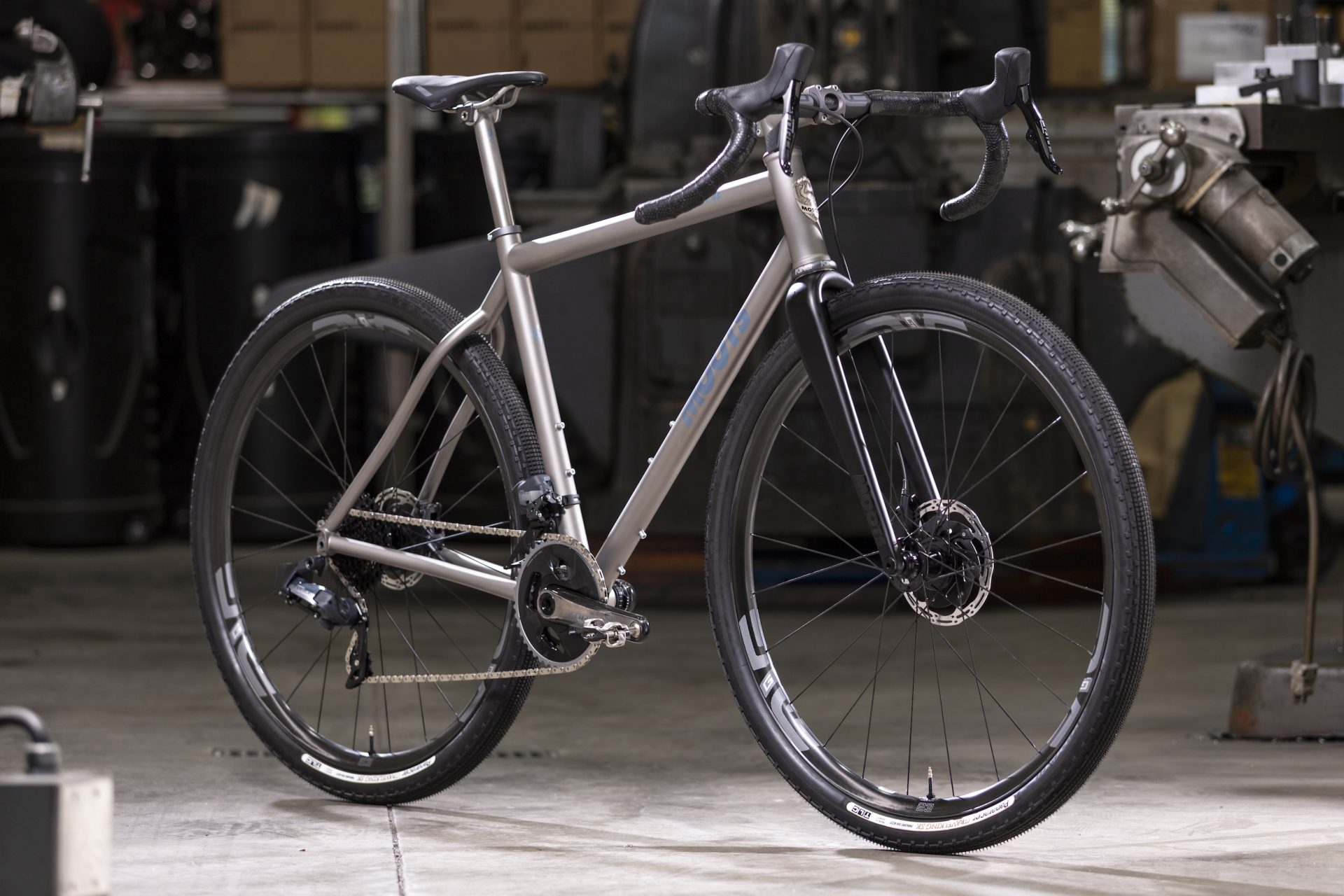 ROUTT 45 pictured with 50mm rubber and gravel wide group set.  R-O-W-D-Y.
ROUTT 45 & ROUTT YBB
Tire Size – These two models move to a 50mm maximum tire and keep the same 43.7cm chain stay as they had before the updates. The 50mm tire has generous room at the chain stay and the upper seat stay for mud and debris.  Again, gravel wide drive trains are the only drive trains that should be used on these two bikes.  Big gear range, big clearance, big fun. Check out the ROUTT 45 updated bikes here:  ROUTT 45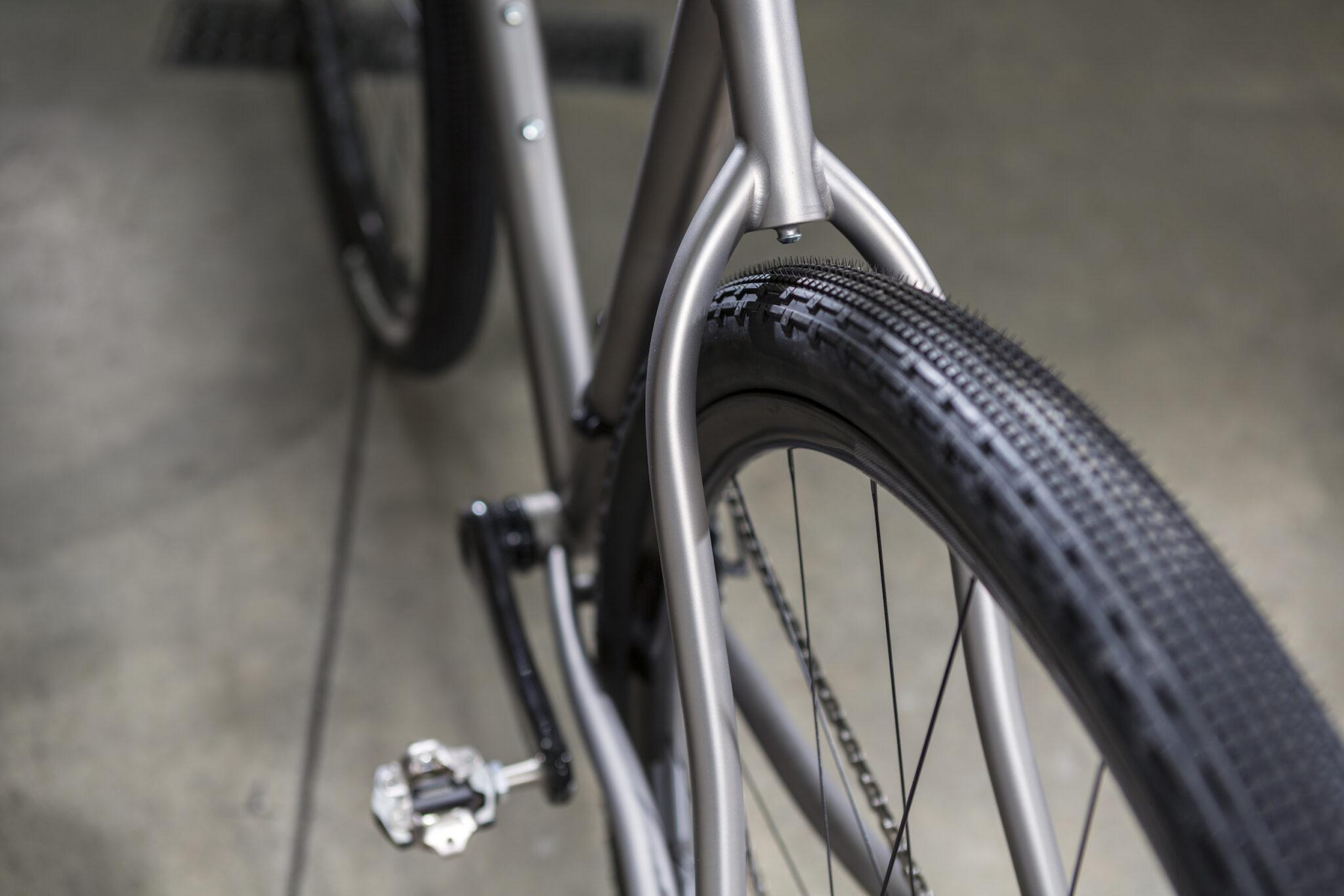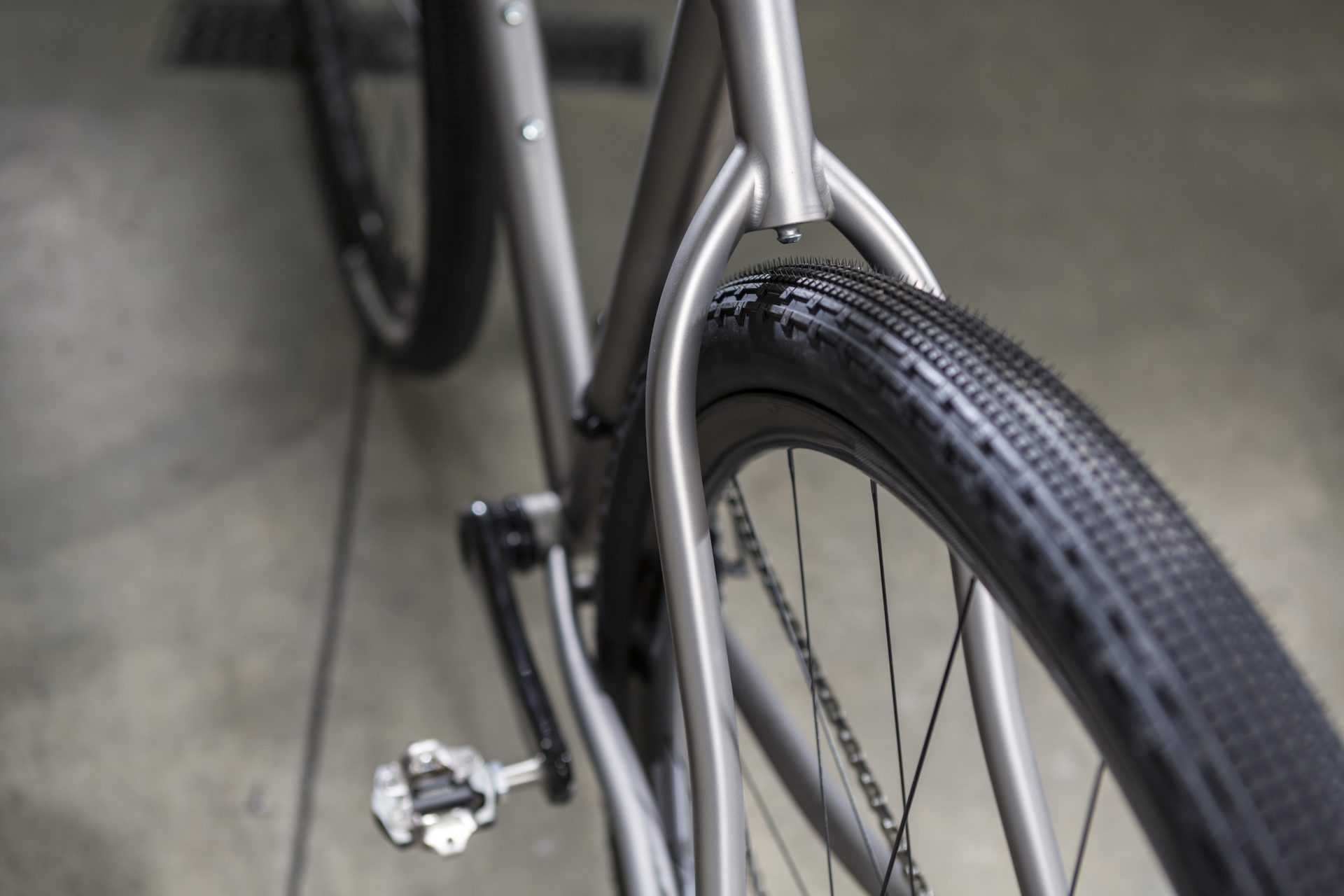 ROUTT 45 shown with 50mm tire and ample room at chain stay and seat stay.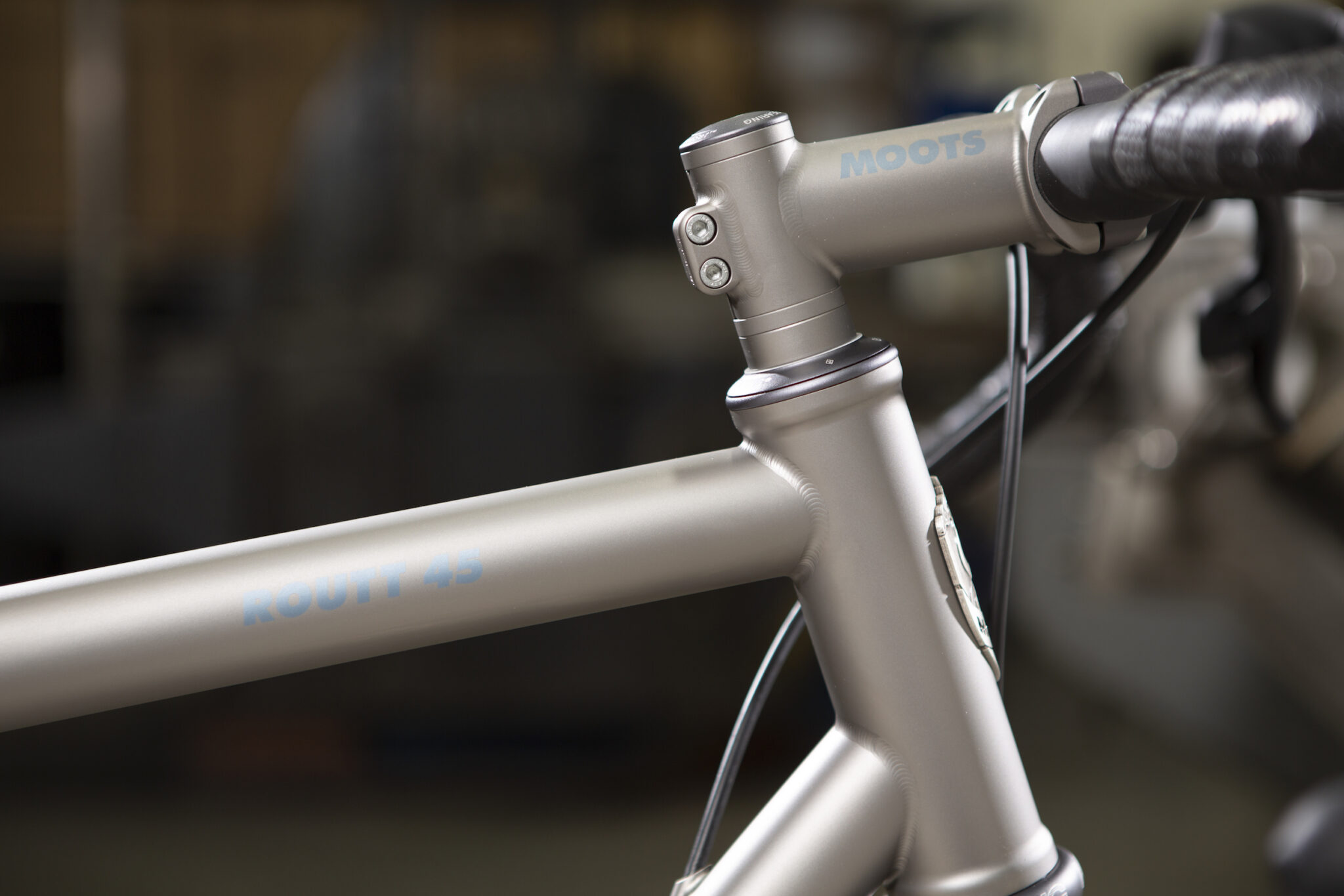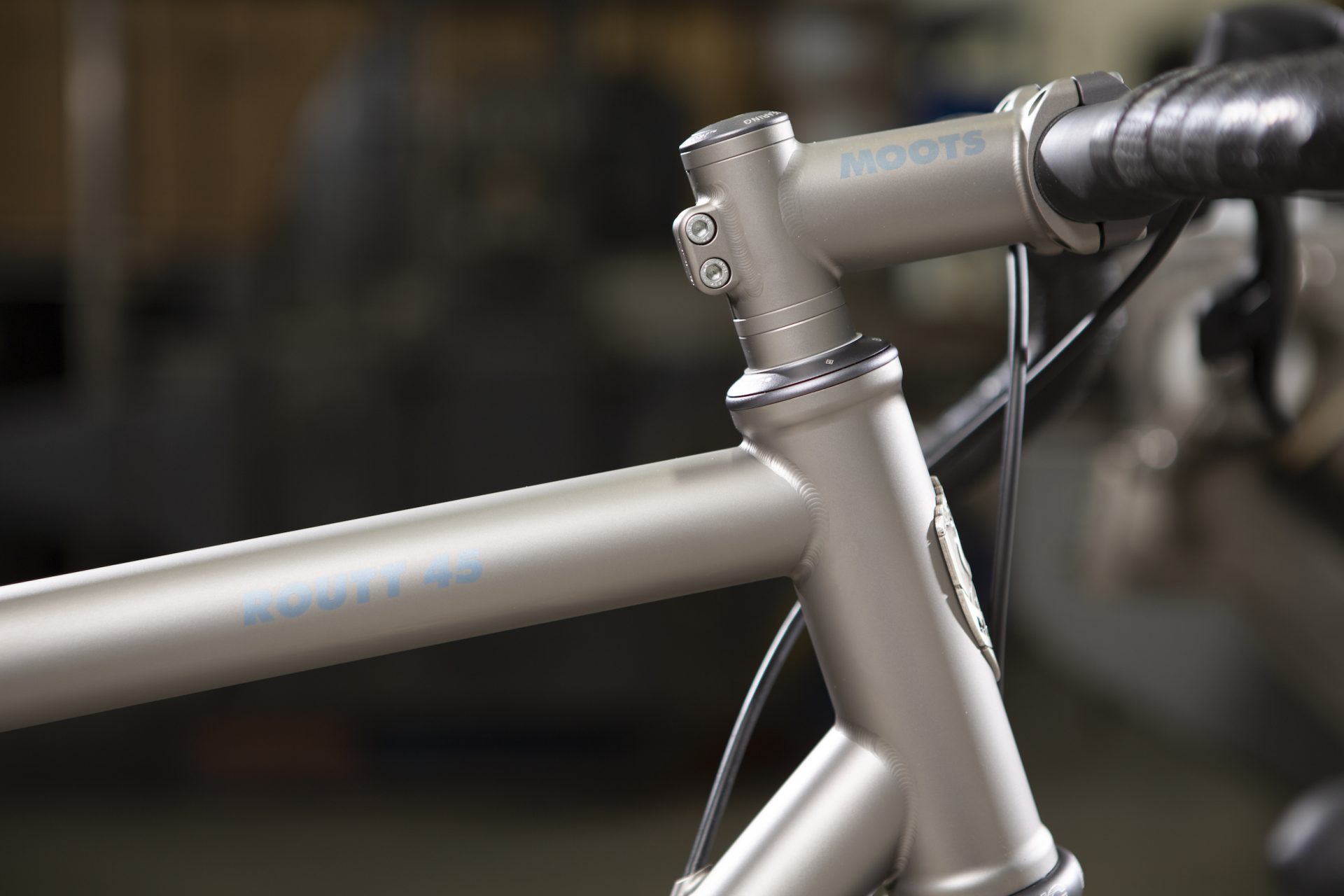 Shorter stems and wider bars for stable, predictable handling.
Angles, Stems & Bars – The geometry of the Routt 45 & Routt YBB see a slacker head angle than before and a longer top tube to give the bike a longer front-center.  Going to this set up you will use a 1-2cm shorter stem depending on fit needs.  Pairing a handle bar that is also 1-2cm wider will put the rider in the sweet spot of stability and control.  Improved stability, comfort, broader handling capability and more fun.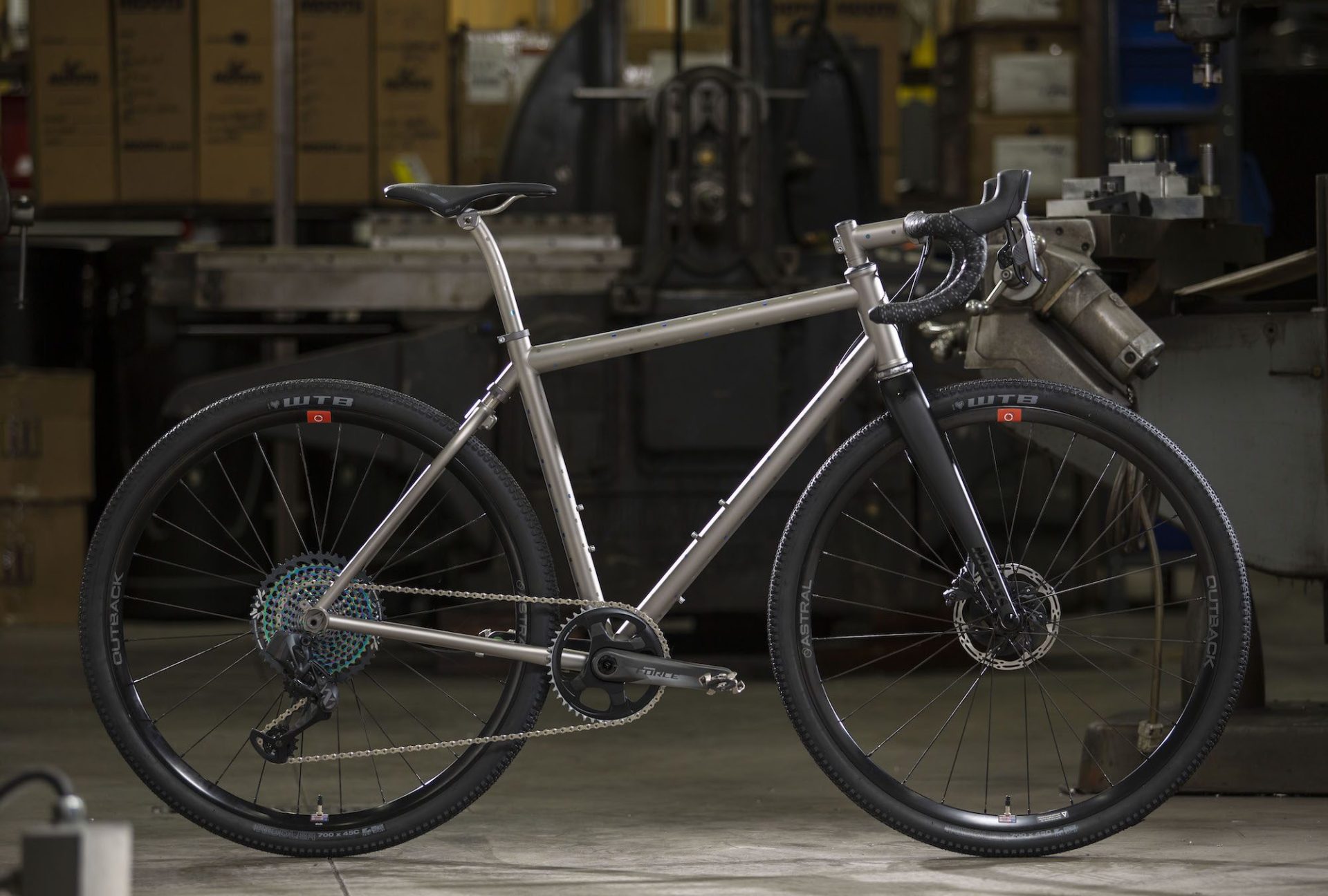 ROUTT YBB moves to 50mm maximum tires as well. You can read more here: ROUTT YBB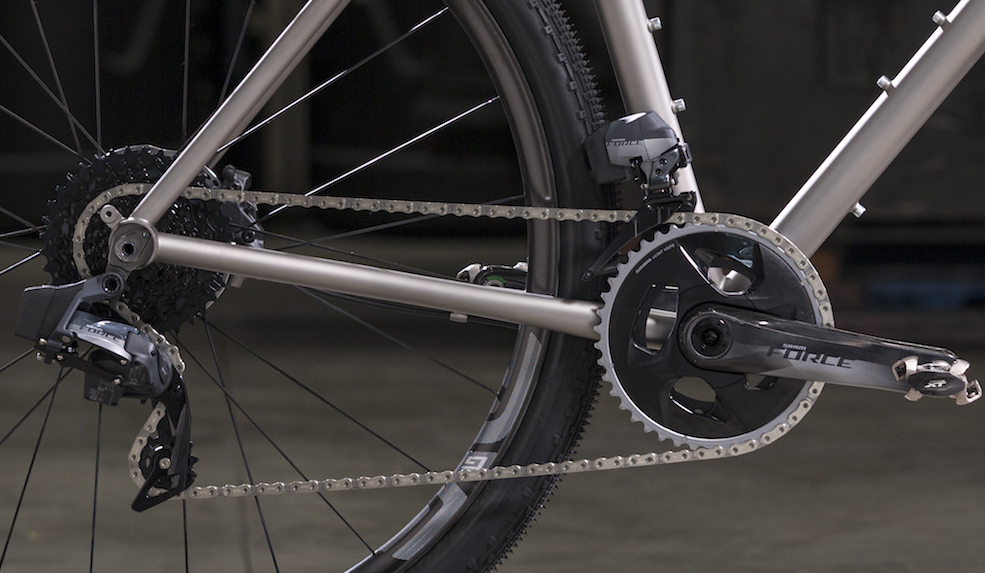 SRAM's Gravel Wide Force AXS drive train
Gravel WIDE for all: 
As the evolution of gravel bikes continue, drive trains take on a special debate of 1x or 2x? Well, that's up to you and your preferences for your local riding.  But what's great is that SRAM and Shimano have come out with gravel wide drive train options..  What does this mean?  GRAVEL WIDE….say it again with spirit! What does it do? Gravel wide moves the chain ring (s) outboard  as well as adding 2.5mm to each side for width at the crank.  What this allows a builder like Moots to do is move the chainstays outboard to create tire clearance WITHOUT making the chainstays longer.  This in conjunction with the wider gearing range now needed for 45-50mm tires and the terrain we want to ride makes this a win-win.  The ROUTT UPDATES in all three models are built around gravel wide.  The ONLY drawback is that you will NOT be able to install a standard road group set on the Routt family of bikes, but with broader tires being used we've found standard road gearing simply no longer to be relevant for this application.
FORK:
The current Moots gravel/cx fork is standard on all three Routt models. It features ample room for the 50mm tire, tapered steerer tube, hidden fender eyelets, 12mm thru-axle and flat mount brake mount.  Its full carbon construction is stiff, durable and lightweight.  Designed by Moots specifically for our gravel bikes.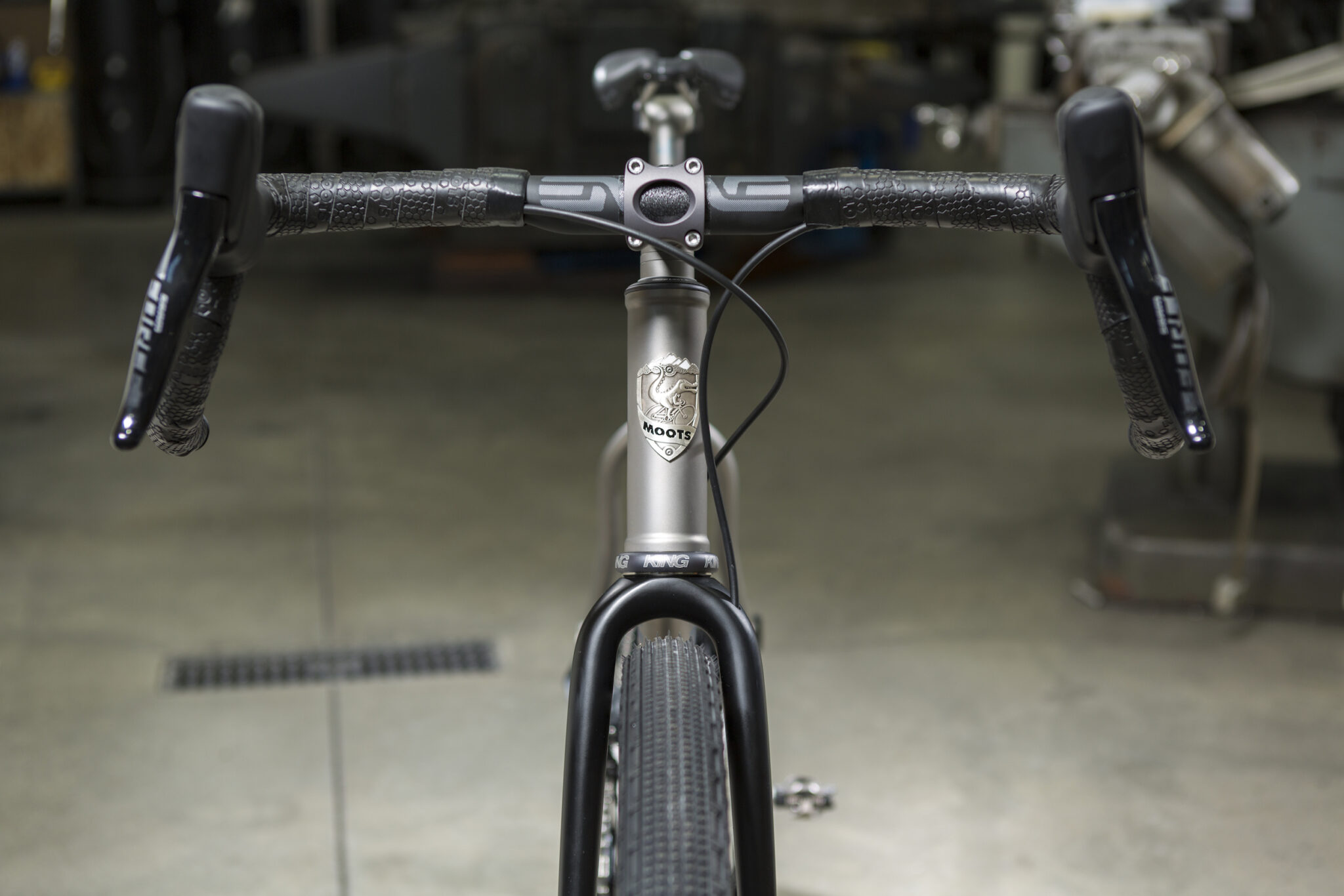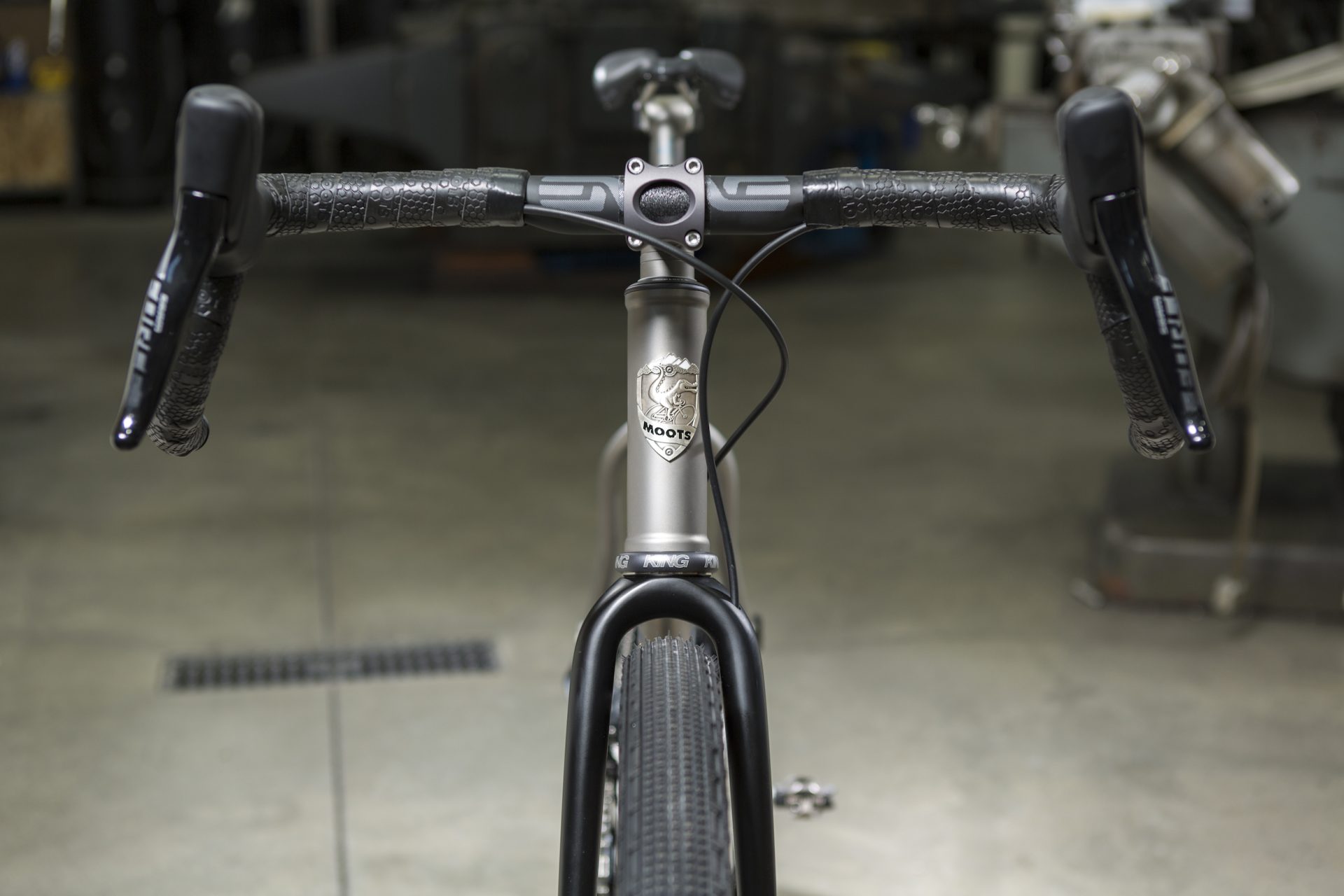 Moots Gravel/Cyclocross fork shown with 50mm Panaracer Gravel King.