We Live Here. We Build Here.
Our location in the heart of gravel-riding utopia – Steamboat Springs, CO – gives us the ultimate advantage in designing the best bikes in the world. We live and breathe it every day.
We know what it takes to conquer the terrain, because it's right outside our shop doors. We test drive during lunch breaks and unwind with post-work exploring. No one knows the ride better.
Whether we're crafting legendary titanium frames or taking on another mile of tough terrain, we never settle for the easy way.
The MOOTS Way is the best way (even if it's usually the hard way). Our deep love for cycling manifests in each tiny detail of our bikes, as we invest time and attention into every unique feature.
We consider ourselves lucky, because we get to help give riders the greatest days of their lives – whether they've been racing for decades or are just starting their cycling journey.
To Foster A true, life-long relationship between bike, rider and route by creating the highest-quality titanium frame bikes on the planet.
The Best Titanium Bikes on the Planet
Our aerospace-grade titanium frame is built to last a lifetime, and each hand-crafted feature is carefully adjusted until it is flawless.
Since 1981, we've been relentlessly focused on craftsmanship, giving us a deeply rooted expertise on titanium and what it takes to give you the best experience possible.
AT MOOTS WE PRIDE OURSELVES ON PRODUCING THE HIGHEST QUALITY PRODUCTS EVERY DAY.
Quality design, quality tubing, quality craftspeople and quality processes equal the best made frame you can buy. Our long-term dedication to one material, Titanium, has provided Moots with a level of experience designing, building and riding every style of bike over the past 40 years.
The perfect size company to make the best Titanium bikes in the world-
30 years of nothing but Titanium – 40 years of bike manufacturing. The crew at Moots knows Ti and knows bikes. The years of cumulative experience in the building gets used every day to make the product better
Experience has taught us to teach and learn. Each specialist brings skill and perspective that elevates the product beyond one person's ideas.
Moots has great partners within the industry. Having worked with a variety of suppliers over the years, some for 25, we have developed relationships which have strengthened the designs, materials and execution to highest level
Never stop moving forward. As a team we build Titanium bikes because we believe in what we do. The challenges we embrace are to improve what we do and how we do it and to never stop moving forward.
MOOTS IS A COMPANY OF TITANIUM MANUFACTURING SPECIALISTS AND RIDERS.
This has a direct impact on every size and model of bike we make. Design changes must have a purpose that improves the product, not just for sales. If we don't believe it enhances the product we won't do it.
We know titanium. Our design team has a combined 65 years of experience tuning titanium bike designs for optimal performance, comfort and durability.
Because we have specialists in each area of manufacturing we are able to prototype and create our own tooling in order to refine each design for optimal performance, durability and consistency.
Each tube we shape has a purpose. Our tapered butted chainstay design utilizes the large, 1" diameter to provide bottom bracket stiffness tapering to a ride smoothing 0.730" diameter at the dropout.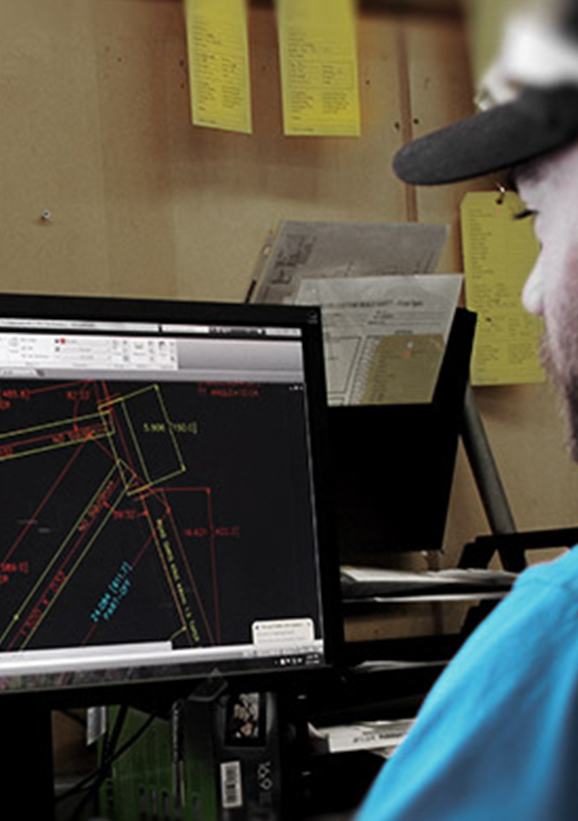 IN ORDER TO BUILD THE BEST TITANIUM BIKES IN THE INDUSTRY YOU HAVE TO START WITH THE BEST SELECTION OF THE HIGHEST QUALITY MATERIALS.
You will notice we have a multitude of models in a huge variety of sizes. Tuning the ride and feel of each of these frames is essential to Moots.
The perfect size company to make the best Titanium bikes in the world-
We primarily use 3/2.5 alloy seamless tubing in the Cold Worked Stress Relieved condition which allows us to build using the thinnest wall seamless tubing in a huge range of sizes.
We have worked with the same team of engineers at the same tube mill in Washington for 15+ years. Optimizing the material's dimensions and characteristics for the best ride quality, durability and consistency to produce the best bikes.
We use US certified tubing wherever we can. Each batch of this tubing is tested for composition, strength, straightness and resistance to deformation. When using such thin walled tubing this assures superior ride quality and durability.
Moots is big enough to handle long lead times and 1000' minimum orders per size of tube we use. This allows us to design and stock the best materials to build the best titanium bike.
We stock and use 30 different tube sizes in order to finely tune the ride of each bike model and size.
We utilize butted tubes on select models. Working with Reynolds Technologies, who first butted tubes for bike frames in 1895, they created an internally butted 3/2.5 seamless tubeset to lighten our frames while maintaining strength and stiffness.
FOR THE TECH NERDS:
CWSR tubing is a challenge to make; the temperature of the heat treatment needs to be held within 5 degrees for the exact amount of time to get the material to have the proper strength and ductility. US mills control this better than anyone. Therefore, airplanes only fly using this tubing. Anytime you see a US made tube marked CWSR (cold worked and stress relieved) the diameter to wall ratio (diameter/wall thickness) cannot exceed 47 to 1. When we look to build the most durable best riding bike we chose this material over all others for the critical areas of the bike. If we want it thinner than the 47 to 1 ratio we use our Reynolds internally butted tubeset.
Here is why we use internally butted tubes. When designing a tubeset for a frame that is extremely lightweight you need to know exactly what you are working with. When working with Titanium tubing there are several ways to reduce the wall thickness in the center of the tubes, the areas away from the weld zones. Tubes can be chemically reduced using HF (hydrofluoric acid) to eat the inside wall away, externally ground or internally butted, to name three methods. Our tubes are produced at the mill using a mechanical operation using dies and mandrels to work the material into the diameter and wall thickness desired. Internally butting does exactly the same thing physically working the material to the new dimensions. This is the best way to create consistent and known diameters and walls.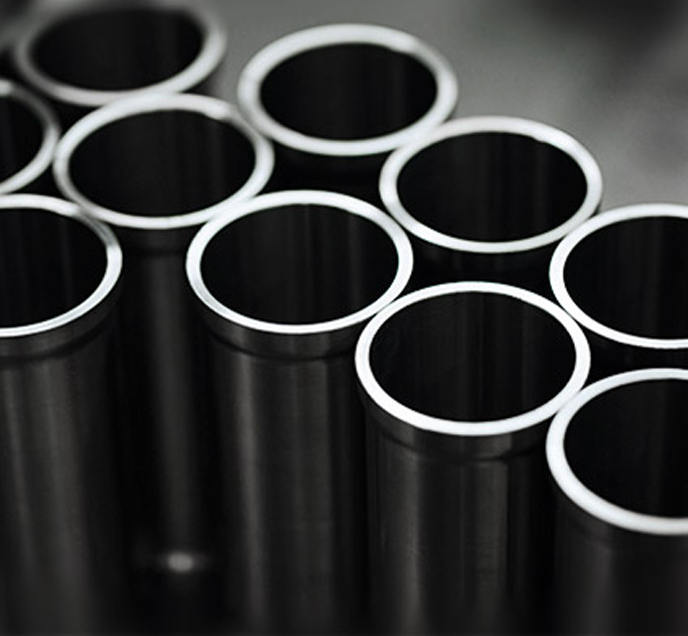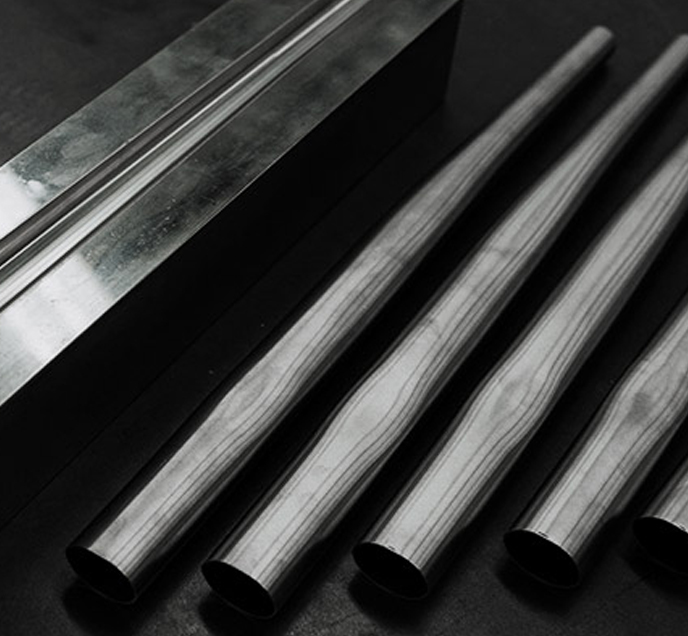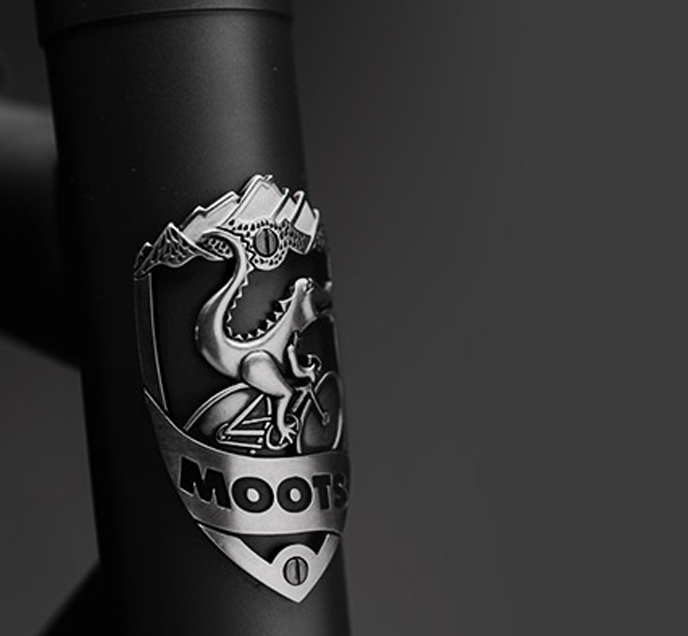 MACHINING AND MITER
Again, our size, big enough to be experts in the process and small enough to do custom work, allows us to be proactive designing bikes with the most current features. This works thanks to our high level of skill applied in the manufacturing process. The Yellow Card is a direct symbol of pride for those whose initials apply that talent.
We utilize our expert machinists and 5 CNC machines to make prototypes, design and produce tooling. Once the part is refined we produce these parts in house for the highest quality control possible.
Since 1991 we have only designed and made Titanium bikes. Over time that experience has been applied to creating better tooling each year to improve the product and the process.
Shaping extremely thin-walled titanium is technically challenging. By using the right material with the right tooling in the hands of highly talented craftsmen, we achieve great success.
Our tapered butted stays are shaped in house with tooling we have designed and made. These chainstays add stiffness to the bottom bracket area while smoothing out the ride by tapering at the dropout.
Each frame goes through our system one at a time, the Yellow Card along with it. Each specialist writes their initials with pride next to the task completed. No secrets here.
This first step in the process of the build is done to the highest standard, with watertight tube to tube fit-ups providing exacting geometry and alignment.
MOOTS WELDING — SETTING THE STANDARD
At Moots we have refined our welding techniques as a technical art. The beauty of a Moots weld is more than skin deep, they will last the test of time.
Tight fit-ups are the key to strength, beauty and alignment and at Moots they are gap free. Each tube fits perfectly with the next.
Each tube is prepared by buffing and cleaning all weld areas spotlessly—not even a fingerprint is allowed.
Custom welding equipment has been developed and refined since 1991 to achieve the cleanest welds possible. This assures the strongest welds.
Our two pass system has been repeatedly tested showing the greatest strength possible. The root pass joins the pieces together, next the filler rod is added to guarantee lifetime durability.
Our team of frame welders each has over 10 years' experience welding titanium bikes assuring consistency in quality and alignment.
FINISHING From the welder's hands the frame passes to our Finish area. The all-important steps of squarely facing, chasing and final alignment happen before the "painter's touch" is applied to the fine bead blast finish for our sophisticated raw metal finish. Thirty five years of frame manufacturing experience goes into each frame.
Dedicated machinery has been customized for each specific finish task so that we can maintain the highest level of precision in all critical areas each time.
On our Yellow Card you will see 10 tasks with 10 initials next to each as it goes through each step tracking who does the work along the way. This responsibility brings a strong sense of pride to the process.
Squareness is measured and maintained within 0.003", alignments to within 0.007" which means your bike will be very, very straight.
Our bead blast finish is applied with the care of a fine painter, with strict attention to detail.
Next your choice of finish; subtle etched, anodized or signature finish is up to you.
Each step of the process is monitored for quality control by an expert set of eyes. Everyone involved in the process of building your bike has the responsibility to check it over and hold it back if something is not perfect.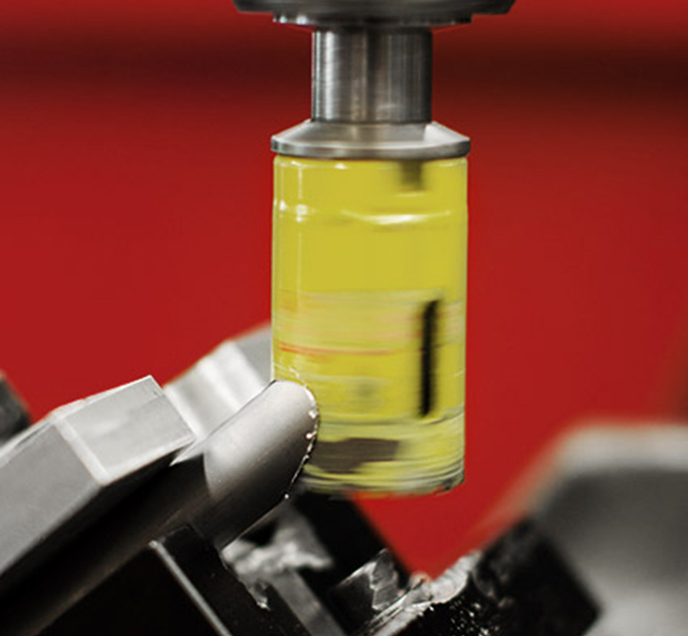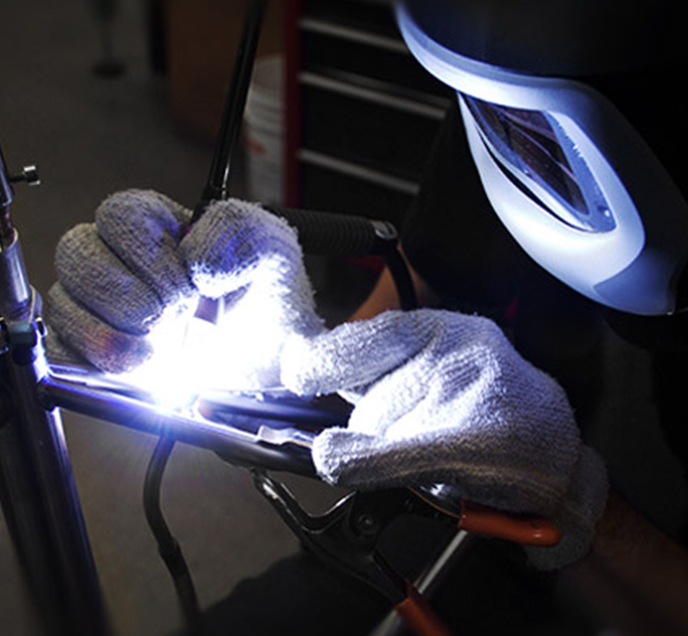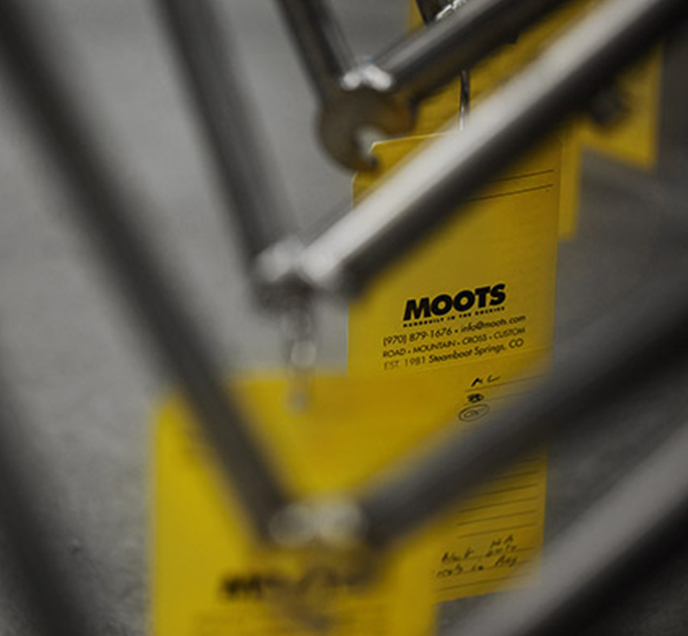 At Moots we take the approach of riding to develop new products or improvements to existing ones. We love to ride. When you visit the Moots facility you might notice an awful lot of us vacate the building at lunch to go ride what we build. In a lot of ways it's a company policy.
By riding our products and constantly striving for excellence you are guaranteed the best possible experience every ride.
Our motto is "Build it Ride it". We live this; prototypes are ridden and raced on the trails, inside the tape and on the roads every month of the year by the very staff that makes your Moots.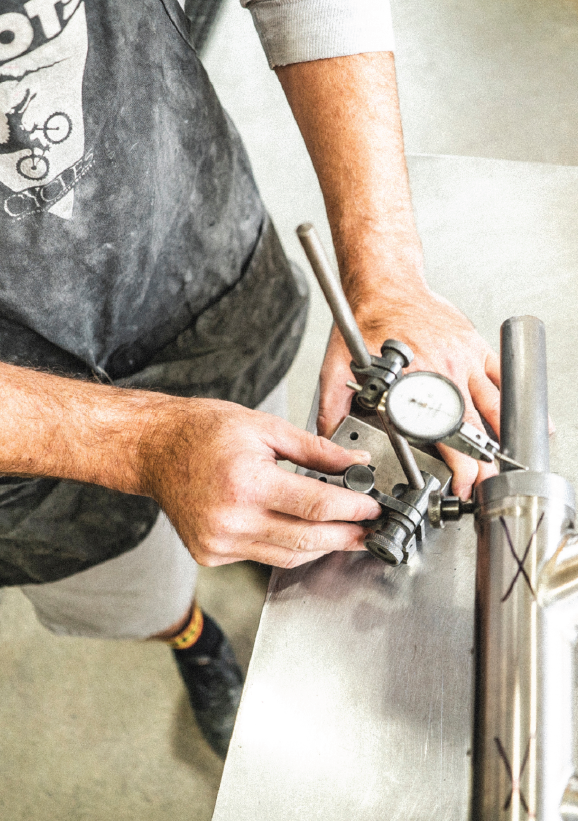 MOOTS has spent 40 years handcrafting top-tier bikes – 30 working with only titanium. The diversity of our specialists' skills elevate our products beyond what any one perspective could.
Long-term partnerships with suppliers
Innovation and forward-thinking
Diversity of skill and points of view
Embracing challenges and always learning
We're passionate about leaving the world better than we found it, so we give back to organizations like the ones below to invest in the community around us.
We want to make sure future generations of riders get to explore this beautiful planet for decades to come, so we commit to responsible ecological practices like: employee commuting and volunteering incentives, utilizing solar energy and recycling 100% of our part-offs and material waste.
Since 1981 we've designed and built a lot of bikes, pedaled countless miles and welcomed many into the Moots family. Here's a few milestones we're proud of: