Our year of crew campouts continued this last weekend with a big one. We called it Moots Gravel Weekend and it consisted of 3 days riding point-to-point, which totaled 252 miles and 21,443 feet of climbing. We traveled light on the bike with our sprinter van adding support along the way with snacks, lunches, camp gear and of course those "recovery drinks" for post-ride refreshment.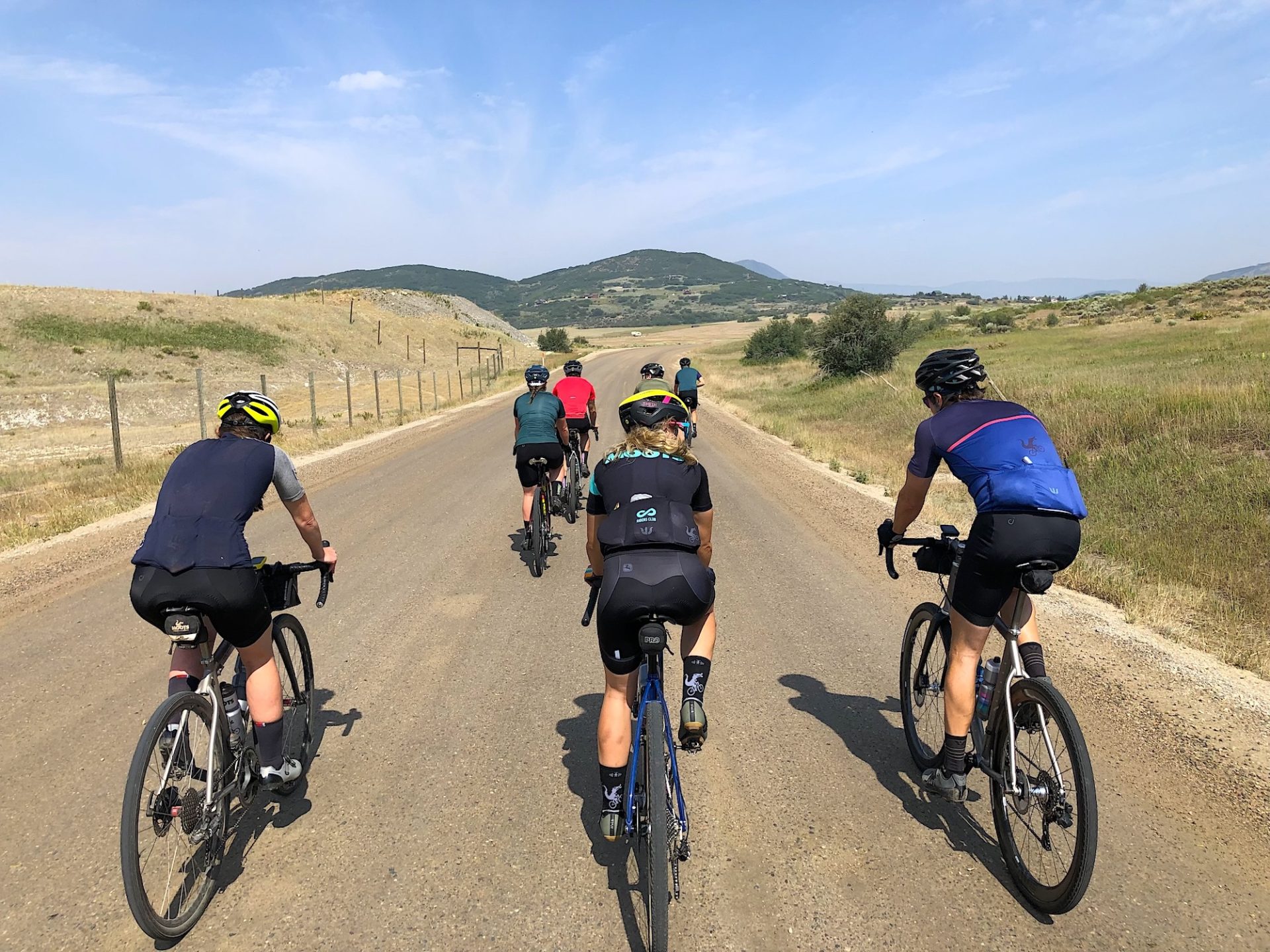 The courses were laid out by Nate, his diabolical mind, and his vast knowledge of Routt County's gravel roads. Of the 252 miles 90% of them would be on non-paved surfaces. That's a LOT of bumpy saddle time and over the entire group of 16 we had every one of our Routt gravel bikes represented and to say that we ride our product to better it for you would be an understatement. The tweaks, the details and the must-have-features on our bikes are born out of this type of adventure and discovery of what really works.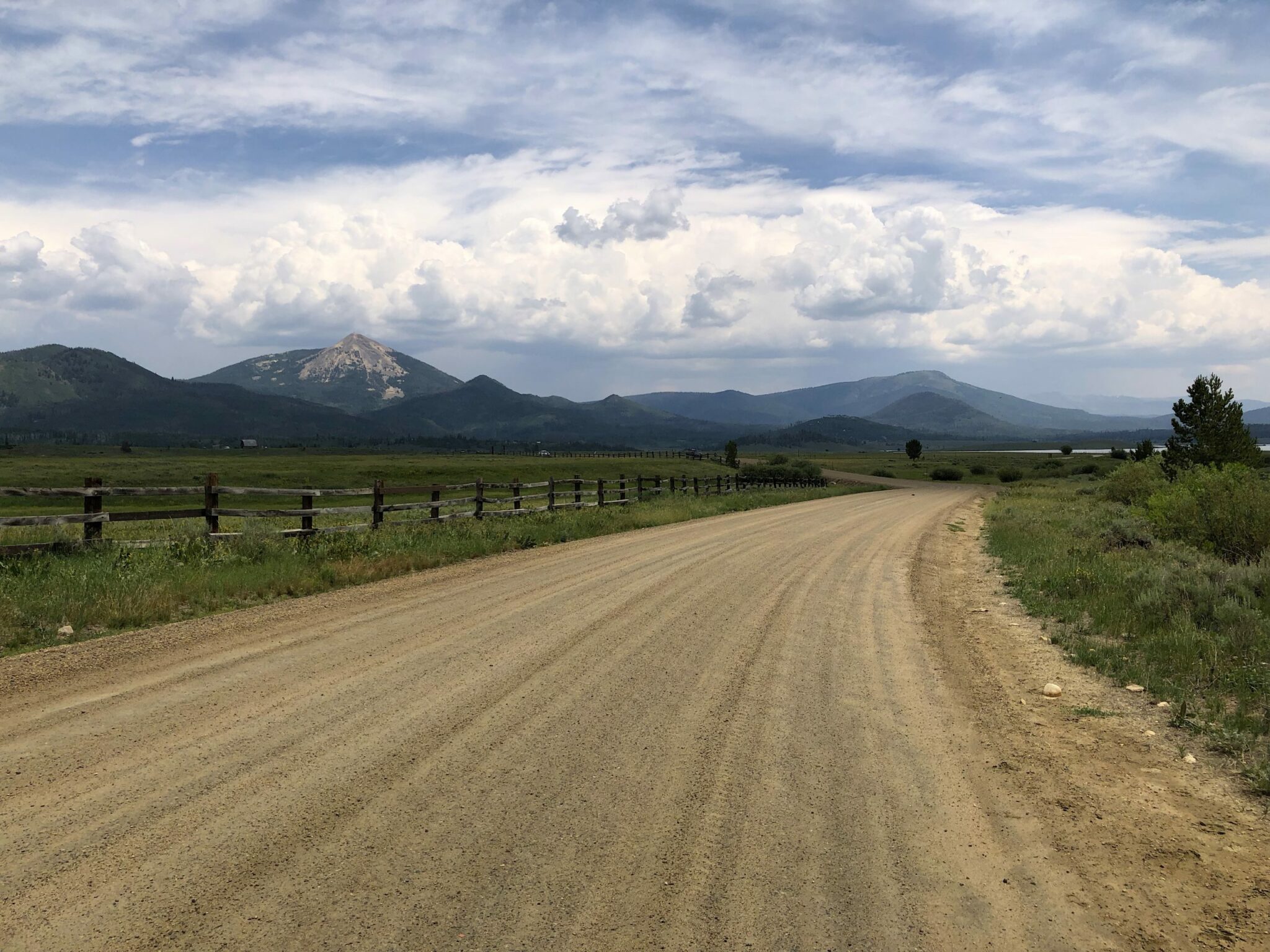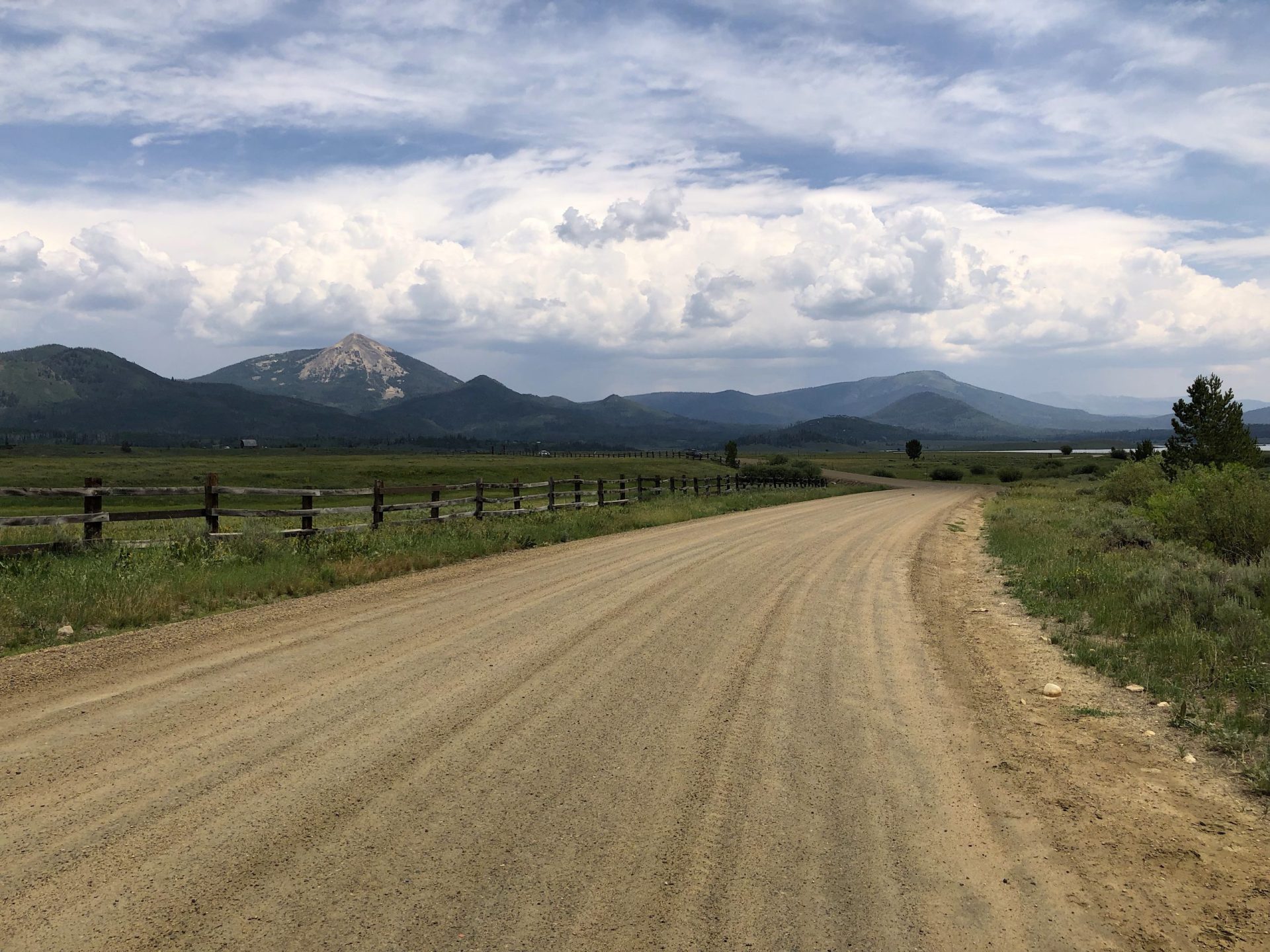 Day 1
Moots World Headquarters to Brush Mountain Lodge—85 miles, 6, 800 feet of climbing. 
Depart: Leaving from the front door of the Moots building at 10 am, and we were on dirt within the first mile. As we rode in a northerly direction, we basked in the morning sun that was already hot on our backs. Airport loop to Fly Gulch to 52E to Long Gulch to Clark (also known as grasshopper alley). At the Clark Store we had premade sandwiches from the deli that we slipped into jersey pockets, refilled water and headed up and around Steamboat Lake. Once there it was a small, paved climb up to Columbine Cabins to sit and enjoy those sandwiches before dropping onto Forest Service gravel roads and the fastest part of the day. Tight turns, bermed out corners, aspen groves and full bellies made the miles tick by with speed.
At just over 40 miles into the day, Heather (sales) had a small touch down with the dirt road surface. Road rash on the elbow that bled a bit had her wrap said elbow in her under shirt with a zip tie to hold it in place. Not discouraged, she activated her superpowers and continued the ride and would finish the day with zip tie in place! Always with a smile.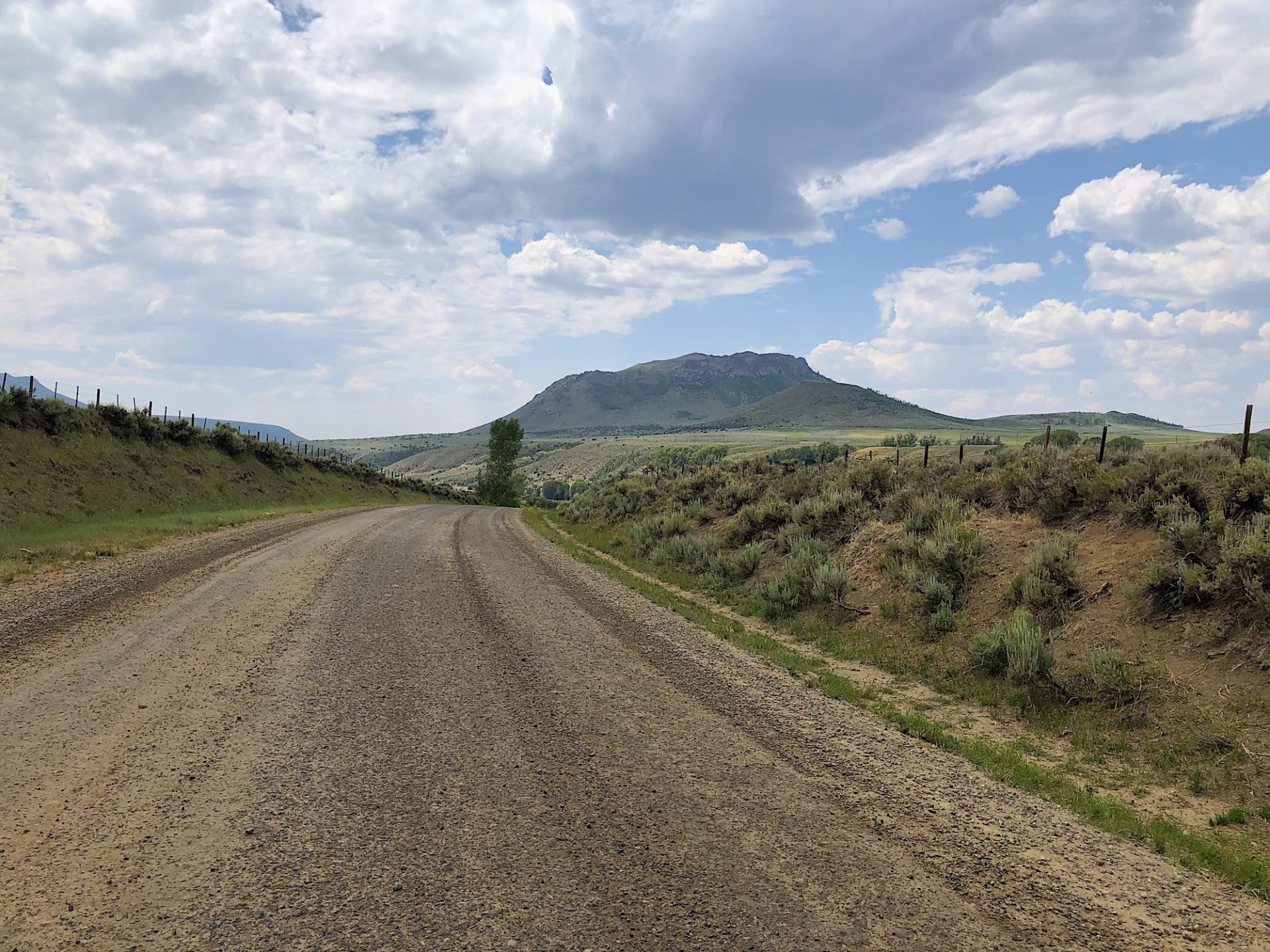 The groups ebbed and flowed all day, some solo riding, some groups, and pairs spaced out over the miles. The next big attraction on the route was 3 Forks Ranch. A beautiful setting in the middle of nowhere. After that the route turns into the quintessential western landscape. BIG open views, lush valleys and hardly a soul to be seen.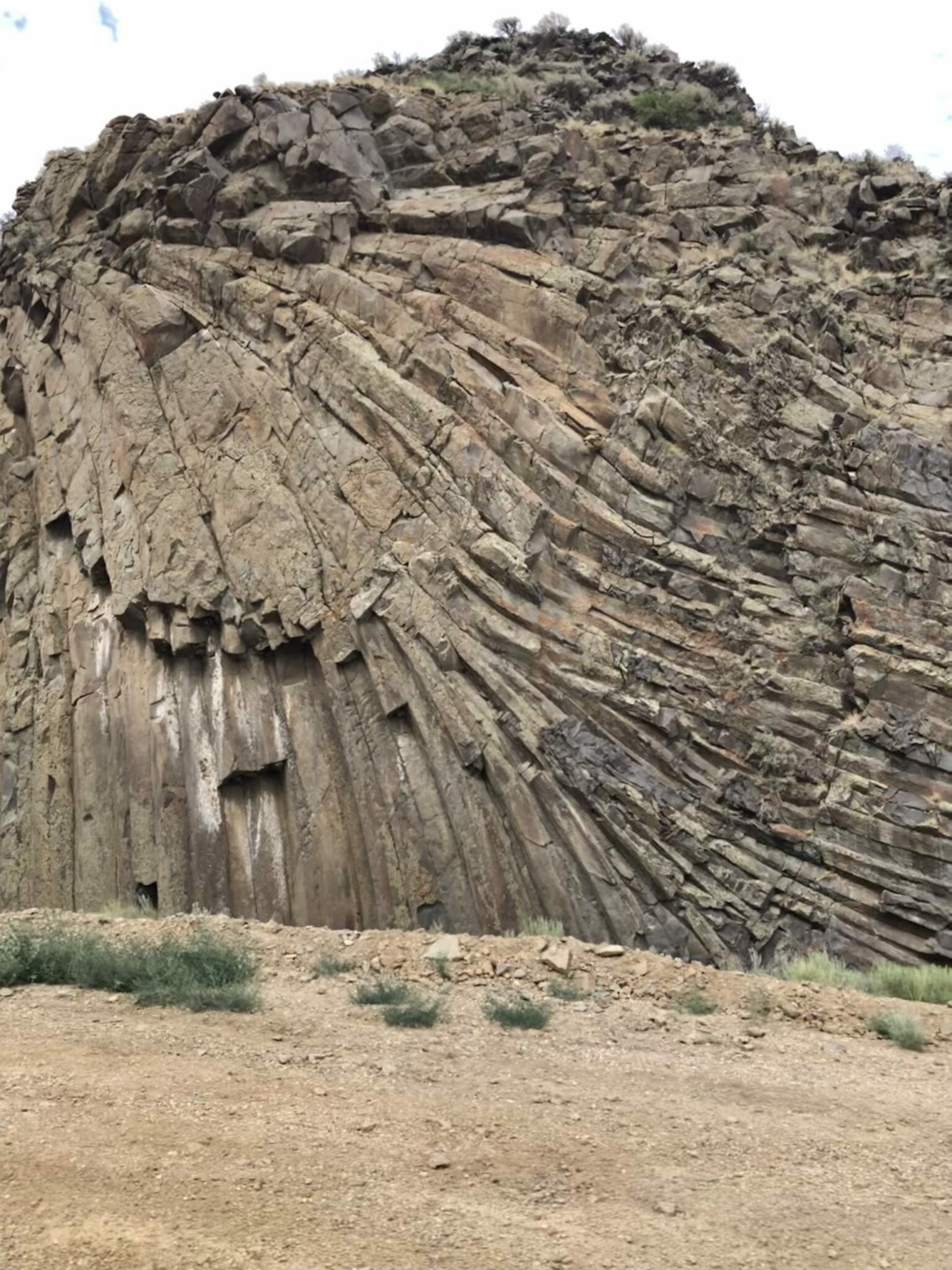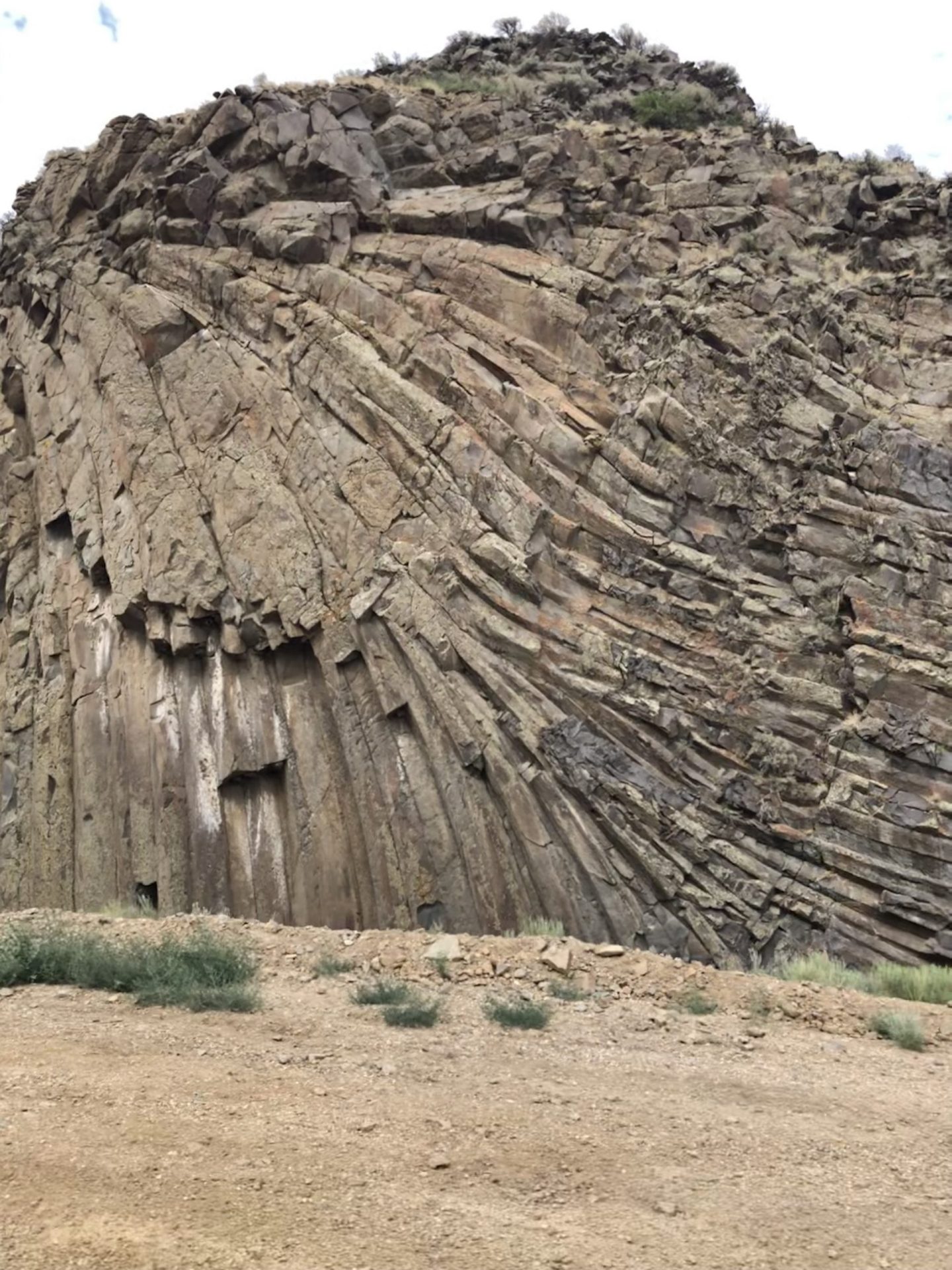 Arrive: After a final 12 mile push up the biggest gravel of the day on the hottest climb of the day, we reached Brush Mountain Lodge. An incredible day on the bike, cold drinks and showers greeted our group as we lounged at this mountain oasis.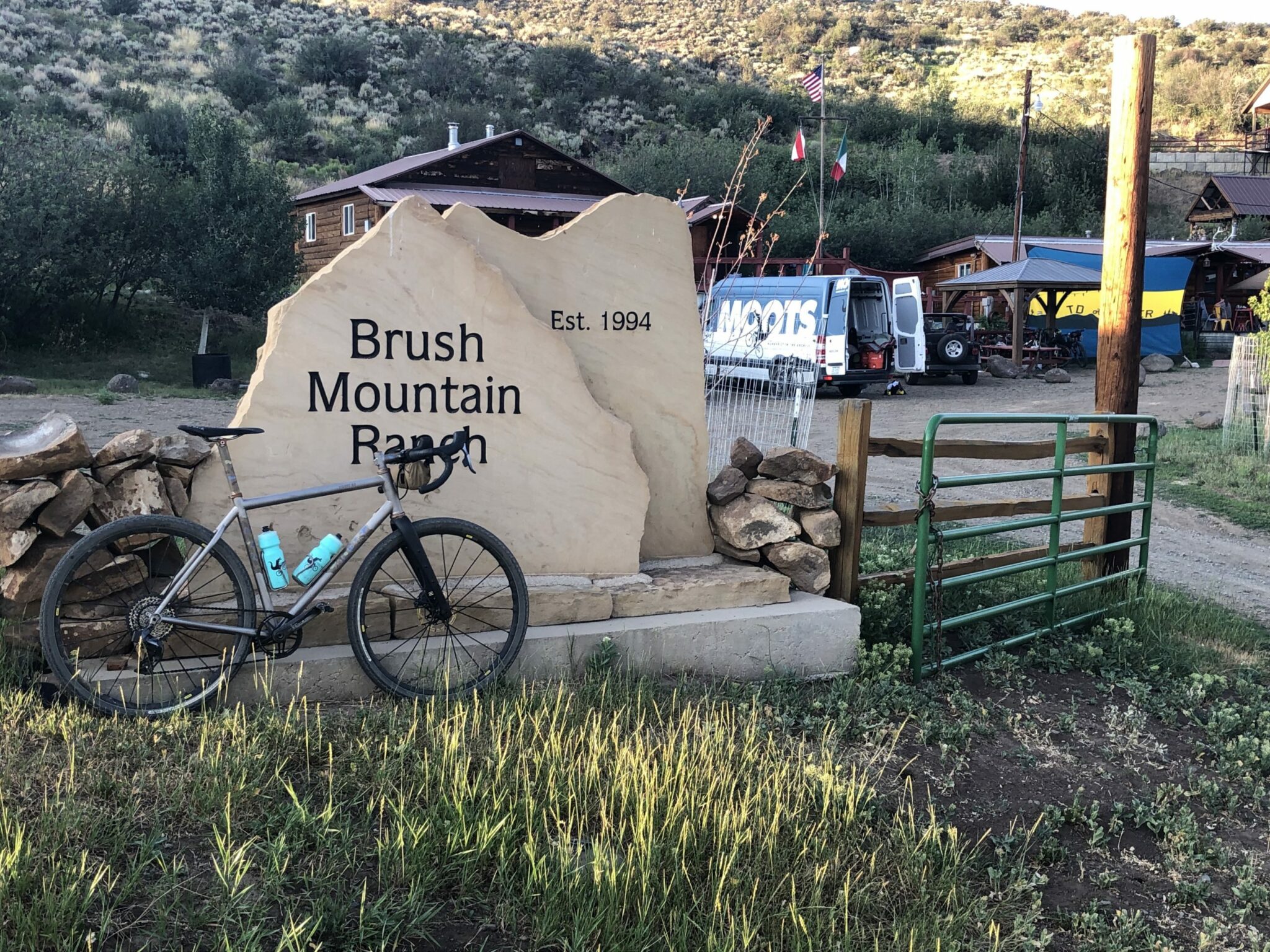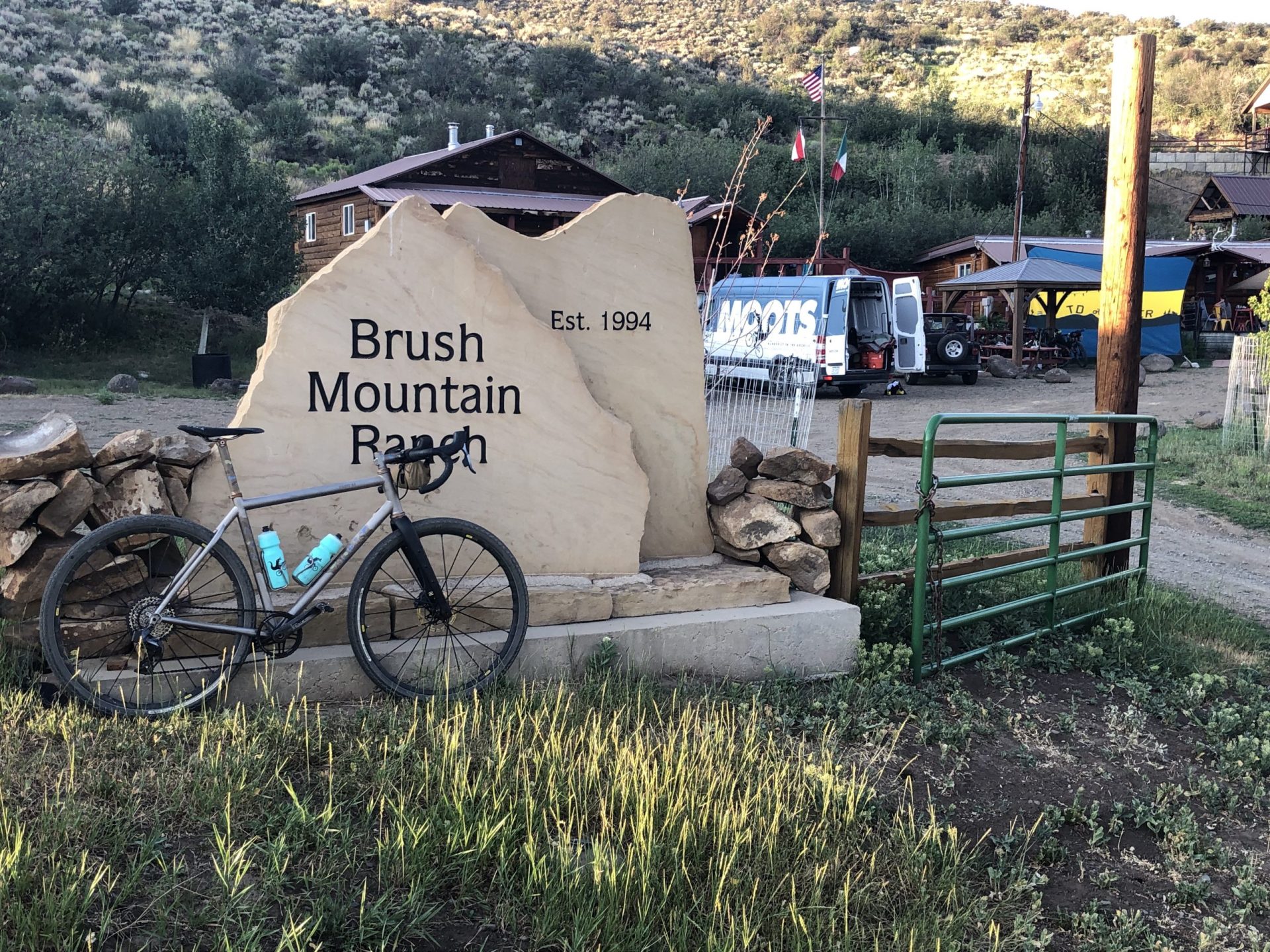 FYI: Brush Mountain Lodge sits on the Tour Divide Route and is a frequent stop for many. Rooms can be rented; tents can be pitched for overnight stays. The pizza oven is always hot and beers always cold. The staff at BML hosts hundreds of bike travelers over the entire summer. 
Day 2
Brush Mountain Lodge to Trappers Lake Lodge—95 miles, 9,500 feet of climbing.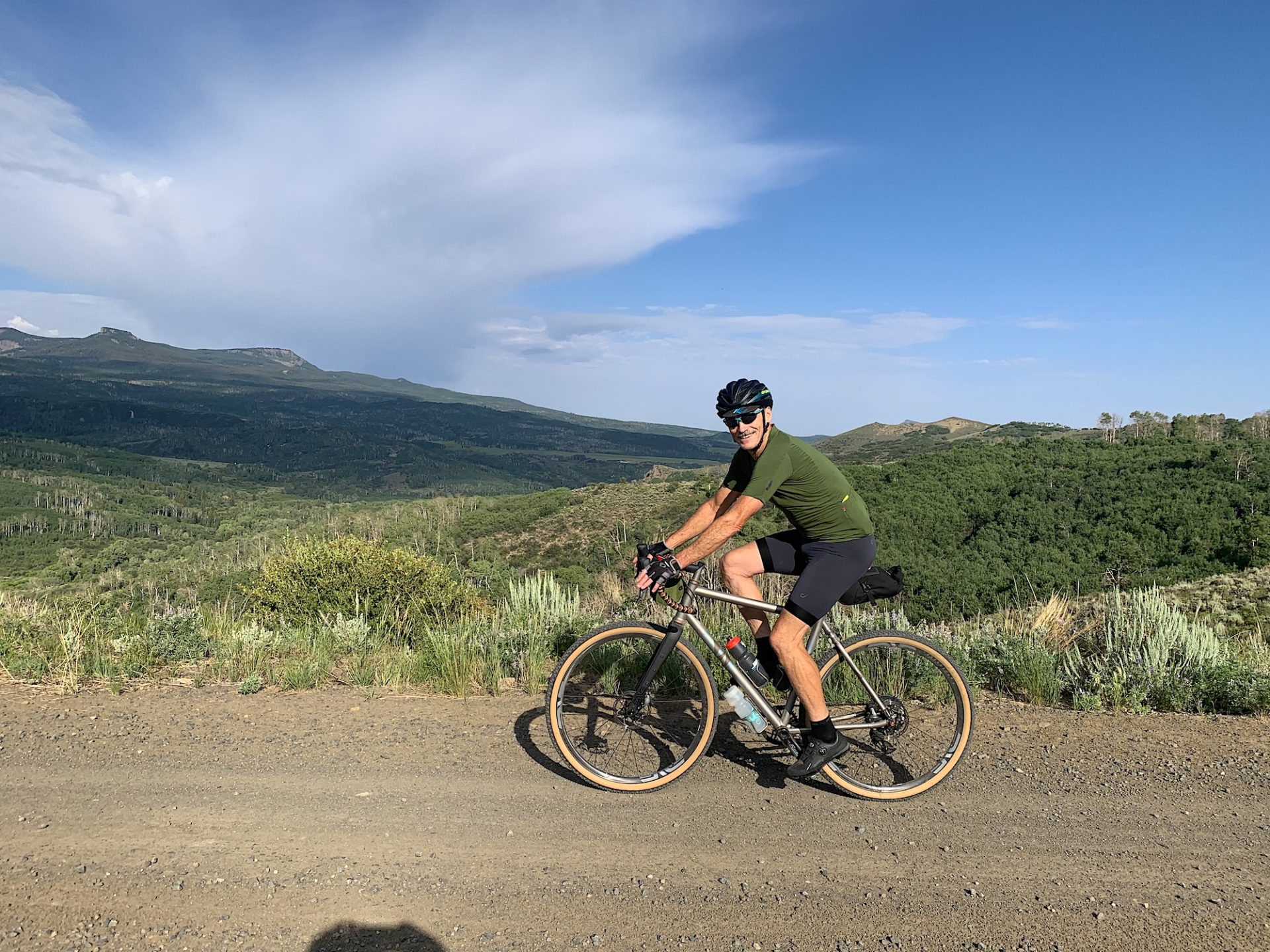 Depart: After a hearty breakfast at Brush Mountain our group left in small waves, with the faster riders hanging out just a bit more at the lodge. A nice cool morning and an early start would prove to be important on what would be the biggest day of the trip. The route takes you through Slater Park and then into California Park, which is all Forest Service roads and have bigger gravel on them than the county roads. This area of Colorado is also home to the biggest heard of Elk in the state, estimated at 250,000+ head. Since it's summer and hot, they are tucked tightly in the dark timber at high elevation, so not too many animal sightings this time around.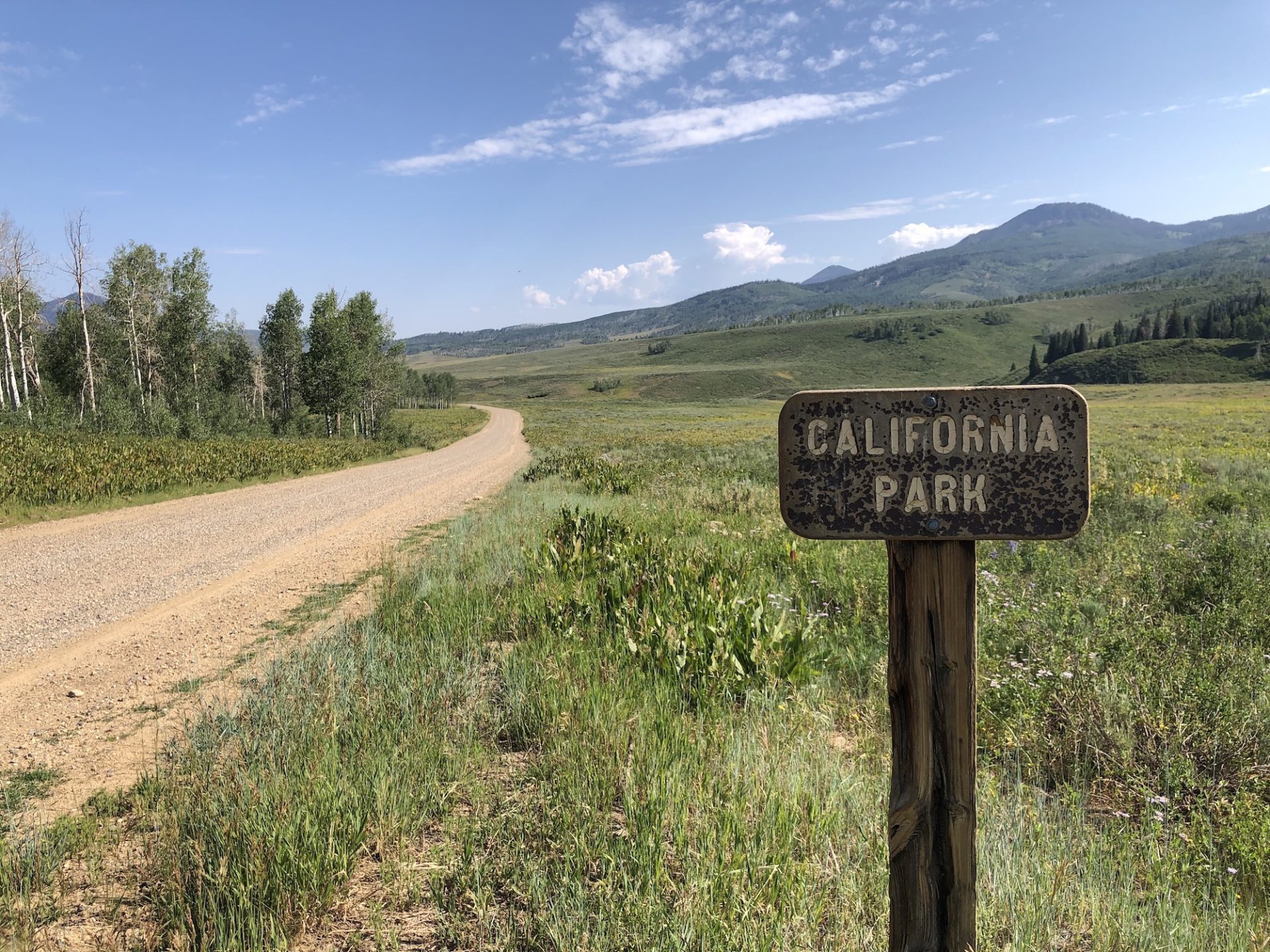 The almost halfway point of the days ride had us dropping into Hayden, Colorado for self-made sandwiches in the town park, mini cokes and sugary snacks. Once fed, the group headed out to ride the second half of almost 50 miles and 5,000 more feet of climbing. The kicker here is that in the last 20 miles there are two major climbs after following along the Williams Fork River and its gentle grades. Did I mention most of this part of the day was done in the rain? Yes, it rains in Colorado (sometimes). Ripple Creek Pass gains about 2,000+ feet in about 8 miles and tops out at 10,358 feet above sea level. Not big by itself, but when you are 80+ miles into a ride the lights can go out for anyone. Once topped out, it's a big descent on loose gravel to a quick left turn to begin the last climb up to Trappers Lake Lodge.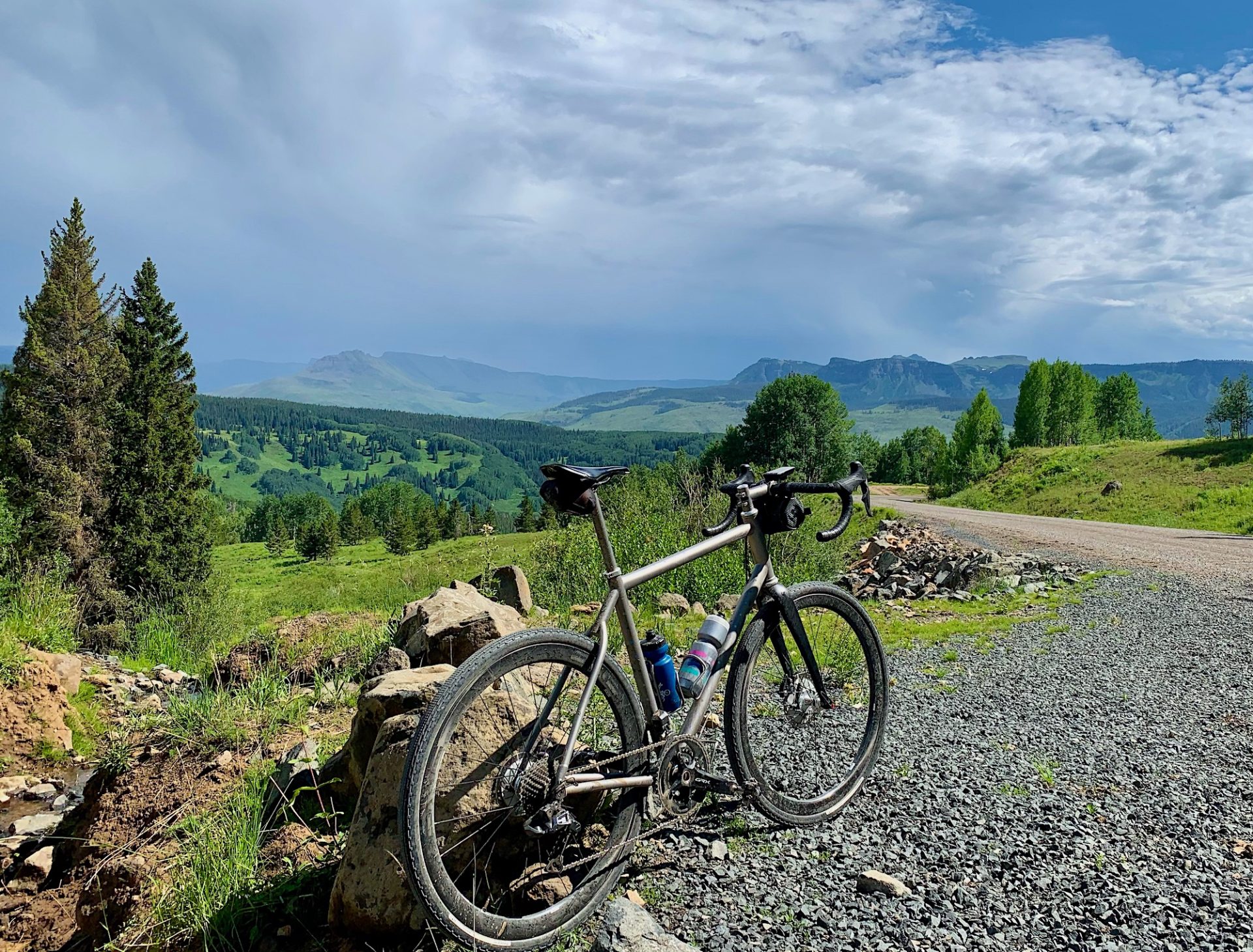 Arrive: By now most of the rain had left and the final 6-mile grind to the lodge was filled with wildflowers, damp roads, lush undergrowth and the carrot of a hot shower followed by a nice meal.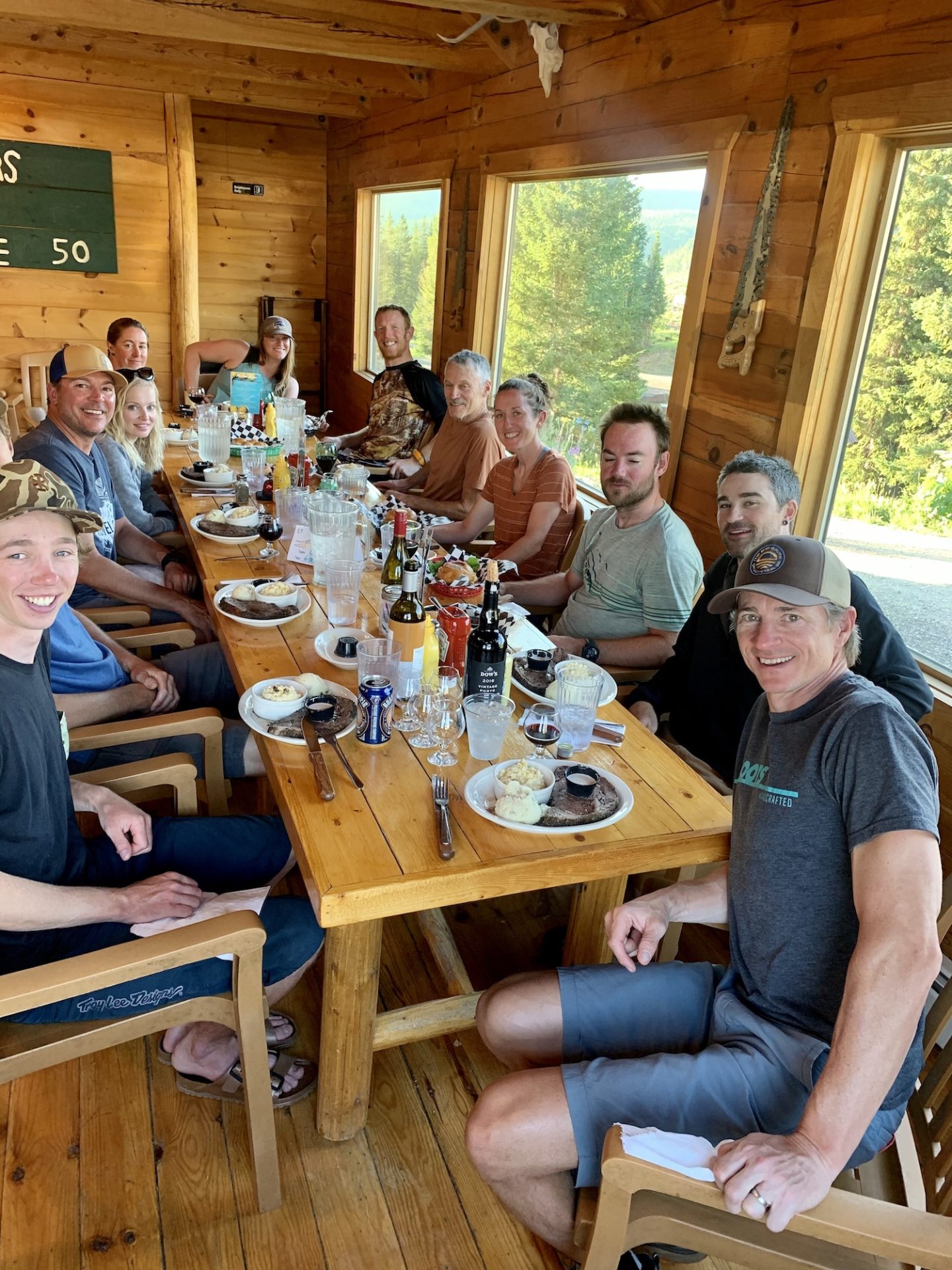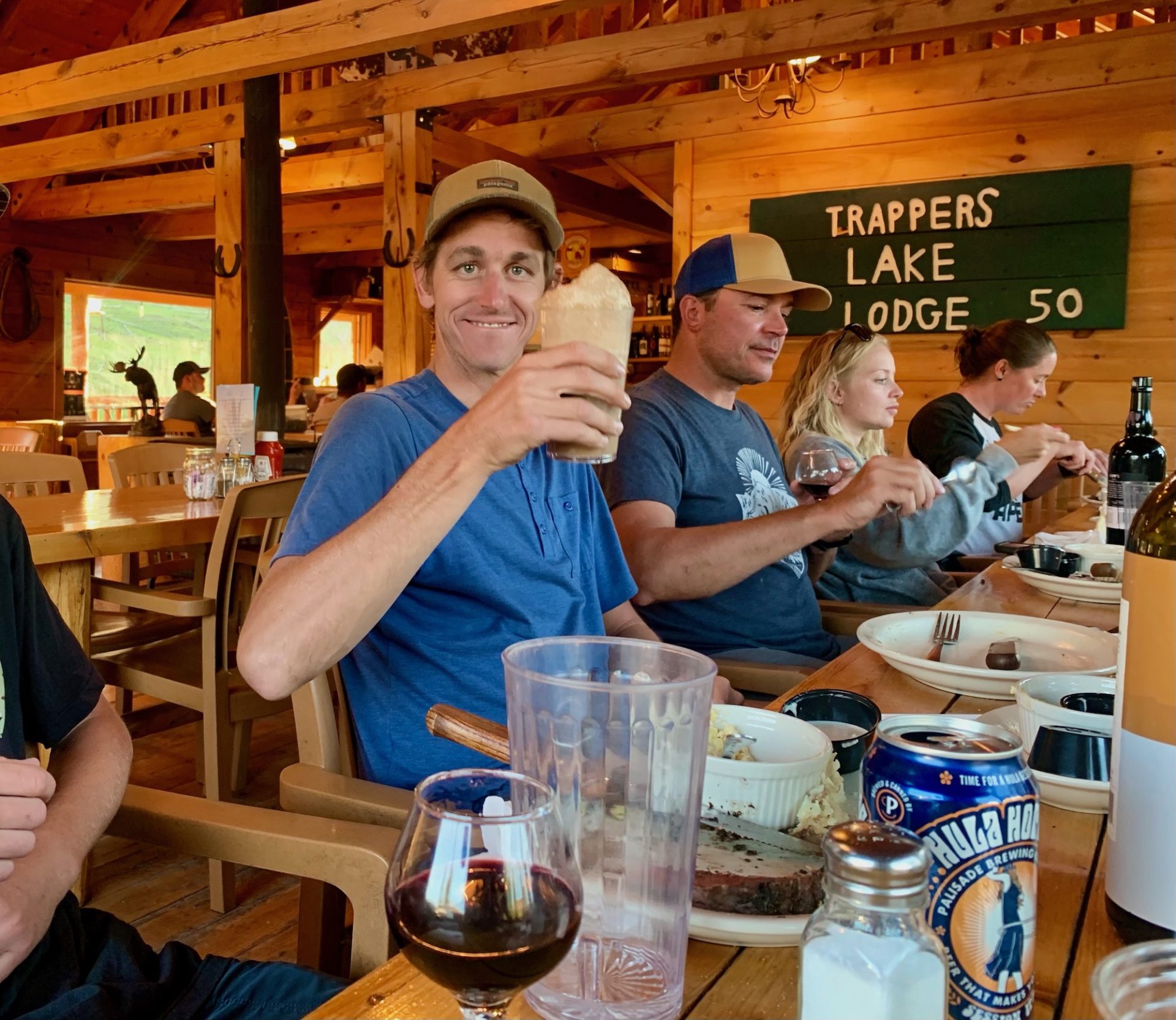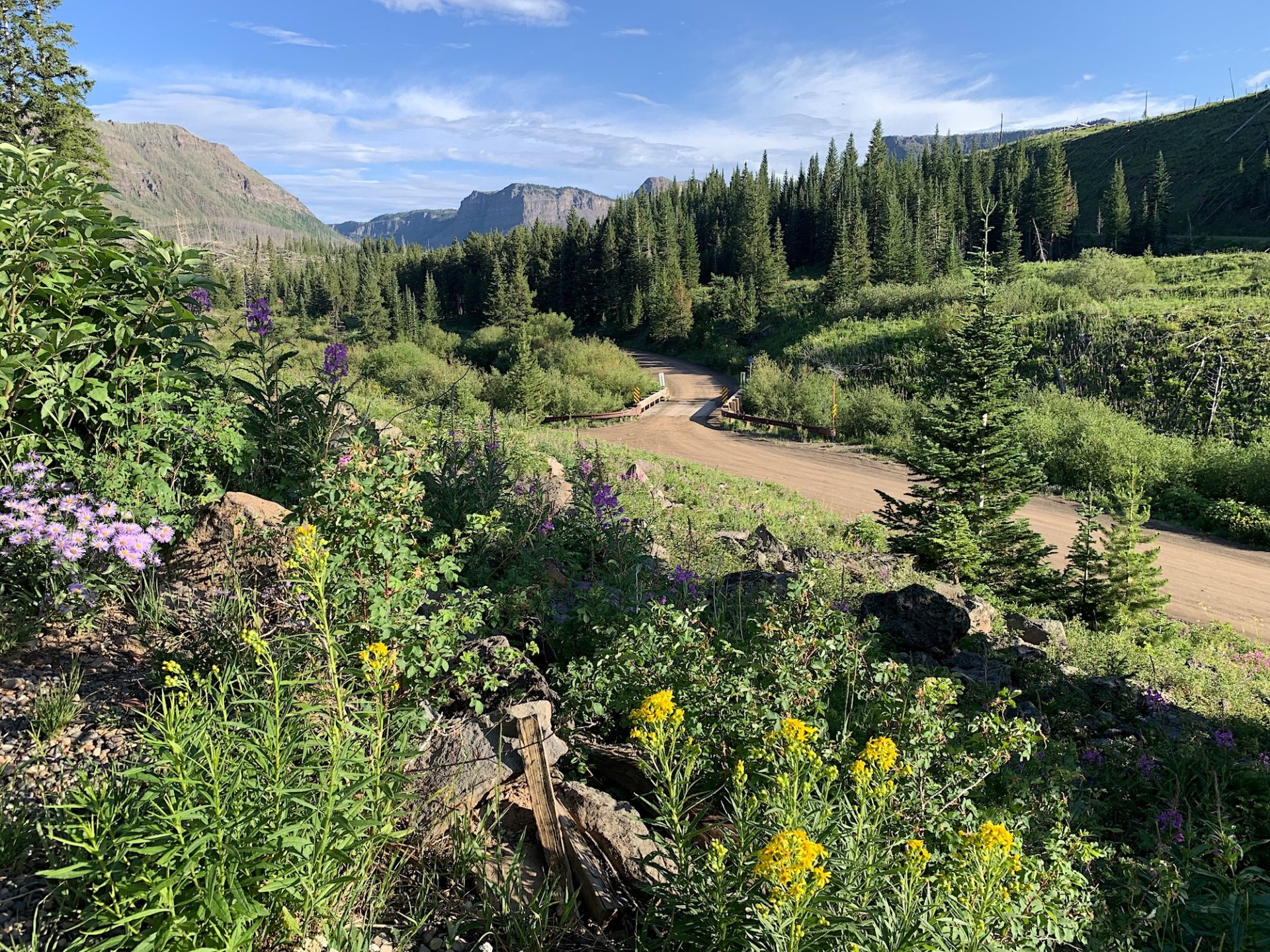 FYI: Trappers Lake Lodge was est. in 1888 and the lake holds some of the purest Cutthroat Trout in the country. The Lodge sits a 5-minute hike to the wilderness boundary where you can rent a canoe and tour the lake below the massive walls that form the Flat Tops.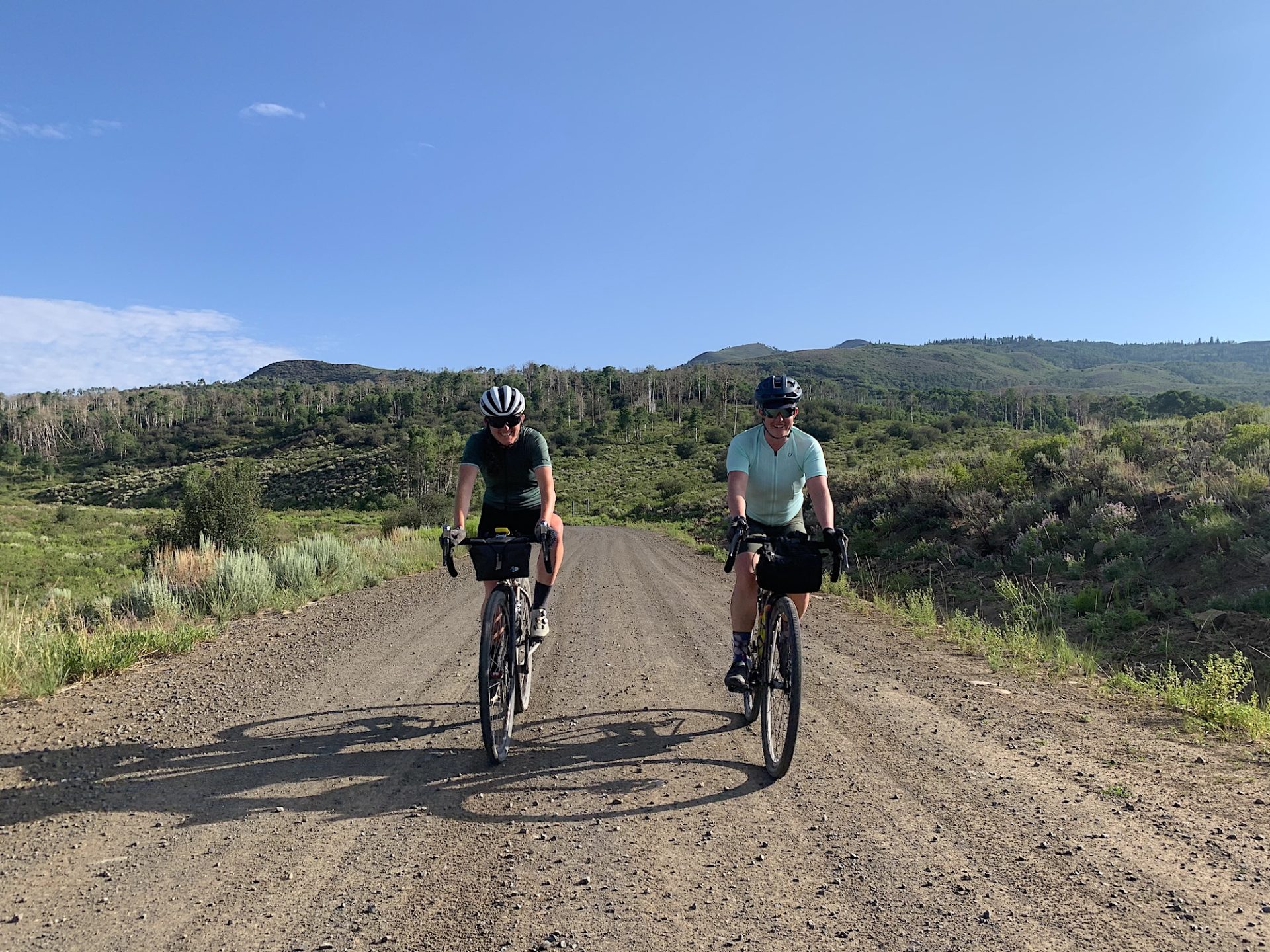 Day 3
Trappers Lake Lodge to Steamboat—-72 miles, 5,000 feet of climbing.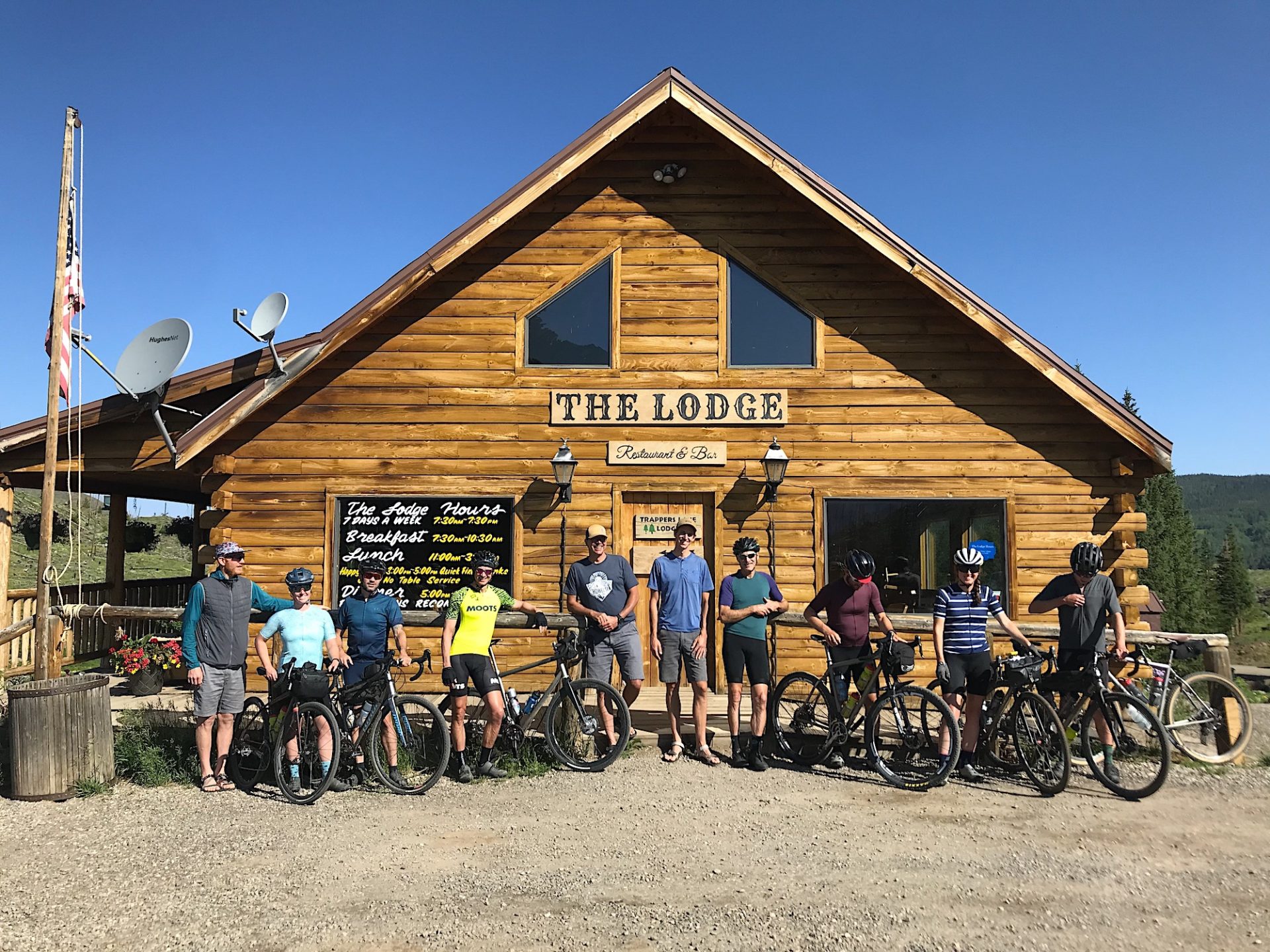 Depart: Are we done yet? Right out of the lodge you get to fly down what you rode up the day before, until you get to Ripple Creek Pass. Our group got up and over the first obstacle, which then drops you right down to the foot of Dunckley Pass. At just under 2,000 feet of climbing topping out at 9,767 feet, Dunckley Pass held some of the biggest and loosest of any of the gravel we encountered, or maybe it just seemed that way because we were 3 days in? Once at the top of Dunckley it's a long flowy pitch all the way to Oak Creek and pizza for lunch. Once in Oak Creek the route was altered as a bit of smooth pavement sounded nice to the group, so we passed on the original plan. (When the horse smells the barn, that's all they want right?) So, on we went towards Steamboat on a bit of smooth pavement and then onto those silky-smooth mag-chloride roads our area holds. Trip complete, smiles, hugs, high-fives and much sweat left out on the roads of Routt County. A trip we'll be doing again was the resounding sentiment.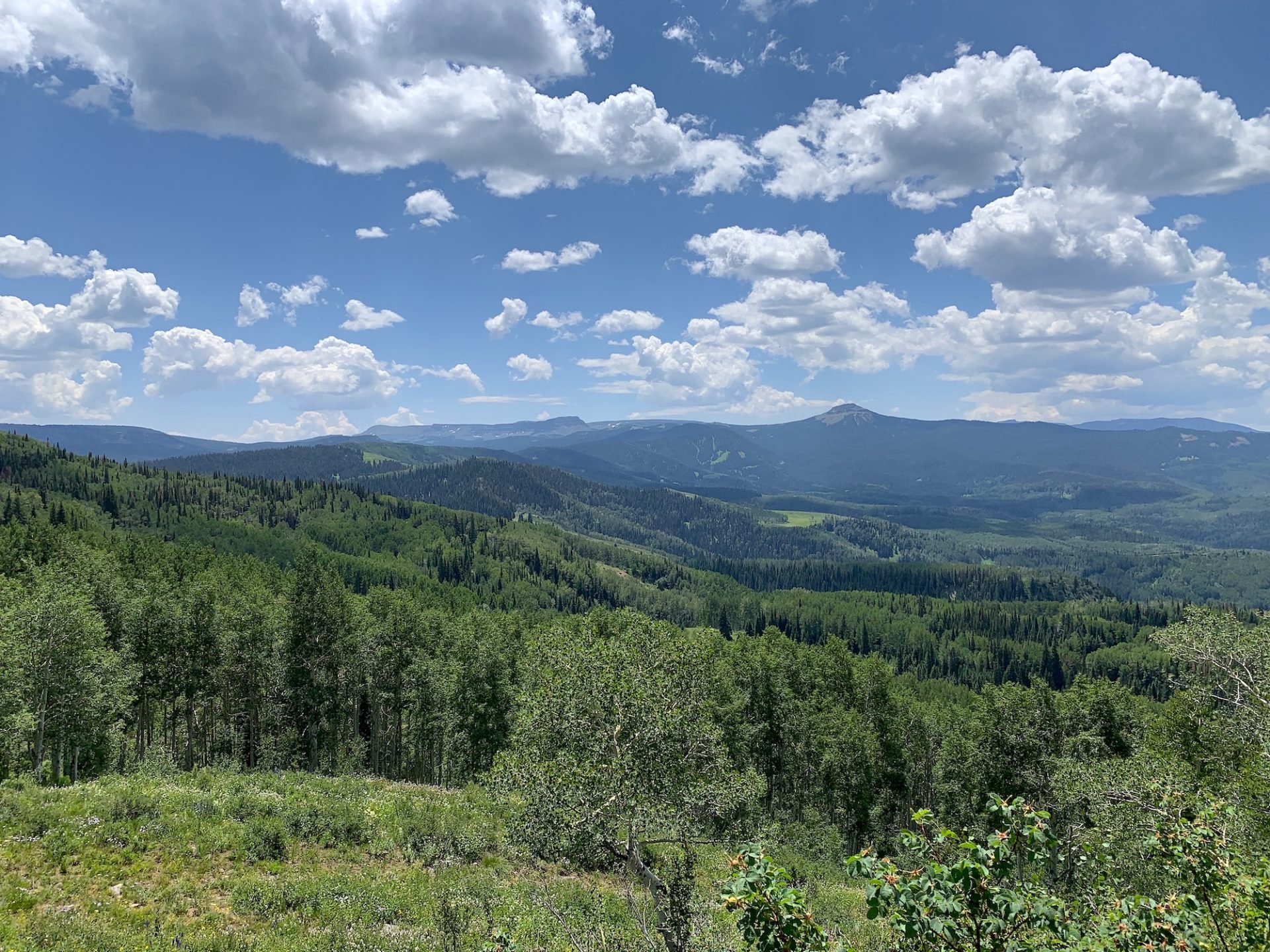 FYI: Steamboat Springs sits at 6,700 feet above sea level and is home to some of the biggest snow packed winters in North America. Population of about 12,000 people, which are outnumbered by the amount of wildlife in our region. The other 6 months of the year (give or take a month or two) the roads are plentiful, the gravel world class and the single-track divine. The perfect place to design and build bikes? We think so. 
Some resources of our ride:
The bikes we rode: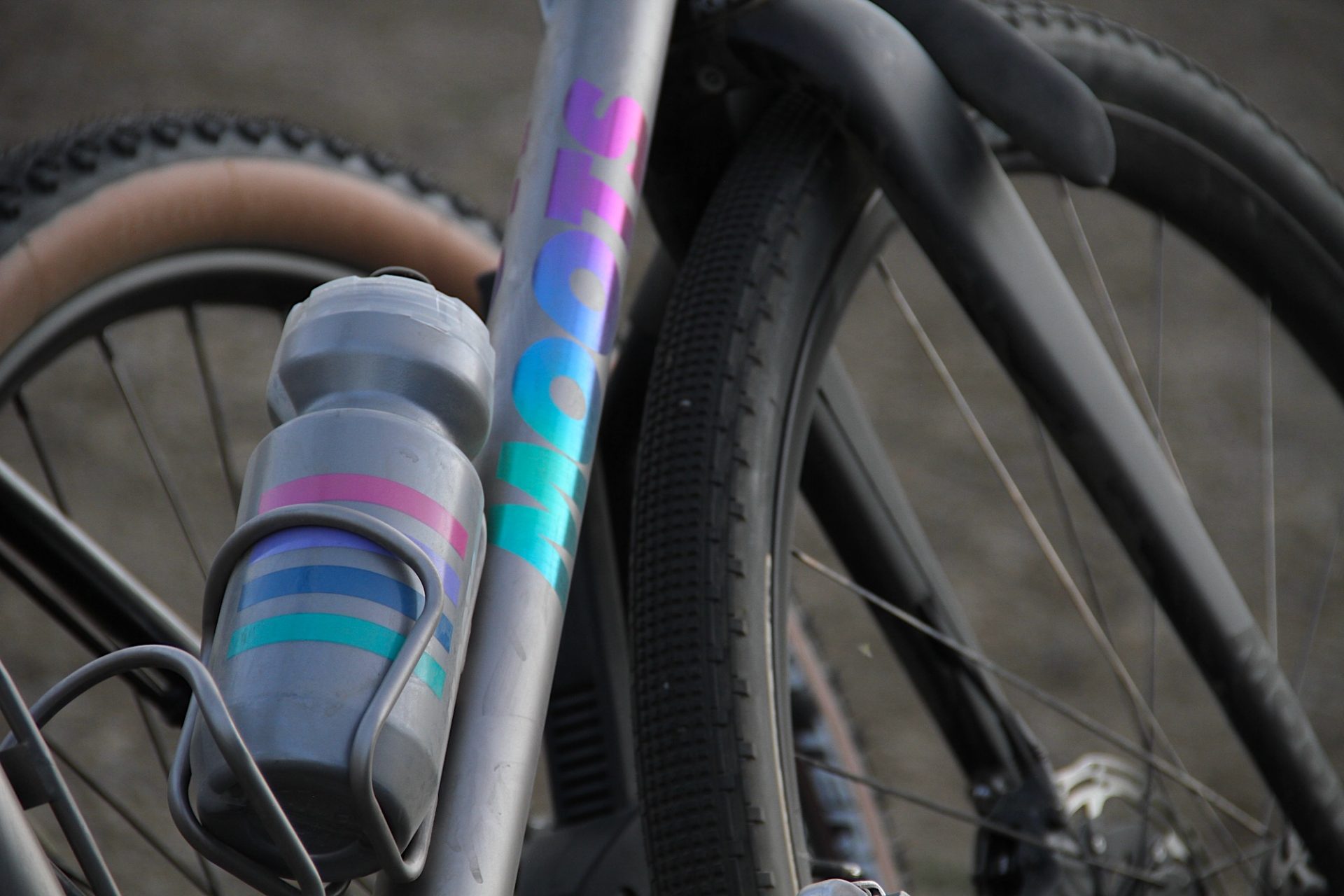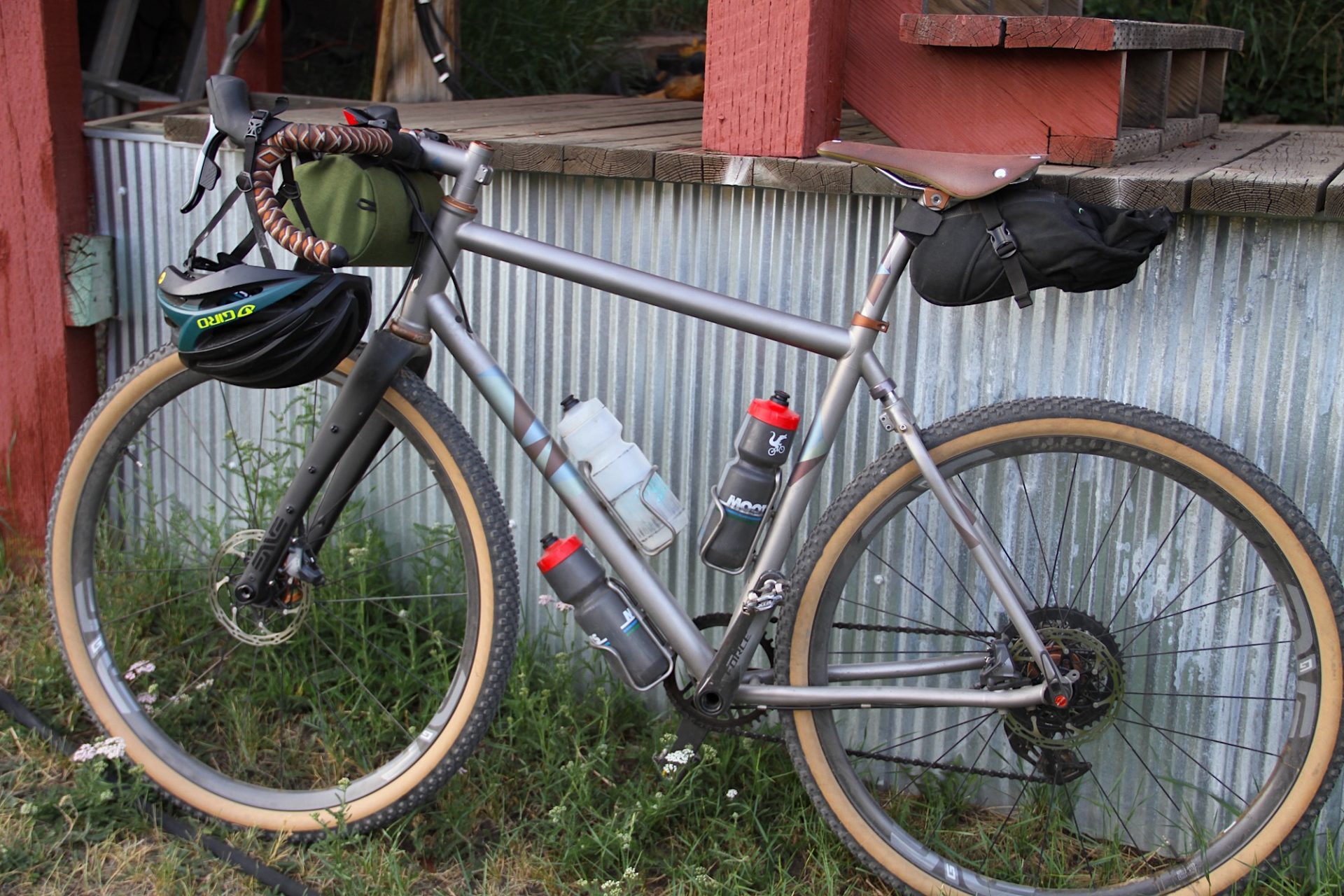 Ride with GPS routes (all three days)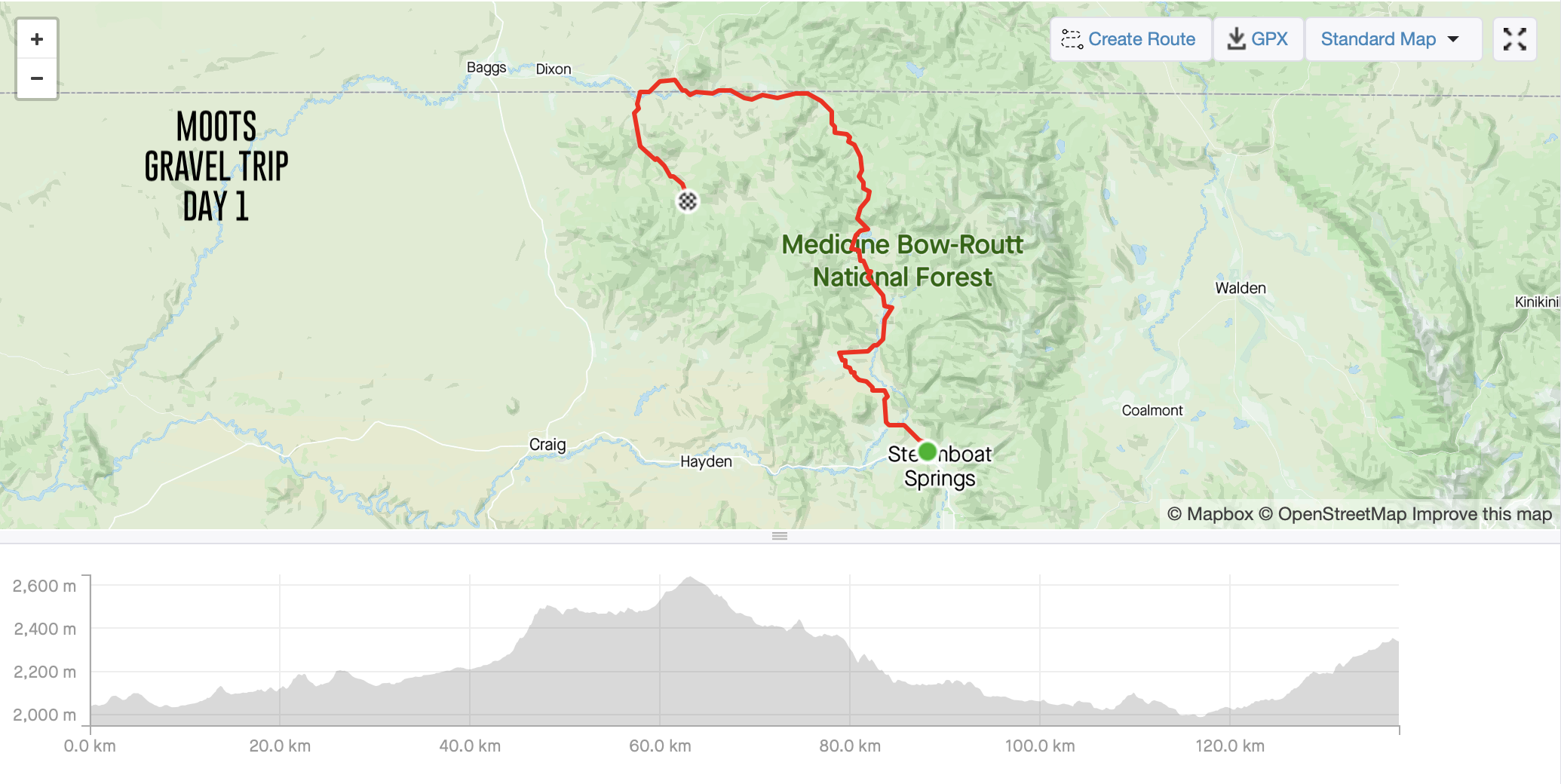 Day 1 https://ridewithgps.com/routes/36699241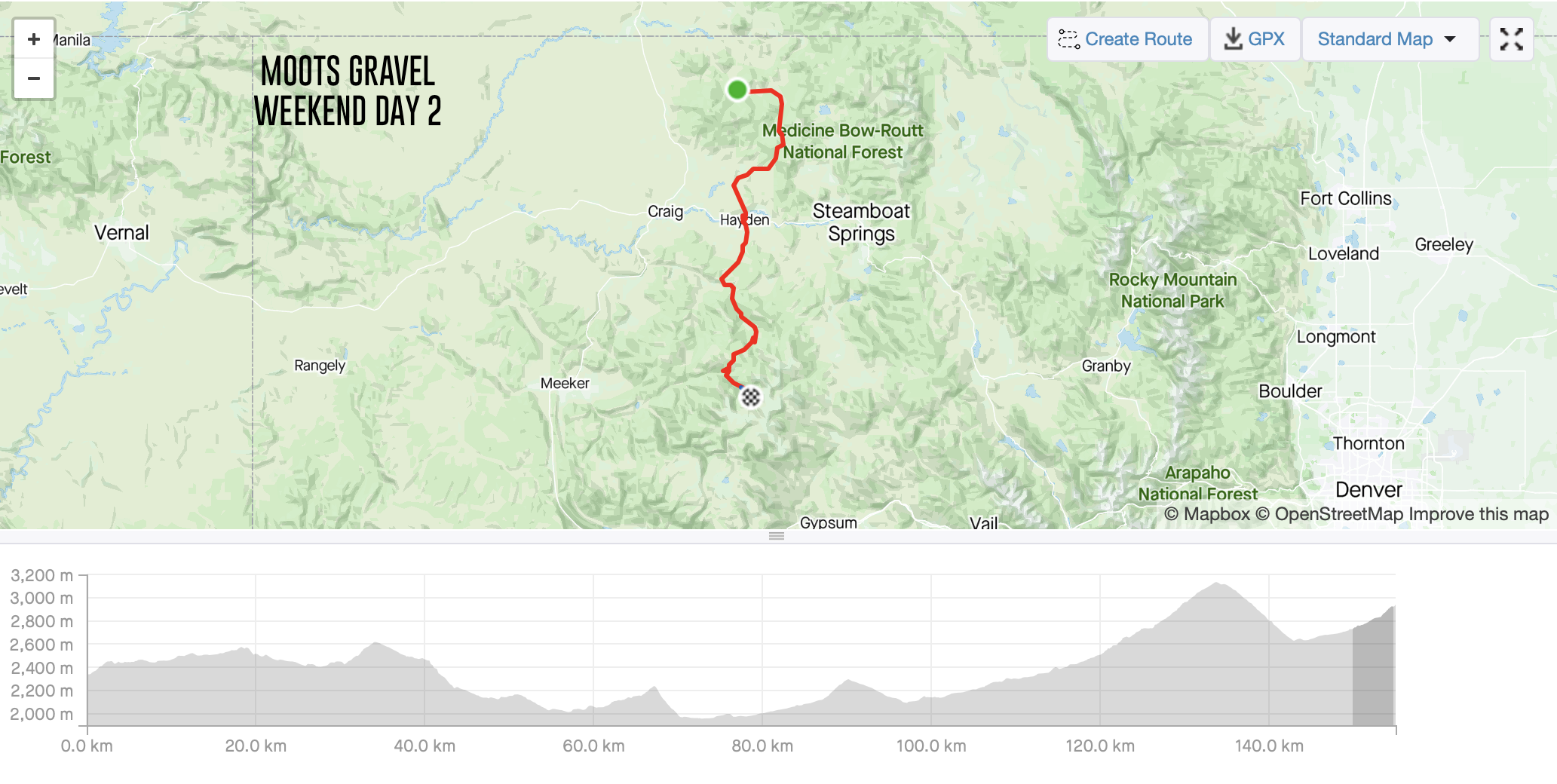 Day 2 https://ridewithgps.com/routes/36699255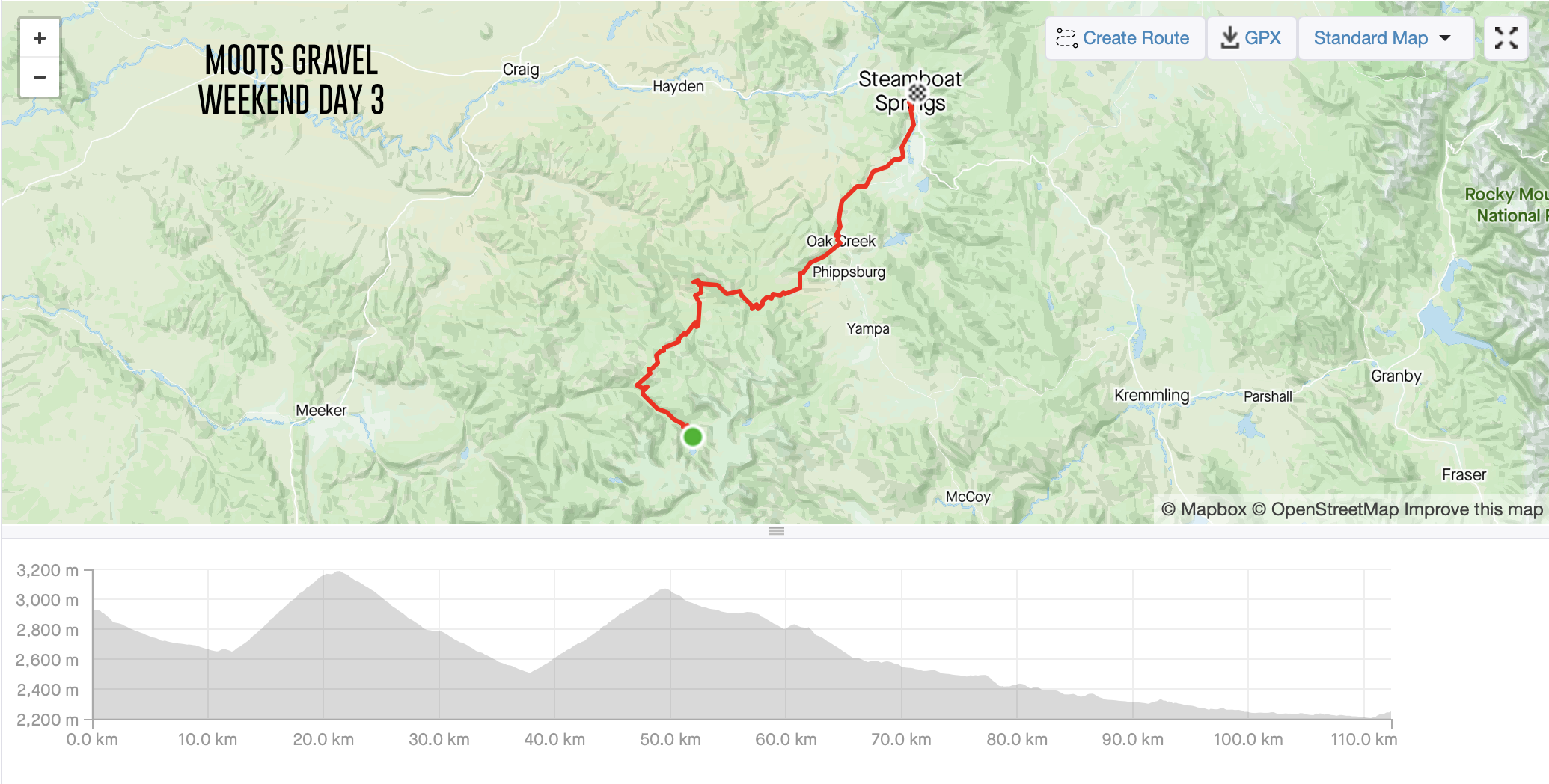 Day 3 https://ridewithgps.com/routes/36699266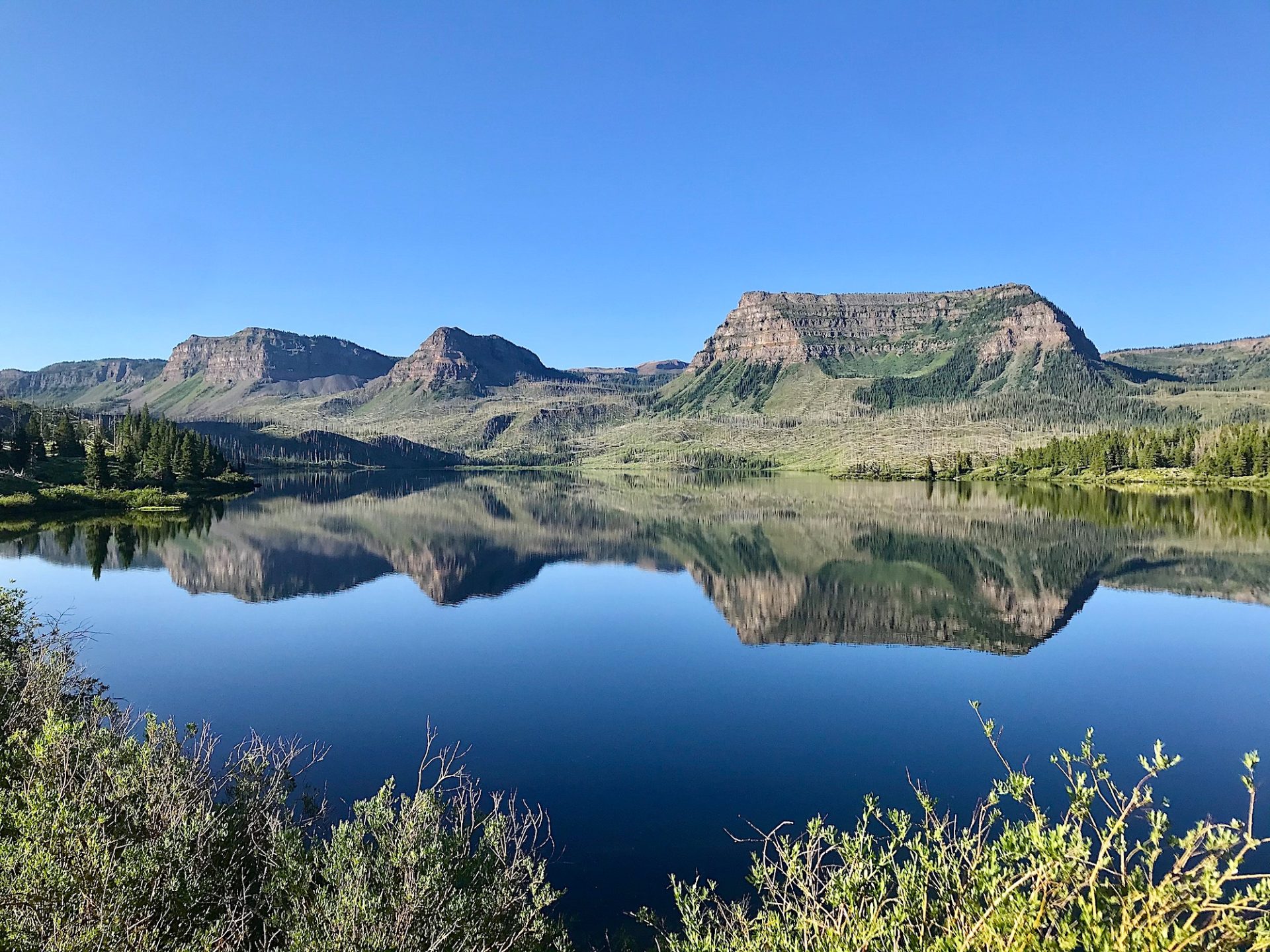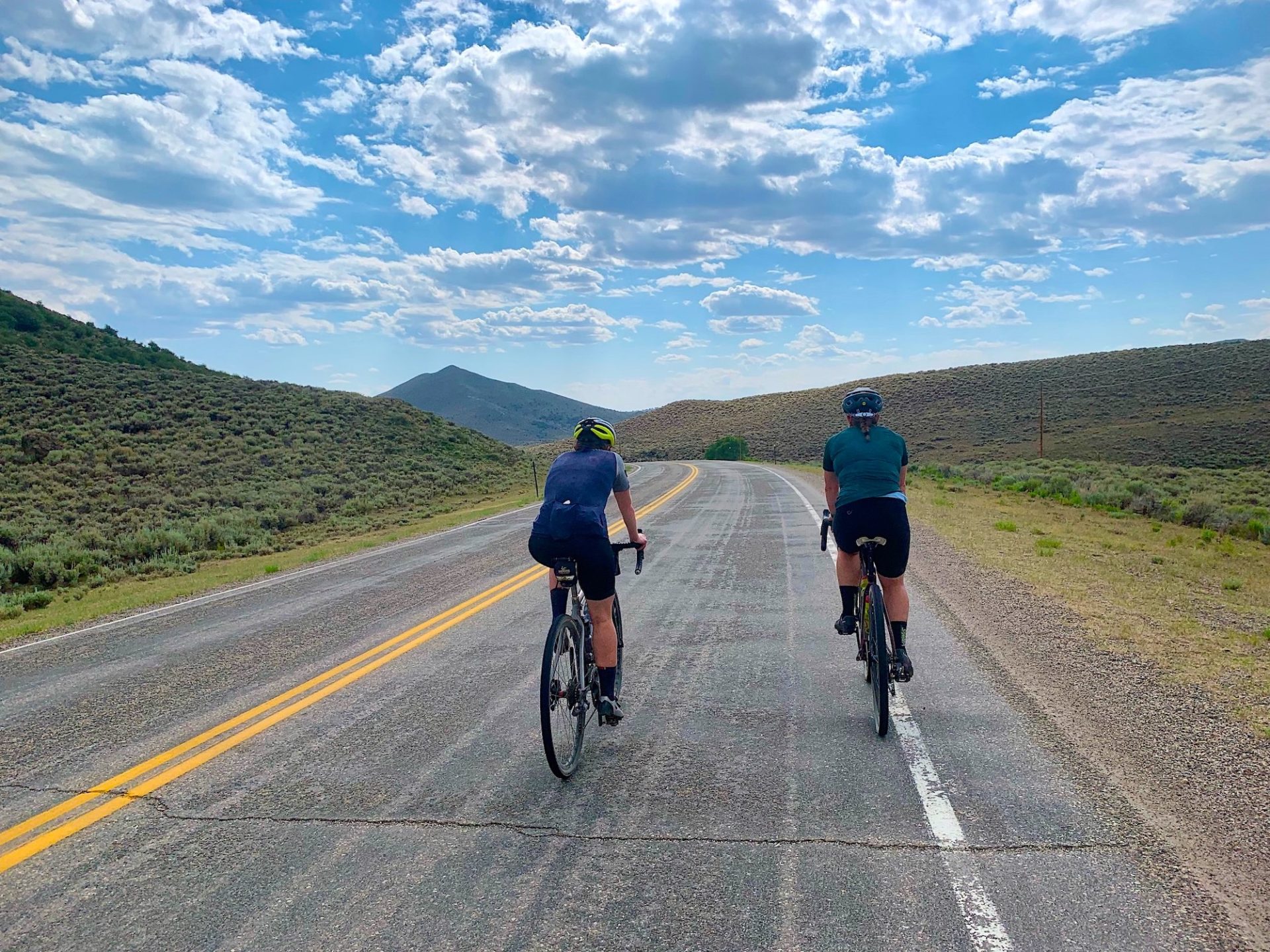 Another state and another state of mind. We crossed into Wyoming on day 1. No matter how big or small, getting out there by bike is the ultimate getaway!