Perfect all-round gravel use, gravel tour with bags, adventure seeker, the look and ride of modern gravel.
Legacy: Think of the Routt ESC as an updated version of the much loved and playful BAXTER. The Routt ESC adapts well from deep gravel, forest double track and those sweeping single track dips. Don't worry BAXTER, your legacy lives on in the ESC.
Complete Bikes starting from
You like escaping through the deepest gravel that leads to forgotten two tracks with a single-track loop thrown in for good measure. Your escape route is anything you make it with this set up.
Adding to the legendary Routt line up is the Routt ESC. The Routt ESC is an escape ready drop bar bike that can hold up to a 2.4″ tire and take you well beyond the far-off routes you've been dreaming of. Leaving your front door on a bike that can link your favorite routes together as they turn from pavement to gravel to hidden gems of single track and back again is what the ESC is all about. The ESC is equipped with three frame bottle locations as well as two three pack mounts on the fork to allow for you to get lost without wondering about the next refuel stop.
Wide gear range and a 38 tooth chainring allow big roll out and gears to climb where the goats reside. An oversized tube set, and massive fastback seat stays give this bike backbone to perform across all terrain, loaded or unloaded.
Designed to perform. Built to last.
Built for Long Haul
Exploration
Designed with an oversized tube set for distinct stiffness and responsiveness, the Routt ESC can take on deep gravel, lumpy two tracks, single track loops and more with ease. Two three-pack mounts on front and back forks allow you to explore further without worrying about the next pit stop. With the Routt ESC, your escape is what you make it. Be ready for any terrain with hand-built features like.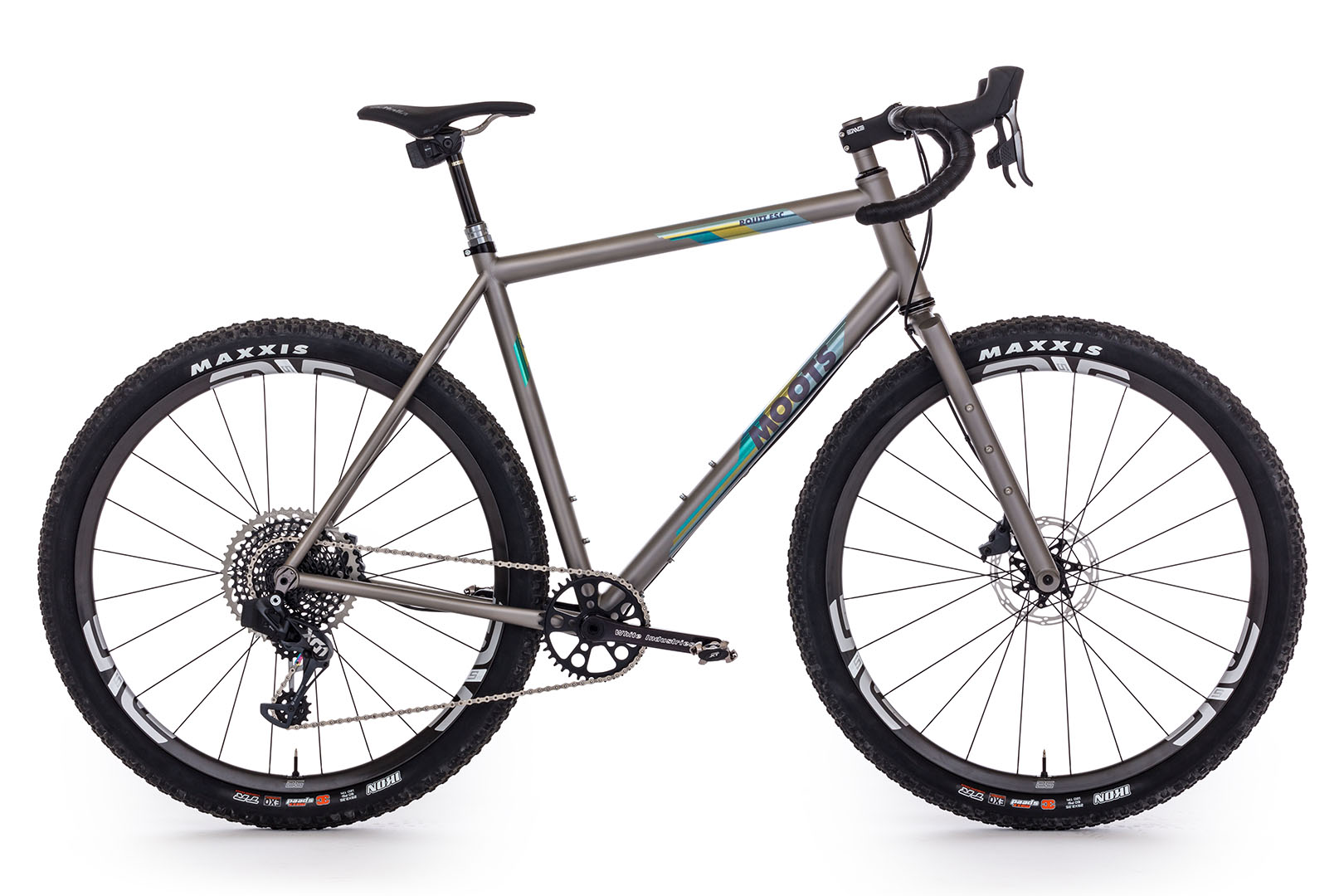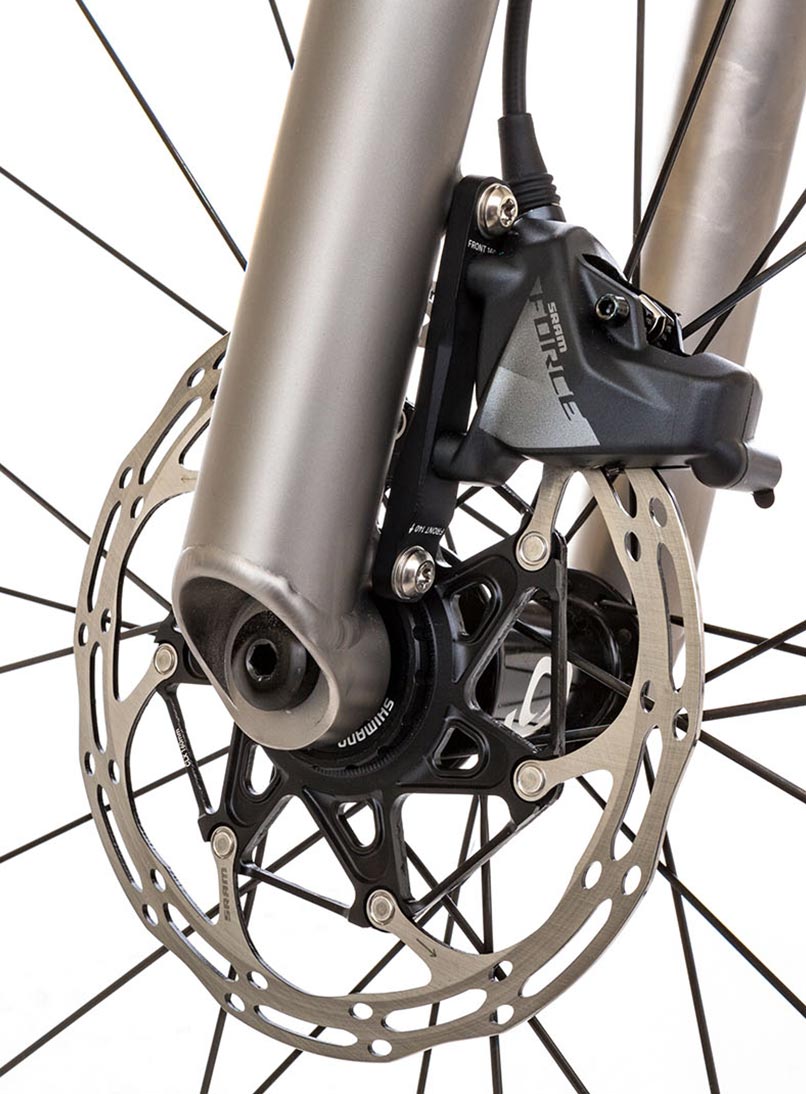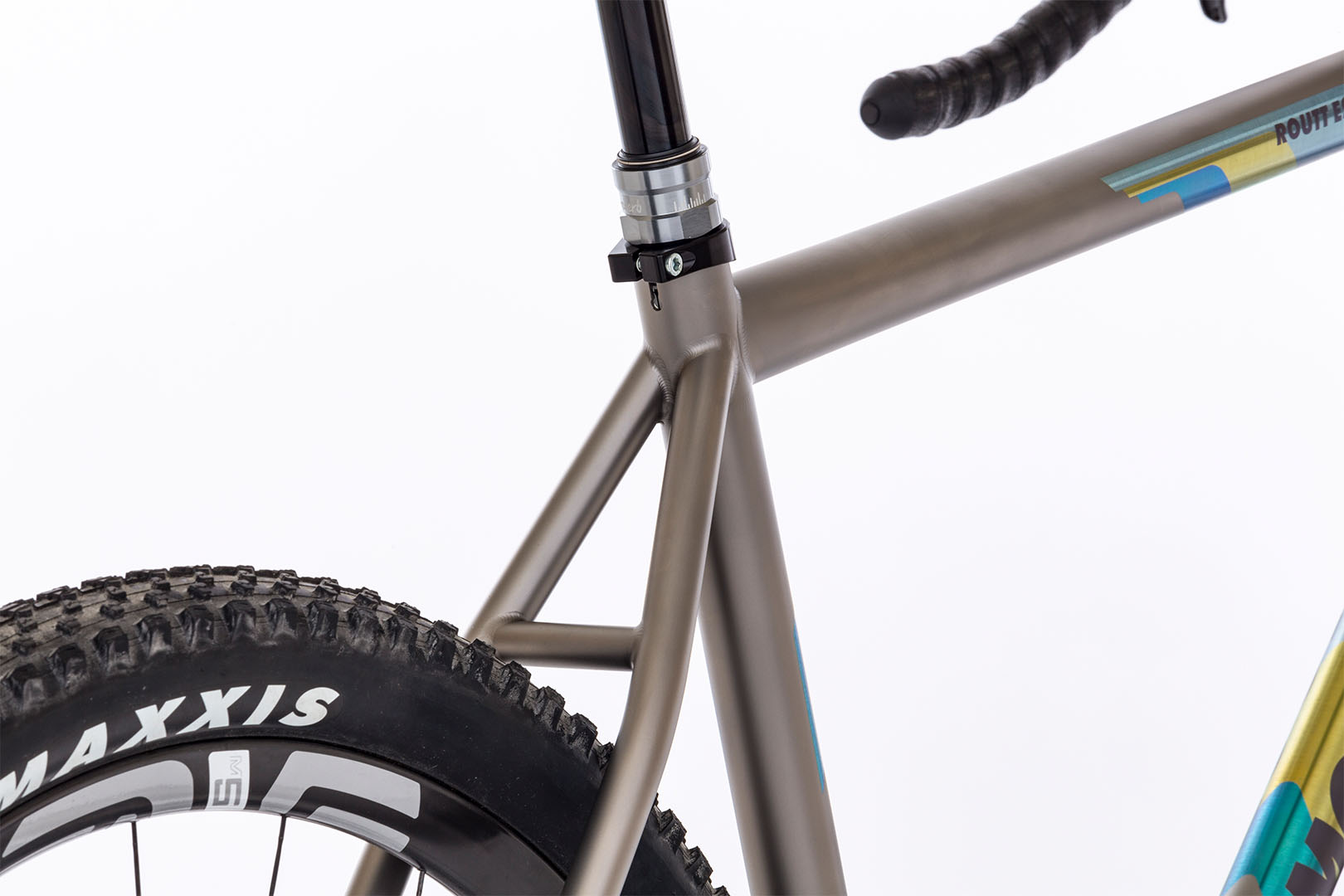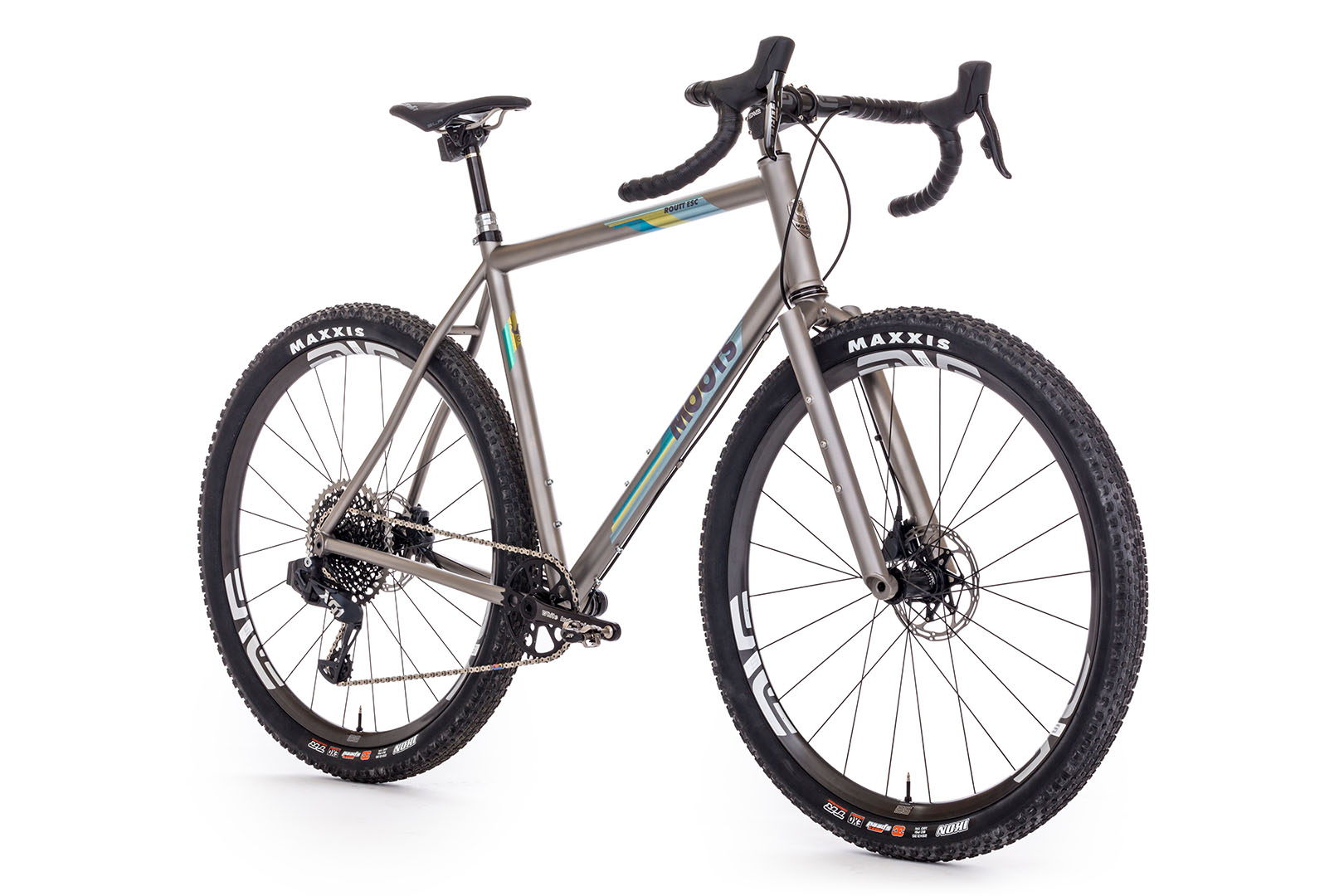 Routt ESC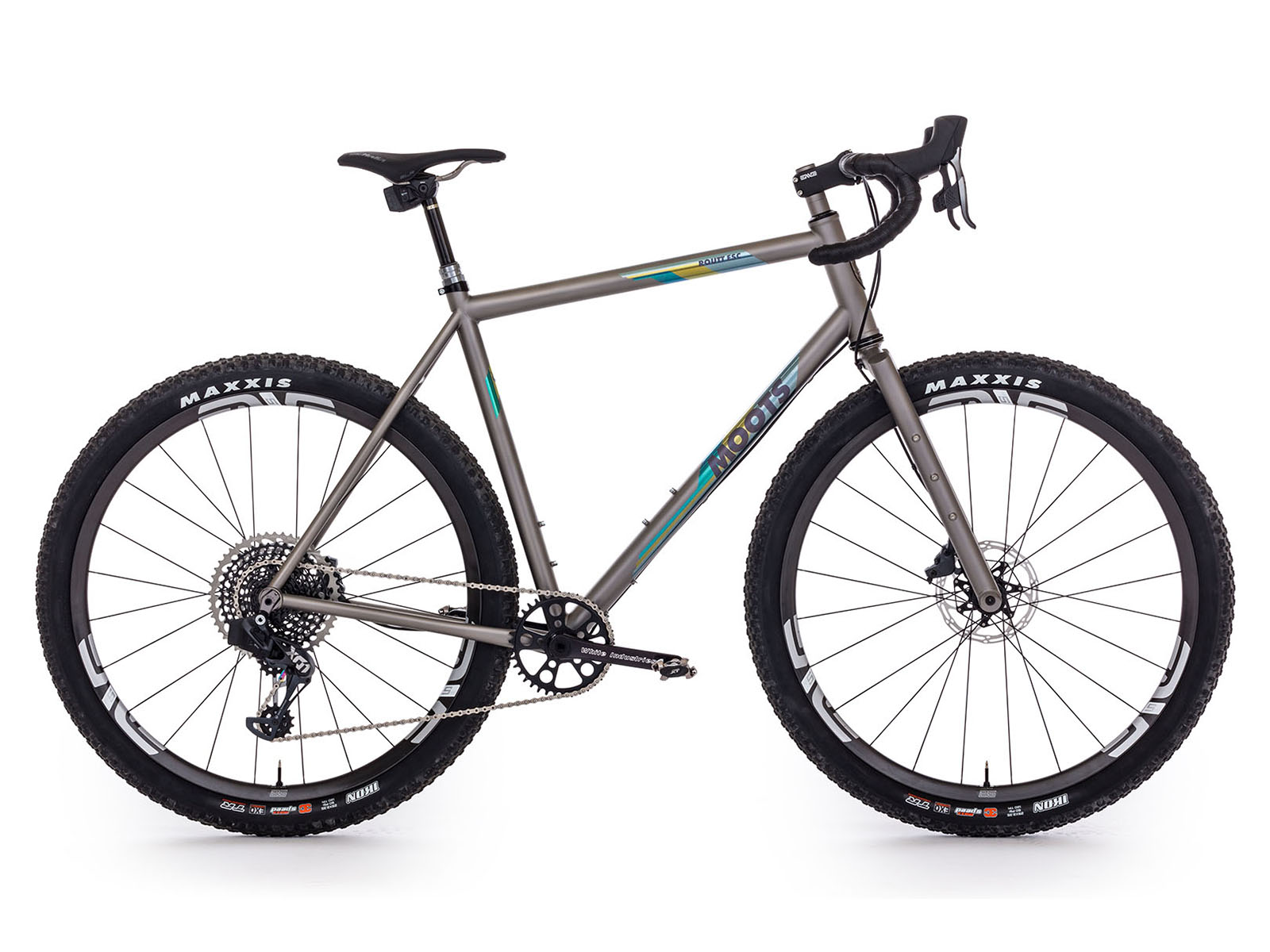 Step 1: Select Build Kit | Step 2: Place Your Deposit
| | |
| --- | --- |
| Size | |
| Finish | |
| Fork | Ti Bearclaw Fork |
| Stem | Moots Ti |
| Seatpost | |
| Crank | White Industries |
| Handlebars | Enve Gravel |
| Grips/Tape | Lizard Skins DSP 2.5mm |
| Saddle | WTB Gravelier Ti |
| Bottom Bracket | White Industries |
| Wheels | ASTRAL BOOST OUTBACK CARBON |
| Tires | Maxxis Ikon 2.35 |
Moots 3/2.5 Titanium
Seamless Tubeset
Oversized, thin walled, US Made tubeset that is available in multiple diameters and wall thickness to tune each size frame to the ride quality we want to achieve.
English Threaded
Bottom Bracket
English threaded bottom bracket. For years of serviceability and compatibility.
3D printed flat mount disc mounts for accurate alignment between brake caliper, rotor and axle.
Find your ideal frame size on the Routt ESC with our easy-to-use bike sizing guide. "I was looking for a bike to take me on adventurous rides right from my home. Deep gravel, two track and single track are the norm for me. The Routt ESC was built exactly for this and performs perfecty."
Lifetime

Warranty

on Every Moots.
Lifetime
Warranty

on Every Moots.
Register your NEW Moots frame so we have your information on hand if a warranty issue ever arises. We also keep you up to date with new Moots product info, special offers and events.