WHAT IS IT? 
Moots is excited to relaunch the world-renowned Ranch Rally. This year's Rally will use the gravel roads right outside the Moots factory doors – the same roads and mountain views that have inspired our bikes for more than 40 years. The NEW RANCH RALLY has two courses, either a 72- or 54-mile route, both are almost 100% gravel and will include a few competitive timed segments for those that want to test their mettle. What hasn't changed is the warm hospitality that the local ranch community has extended to all riders over the years through a Ranch hosted lunch and evening social gathering. Entries are limited to 350 riders in order to keep it small and relaxing as you ride your way through Routt County. 
RECOMMENDED BIKE/GEAR
We highly recommend using a gravel bike with 35mm tires or bigger to enjoy your day in the saddle.  
WHAT'S INCLUDED
Each rider will recieve complimentary limited edition Ranch Rally items, entry into the ride that will have two fully stocked aid stations, a ranch lunch, evening social with light food & adult beverages, Moots factory tours as well as an entry into our raffle for a Moots Routt 45 gravel frame ($5000 value). On top of that the course will be well marked and riders will be supported by a sweep/mechanical vehicle as well as event medical services roaming the course. 
SCHEDULE
June 10th (Friday) Packet pick up: from 5-8pm at Moots
June 11th (Saturday) Ranch Rally rolls out at 8:30 am from Moots
June 11th (Saturday) Moots evening social  5-7pm at Moots 
June 11th (Saturday) Moots gravel frame raffle @ 6:30pm
WHY? WHAT'S THE REASON? 
First and foremost we love to ride! These roads play a huge part in the development of our bikes. The crew at Moots is beyond excited to host cyclists from across the country in a fun, social setting based right out of our factory doors. Putting our collective pedal strokes towards raising funds for local and national non-profits has been a part of Ranch Rally since the beginning of the event in 2014.
Secondly, our friend, NBA Hall-of-Fame legend, and Moots athlete Reggie Miller will be riding this year's Ranch Rally! Yeah, he loves to ride bikes and he's stoked to ride his brand-new Routt RSL on the very roads that inspired it, but he's also in Steamboat to help build diversity in cycling through raising funds for cycling programs at Historically Black Colleges and Universities (HBCUs). With the help of your attendance at the Ranch Rally, Moots will provide Reggie with a donation to help build this diversity.
"I'm excited to be in Steamboat riding bikes and raising funds to open cycling clubs at HBCUs. The Ranch Rally is going to be a fun event and I look forward to exploring Routt County while supporting greater diversity and inclusion in the sport," says Reggie.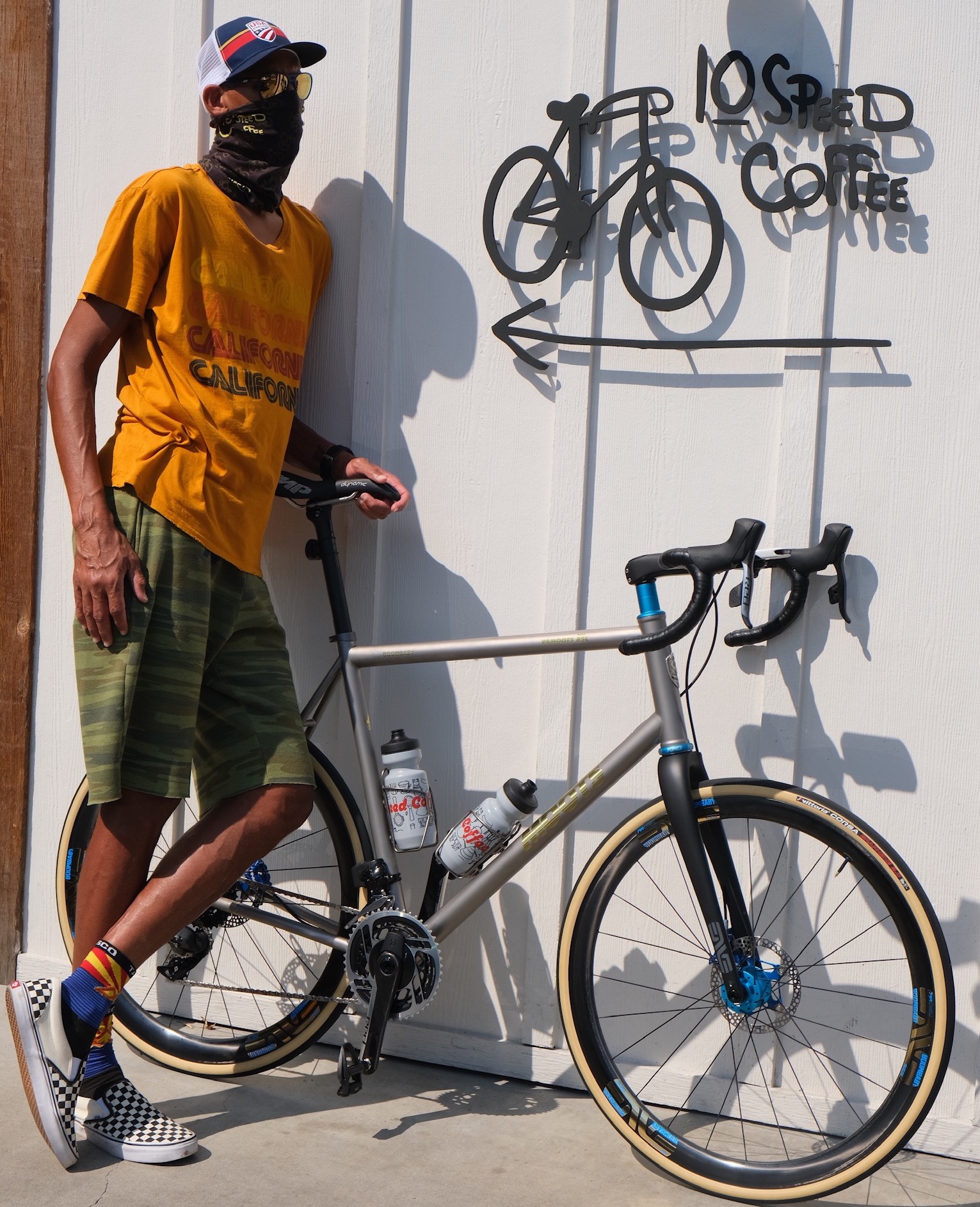 Pictured above: Reggie Miller and his Moots Vamoots Disc RSL. 
And finally, once again the Ranch Rally will be raising funds to bring visibility to the Community Ag Aliance. The Community Agriculture Alliance (CAA) is a local, nonprofit organization located in northwest Colorado serving the Yampa Valley. The office is in Steamboat Springs, Colorado.  They have been promoting agriculture in the Yampa River Valley since 1999 and working to ensure the vitality and continuity of local agriculture.  They lead the community to grow agriculture and to create alliance among individuals with shared passions and goals.
RAFFLE 
The Moots Ranch Rally raffle will take place during our evening social at Moots (must be present to win). We keep it short and sweet. We'll be pulling the name of a lucky winner of a Moots gravel frame. We will also be presenting awards to the top 3 women and men for combined times across the timed segments, as well as several other top shelf raffle packages. (you'll have 1 out of 350 chances to win it!)
TWO COURSES (click to view RidewithGPS)
THE WRANGLER: 52 Miles and 3K feet of climbing.
THE FULL BULL: 72 Miles and 4800 feet of climbing. 
Registration is open now, but spots are limited so don't delay! We anticipate selling out quickly.
GO TO RANCH RALLY REGISTRATION 
Looking for more than one day of Steamboat gravel riding?
You can join SBT TRVL and get a guaranteed entry into Ranch Rally.
You can go here to find out more: