Words & images by: Micah Ling
The summit of Mauna Kea – the highest volcano on the Big Island, and one of the biggest climbs in the world – reaches 13,796 feet (4,205 meters). At the top, some of the largest telescopes in the world – a place with complete darkness, so close to the stars. Waikoloa Beach, 55-miles to the west, sits at sea-level. Literally zero. The Pacific Ocean. At 5:15am on the first Friday in May, I set out to climb from the sea to the summit. With only a few minor downhills, it's 14,315 feet of climbing from start to finish, and none of it feels easy. 
But let me back up. Months ago, when I booked a trip to Hawai'i, I immediately started wondering if I could do what's known as the most difficult climb on Earth. If I attempted it, I knew I wanted to ride my Moots Routt RSL. The bike that feels like an extension of my body. 
Beyond the sheer numbers, the route to the summit involves a notoriously difficult section of 4.6 miles of gravel. Except this isn't Colorado gravel. It's not packed dirt or heavenly sounding rock crunch. It's largely volcanic silt — powdery sand. Even where it doesn't look bad, tires, no matter the size, sink down into inches of the stuff. And on either side of the "gravel" section, perfect pavement. For this reason, many who attempt the ride choose a light road bike with skinny tires for the first 45 miles, and the last 5, and then switch to a mountain bike for the wildly steep loose stuff. That sounded too complicated for me. I wanted to stay on one bike and just go.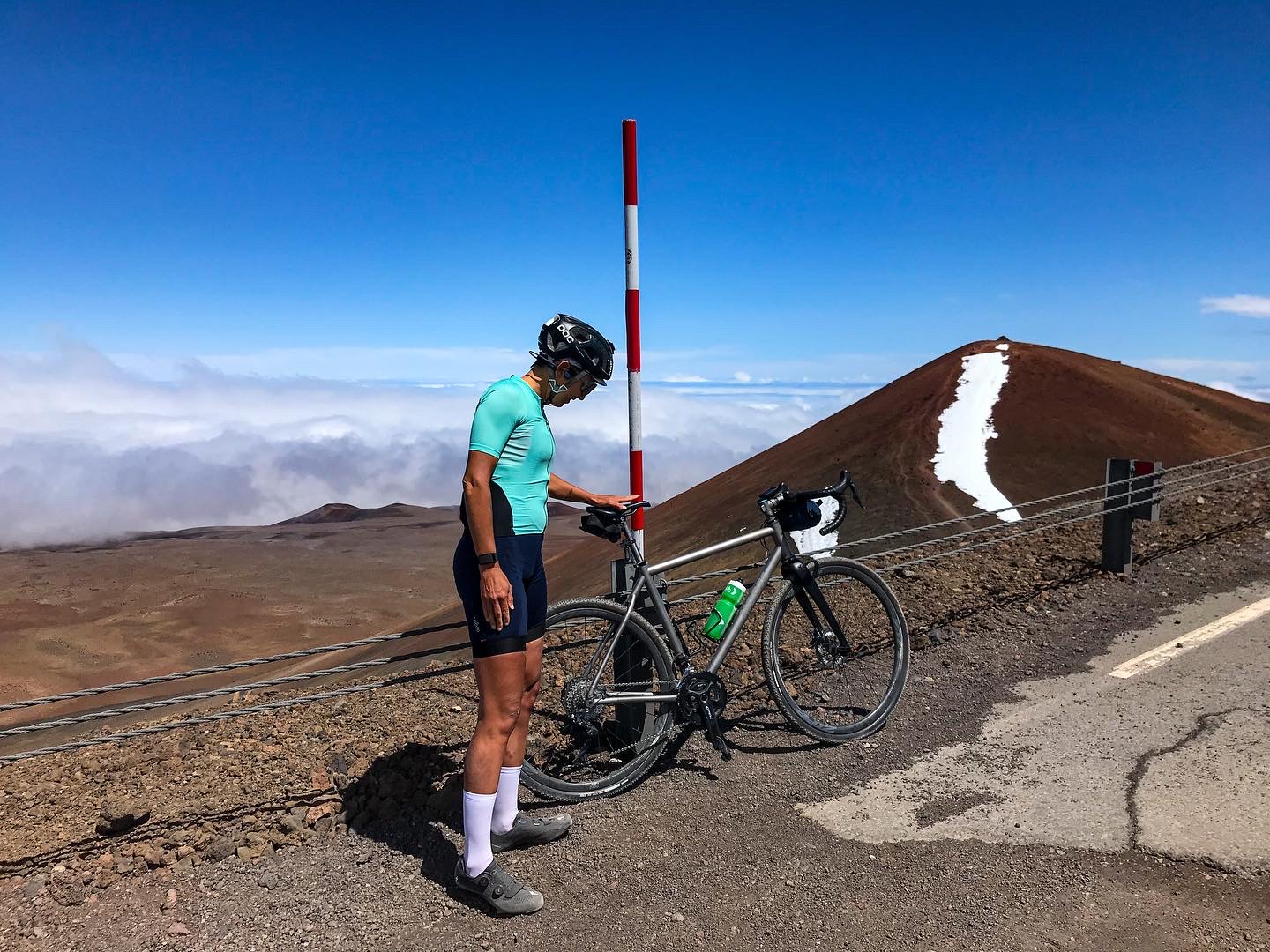 And it was the right choice. The Routt RSL is what I choose for 95% of my rides. I've taken it on mild single track, and all-day tarmac. It's what I ride around my tiny town in the mountains, where you can't go very far without encountering dirt, mud, gravel, double-track, and pavement. For Mauna Kea, though, the most important factor was comfort. The climb took all day. Pre-dawn to nearly 2pm. The first 40-miles climbs 7,000 feet, and the last 15-miles, also 7,000 feet. I couldn't have done this on a rental – even the nicest rental. I needed my comfort zone. 
Something you never think you're going to experience in Hawaii is a winter storm warning, but the night before I was to set out on this epic trek, there was a chance that the road to the summit would be shut down for incoming snow and ice. It is, after all, nearly 14,000 feet. When I woke at 4:30am, the warning was canceled. It was go time. 
The first 40 miles ticked off as planned. It felt exactly like you might expect 40 miles with 7,000 feet of climbing would feel. Steady. Relentless. But nothing compared to what was ahead. And amazingly, the weather was perfect. A lot more humidity than we see in Colorado, but clear skies and full sun. And because I was continuing to gain altitude, the temperature never seemed hot. Still, I was sweating. Hydration and nutrition were key. Luckily, I had the best SAG Jeep, with a steady supply of local pineapple.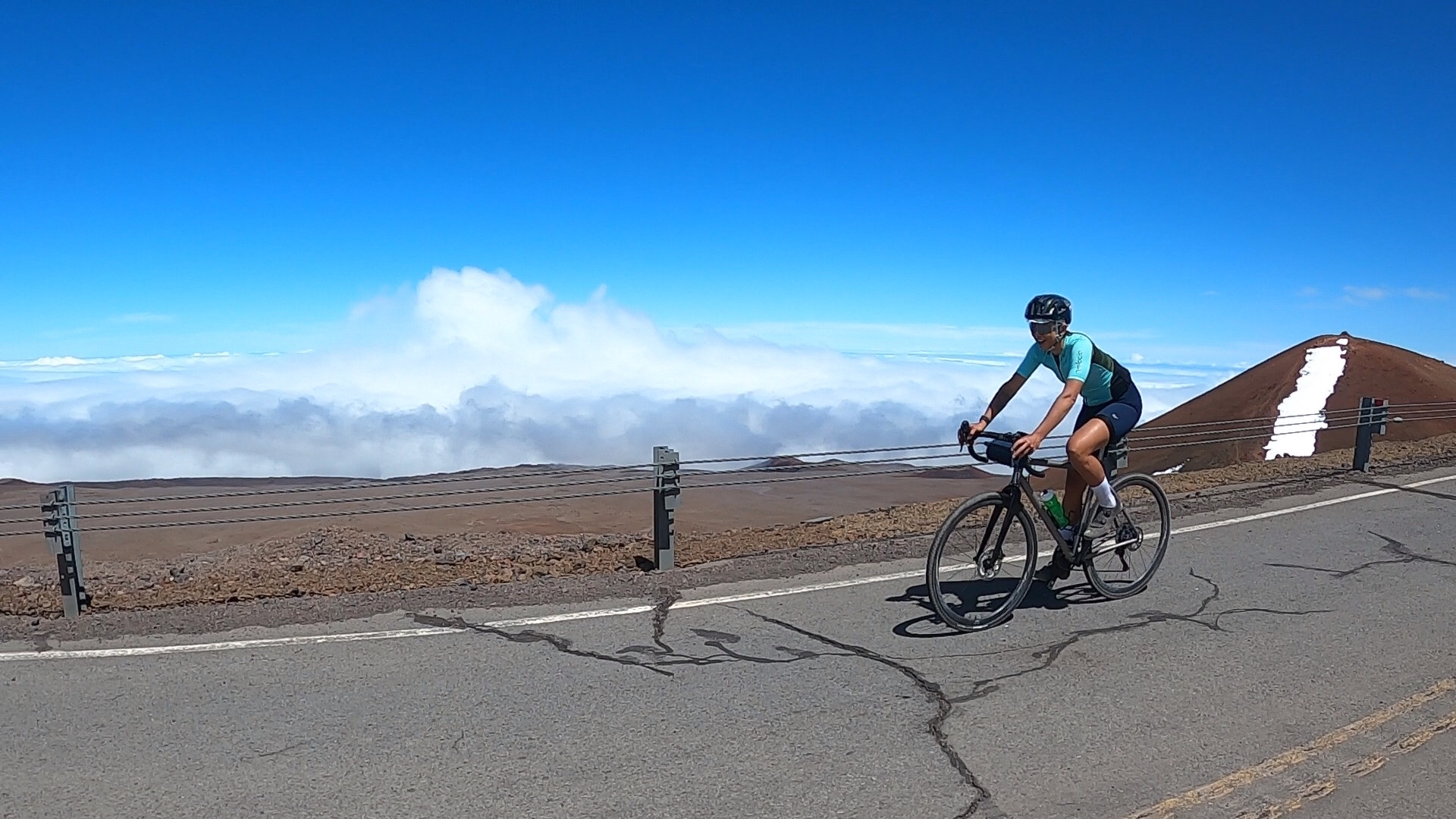 One of my key strategies was to stop as little as possible. I didn't want to get off the bike and rest much, out of fear that I wouldn't want to get back on. More than 8-hours of pedaling is brutal, but I knew that if I stopped for very long – if I got in the Jeep and really relaxed in the cool AC – that could be the end. At the Visitor Center, which sits at 9,200 feet, just before the gravel, I took 10 minutes. I ate cookies, refilled bottles, used the restroom and washed my face with cold water. I was going through so many calories I lost track of all that I had eaten. I climbed back on the bike, knowing the next section might break me. 
Inevitably, there were a few 100-meter sections that I had to walk. It took so much energy to spin through the silt and gravel – like 3 times the effort I had been putting out on pavement – all at around 11% grade. If you don't unleash crazy watts, you fall over. So, I unclipped, and found out that the only thing more difficult than spinning volcanic sand is trudging through it while pushing a bike. Three cars passed on their way back down, people leaned out and assured me I was almost back to pavement. I just kept telling myself, yes – get back to pavement and it will all be fine.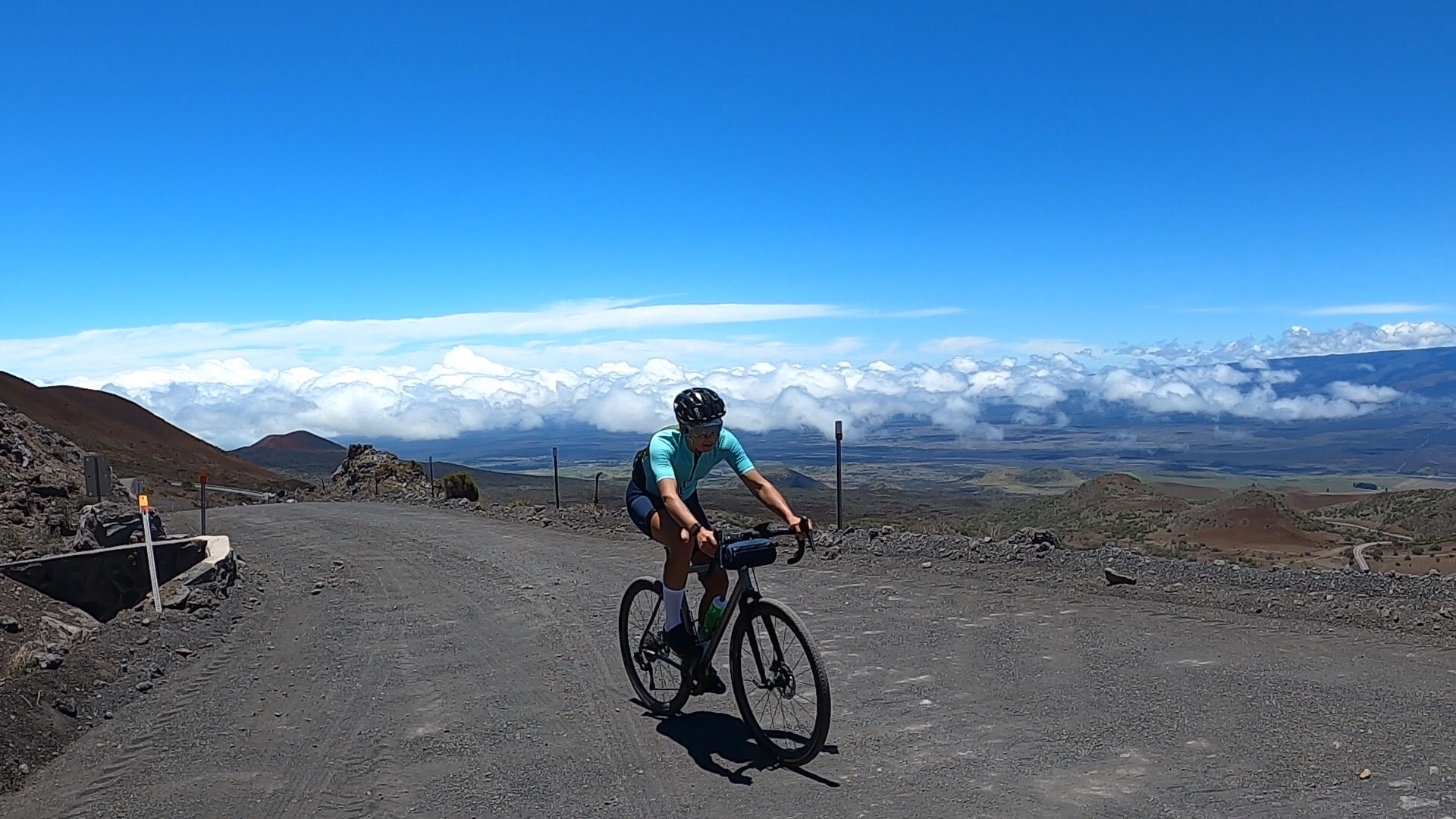 That was a lie. When I finally, finally got back to smooth tarmac, things got even uglier. The whole time I was wrestling the gravel I thought, there's no paved climb that I can't do. I've ridden all the mountain passes in Colorado at altitude, whatever comes after the gravel I can handle. The thing was, I had expended so much energy to get 51-miles into the 55-mile route, with so much climbing, that the last section seemed impossible. You get to a point where you can see the last switchbacks, with only 2 miles to go, and you literally think, impossible. Those last turns look so huge. I contemplated walking the final stretch. Anything seemed better than more pedaling. 
I stopped. I regrouped. There was somehow a glorious porta potty when I needed it most. Deep breath. I had to do this. One final gel – I dug through my bar bag to find vanilla – I couldn't stomach anything else. One final gulp of lukewarm water. I had to do this.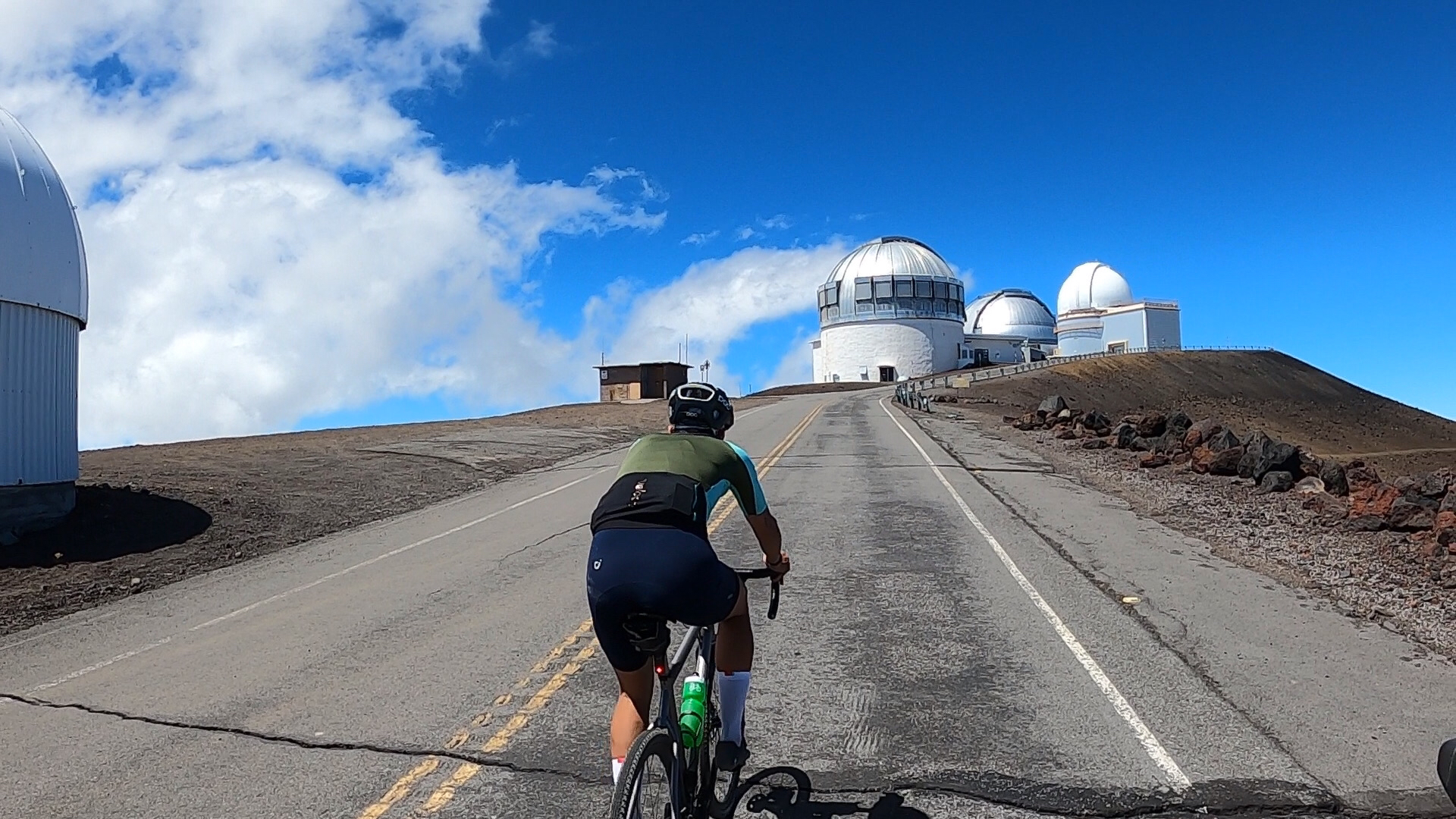 At no faster than 3mph, I rounded the final turn. The telescopes were even more enormous than pictures make them seem. Everything is red stone. It's Mars. There's snow. You can see for miles. There's nothing to do but shake your head. At the beauty, the exhaustion, the vastness of it all. For anyone observing, seeing photos and videos, it's a single moment of thumbs up. But for anyone who has done the thing, it changes you forever. This incredible, crushing, emotional trip has tested you in every way possible. Mauna Kea – enormous, sacred, solitary rock. I'll never not be in absolute awe.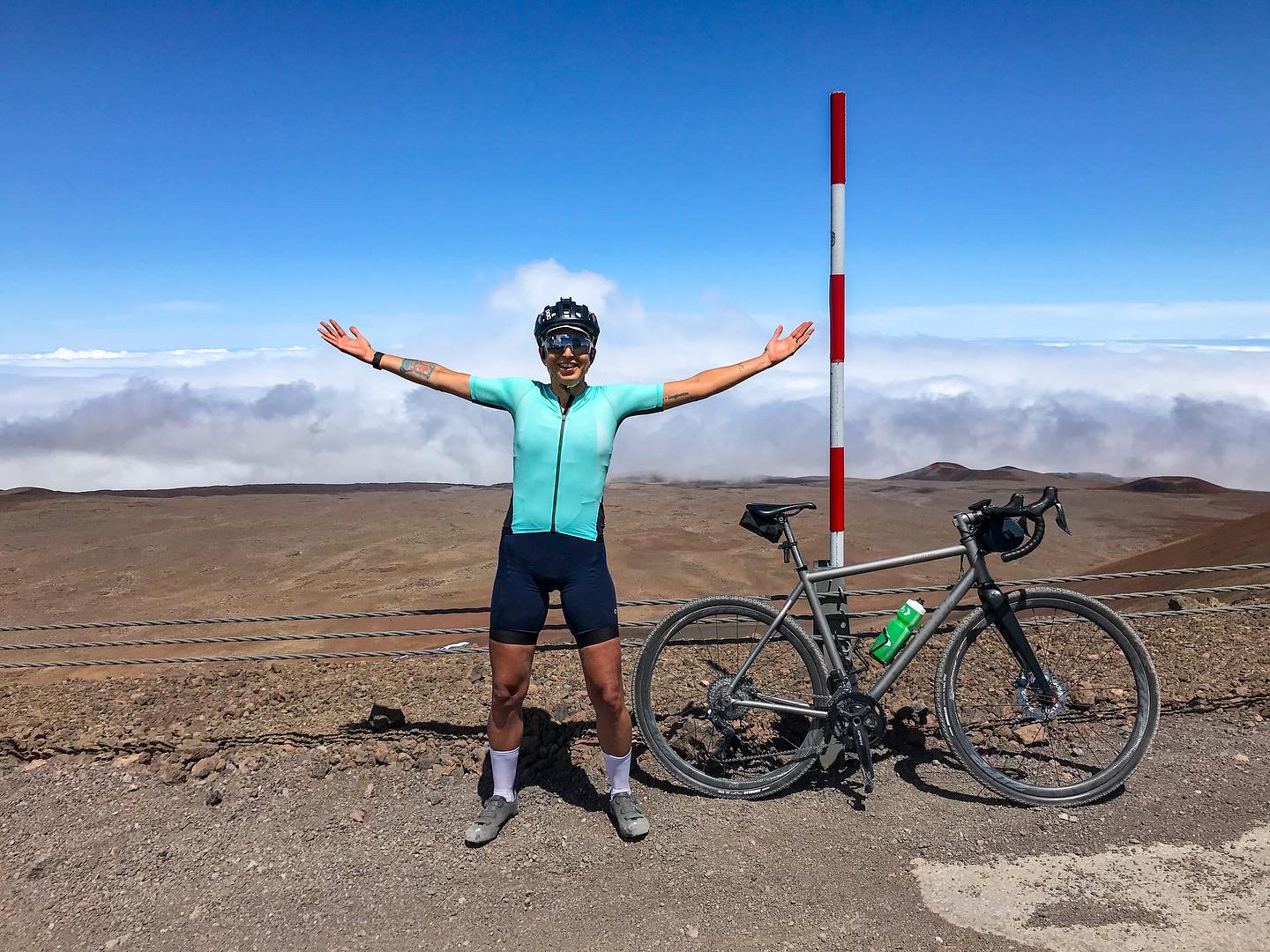 THE BIKE SET UP:
ROUTT RSL + MOOTS FORK
MOOTS STEM + POST
CHRIS KING HEAD SET
TIRES: MAXXIS RAMBLERS 700 X 38 (she rode at 55psi for the pavement and dropped them to 25-30psi for the deep gravel at the top)
SHIMANO GRX/DI2 48/31 rings, 11-40 cassette
SADDLE Women's Specialized Power Comp
We asked Micah if she changed anything to make the grueling ride more comfortable and she responded with the following changes for her Routt RSL on that day:
Micah used road shoes to save weight and add efficiency
CLOTHING: VELOCIO
You can also check out a video wrap up of Micah's Mauna Kea ride below: