We are fortunate to have amazing dealers backing our product in their stores across the world. We make efforts to see each and everyone of them at least once a year, usually with a social night and a demo/ride.  Well, as you've guessed these are not normal times and our traveling has been put on hold.  So when a dealer makes the effort to come visit us, we get pretty excited to show them around.  It's a bonus when its "NEW BIKE DAY" at the same time.  Enter Clark Butcher, owner of Victory Bicycle Studio in Memphis, Tennessee.  Below are the tales of his visit.
VICTORY VISIT:
It all started back in June. I was on a road-trip out West, and stopped in Steamboat for a few days to ride with Danny, and explore town – just an escape during this crazy year of bicycle retail. 
I borrowed a Moots mountain bike and enjoyed it. The trails were killer, the weather amazing, and Danny was 100% focused on showing me only the best! While in town, we spoke about the new model, to be named the "Womble" coming out soon.  Having grown-up riding the epic Arkansas "Womble Trail" multiple times, I had not only an emotional connection with the bike, but also the geometry and purpose fit my needs best. So I said "F it" and asked Danny to build me a new Womble with that awesome DOTS finish as well. (Scroll to the bottom for all the bike specs)
Danny came back a day later, with a slightly bummed tone and said "Sorry man, it will be late September before its ready." Knowing our Victory Training Groups end in September, and leaving town before then would be ambitious, I shot back with a quick reply "No prob dude! Make it mid October, and I will personally pick-up and we'll ride for a few days!" 
And with that, the bike was ordered and loose plans were made. 
Fast forward a few months, and come October, the bike was almost ready, and it was time to book a trip. Connecting with Brent came next. Knowing Brent had a fairly demanding travel schedule for the Fall, I wanted to be sure that we got some great rides in together. With an equal level of stoke and excitement, Brent put together a 4 day trip filled with a combination of Steamboat Trails and joined daily by some of the great staff from Moots. 
LET'S RIDE
Day 1 included meeting Danny at my AirBnB where he brought the new bike, shock pump, and tools to get the dropper post and measurements fine-tuned. Then, a chill mixed-pavement & trail town loop with Brent to shake the legs out, and get the new Womble all dialed-in.  (15miles and 1,458ft of elevation gain) Nothing crazy, just a tour of town, and some great catch-up with Brent who's become a great friend over the years and loads of miles ridden together. 
After the ride, we cleaned up for a guy's night at Carl's Tavern. Happy Hour bourbon and a hearty meal were fueling us for the days ahead.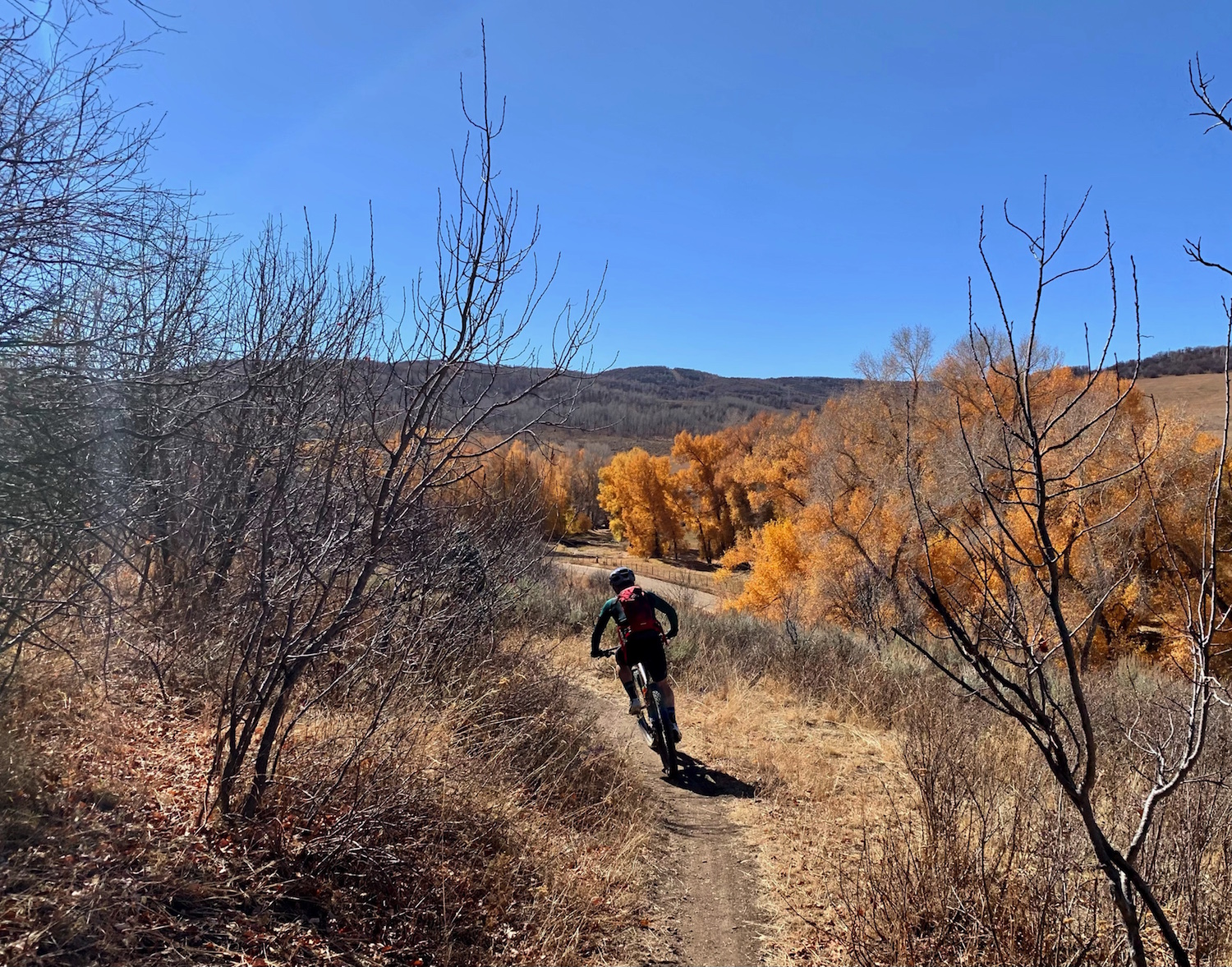 Day 2 was a loop called the "Stinger Loop," and included some serious climbing up & over the mountain in town (Emerald) and then a quick time in a valley before climbing back up & over for a return to Downtown Steamboat. Danny and Brent met me at the Condo at 10:00am as it was warmer (mid 40's) and would be great start time for a lunch time finish! That trail was all single-track, and all awesome. The colors were amazing, and while it was nice seeing other riders at the start, we saw just 3 more over the course of the ride. These trail conditions change rapidly. We went through dry and sandy conditions in the sun, while several shaded areas would still have signs of snow, from the early Fall snow day the area saw a few days prior. A big day, lots of climbing, and a FANTASTIC 1st real "trail ride" on the Womble, which totally rocks by the way!!
Upon arrival back to town, it was a chicken sandwich the size of my Kask helmet and a big cold TopoChico while we sat by the river and admired the amazing Fall Steamboat weather and killer ride we'd just completed. (27miles and 3,300ft. of elevation gain) Note*This post ride lunch was the introduction of TopoChico for Brent, and I feel great about sharing my favorite post ride bev!
That evening, I met Danny, Brent, and Nate from Moots at The Laundry for what would become my new favorite Steamboat restaurant. Loads of amazing food some great wine loosened Nate up a bit, and I was able to prod some new Moots news out him. BTW, this dude Nate knows Moots. He's been there 10+ years and has done every friggin' job in the production process.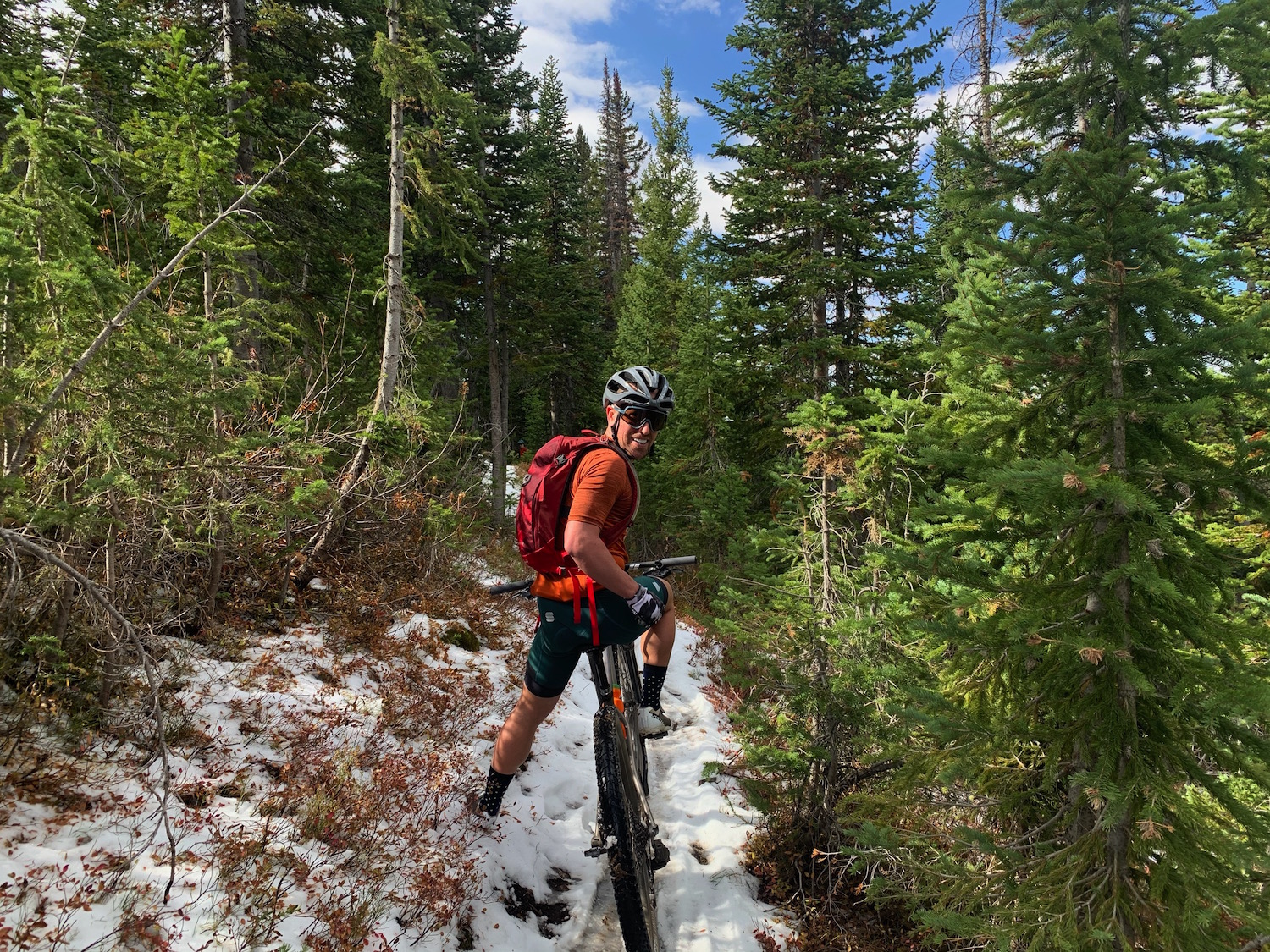 Day 3 was a route straight from town, and up into the Aspens. We were joined by Jon Cariveau from Moots for some twisty and tight singletrack, crazy high winds, and some epic photo sessions trailside. I  always enjoy riding and hanging with Jon, as I love marketing, and when it comes to marketing and cycling, we share a ton in common. We both love Moots, the culture, and the sport. I mean rarely do guys want to talk Euro racing anymore, and being a huge fan, I embrace the conversation fast.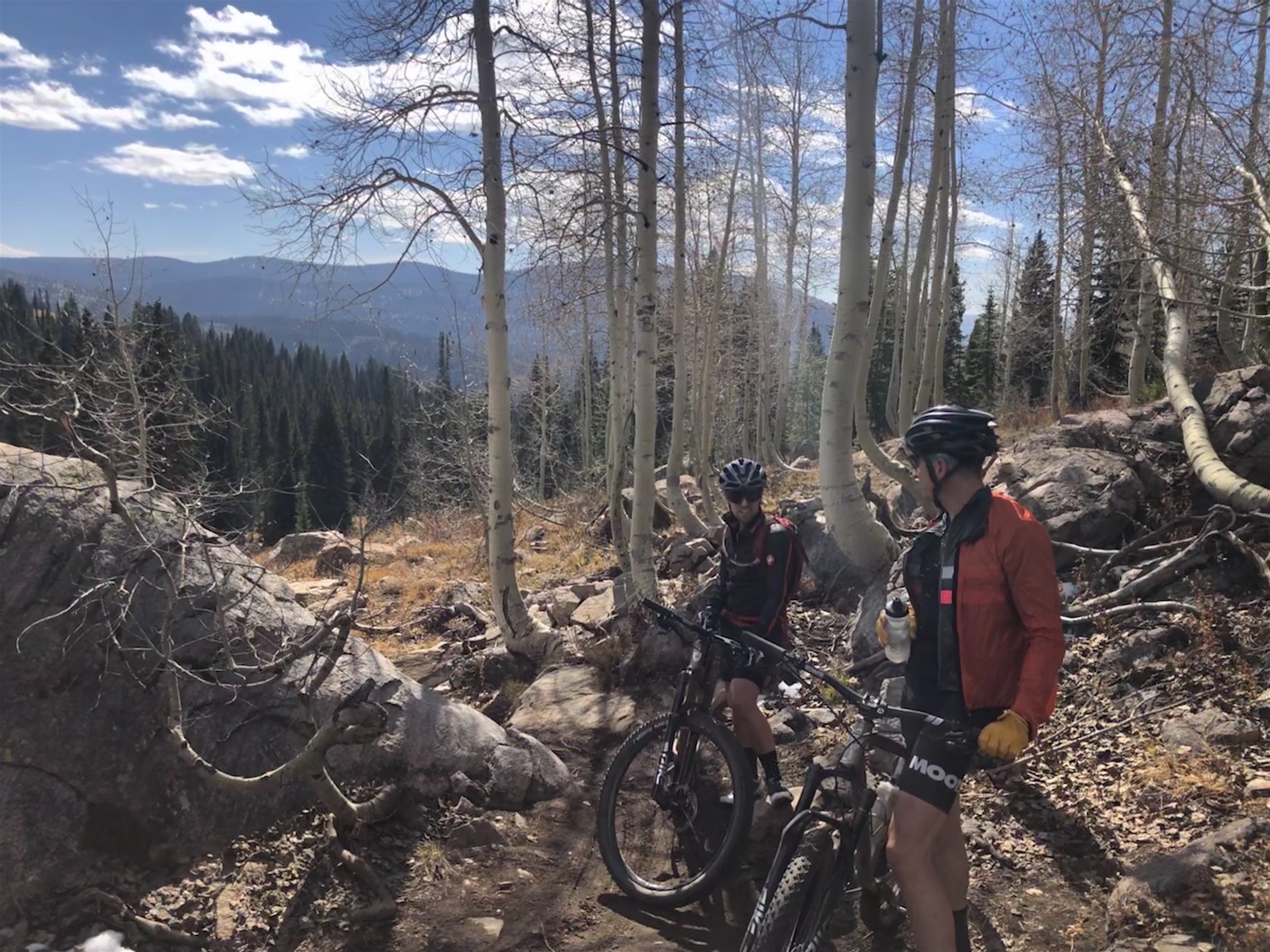 Clearly a routine day in Steamboat in the Fall, Freezing at the start, for sure! But the amazing sunshine and clear skies in the end made for a great day filled with the finest singletrack climbing, descending, and dropping off some obstacles that were well beyond my level of comfort…but I was traveling far too fast to stop, and just sent-it! Fortunately, it kept working out for me, and I found myself getting more and more comfortable and confident on the Womble. This. Bike. Is. Sick!!!
Another 27miles and 3,200ft. of elevation gain, and we finished in town with Taco's!!! Sharing stories of cool recent Moots builds like Reggie Millers was something I was aching to pick Jon's brain about. Way way cool stuff happening, and planning some fun future joint marketing efforts is always something I enjoy.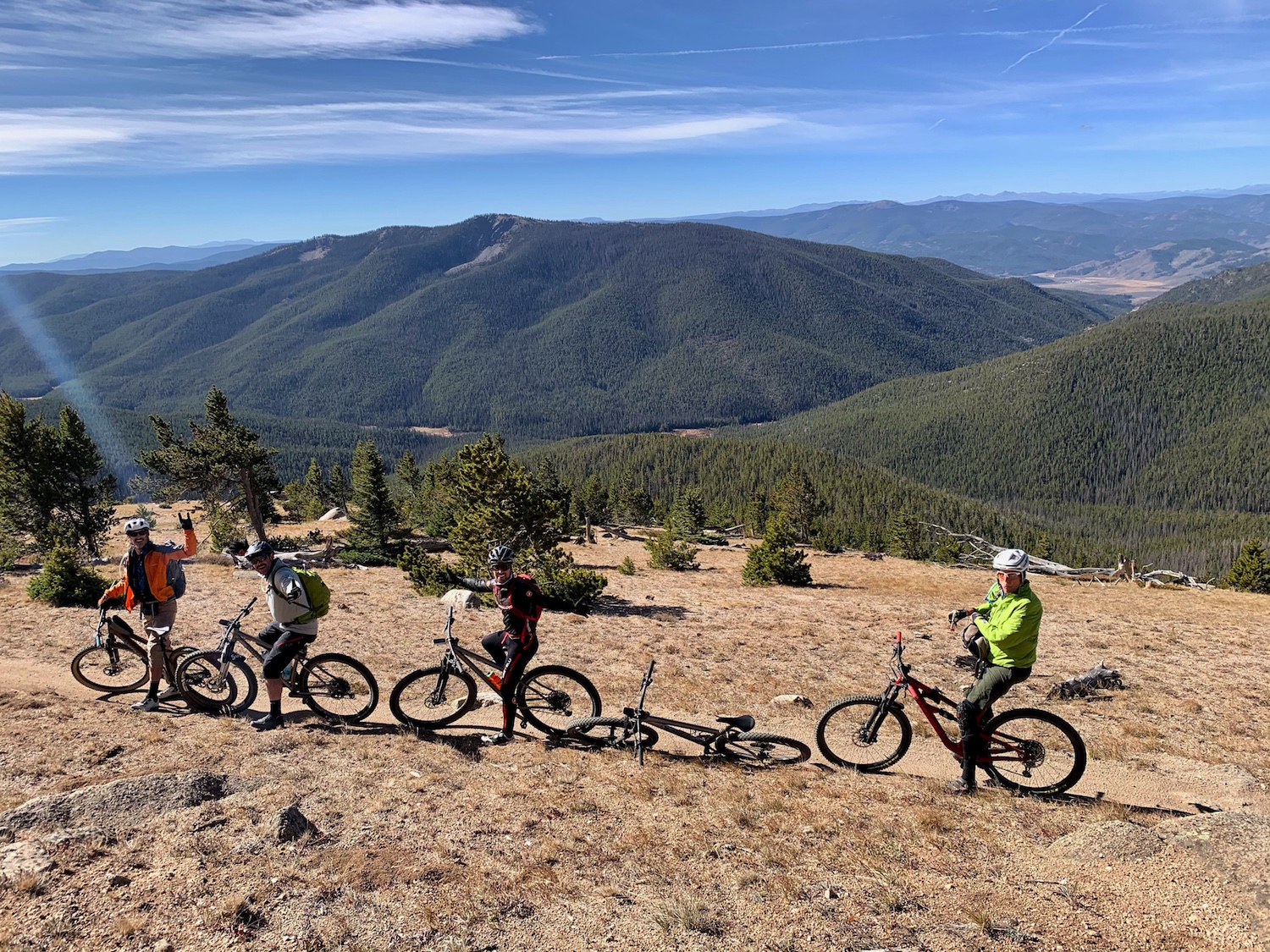 Day 4 came fast. The plan was to leave Steamboat by 6am, as we drove 3hrs to Salida, CO to meet some guys for a big day riding the famous "Monarch Crest Trail." I didn't know a thing about the trail. In fact, all I knew was that I went snowboarding at Monarch Mountain back in College, I got hammered, and the snow was killer! As locals kept talking up this trail, I decided it'd be smart to do a little research. Upon Google search, I quickly found out this was no joke. There were some logistics to starting the trail, the conditions would likely be cold and extremely windy, with most of the 1st half of the trail above 10,000ft, starting even higher. Immediately, I started strategizing what I was going to wear. Plan this wrong and it'd freeze, or have loads if layers in my backpack. Yeesh… Maybe it was the tired legs after 3 days at high altitude, nervous energy, or consistent copious wine intake???…. but I slept like ass that night, tossing and turning. Good news is my alarm was set for a 4:30am wake up call. Everything was set-up and ready for a chill morning before the drive, and I loaded up my rental car with my gear and bags, but not before 1 final review of the condo to make sure I had everything. Upon review, I looked at the stove and saw the time. 5:00am. Yup, I fuggin woke up at 4:30am CENTRAL STANDARD TIME because my F'n cell phone was still on Memphis time. Solid Clark. Are you shitting me?! Dude!!!…….aight, flip this around. No thang!! I was far too caffeinated to go back to sleep, so I caught up on some training plans for coaching clients for an uninterrupted early hour. Then, I was off to pick-up Danny for what would be the most beautiful drive into the sunrise! We drove through Leadville, which of course brought back great memories, all before making our final hour-ish drive to Poncha Springs where we met Jim Frank from Little Rock (who also owns a home in Salida) and Derek Bentley, a former Little Rock resident, and now full time staff member at Sub Culture bike shop and resident of Salida, CO. 
We split up cars and left 2 at the finishing parking lot, while we packed into 2 vehicles for the drive up Monarch Mountain to the Continental Divide. Yeah, we started at over 11,000ft elevation, blowing winds, and high 30degree temps….yeah, it was tough to get out of the car and start pedaling. But, my car was left at the finish of the trail, and there was only 1 way, let's ride!
Whatever, we did it, and started off. Funny thing is that while we are mounting-up at what felt like the top of the world, we took this steep dirt road UP MORE for a climb to the traverse over to the singletrack Monarch Crest. Absolutely beautiful as we rode the rim of each mountain side staying above 10,000ft for the first 10+miles. The wind was pushing so hard, I was using my dropper post to get me closer to the ground, as my little ass was just getting worked in the gusting winds. This would quickly become the hardest and most technical riding I have ever done. The wind, the rocks, the narrow trail, and those short steep bursts in high elevation felt exactly like I remembered the climbs in Leadville. It's funny, but the elevation does not really bother me coming from sea-level. Sure it's harder to recover, but I find pleasure in strategizing how to manage energy expense at altitude. And right now, I was most concerned about the trail and my abilities, not the altitude…and was really enjoying those 2.6" Vittoria Tires with 12-14psi, because ya'll lemme tell you. I was taking some really great lines, and some really terrible lines too…and those tires were solid!!! 
Despite the wind, and despite the cold, this dude Derek would turn out to be the coolest mofo. He'd already done this trail 7 times previous this year, and wreaked of knowledge. Not a bit of lycra spotted on this dude, a fuggin singlespeed, and prolly the most stoke I have ever experienced. Think sharp & engaging, combined with a little Spiccoli. I was super jealous, and when I heard he had a daughter in College I told him "I sure hope your daughter knows how fuggin' badass her dad is!" He guided us, prepared us for what conditions we were approaching, and stopped us at notable viewing spots to educate us on the trail and area. Totally awesome. Meanwhile my lycra covered ass was just stoked to have not eaten-it on any descents…yet! 
MAN DOWN
Fear none, that time would come, and after 4 days of gnarly mountain biking, we were about 1.5hrs into the ride, and while descending around the edge of a mountain, my front wheel came off a tad. A quick auto correct and I was back on trail, but turns out my correction made, on loose kitty-litter like surface, and 25+mph speed was not perfect. My rear wheel came loose behind me, and I was sliding left side down using mostly my foreaerm and hip to stop me. Luckily I had a gap back to Jim and Brent, and Jim rolled up in time to see my picking myself up and brushing off the dirt and debris trail side. No doubt, I knew under the jersey and bibs, It was ugly. I felt it. I don't crash often, and in fact it'd been years. Damnit! Whatever….No blood coming through my jersey, so I knew I didn't need to "really" look, and I was with great dudes, on a killer trail, and we had HOURS to go. I think not seeing the damage was the best choice I made that day. Afterall, the bike was perfect, I had plenty of energy, and loads of water & food. F it, we continued.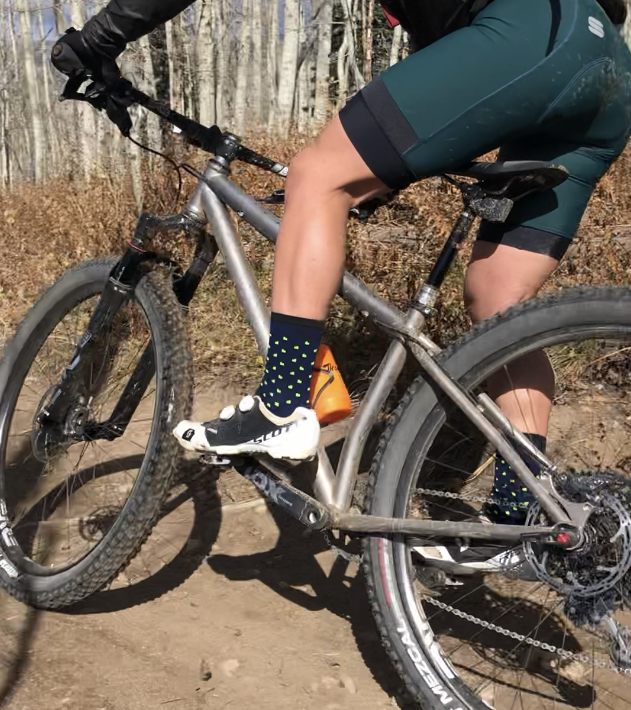 If you've never eaten it hard on a Mountain Bike you haven't really experienced what that machine can do. If you've ever eaten it hard on a Mountain Bike, then you know exactly how I rode the rest of the day. Timid. A bit shaken. And losing confidence in my technique, rapidly. This flared-up a few times and was screwing up whichever poor rider was behind me at the time. My fitness was still great, and I felt strong, so I focused on riding hard on the sections I could, and then taking my sweet gingerly and geriatric time on the technical stuff. This strategy, and some deep anaerobic digs on the steep ascents late in the ride, we finished the day!! Pumped to have completed the ride successfully, making new friends along the way, and I was still comfortable with my clothing selection for the day!!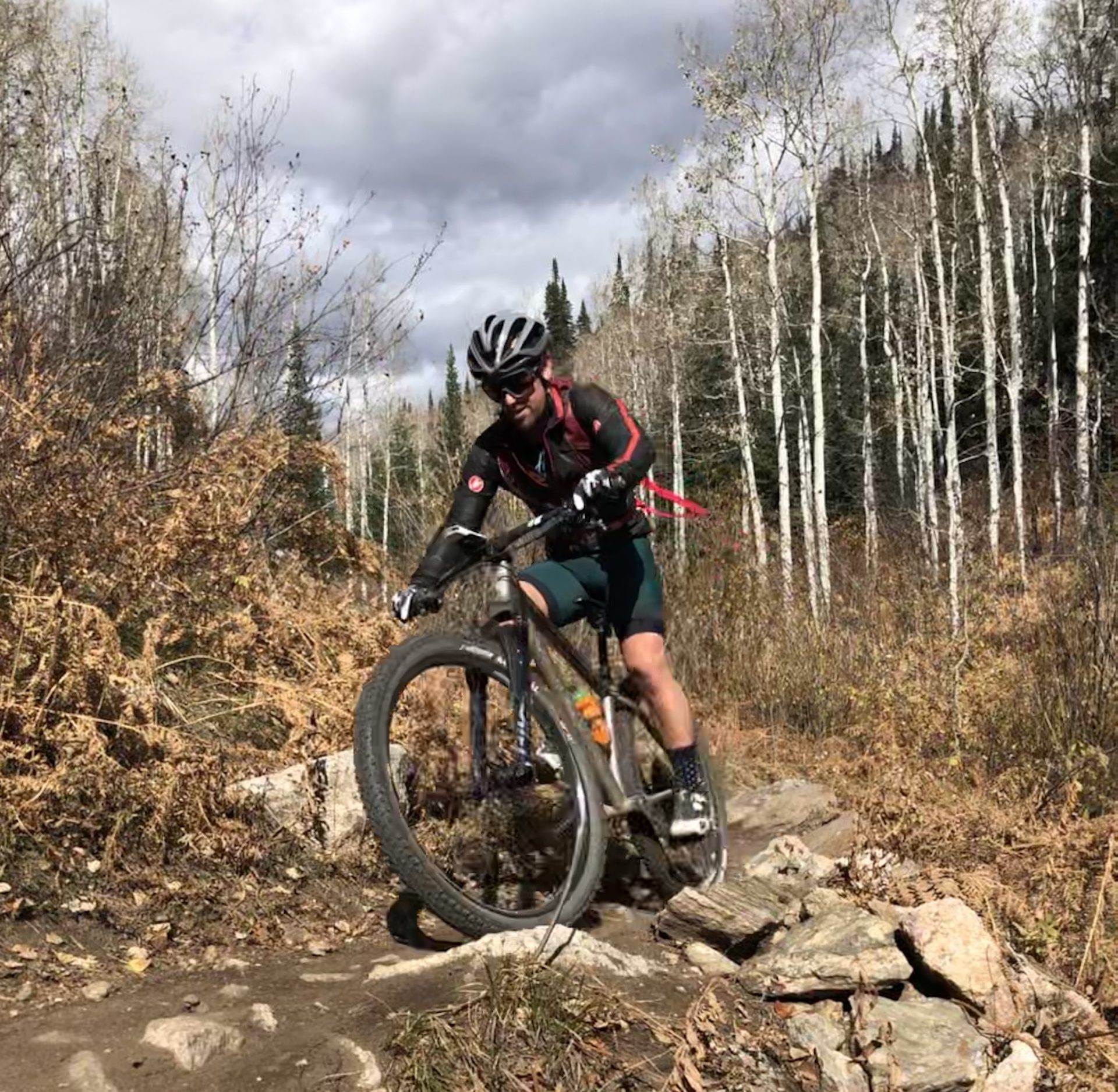 After 36miles and 2,600ft of elevation gain (mostly above 10K ft!) and wayyyy too many hours in my chamois, we headed straight to the nearby Brewery for some food truck Taco's and pints, reflecting on the awesome day out there, and swapping stories with our new riding friends. 
That night, Brent, Danny, and I went out for some great dinner at The Fritz.  While I'd love to tell you we raged all night, and were doing shots with the locals, we did not. We plowed through some amazing Ahi Tuna Wontons, massive amounts of Salad and Brussel Sprouts, as well as some wine, for sure. It's funny, every time you spend a big day in the saddle eating all the sweets and sports drink, you just crave real food….and The Fritz delivered! 
Totally spent, sore from hitting the deck, and ready for bed, I was out. 
The next morning was coffee with Brent and Danny before they headed back to Steamboat. We were friends first, and businessmen second. Plus, we'd completed another amazing riding trip together, and there's something about our friendship that's only strengthened on the bike, doing something epic. 
Ultimately, I would travel on to Albuquerque, NM to meet up with my family, do some easy rides, and finish my trip in Santa Fe, NM for some warm weather before flying home.  Of course I rode my Womble each day, exploring the local trail scene, and occasionally I would meet another rider on the trail long enough to hear "Sick Moots dude!"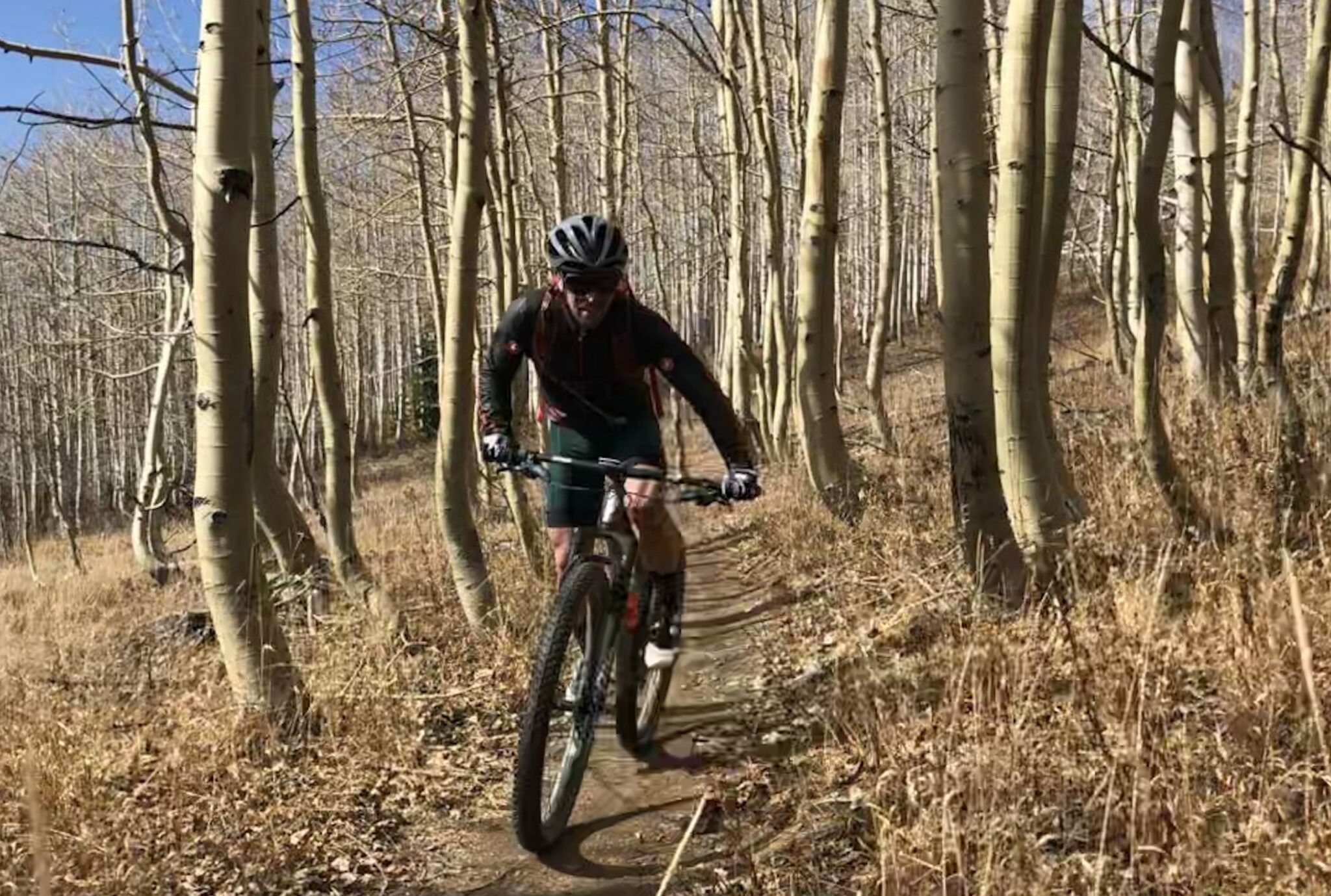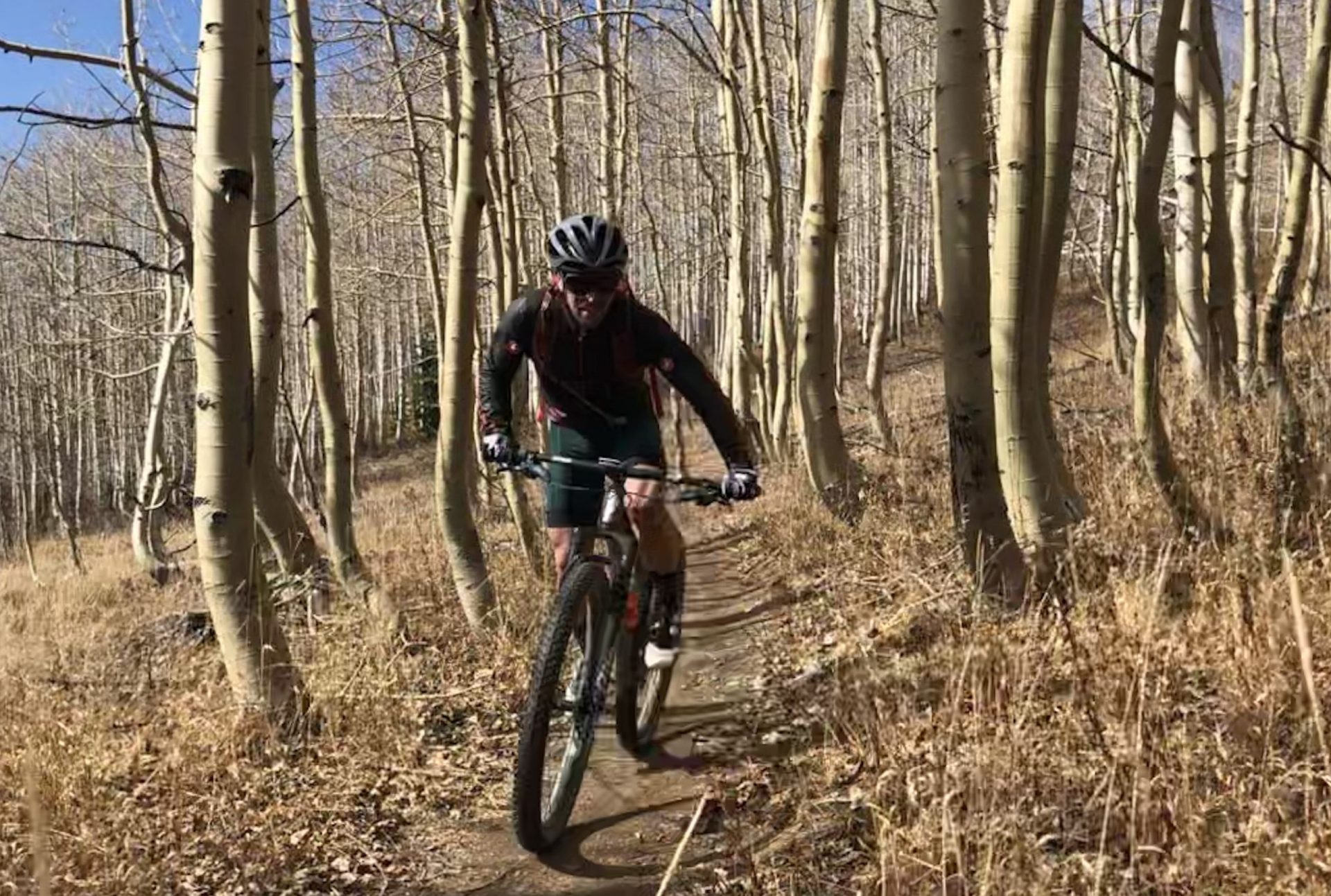 NOW THAT!!! Was an awesome trip!! Great trails, great towns, great community, and a pretty sick new bike too! Yeah, that was a successful "work trip."