It's Tuesday after SBT GRVL 2022 as I write this, and the electricity (not the lightening type) is still coursing through our nerves. Even though the event is a 3-day
event, with the expo on Friday & Saturday and then the main event on Sunday it felt like we lived a year worth of stoke during the last week. When the gravel community comes to your town, you've got to turn out. So, we did. All the while keeping the mantra….."at least we get to sleep in our own beds'' between days if it was only for a handful of hours some nights. As an industry leader in gravel and handmade products we make the most of it when this week comes around. Hosting journalists as they arrive early in the week to scope out our facility, to Moots Owners and gravel riders from far away places that come early to ride the gravel roads right out our door. It's a truly special week that we get to show riders just what makes this valley so special to our brand.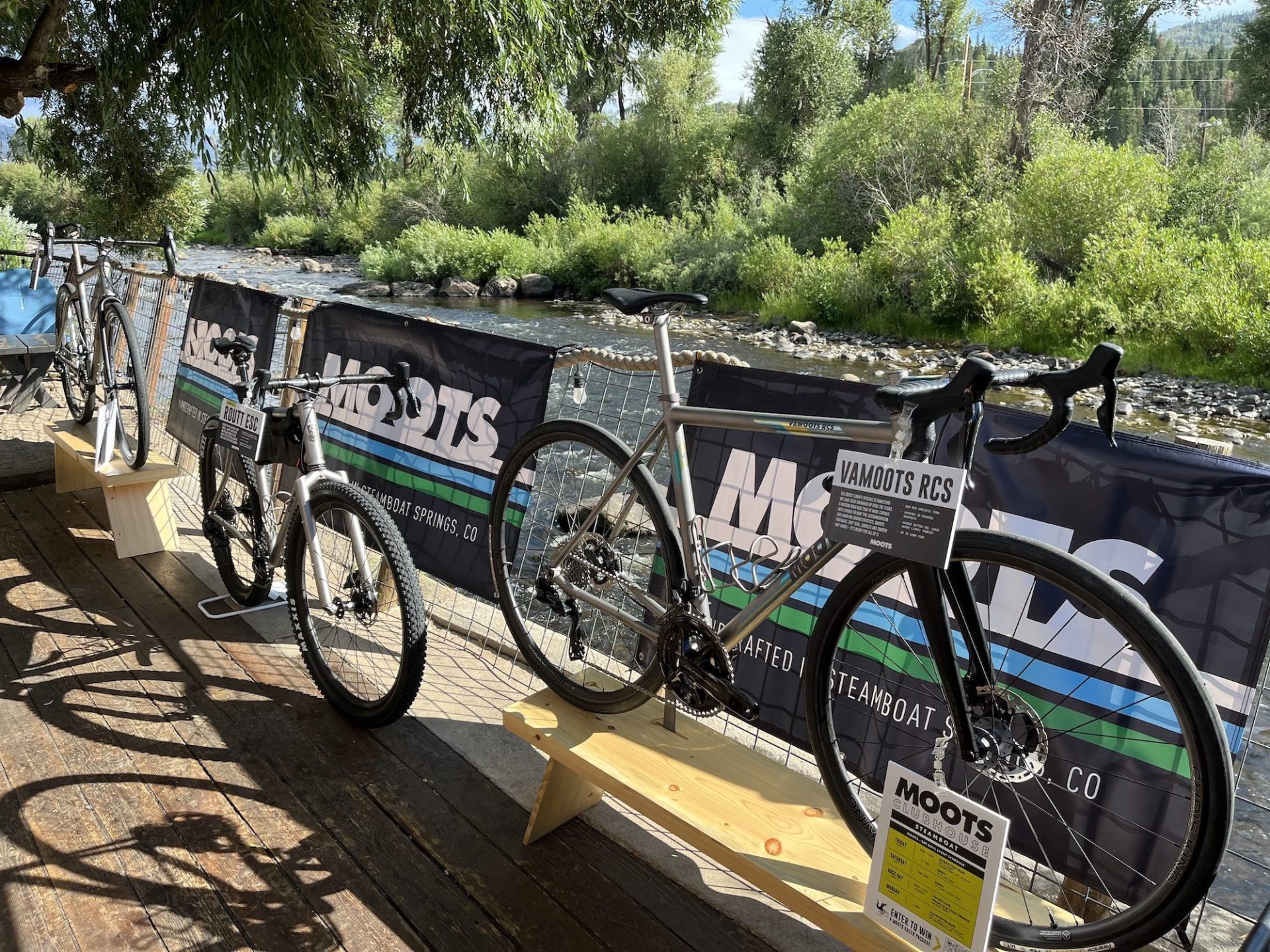 Our schedule was jam packed and had us jumping from one activity to the next and even a couple of times we had two things going on at once. How can you not pull out all the stops right? 
Over the days and evenings around SBT GVL Moots got to highlight some of our favorite food places, our favorite lunch time ride routes, our staff, and the place we make our bikes. Truly a special time and an honor. 
We met with so many Moots Owners over the days, it was hard to keep track, but for now there are a couple of owners that really made us have the warm & fuzzy's on the inside. 
Hilary—ROUTT YBB
Hilary is originally from Scotland and lives in Zurich, Switzerland currently. We had the chance to ride with her during our Friday Moots Shake Out ride and got to host her at our Moots set up at the race finish on Sunday. She had arranged to pick up her NEW bike at Moots the Monday before the race week. So, she did so…. Right on time and dialed in to perfection. She rode the new bike each day leading up to the race and then went and cruised the Blue course (100 miles) and at the end said she never felt better. She said she had so many comments on her Moots and chatted with other Moots riders along the day. She may have been soaked at that finish, but that didn't dampen the huge smile she had on her face as we toasted a beer together. Well done, Hilary!!
Jonathan Cohen—ROUTT 45
We met Jonathan a year ago when he took the Moots factory tour during SBT GRVL '21. Since then he's got himself a sweet Routt 45 and has been on a mission to ride…..and ride he did. He goes by J.R. and says he's a "Wannabe Cyclist", we'll sir, you ARE a cyclist! Jonathan hung with us during our pre-ride, our VIP event and came in with a smile on his face after riding the very roads his Routt 45 was developed on and add: "how can you not be stoked to be riding in the happiest damn place on Earth!" I think Steamboat has a tight grip on him!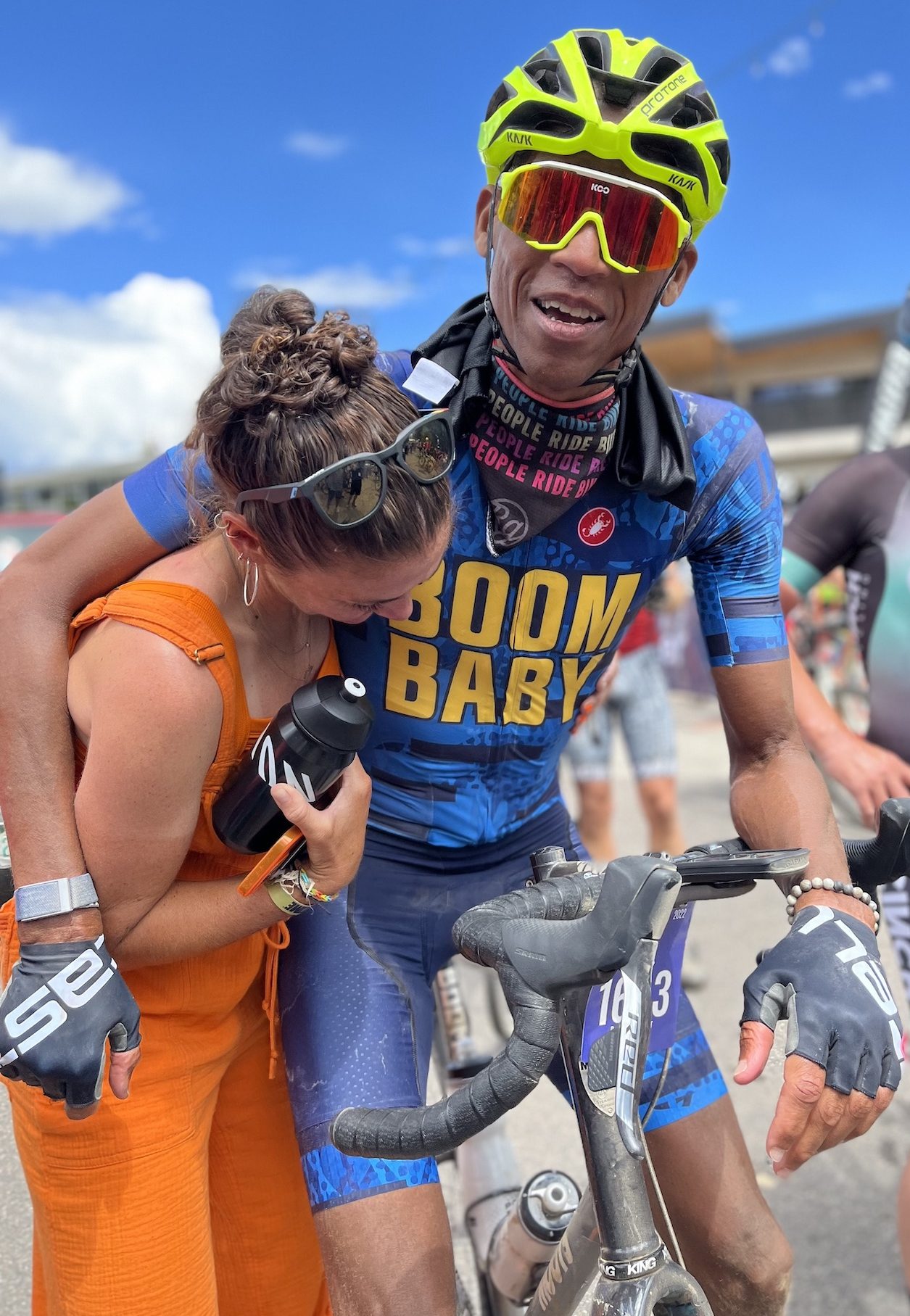 Reggie Miller–ROUTT RSL
Reggie returned to Steamboat to log his longest gravel ride in the 100 miler. I stood there and snapped photos as he gasped for air in the thin altitude of Steamboat….all the while taking photos with fans that had just crossed the line with the LEGEND! Kudos and many thanks to Reggie for doing all that he does for sport. We are honored!
If you missed out on the event this year, have no FOMO…..we are already planning for 2023 and will again be pulling out all the stops in our home town to welcome the gravel community back to Steamboat. 
To view and download images from the week follow this link to see more: