It's been a BIG winter in Steamboat Springs Colorado. The snow has been non-stop and the drought winters we have gotten use to over the last 5 years seem a distant memory now. Those years we were able to keep riding our gravel bikes on snow packed roads and even at times, snow free gravel roads. As we signed ourselves for the event the reality of being in the expo for 8-9 hours followed by a hundred miles right off the couch seemed formidable. We opted into the 50 miler, which ended up closer to 60 miles with just the right amount of wind and rollers to make our off-the-couch legs feel every pedal stroke.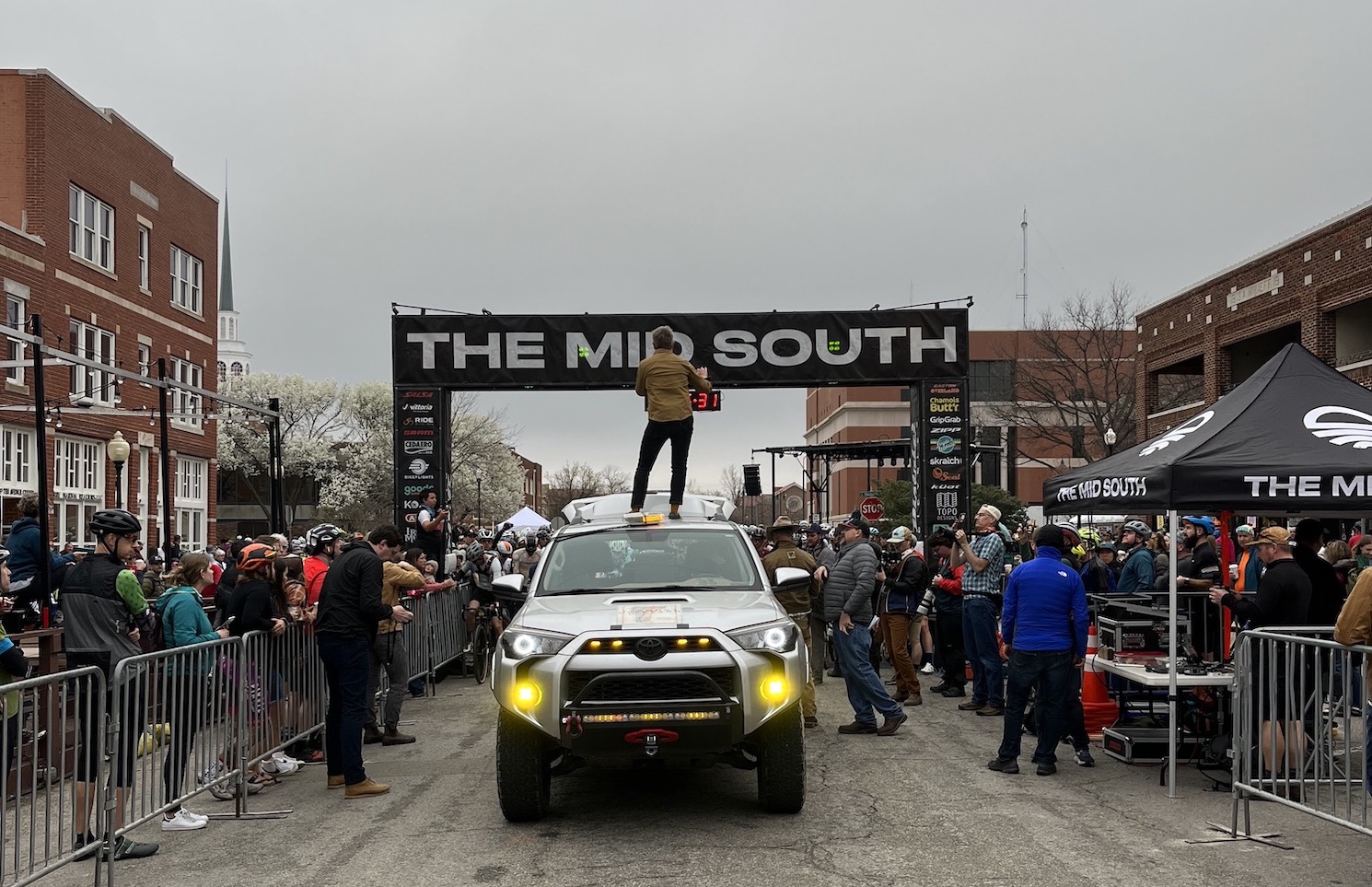 Race day started cloudy but warm and got sunny as the day went on. Bobby preps the 100 milers with his encouraging words.
BIKE SET UP—-the key to a good day.
CHASSIS
Our gravel line up consists of 4 models, and each has overlap with the other. Each model shares some common features like: 3 bottle locations, 3D printed brake mount, Moots carbon gravel fork and telepathic handling. Starting at the pointy end of the group is the ROUTT RSL. This bike has all the bells and whistles so to speak. Meant for go-fast gravel rides, daily rides, and races. It has a slightly longer & lower position for the rider, a double butted tube set to save weight, and room for up to a 45mm tire. Next is the ROUTT 45, which is our all-purpose gravel bike. It has a straight gauge tube set, a slightly shorter reach and more upright position. It can hold up to a 50mm tire. The ROUTT YBB is the third bike in the line that is exactly like the Routt 45, but with the added micro suspension of the legendary YBB. A plush feel even over the roughest gravel you can find. Lastly is the ROUTT ESC that is more monster gravel & rough two-track capable. It can fit up to a 2.4 mountain bike tire and is at home fully loaded or stripped down for any route you can think of. 
At The Mid-South we saw every one of these models being raced. 
OUR CHASSIS CHOICE AT MID SOUTH: ROUTT 45
WHY? Given the history of the event and the trouble the mud can cause, we downsized the tire to the Panaracer SS in a 38mm. This gave us a fast roll with cushion for the rough spots. It also gave us HUGE amounts of clearance had it been muddy.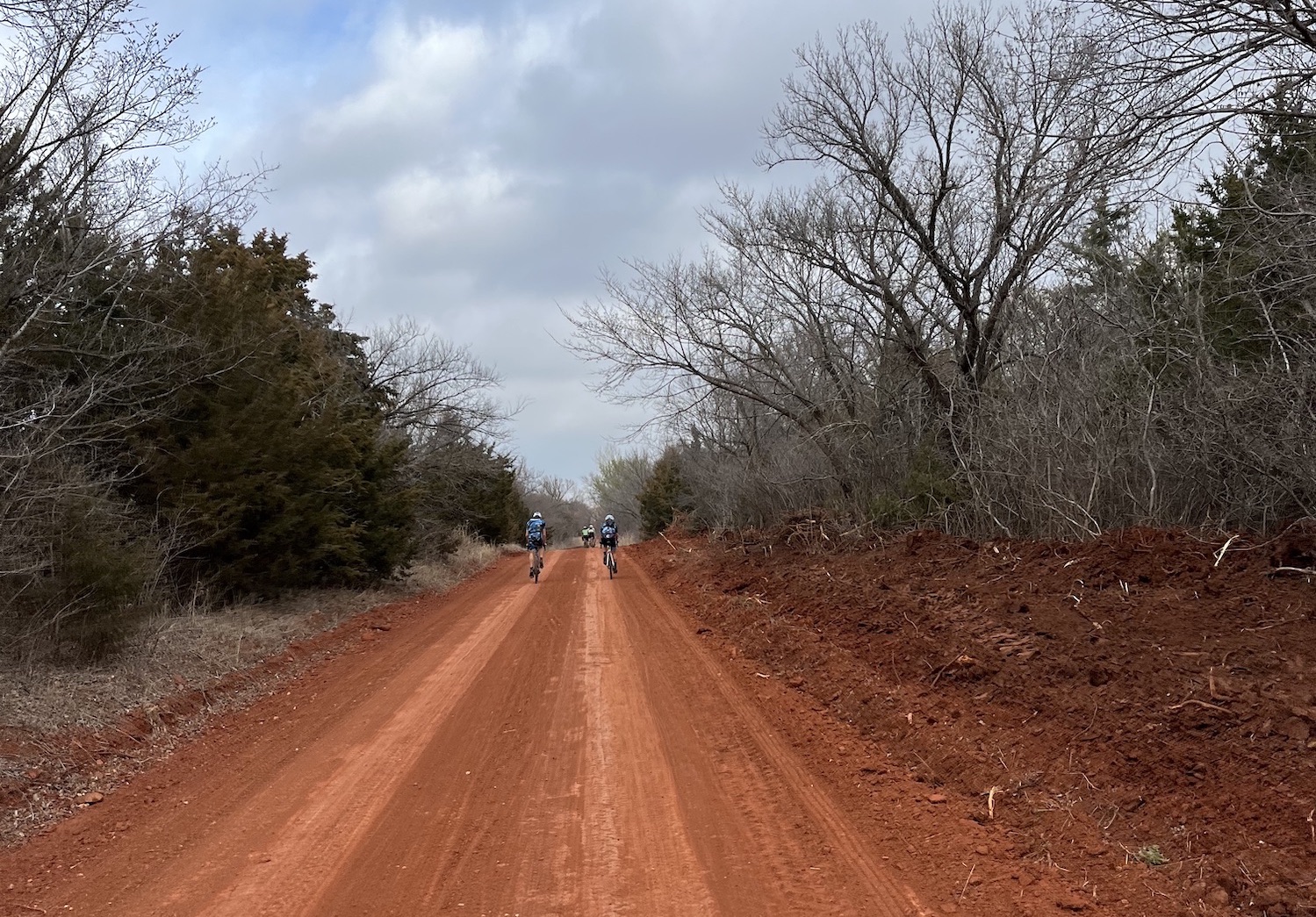 The red clay roads of Oklahoma can lead to a very hard day on body and bike. Luckily this year was dry!
TIRES & WHEELS
As with many gravel events our attention turned to bike set up and what we would run for the first big ride of our season. The day was going to be dry so we came prepared with a fast rolling tire and very little knob in a nice plump 38mm tire that measured 41mm on the fast rolling Enve 3.4 wheel set. Plenty of volume to adjust tire pressure for a grippy and comfortable ride.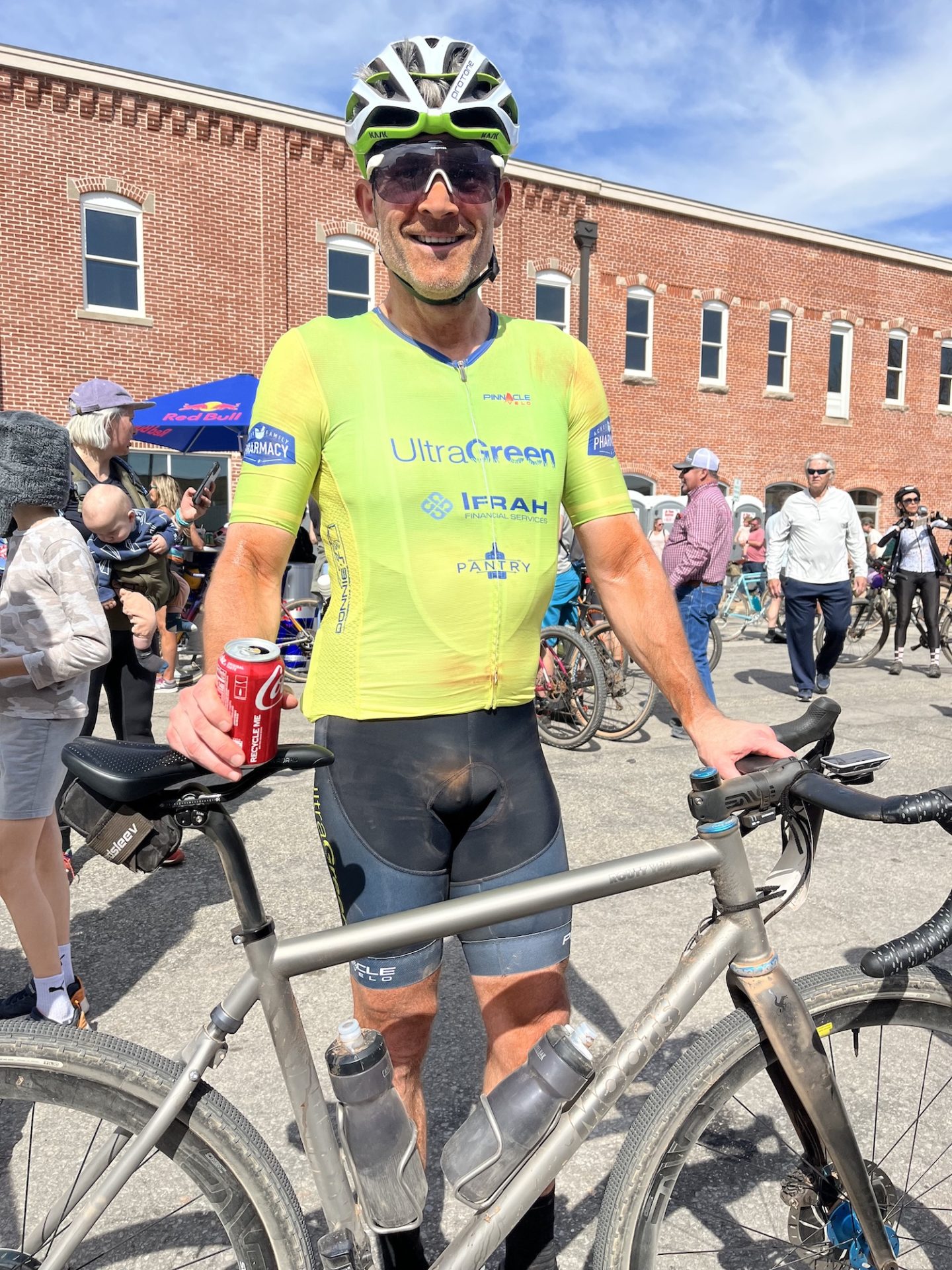 ROUTT  YBB with Enve 3.4's with Panaracer Gravel King SK's (knobby) and a 2x drivetrain (not shown)….a happy owner after a BIG day.
DRIVE-TRAIN
It's mainly a personal preference, but some regions/courses are better suited for a 2x set up or 1x set up. How to choose? For The Mid-South it seemed that the 1x was the hot set up and we'd have to agree. With the number of rollers in the region it was super simple to just shift across the cassette and not have to go from big ring to little ring, time and time again. It also took the front derailleur out of the equation had it been a wet edition that could create that fearful Oklahoma red clay mud. We opted for SRAM Force with a front ring of 40T and rear cassette of 10-44. Plenty of top end, plenty of low if you needed it and we found the middle of the cassette to be the sweet spot of rolling up and over those red rollers.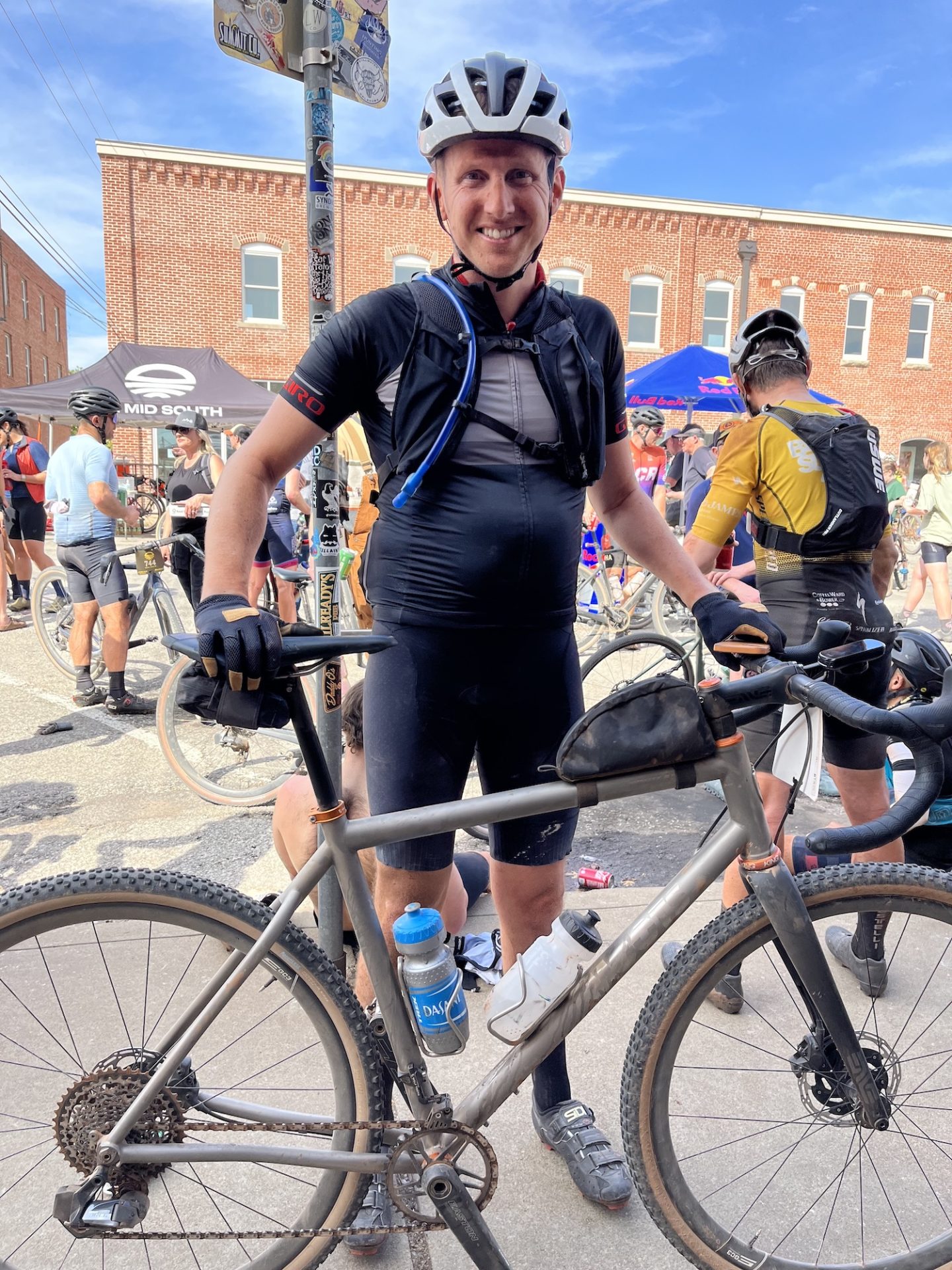 A new Moots owner from Minnesota and his ROUTT 45 w/ Force 1x, brushed finish, HED carbon wheels and those beautiful Rene Herse knobbies.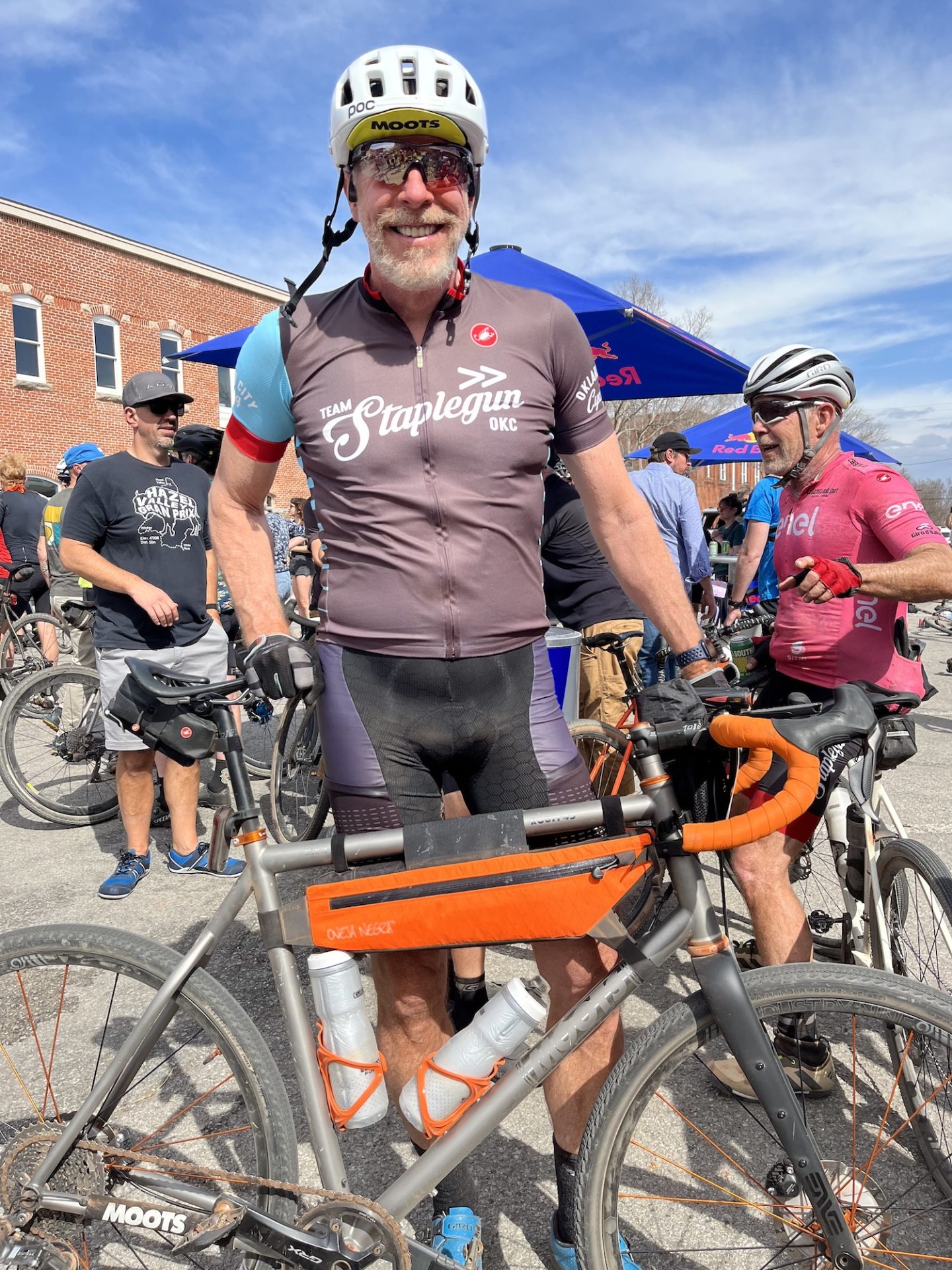 C.K. and his ROUTT 45 in Oklahoma State themed color way. 1x GRX set up by District Bicycles.
GRAVEL'S SPRING CLASSIC
The Mid-South Gravel event really kicks off the season and if you haven't checked out this event, you need to! The community and vibe are second to none and will leave you looking forward to putting a race number on your bike no matter how big your winter may have been.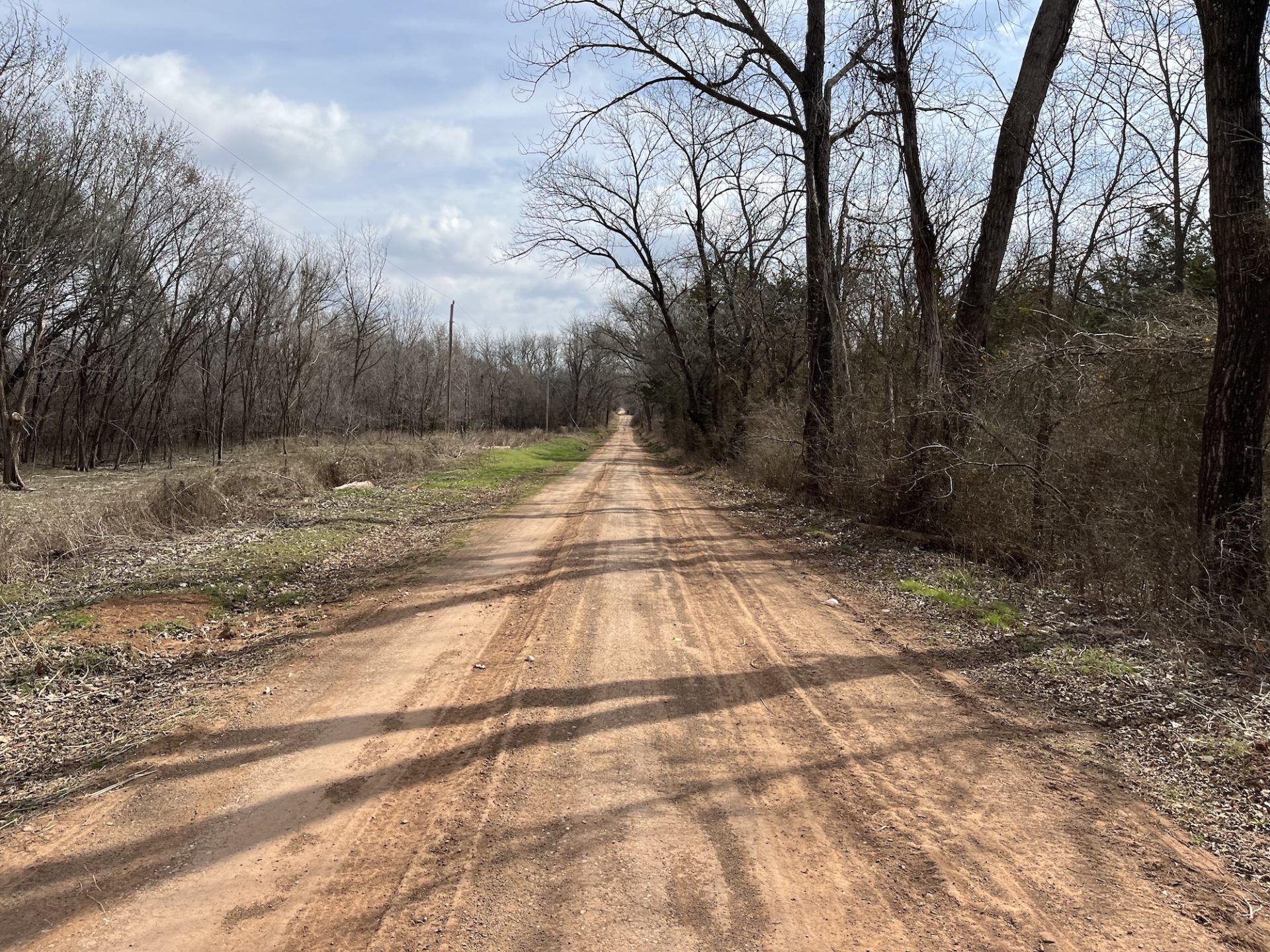 Not all Oklahoma roads are red.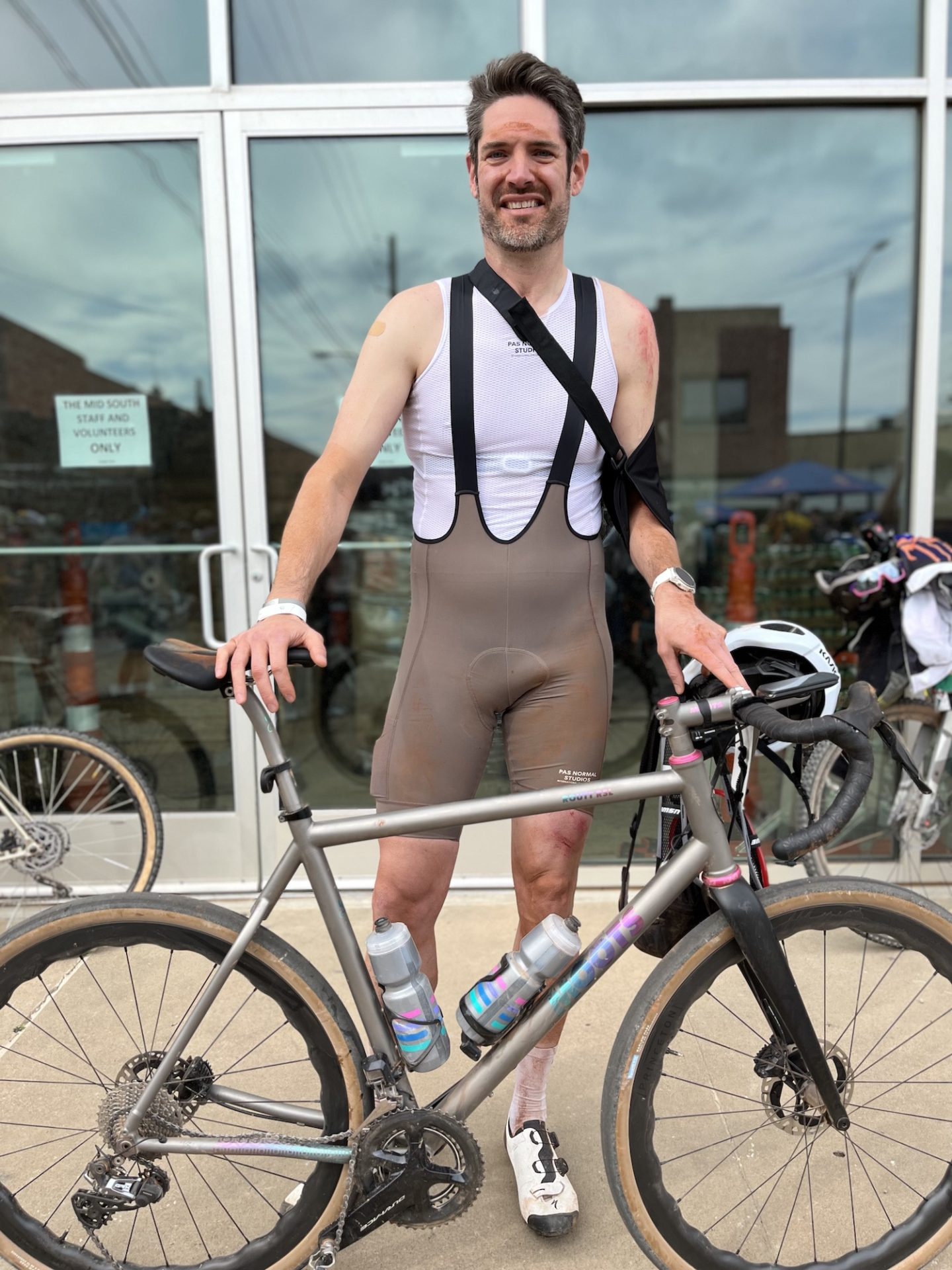 Routt RSL in Stanley finish. (note this ROUTT RSL is an older model before we moved to gravel wide drive trains)—and Matt is going to be okay….crashed and sustained a shoulder injury. Heal up quick!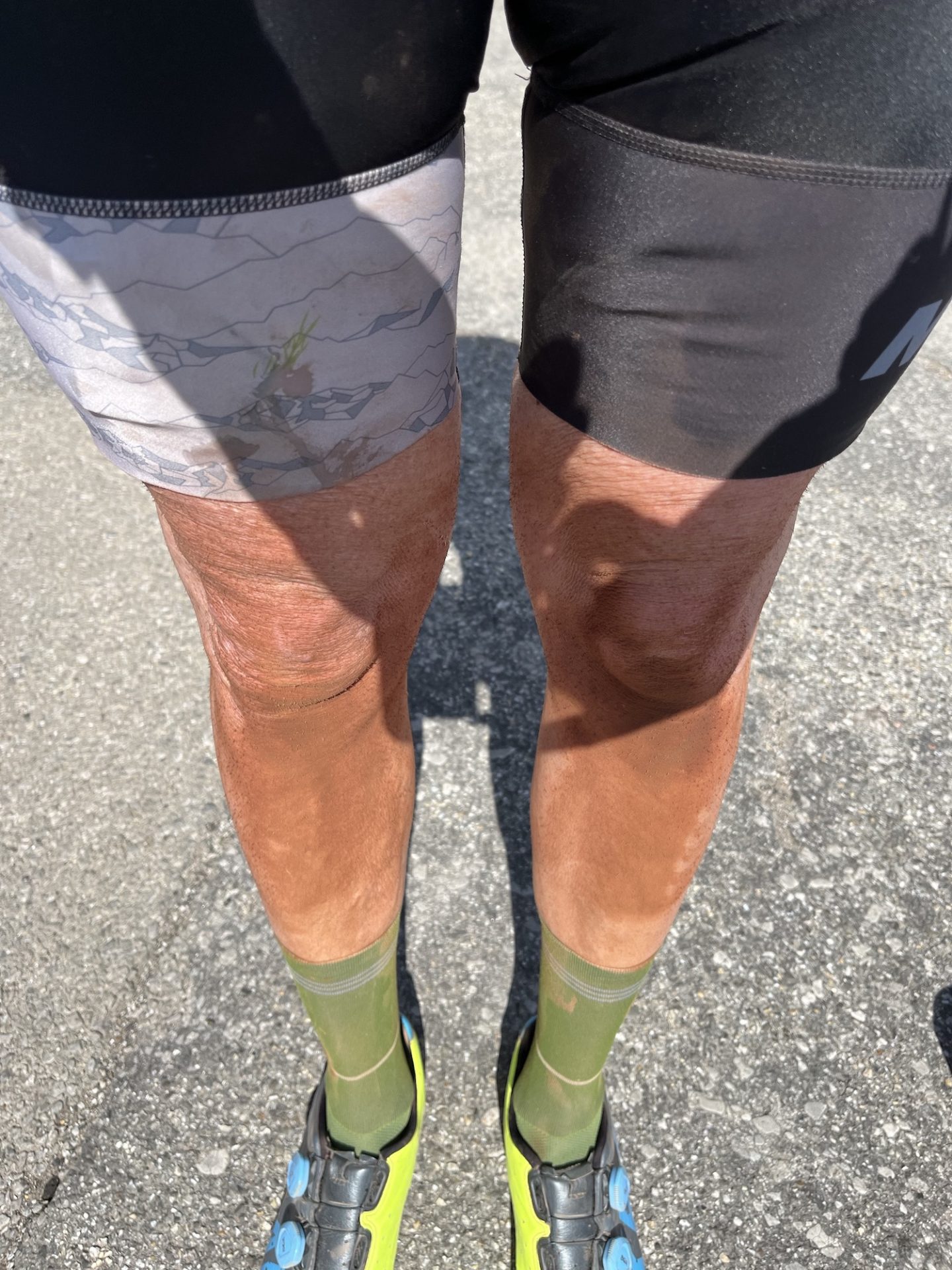 Dry and dusty….the aftermath post-The Mid South.
READY TO RIDE
We have several bikes in stock ready for the riding season. These IN STOCK bikes can be ordered directly from Moots and delivered to your local Moots Dealer or to your home. Road, Gravel or Mountain, we've got you covered and can have you riding on a new Moots in a short time. Check out the diverse set ups we have listed by clicking the link below.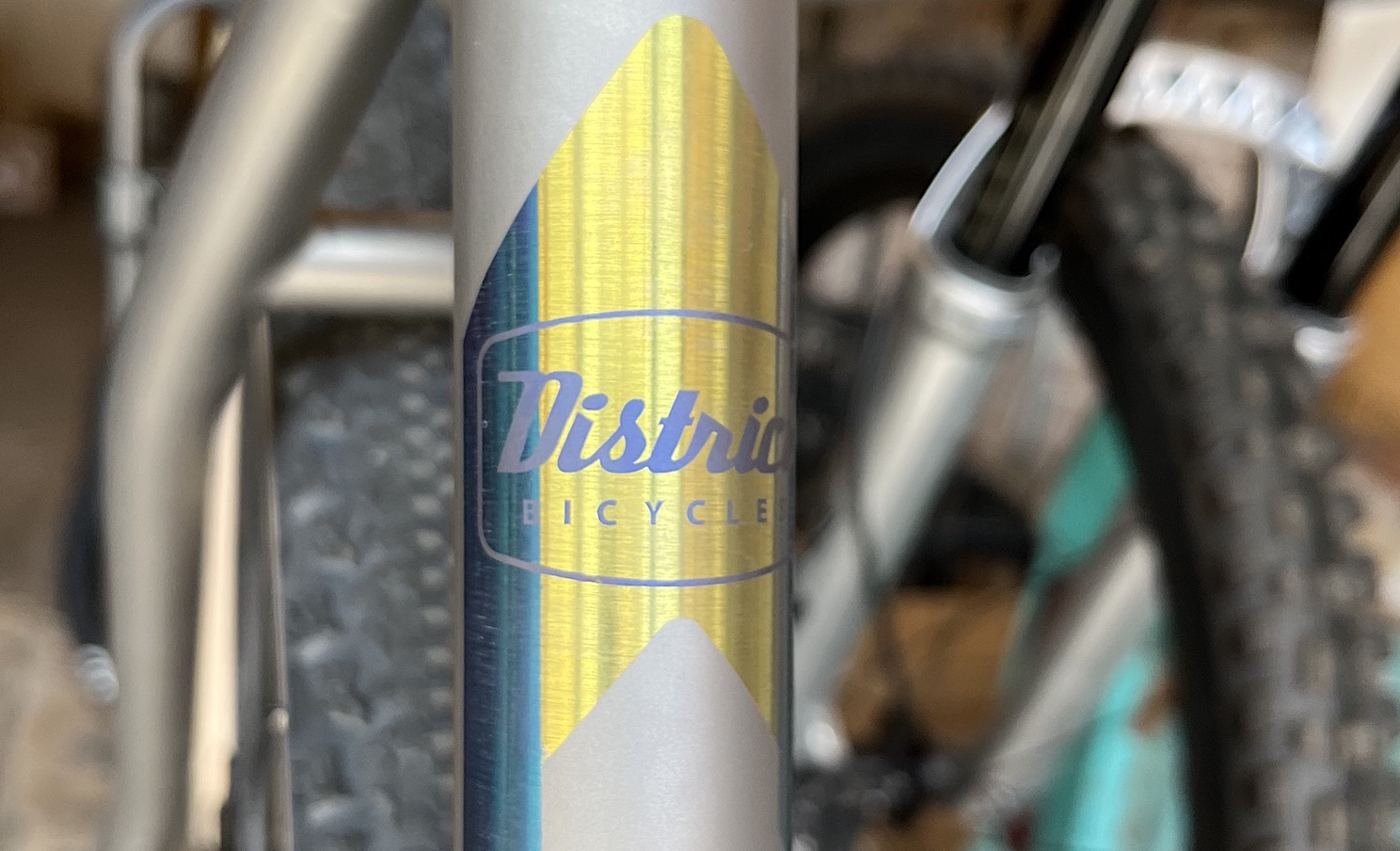 District Bicycles always plays the perfect host for THE MID SOUTH.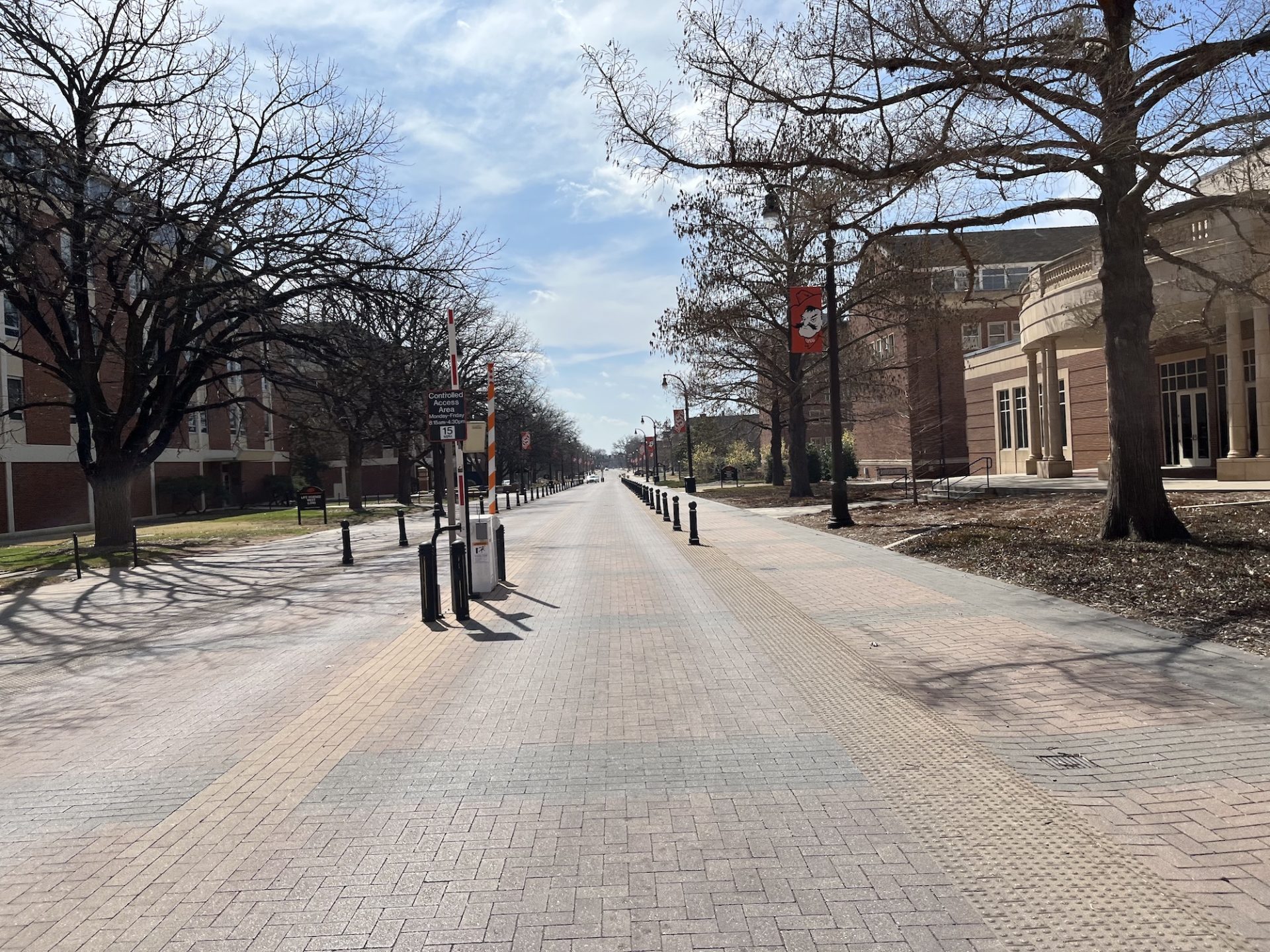 An extra nice touch to this years course was finishing through the Oklahoma State University campus. Go Pokes!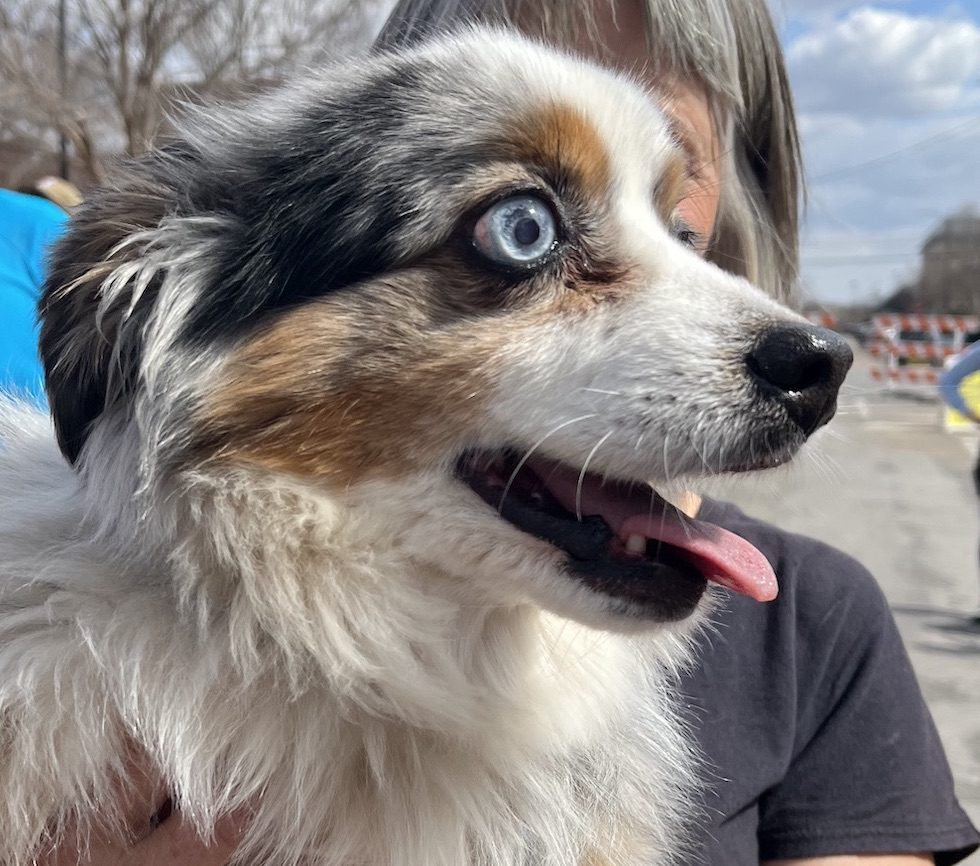 Parting shot of just one of the dogs of The Mid South! Until next year!