I've never been more excited about all we have underway at Moots and I believe 2019 is going to be our best year ever!  In my fourth year of ownership, the passion my team and I have for our work continues and we keep working hard to make even better and more beautiful bikes.  We've launched a couple of new models already and refined one of our most popular as well and have more exciting things underway for the future.  The one constant for our team at Moots is riding and we keep that passion alive by making time for it regardless of what's going on in life.
As we entered 2019, we hired a new marketing firm who is doing some incredible work for us already.  It's exciting to hear feedback from others when they invest time listening to customers, dealers and other stakeholders and share with you a 360 view about your brand.  Our customers and dealers will all see the outcome from this throughout the year as we continue to refine how we present our products.  One of the immediate things we're very excited about is a new tag line we will use in all of our communication – Experience True Freedom.  In a nutshell, experiencing true freedom on a bike is what we're all about at Moots and for me personally, April was one of the best months ever in my cycling life.  I had the chance to go on some amazing rides with customers, partners, potential customers and dealers.  All of these were true adventures and unique in their own way but that experience we all had together drives a passion for riding that is the reason we work so hard to build the best bikes possible at Moots.  I've briefly shared the highlights below.
Ride to Sea Otter with Studio Velo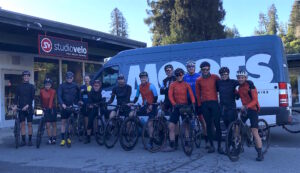 I was able to participate in Day 1 of a 2 day ride with our number one dealer in the US, Studio Velo in Mill Valley, CA.  On a beautiful day, we left their shop early and Chris Reed, Co-Owner, led us on an amazing route that I'm convinced hit every dirt path, goat track, single track and scenic road from the shop all the way into Pescadero where we finished at a beautiful home in a Redwood canyon that even had outdoor showers for the finish.  We had some existing customers on that ride, new potential customers on demos and some VIPs from Velocio and most of us didn't know one another.  Yet after riding 90+ miles, climbing over 9K feet and spending that kind of time together, we were all friends and will forever remember this experience.  
Ozark Mountains Gravel Experience
I'm a native Arkansan and Ponca, AR is one of the most beautiful places in the world yet I hadn't spent a lot of time riding the gravel roads in the area as I'm usually there to float the Buffalo River.  I organized a group of friends, many of whom didn't know one another, for 3 days of gravel riding in this region.  It was truly an amazing experience where we covered almost 200 miles of gravel roads through the beautiful hills, crossing streams, rural farms and climbing steeper gravel roads than we thought possible.  Yet every evening, the shared experience of the day, the beauty of the mountains and the meal together brought everyone closer.  As the trip came to an end, it was so much fun hearing from others not just the great time they had on the bike, but that they truly came away with deeper relationships with a wonderful group of new people.
Ride with Victory Bicycle Studio – Little Rock to Hot Springs and Back
I've had the chance to get to know Clark Butcher, owner at Victory Bicycle Studio in Memphis, TN, very well since meeting him in 2015 shortly after I purchased Moots.  For the second year in a row he brought a group of guests to Little Rock and I had the opportunity to lead them on a fun ride in my own backyard, where I dialed up a gravel adventure that did not disappoint.  200 miles overall, with the highlight being a 120 mile Day 1 route that was mostly gravel.  No question it was challenging, yet we had perfect weather and Clark brought a great group who was up for the experience.  A couple of the guys had never done anything like this and watching the smiles on their faces, the pride they had when finishing was just awesome.  When you experience something like this together, it brings you together creating lifelong relationships and shared memories.  On this trip in particular, one of the guys on the ride learned he was going to be a father – like tomorrow – as their quest for adoption had just been finalized.  His wife intercepted him on the ride in the car with an urgent plea.  Who on that ride will ever forget that?  Just amazing overall.
None of these were races.  None of these were sanctioned events.  All of these were inspiring, memorable and absolutely some of the best riding I'll do all year.  This is what Experience True Freedom is all about.  It's not about the level of difficulty or suffering, but rather about having a wonderful time on the bike doing what you love and having gratitude, being joyful and thankful for life.  We make these amazing bikes at Moots like no other and they provide these life experiences that allow you to Experience True Freedom.  This passion has had us thinking as a team and we're dreaming of some new ideas to stoke that fire and get out there and ride.  You're likely to see more exciting things from us on this front in the future and perhaps even an opportunity to join us for some of this fun.  Further, we're expecting to approach our customer demo experiences in the future very differently, so stay tuned and we hope you'll come Experience True Freedom with us in 2019!
Thank you for taking time to read and listen to my views and I'm forever thankful for the outstanding passion our customers have for Moots!  We don't take it for granted and put our heart and soul into everything we build.  
Forever Grateful,
Brent Whittington