We are thankful for all the customers that came out to the DK200 last week to show us their bikes and test themselves against the Flint Hills that surround Emporia Kansas.  The event was everything that is to embrace about this gravel wave and then some.  Grassroots feel, self reliant, but with a super strong feeling that we were all there to help one another along, no matter what distance you were racing.  This to me this feels a lot like mountain bike racing use to feel back in the day.  Its sounds cliché but so very true.
After 2 days of expo, Drew Medlock (Moots President) and Jon Cariveau (Moots Marketing) took to the 100 mile course to get a taste of the beautiful roads north of Emporia. Both had fairly clean rides during the 105 miles and made it back to Emporia to beers and high fives.  These are the bikes they rode……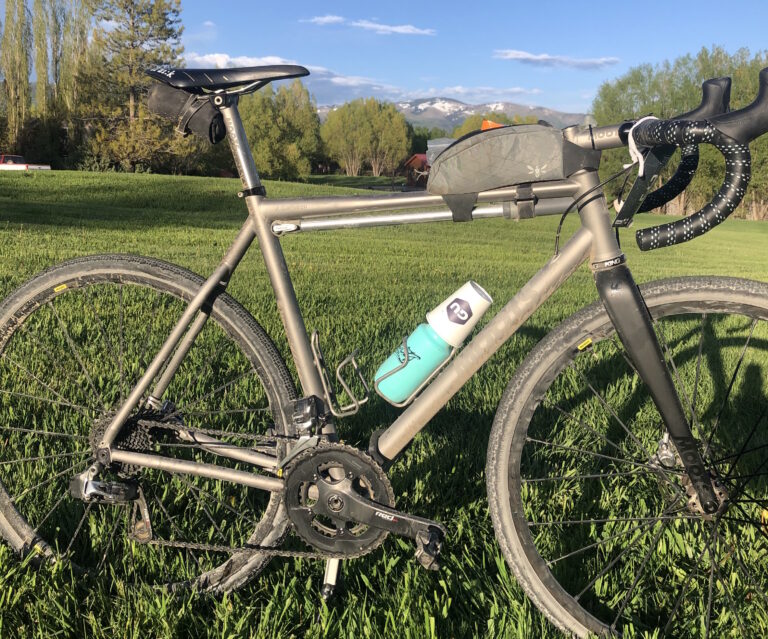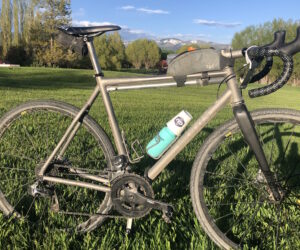 Jon's Psychlo X RSL
Frame: 56cm Moots Psychlo X RSL
Fork: Moots full carbon cx/gravel fork
Head Set; Chris King 
Stem: Moots RSL
Post: Moots Straight Cinch post 30.9
Saddle: Fizik Airone, Ti rails
Bars: Fizik R3 mid-shallow alloy
Group set: Sram Etap 11 speed 2x 50/34, 11-32 cassette
Wheels:  Mavic Allroad
Pedals: Time  
Tires: Donnelly MSO 40mm front, 36mm rear// 28psi front// 32psi rear
Cages: 2 King Cage Ti
Tool roll: Rapha, tube, multi tool
Inflation: Topeak full size frame pump
Bag: Apidura tank bag
Navigation: Garmin 520 Edge
Extras: 3D printed Storm Trooper helmet.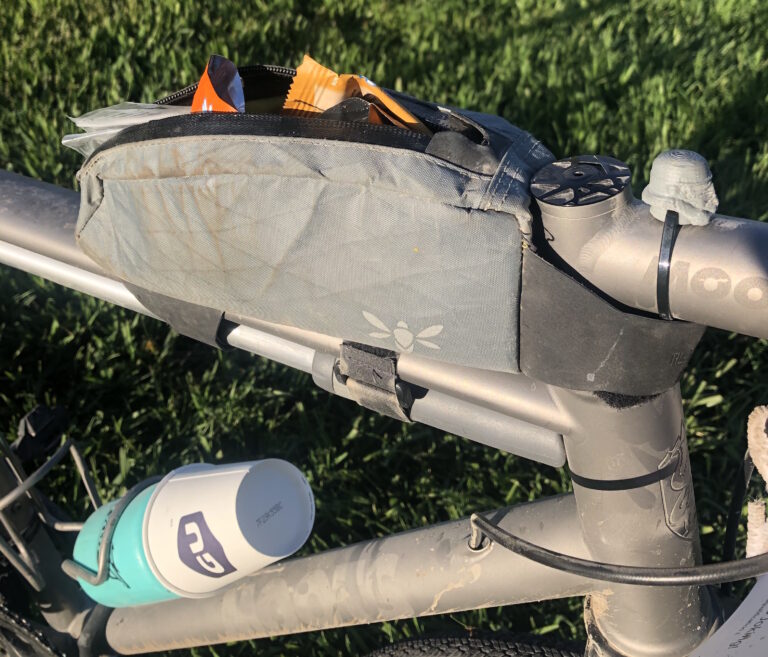 Notes from Jon: Both Drew and I decided to carry 2 large bottles on the bike and one small one in the rear jersey pocket.  That would get us to the only check point at mile 54.  Once there we would take the same 2 large bottles and a small one.  Waiting at the check point we had Aaron Walker (our new Director of Sales and Olympic & Worlds Team Mechanic), once there he lubed the chain switched bottles for us, a coke to slam and snickers bar to devour and off we would go. The tank bag was vital to easy reach nutrition during the race.  I had all my snacks opened and ready to consumer (other than gels) and used my right rear jersey pocket as a trash can.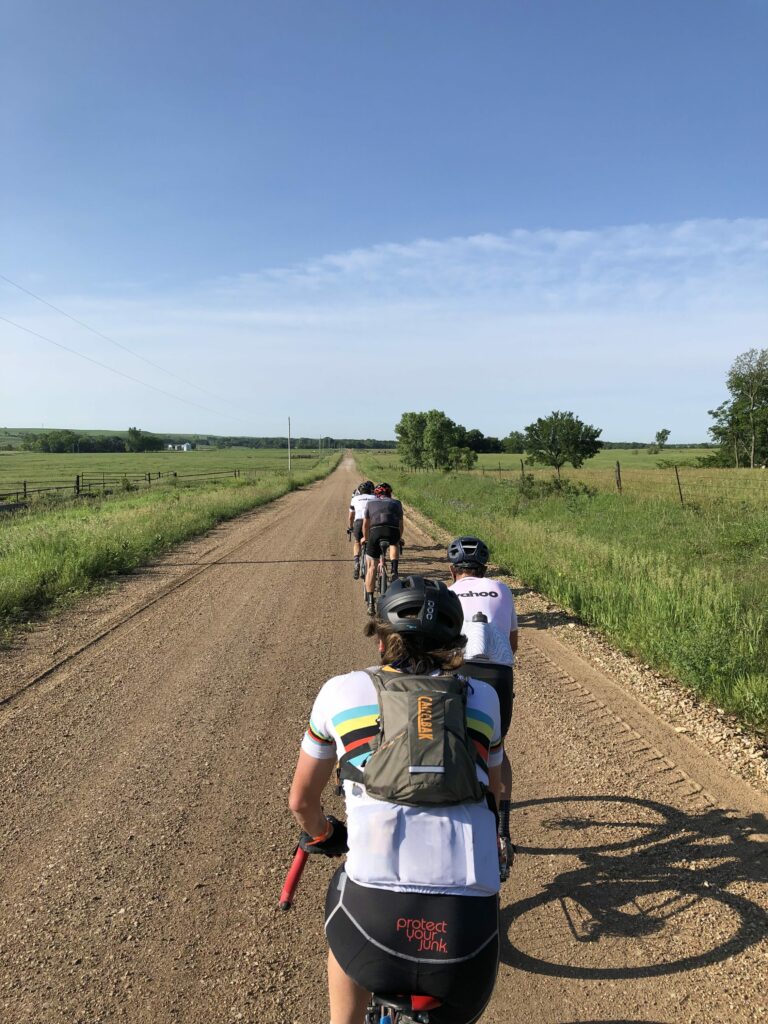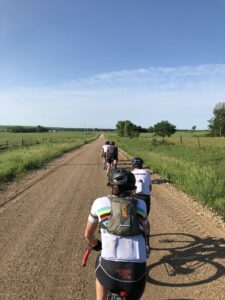 Things I'd change for DK:  I'd go with a 46 tooth ring if I stayed with a 2x set up.  The 50 was good, but a 46 would make more use of the cassette and make it a bit easier to roll up and over some of the rollers.  Other than that I experienced no flats, one small cramp, one small "get off" (crash) and got to smile and roll with Dave Zabriskie for much of the day.  Result: 9th in the 100 overall, 1st in the 50+ age group.
Will I be back? I think for sure is the answer to that.  The feel of this event is amazing.  Small town welcomes bike racers and brings money to local economy in a slow time of year…..makes me think this is how the Tour de France started back in the day.  
Introspective thought while I was racing: ……At one point Dan Hughes passed me going the other direction on the DKXXL and I starting thinking about how far bike technology has come and what that allows us to do as riders/racers….more speed, more comfort, better tires, better brakes, stronger frames…..  Can you imagine what a Tour de France rider from 1910 would think of these machines? 
Drew's Routt RSL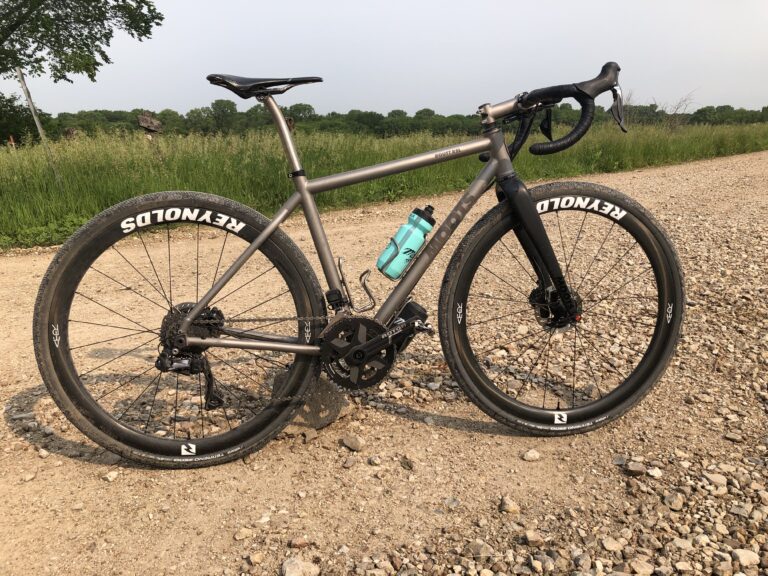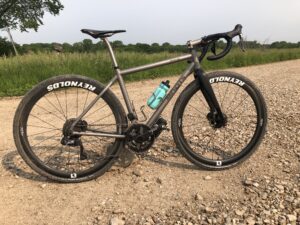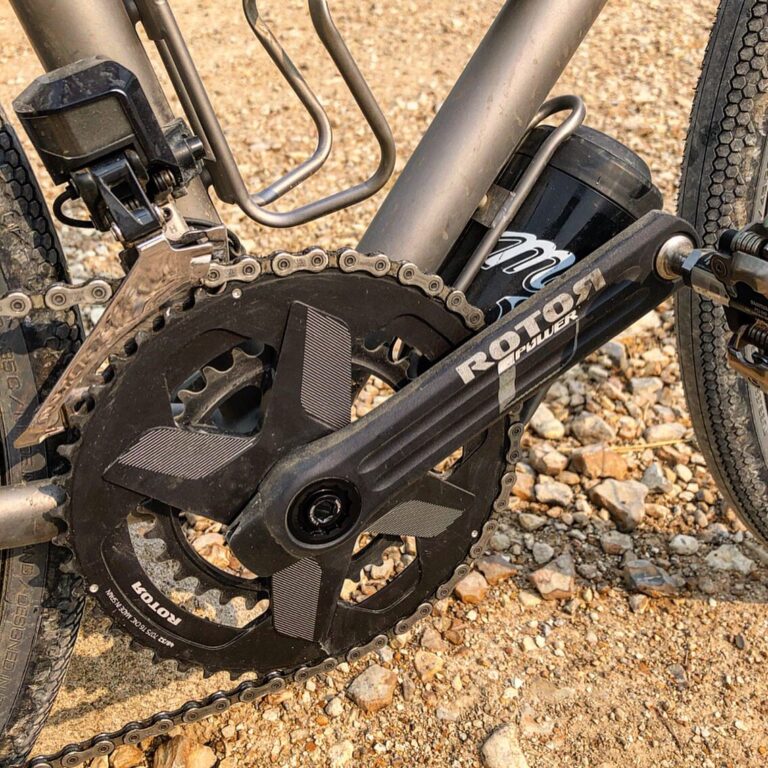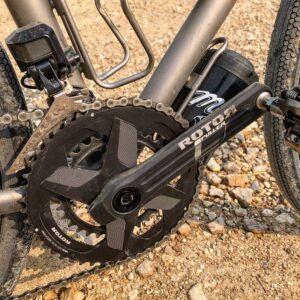 Frame: 52cm Moots Routt RSL
Fork: Moots full carbon cx/gravel fork
Head Set; Chris King 
Stem: Moots RSL
Post: Moots Straight Cinch post 30.9
Saddle: Selle Italia SLR
Bars: Enve Carbon road
Group set: Shimano Dura Ace Di2 w/ Rotor 3D crank & 46/32 rings, 11-30 cassette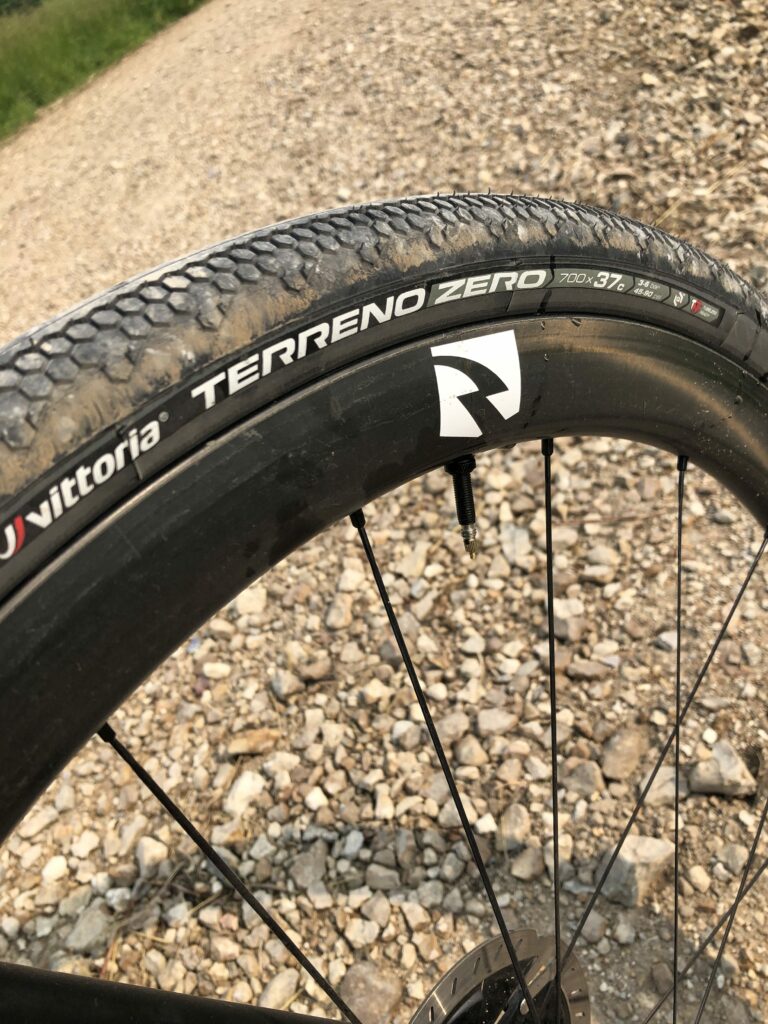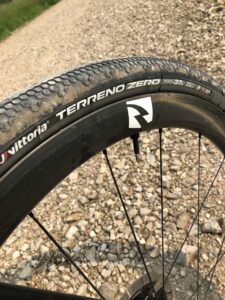 Wheels: Reynolds ATR
Tires: Vittiora Terreno Zero Dry 37mm  //
Cages: 3 King Cage Ti
Tool kit: Specialized//Moots Tool Keg
Navigation: Garmin 520 +
Notes from Drew: Zero flats, zero crashes.  Changes to set for next time? None.
Drew finished the DK100 in 4th overall out of 750.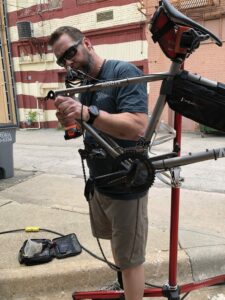 Don't do this at home.  Aaron in action.
One of the most gratifying moments of the week was when Patty from Virginia walked her Routt 45 into the booth and told us she had left her thru-axles at home.  She had to remove the wheels of her bike to pack it into her car.  She had found a front axle from Enve and since her older Routt 45 used an axle and derailier hanger we didn't have in our tool box we had to rob Jon's B bike that was hanging in the van of it's hanger and axle.  No problem……until one of the 2.5mm hex bolts that holds the hanger to the frame rounded out.  Loctite and corosion had siezed it up pretty good.  Enter the Moots A team.  Aaron quickly sourced a cordless drill from industry friends and he drilled off the head of the bolt and BAM!, we had Patty back in business for her race.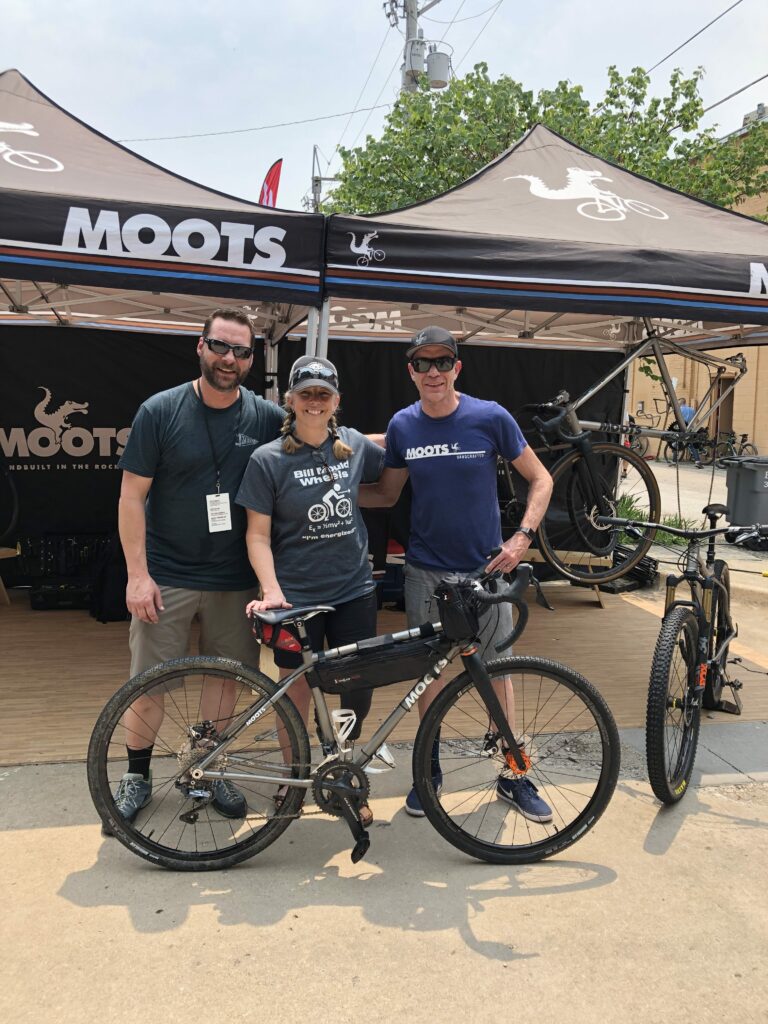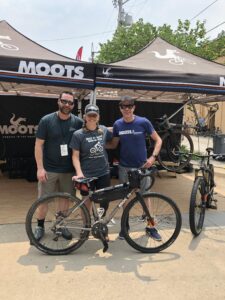 Patty all set to crush DK.
We'll see you back in Kansas for 2020!