Standing at 6'10" Ryan Steers is not the tallest rider we've ever built a custom bike for but ranks up there in the top handful. Of note, we've built for ex-PRO Ryan Trebon, NBA star DeAndre Jordon as well as NBA legend Reggie Miller. When tall cyclists look for big bikes, the choices get limited very quickly. Making a stock 62cm bike "fit" with a long positive rise stem, loads of spacers and an even longer seat post are just Band-Aids to the root of the issue. At the tall end of the spectrum a simple rule is that EVERYTHING needs to get BIGGER.  Ryan's new ROUTT RSL is no different so let's dig in and see what we did to get him fit, balanced and ready to get rowdy…….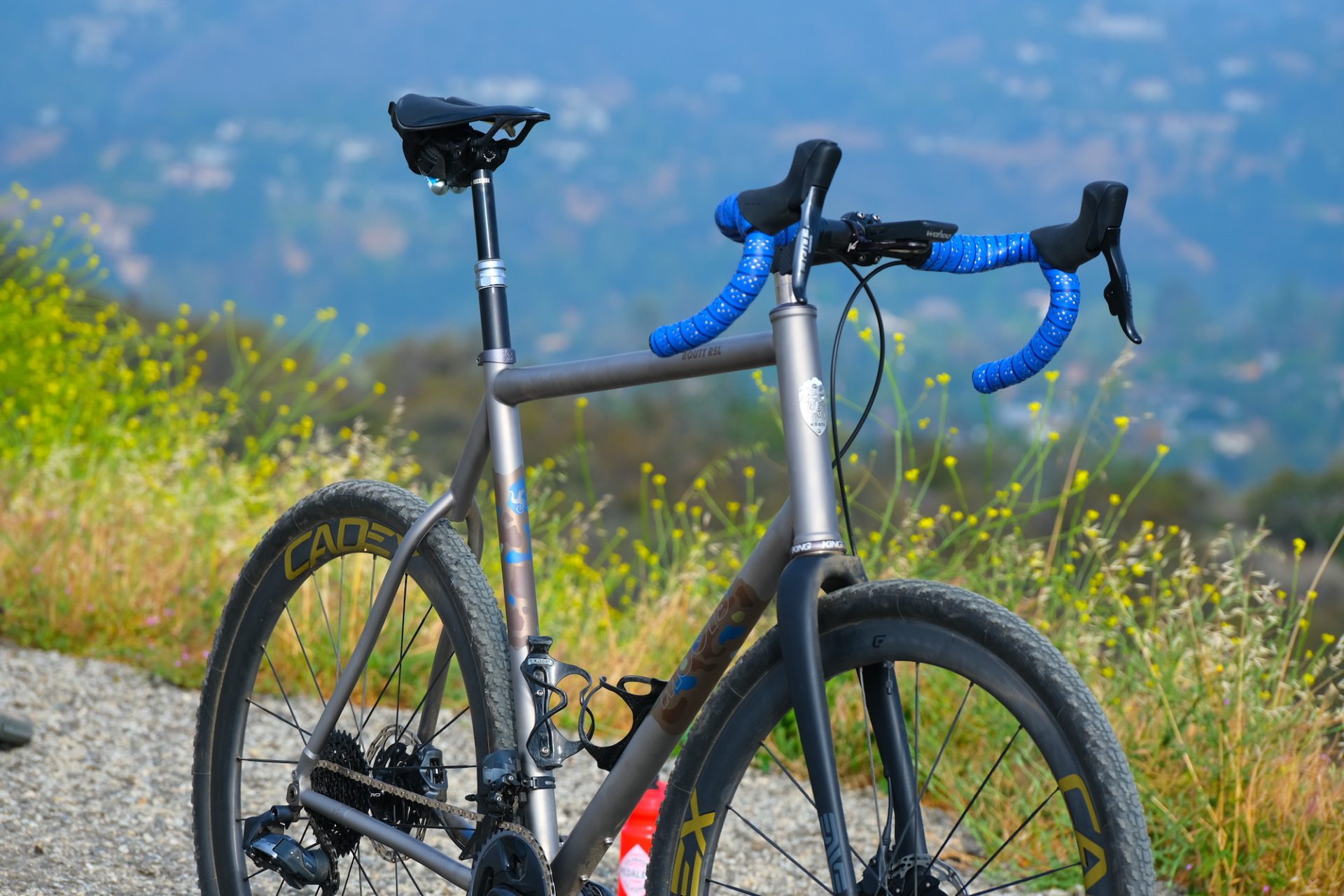 The new age of gravel bikes is a positive for building big bikes for the tall end of the spectrum. Most forks that are being used in gravel measure 395mm for the axle to crown. To compare, a normal disc road bike uses a 370mm axle to crown, so with the gravel fork, we gain a much-needed 25mm off the bat to make the front end taller to better match up with the saddle height that will always end up very high given that most are working with a 36 inch inseam or more. This helps keep the drop from saddle to bars in check. From there we can use the head tube to reach the happy point based on the riders fit numbers. Another thing that helps with tall riders is a bit longer chain stay, which in the gravel category is done for us by using a 43cm chain stay to keep the bike feeling like it wants to wheelie out from under the rider. Also, to note is the gained diameter of the wheel itself when set up with 38-40mm gravel tires. You've probably seen a really tall rider on super skinny road tires and it really just looks out of place and then I'm sure you've seen the Shaq rolling around on a 36" wheel, which for his size makes all the sense. Well, the gravel tire diameter helps in proportions of the set up and is right in line with tall rider needs: stable and loads of grip.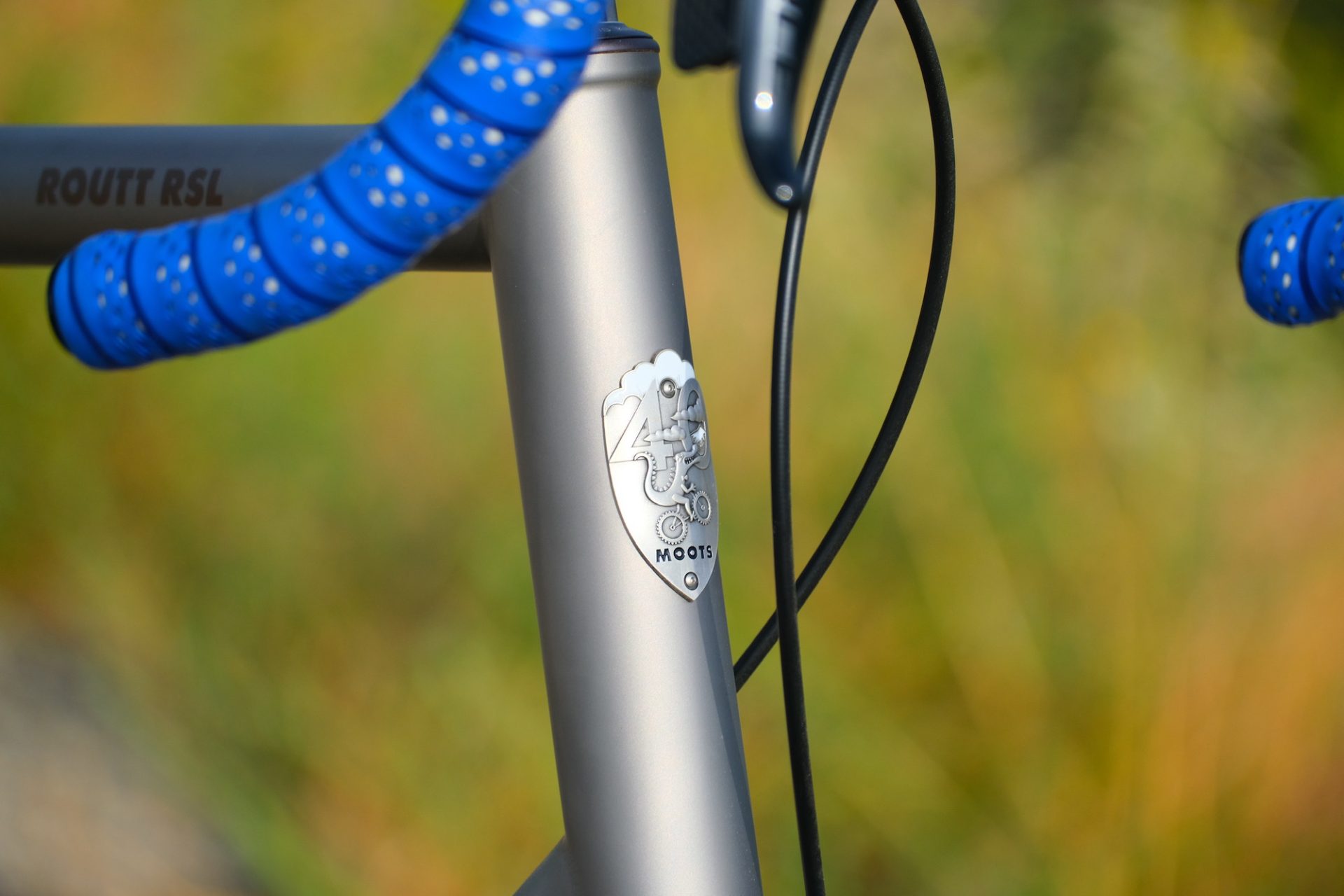 Ryans bike was delivered in 2021, therefore he got the 40th Anniversay badge.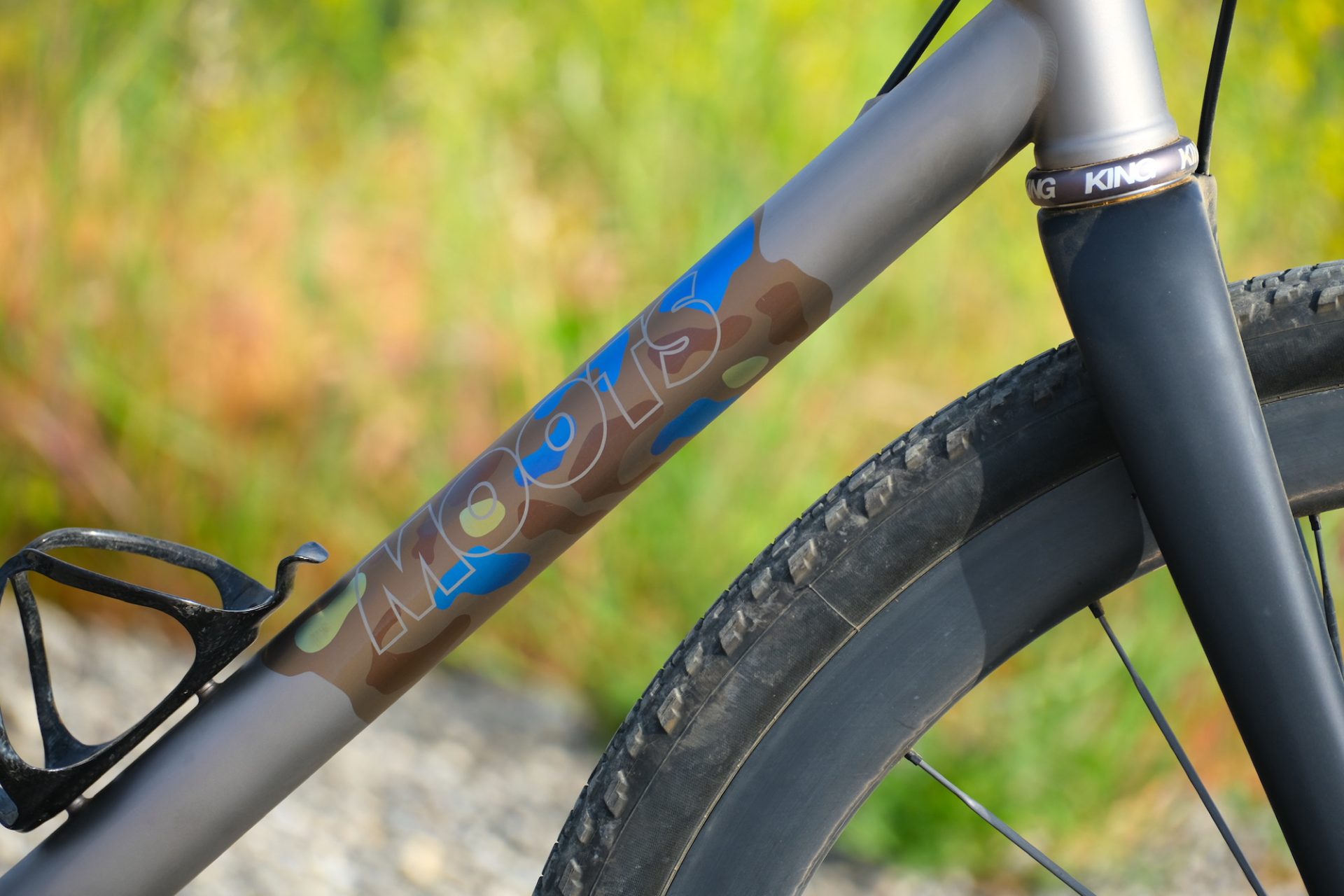 Tube selection is critical in building any bike, but especially when building in such long lengths. Large diameter, butted tubes that are the cornerstone of our RSL (Race Super Lite) tube set.  Ryan also opted for our newest multi-color-anodized finish called HUNTER.
Some specs on the frame:
Head tube length: 245mm
Top Tube: 60.5cm (not all that long)
Seat Tube: 62cm (center to top)
Chain stays: 43cm
Head angle: 72.25
Seat angle: 72.75
You can see from the numbers above that Ryan's 6'10 height comes in most part to his inseam. His arms are also long, which is typical, torso length is not amazingly long, therefore the top tube length doesn't get massively long. So, the need for a long head tube, long seat tube is the right call here. Ryan opted for a matching AXS dropper post as his 38" inseam puts him with a very high center of gravity, this really aids in descending and getting just a bit rowdy when catching some gravel air! The standard build on the Routt RSL uses a 27.2mm seat post diameter, but for the big and tall set we opt to use a 30.9 for a stouter seat post, and it plays nicely with dropper posts currently on the market.
Rowdy Ryan giving the RSL some braaaaap.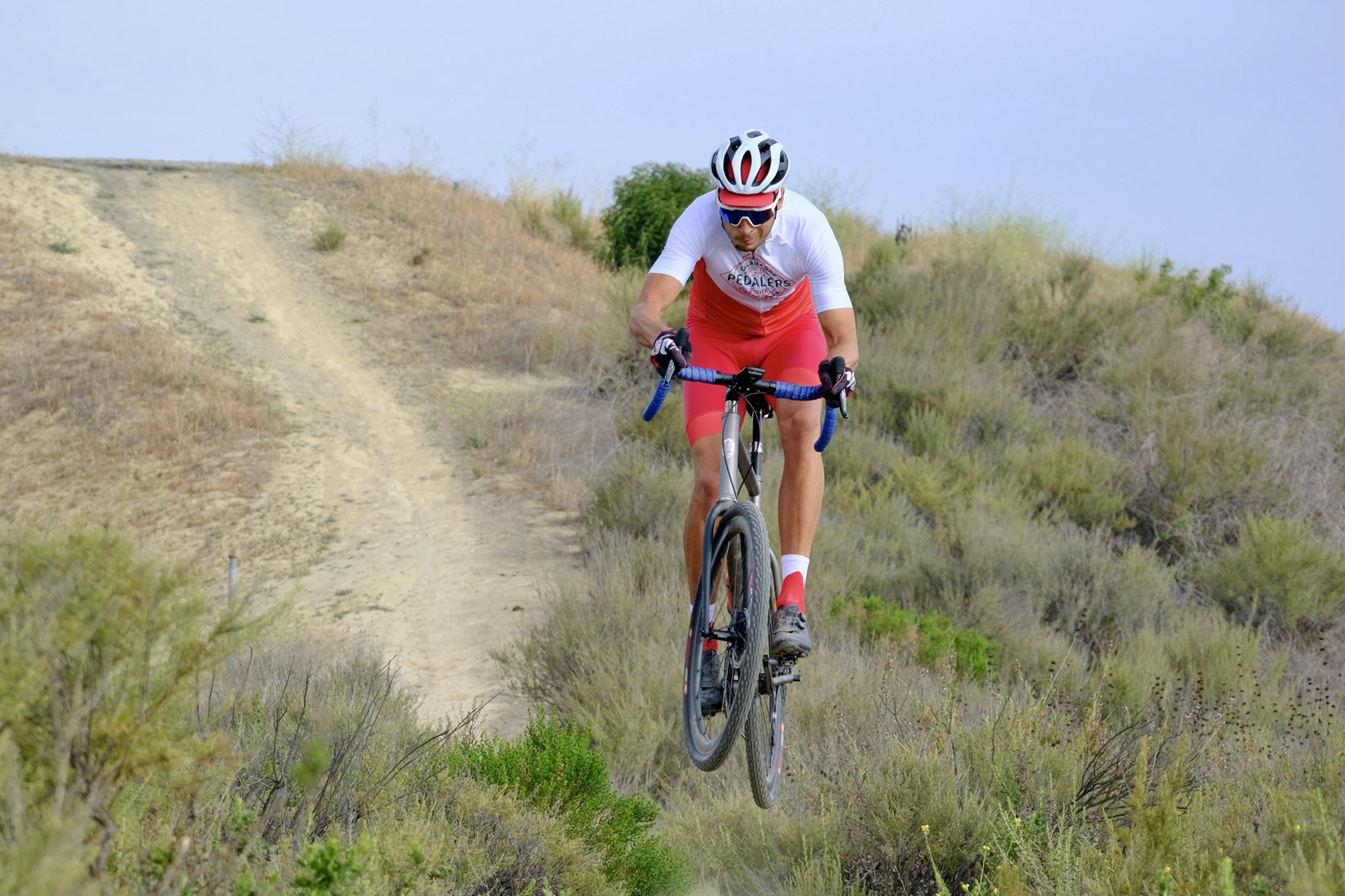 During the photo shoot Ryan modeled the new kit by Pedalers Fork out of Calabasas….shall we say….pretty HOT!
Ryan went with the SRAM FORCE AXS Kit with a 43/30 front chainring set paired with a 10-36 cassette. That'll help get up those steep canyon gravel roads.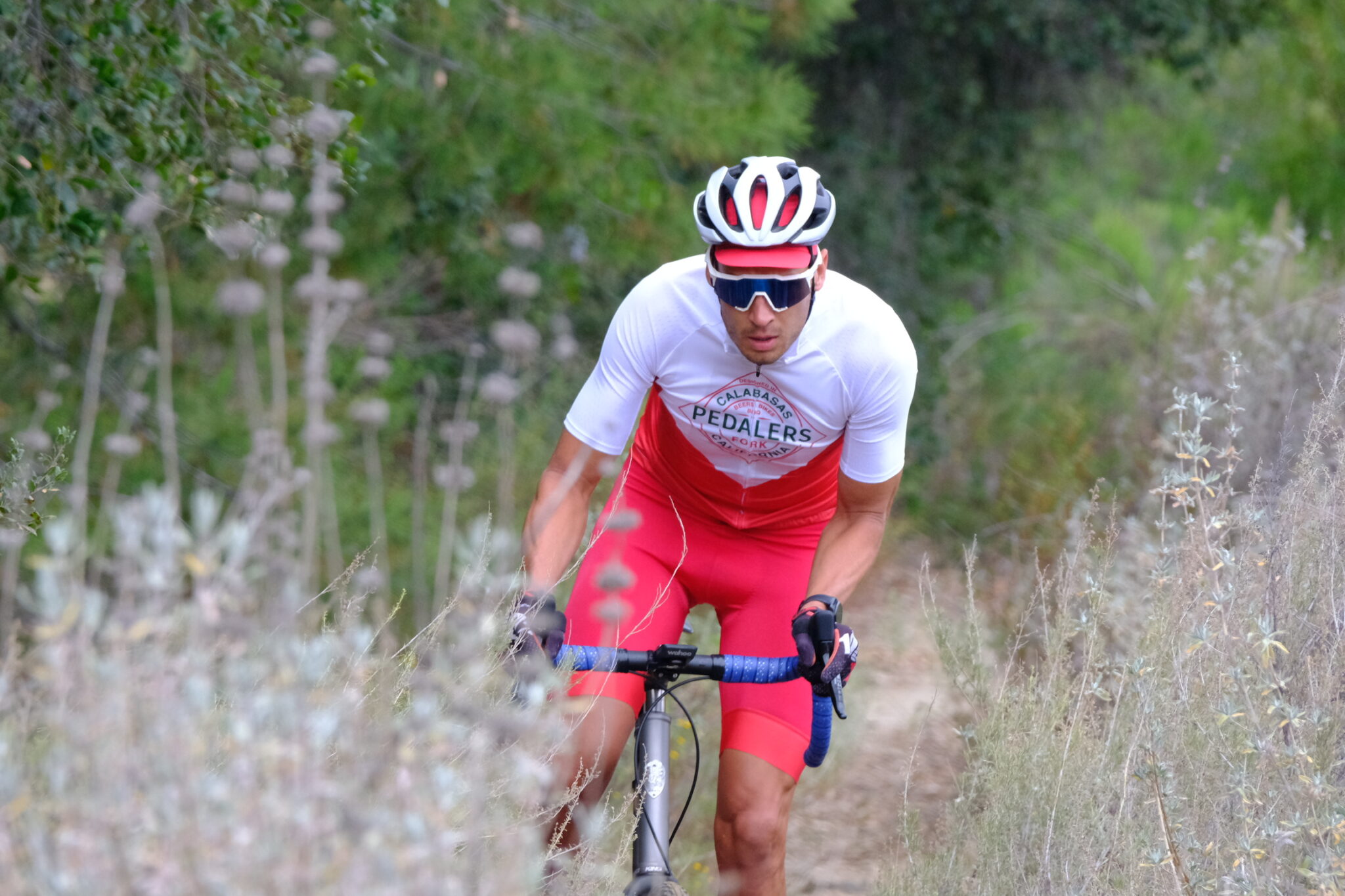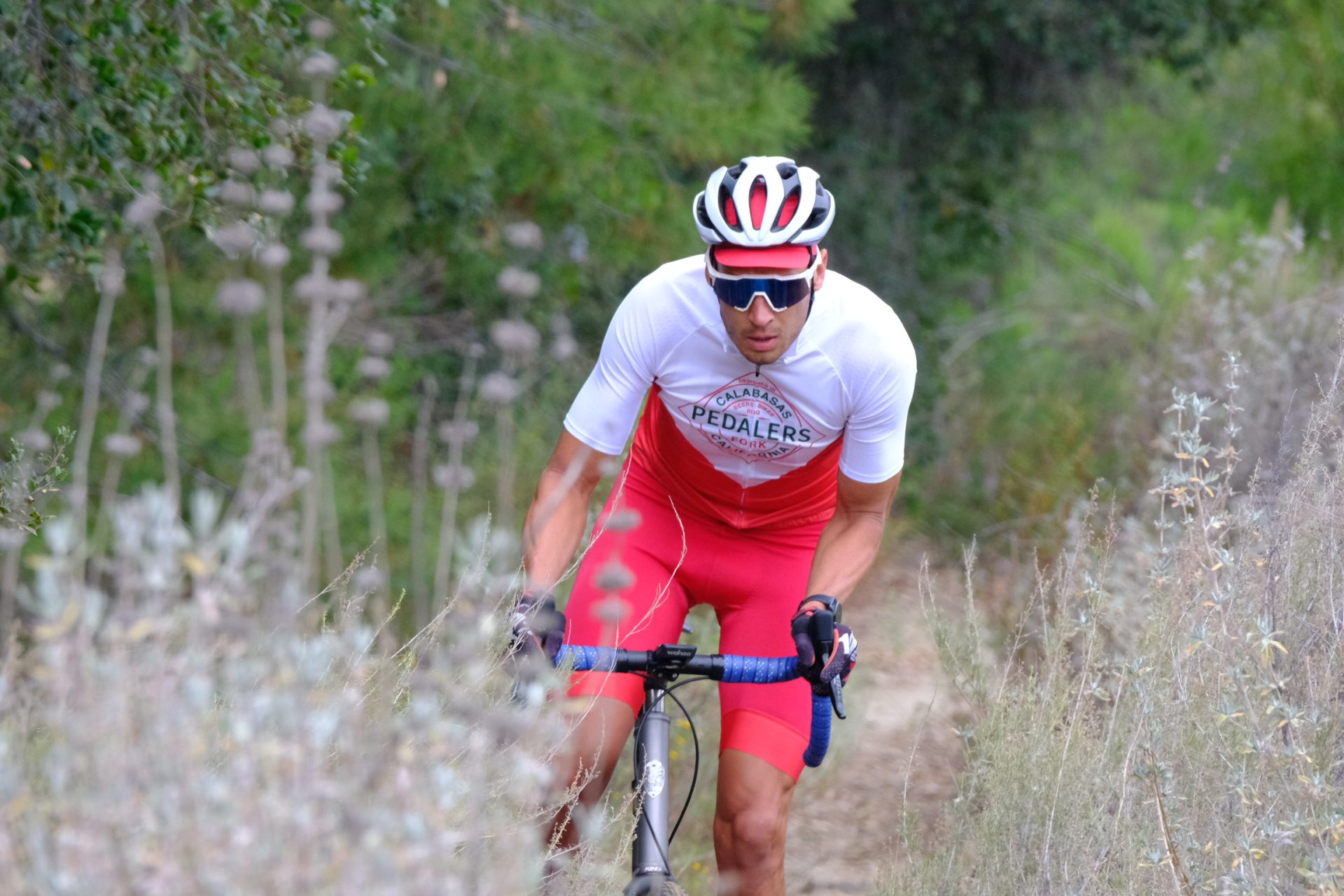 Ryan is set to come to Steamboat in August for the SBT GRVL race, we can't wait to show him around and watch him race the Routt RSL on the very roads it was designed from.
You can get started on your own ROUTT RSL here: ROUTT RSL
Special thanks to the staff at PEDALERS FORK for the images and for the deatiled work to get Ryan sorted.