Our entire team at Moots couldn't be more excited to ring in the New Year in 2021 knowing what we have planned.  MOOTS began building bikes 40 years ago in 1981 with a mission to build the best bikes on the market that the founder wanted to ride himself.
Although our models have expanded and the material of choice has shifted from steel to titanium, that simple mission remains our goal – to build the best bikes on the market that we want to ride, available in the best bike shops around the world.  All of us here at Moots feel honored to be part of this team and to continue building on the legacy of quality that this brand has earned over such a long period.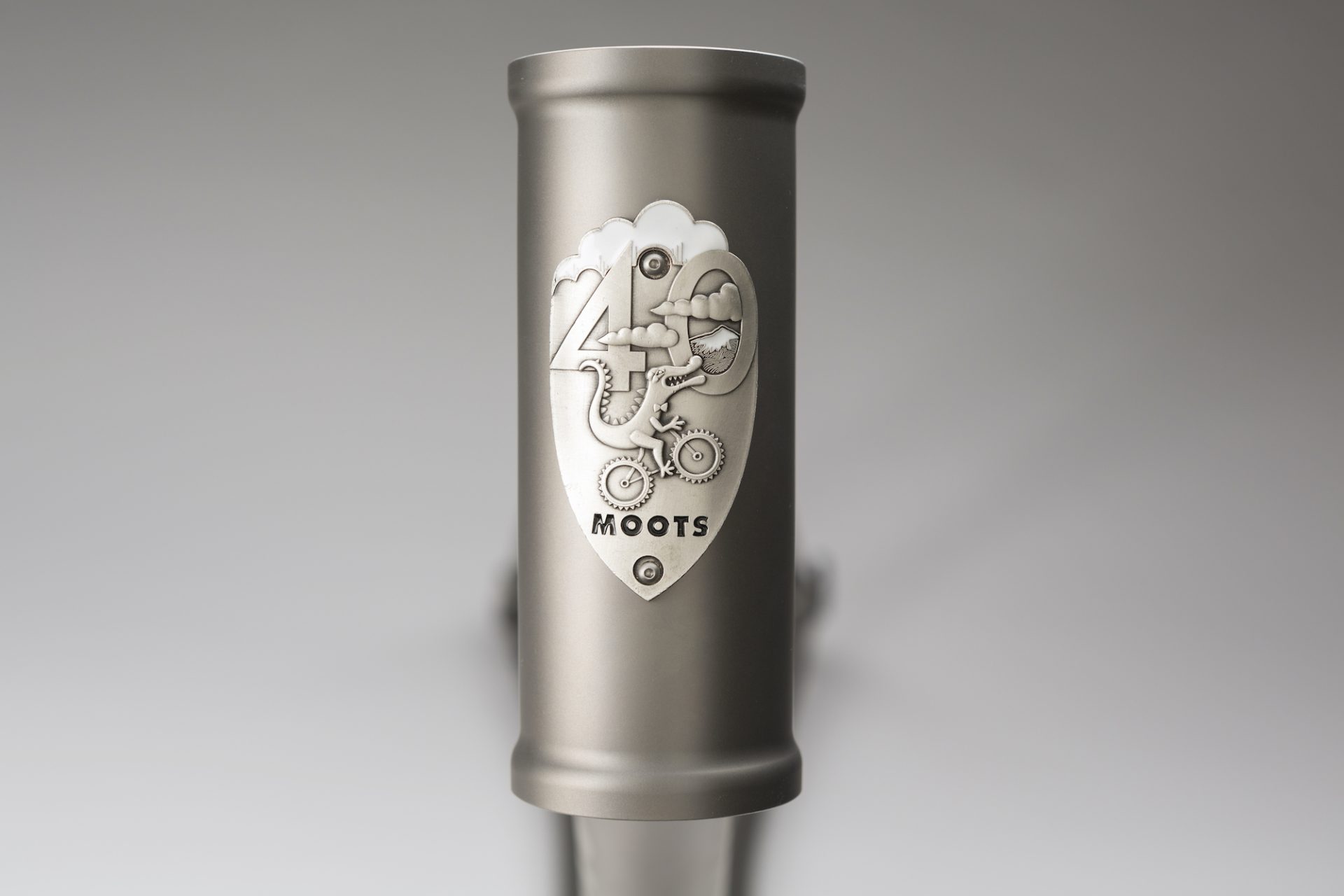 The Limited Edition 40th Anniversary Moots Headbadge. In 2021, every bike we build gets one!
Very few companies in any industry are around for 40 years. It isn't just our tenure, but our consistent focus on building premium bikes that last and deliver an unparalleled ride quality that has afforded us the opportunity to keep doing what we love. And what we love would be simply a hobby if it weren't for the shared passion our customers have for their own Moots. We are so humbled and thankful for the support of our customers. You are the reason we are here today pursuing our craft and still building (that's right – building, not just "designing" or "assembling") each Moots right here in Steamboat Springs, Colorado. Our owners are passionate fans who represent more than just a love of bikes but are true cyclists that treasure the moments their Moots has carried them over time. Those moments and experiences deepen the relationship our customers have with their bike and Moots, relationships that last a lifetime!
As we begin 2021, we are kicking off the year with a plan to celebrate this occasion throughout the year.  This is a celebration for our customers who have supported our work for 40 years, a celebration of thanks for our dealers who have  shared with their customers why a Moots is so special, and a celebration for each and every person who has worked here pursuing their craft to build the best bikes possible at Moots. We've truly had a special crew of employees here over the years and we are forever grateful to them all.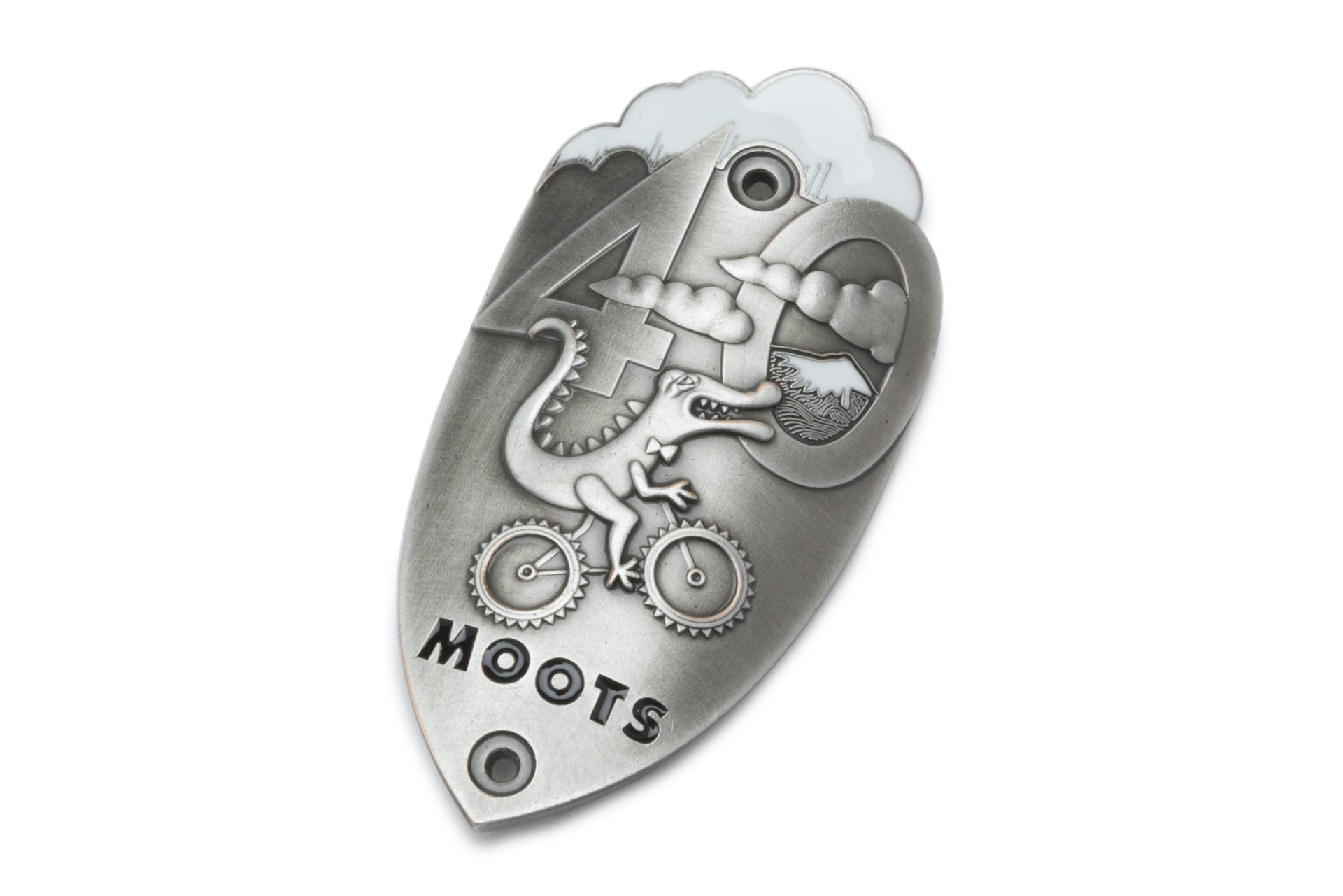 Mr. Moots riding among the mountains and clouds as he has done for 40 years.
So, what are we doing to celebrate?  I would like to highlight 3 key things you'll see from us this anniversary year.
First – Every bike we build at Moots is special, so we didn't feel a limited edition made sense. Instead, each bike delivered or ordered in 2021 will feature a Limited Edition 40th Anniversary head badge.  It is designed by our team at Moots to celebrate this milestone and we will be proud to feature it throughout the year.
Secondly – We plan to expand our apparel and soft goods offerings with products we all love and use at Moots. We know so many of our Moots riders will want to celebrate this occasion with us, so we've already added T-shirts, hats and other goods to our shopping site and will introduce a few new items throughout the year.
And Finally – Our blogs and social media during 2021 will feature reminders of our past and highlight the things we are doing today.  We've been able to do this for 40 years as the team is always innovating and moving forward and we'll share more of this history with you. We'll also find a way to include feedback from our Moots riders as we know you love to talk about your bike, and we want you to share that passion with the Moots family.
As you can tell, we are all excited here at Moots, and 2021 is going to be a fun and exciting year.  I am only our 3rd owner in 40 years, and I feel so honored to be part of this team, yet also a tremendous amount of pressure to continue the legacy.  The pressure drives us to get better every day and keep quality the top priority in all we do at Moots.  I am so thankful for all the support of our Riders, Dealers and Employees over these years!
Regards,
Brent Whittington
Moots Cycles, Owner
Limited Edition bottle opener to wet your whistle.
Check our shop for more 40th Anniversary items.