In this week's installment of our build of the week, we look at Scott's flat bar, flat pedal gravel bike.  Scott runs our parts program which entails sourcing build kits for complete bikes and then some.  Working with SRAM, SHIMANO, ENVE, CHRIS KING…. you know, all the candy that hangs on our handy work to make it go down the road or trail.  Well, when you work in the candy store, you can't help but sample the sweet goodies.  Scott's build is full of them!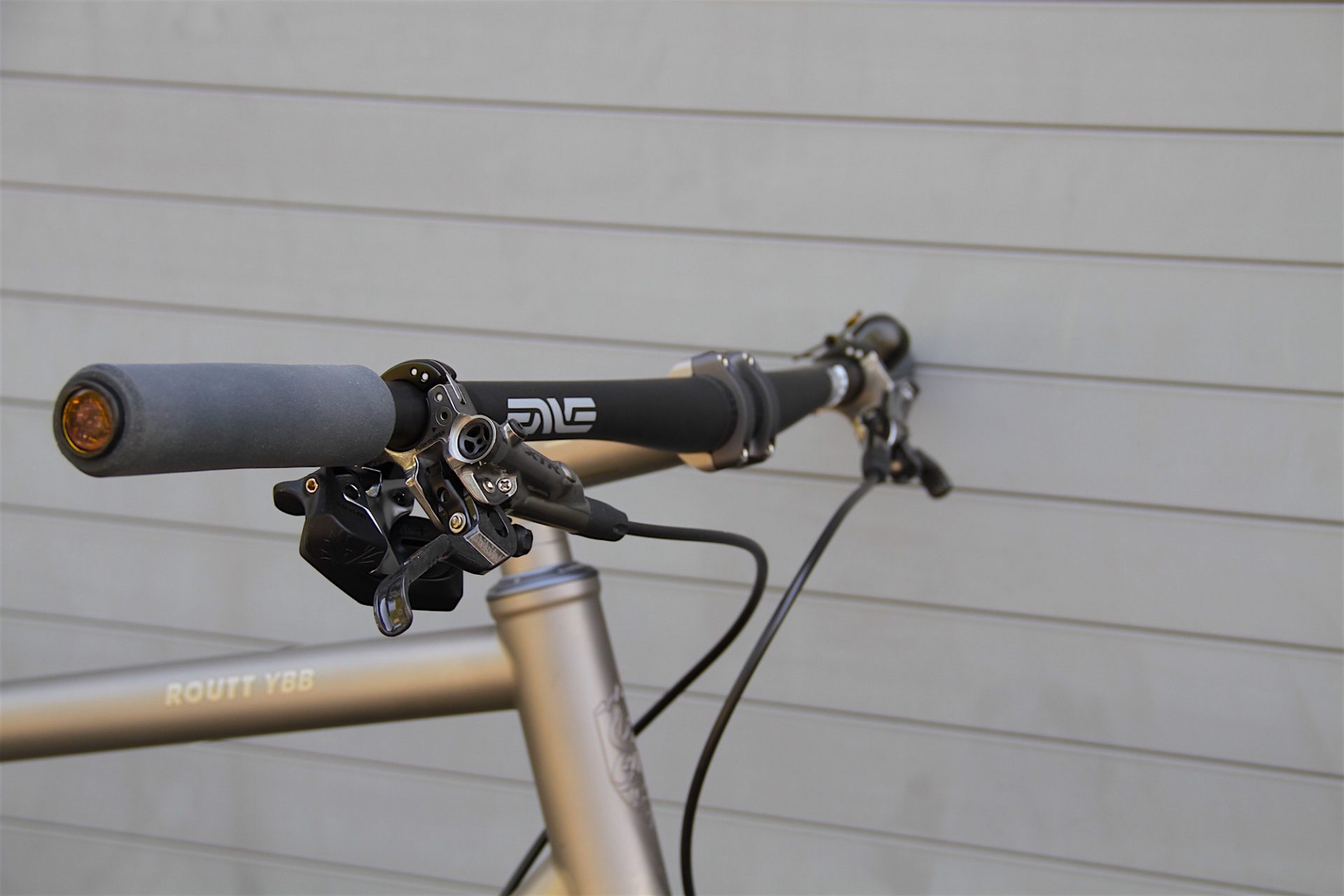 If you flashed back to the late '80's and early 90's this build would be a cutting edge mountain bike.  Let's face it, in those days we would have killed for disc brakes, tubeless tires and a svelt carbon fork (pre-suspension) for some of us……but I digress and date myself with that statement. Onto the build: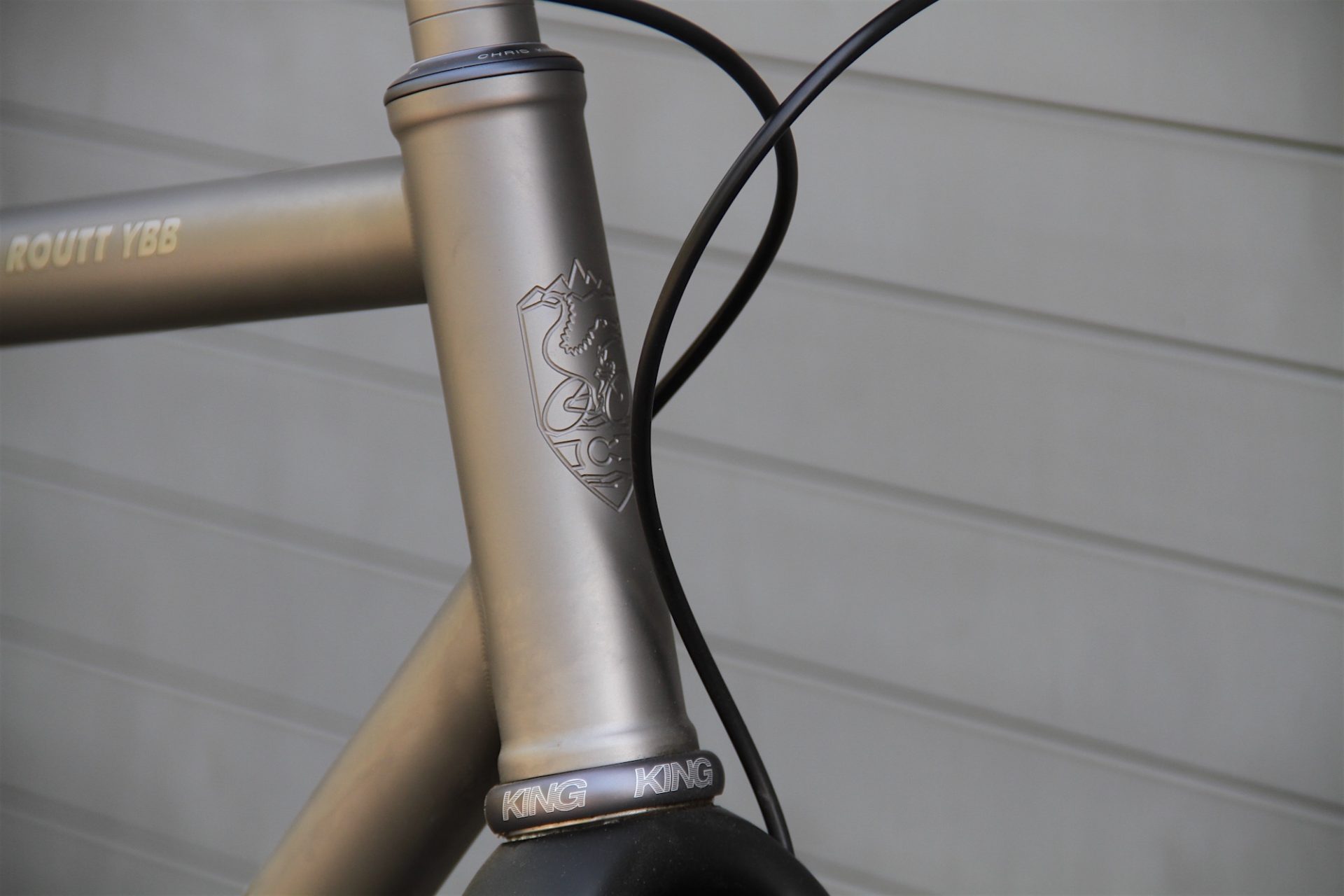 Scott's build features our engraved head tube option. Our in-house CNC crew sweats the details.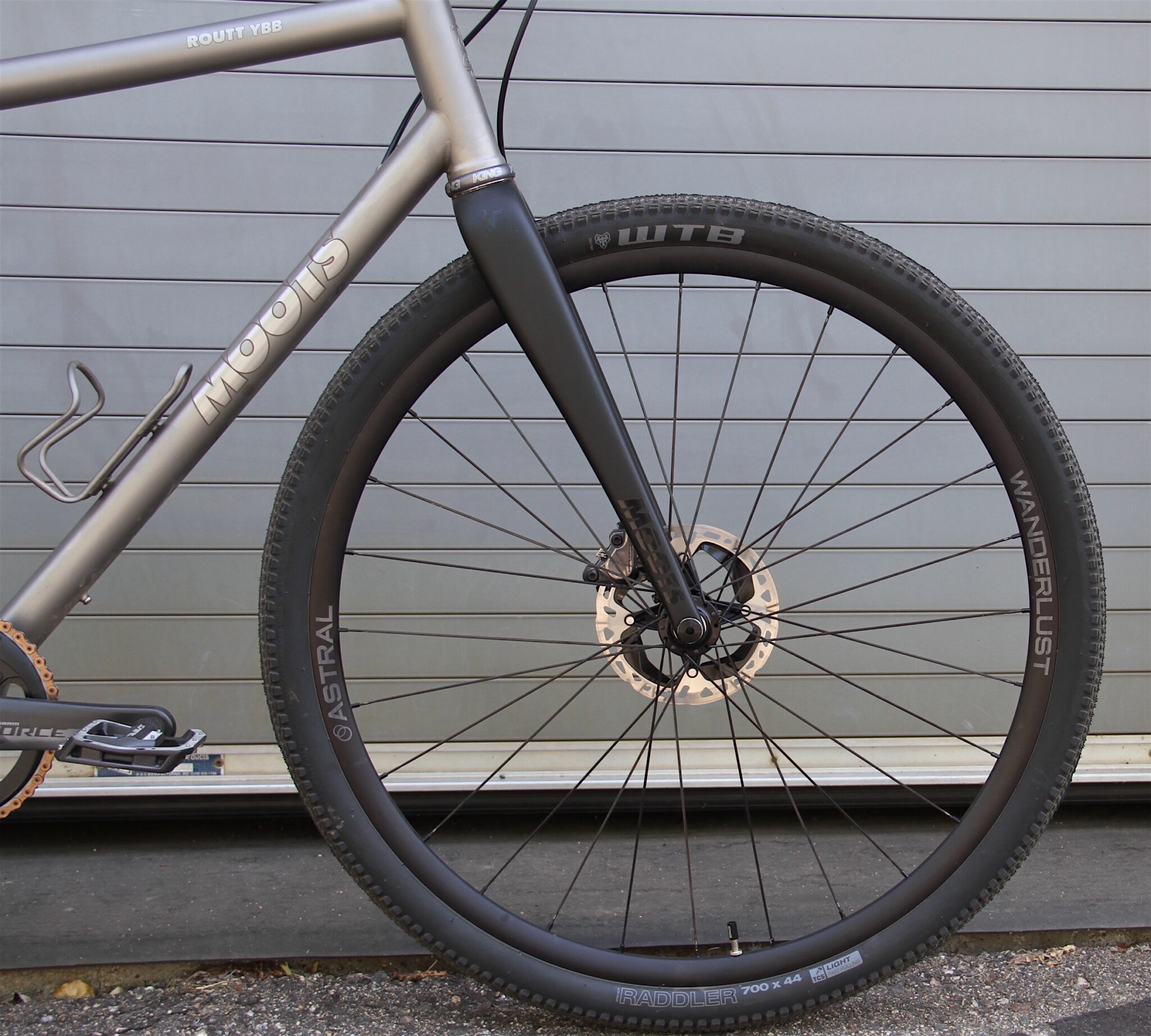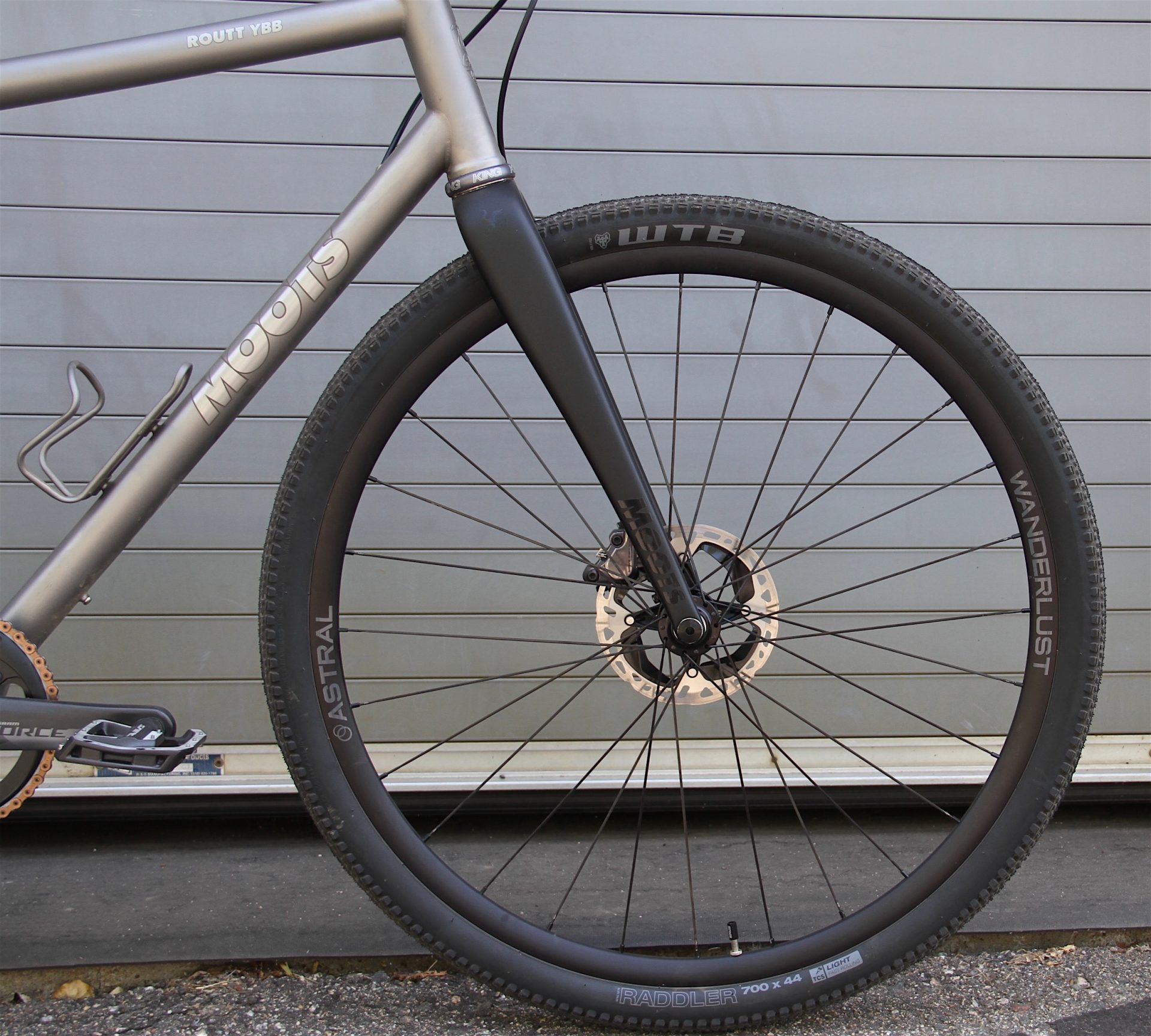 Rolling on WTB 45's and Astral Wanderlust hoops laced to White Industries hubs.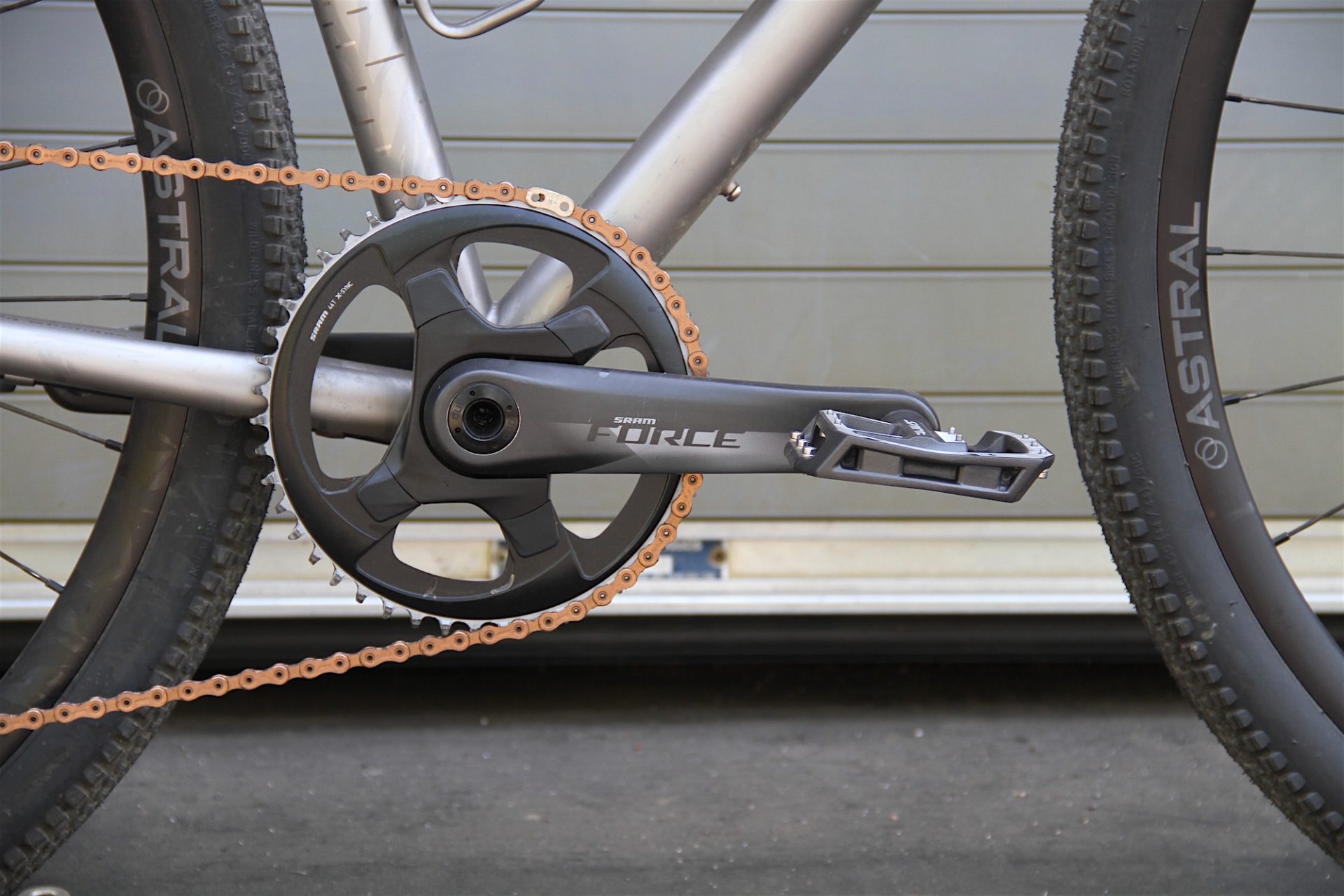 Force "mullet build" 1x for a wide range and simplicity at the touch of a button.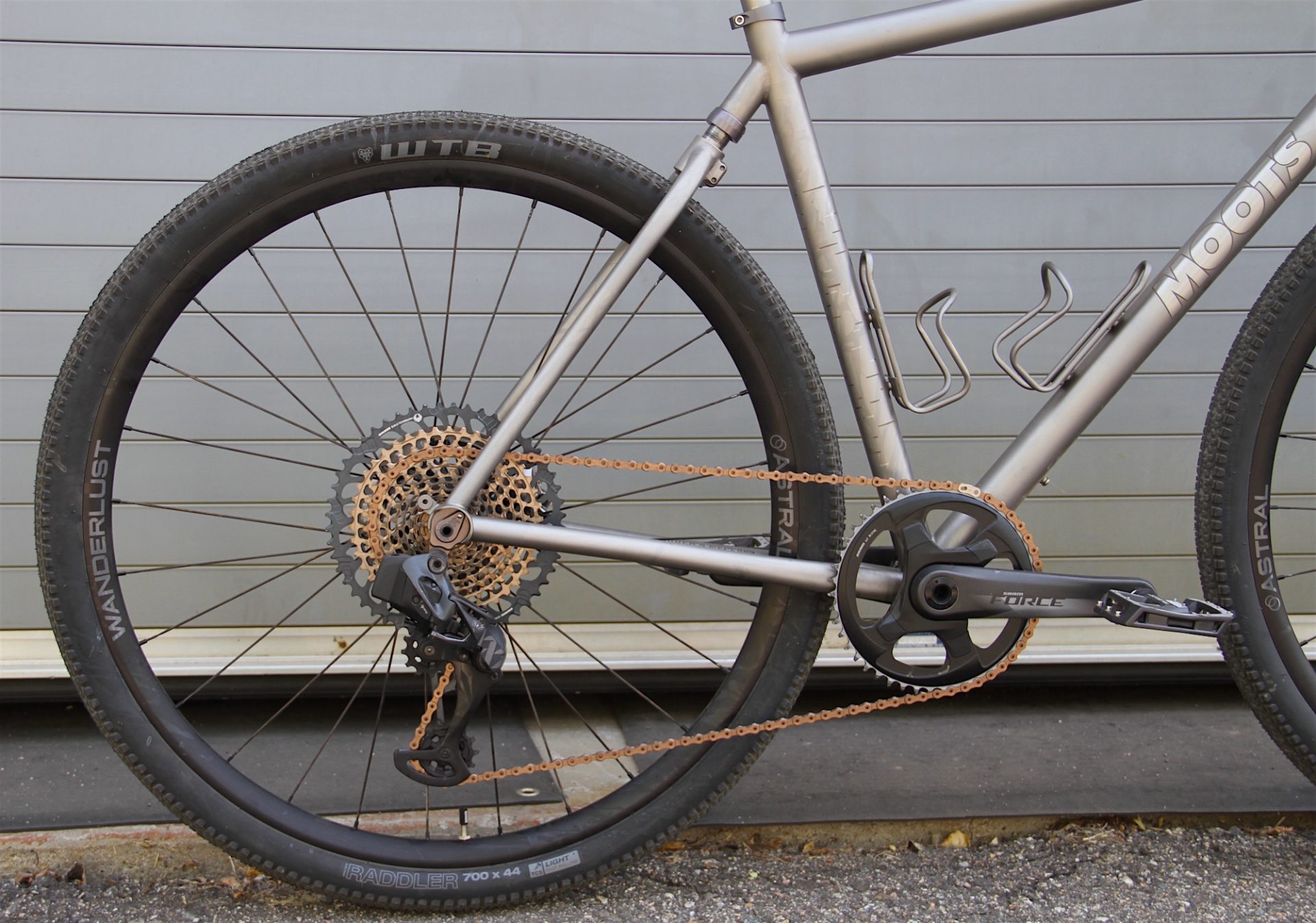 1 x 12, wide range for where you might wander.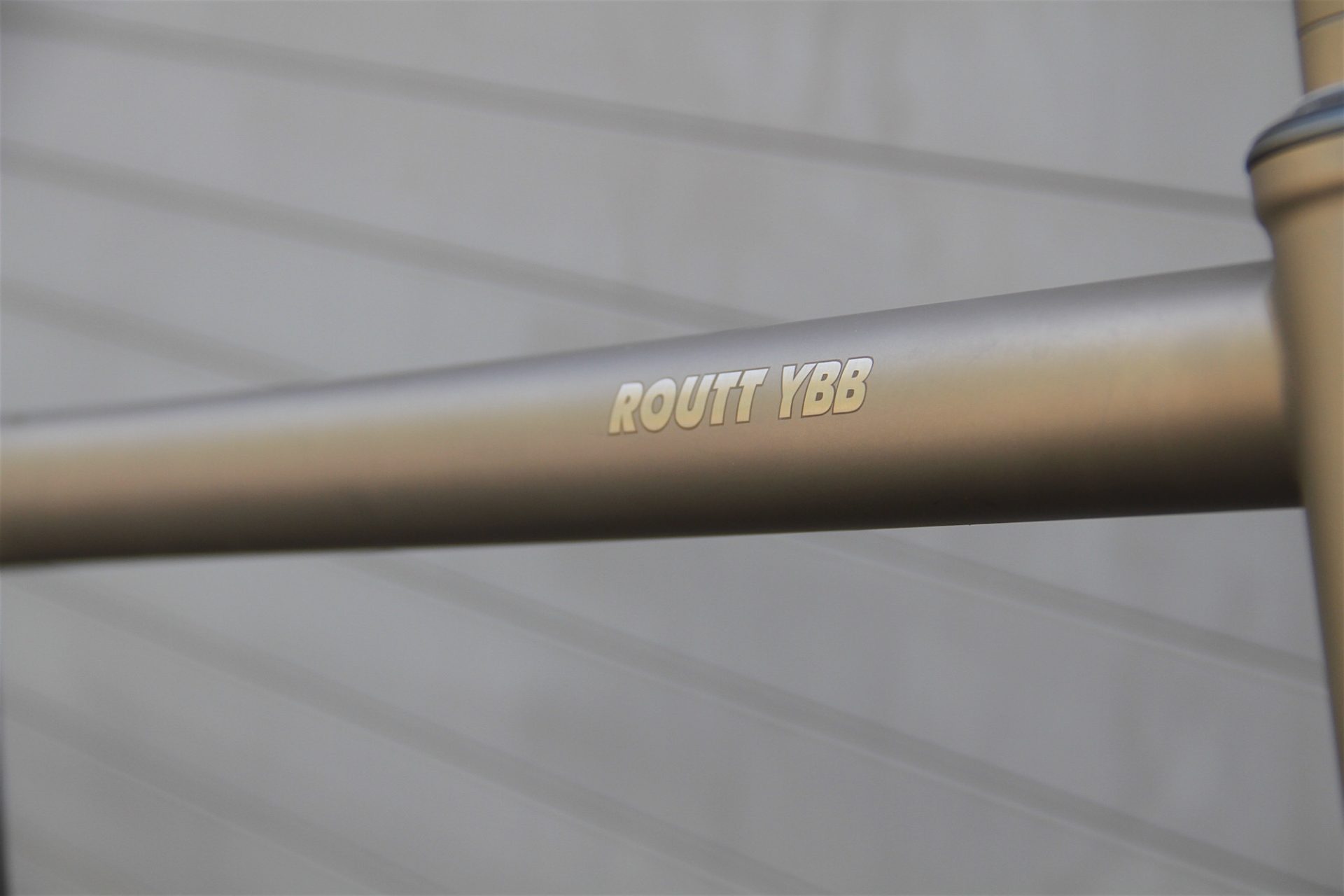 The YBB has been in the Moots line up since 1986 in various forms. Originally in our steel bikes and then in 1991, found a much better place in our titanium bikes. We have used the YBB design in mountain bikes, incorporated it into road bikes, then cyclocross bikes and now finds a home in our one of our gravel bikes.  It stands for "Why Be Beat?" It's just enough to take the edge off of most trail, road and now gravel road bumps. It's an insane climber, which is underestimated by many.  It hugs the ground as you climb and allows you to stay seated and not "lift" out of the saddle. The YBB is very low maintenance (no compressed air or oil to leak and no piviots to maintain) all while offering the smoothest ride while maintaining an efficient use of power to the ground. To us it's the "GoldiLocks" of suspension.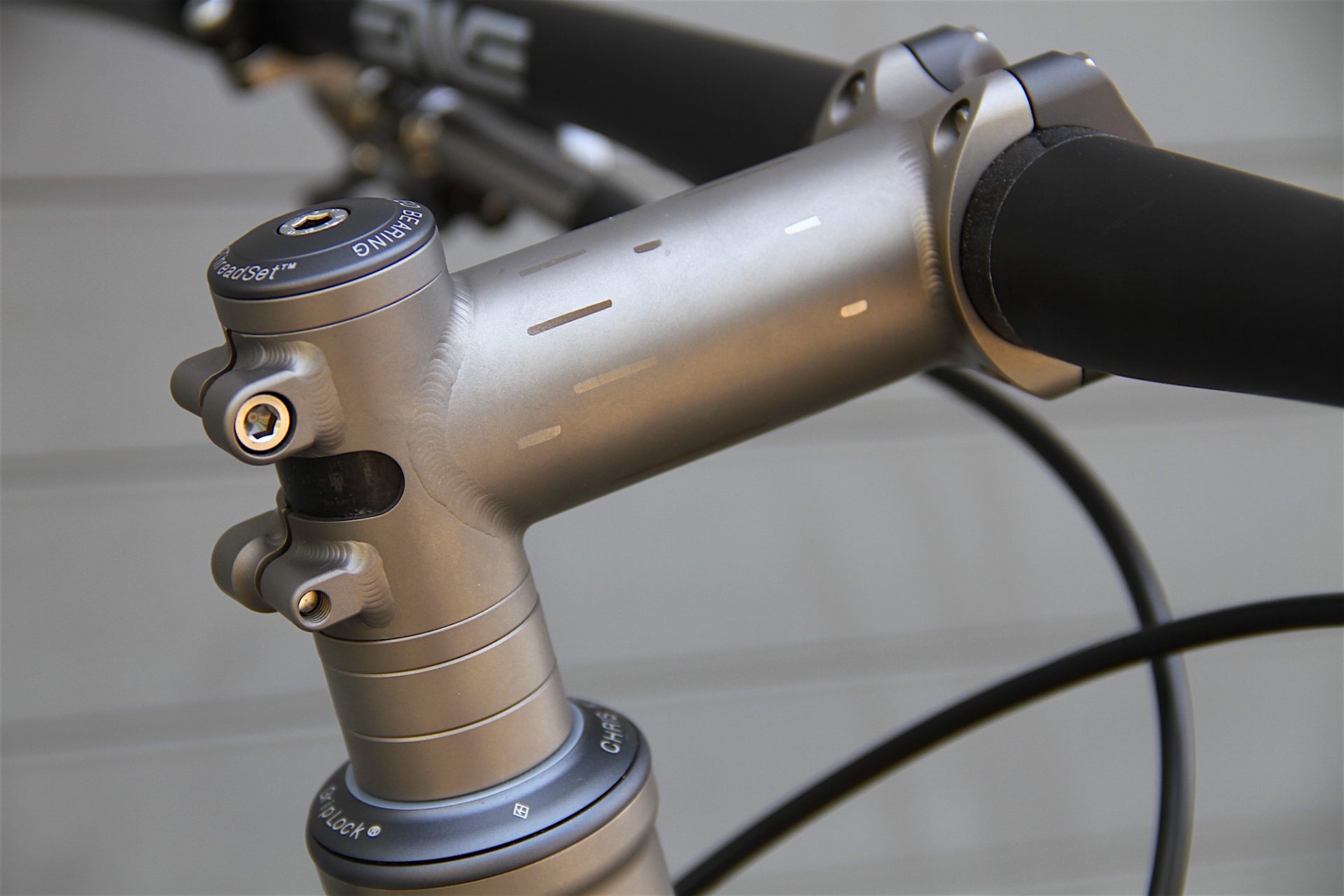 Scott has been holding onto this build for a while as we don't offer the Birch finish any longer.  The details on the stem and post (below) are so clean.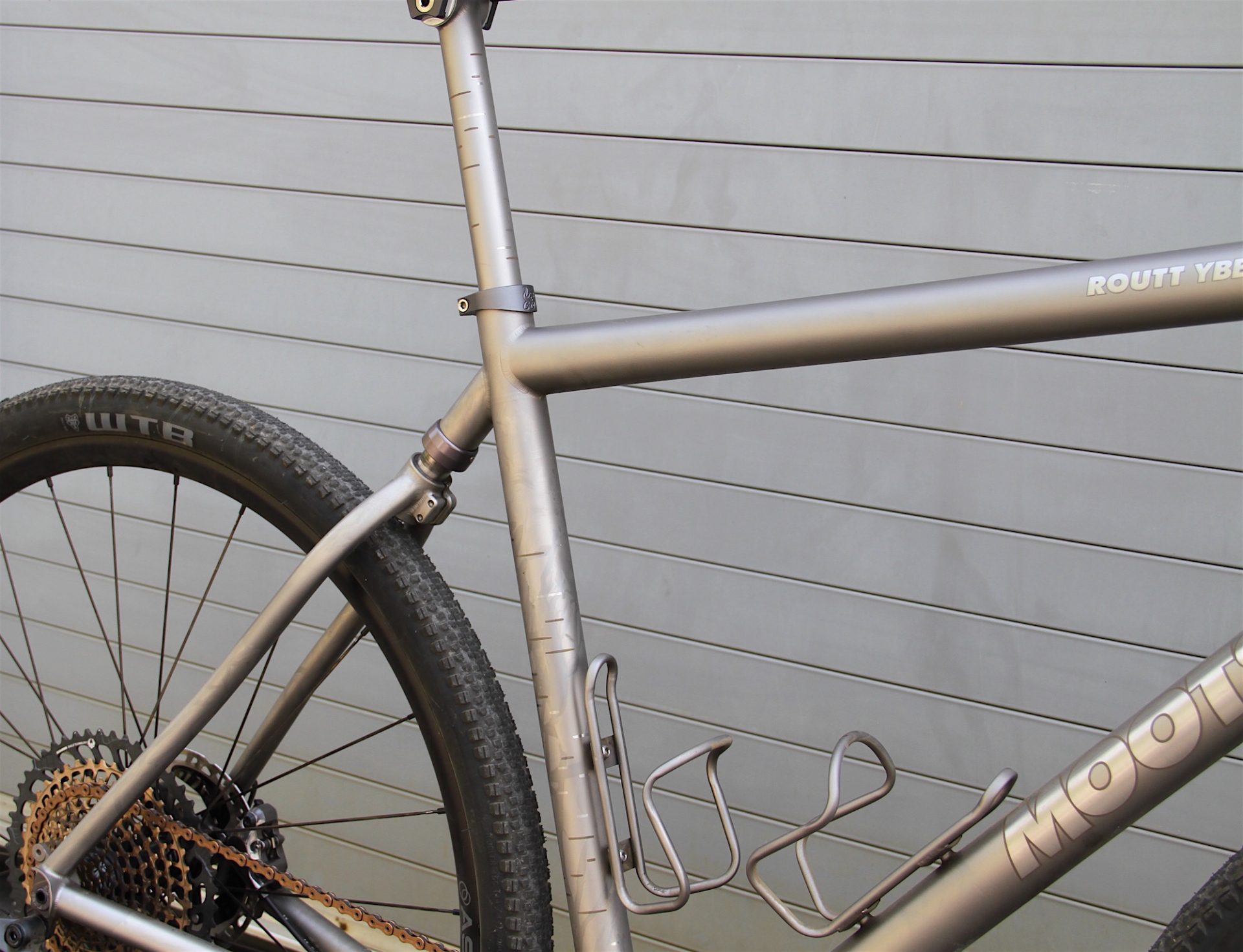 King Cages are a Moots favorite and our long standing relationship with the master himself, Ron Andrews is well over 2 decades long.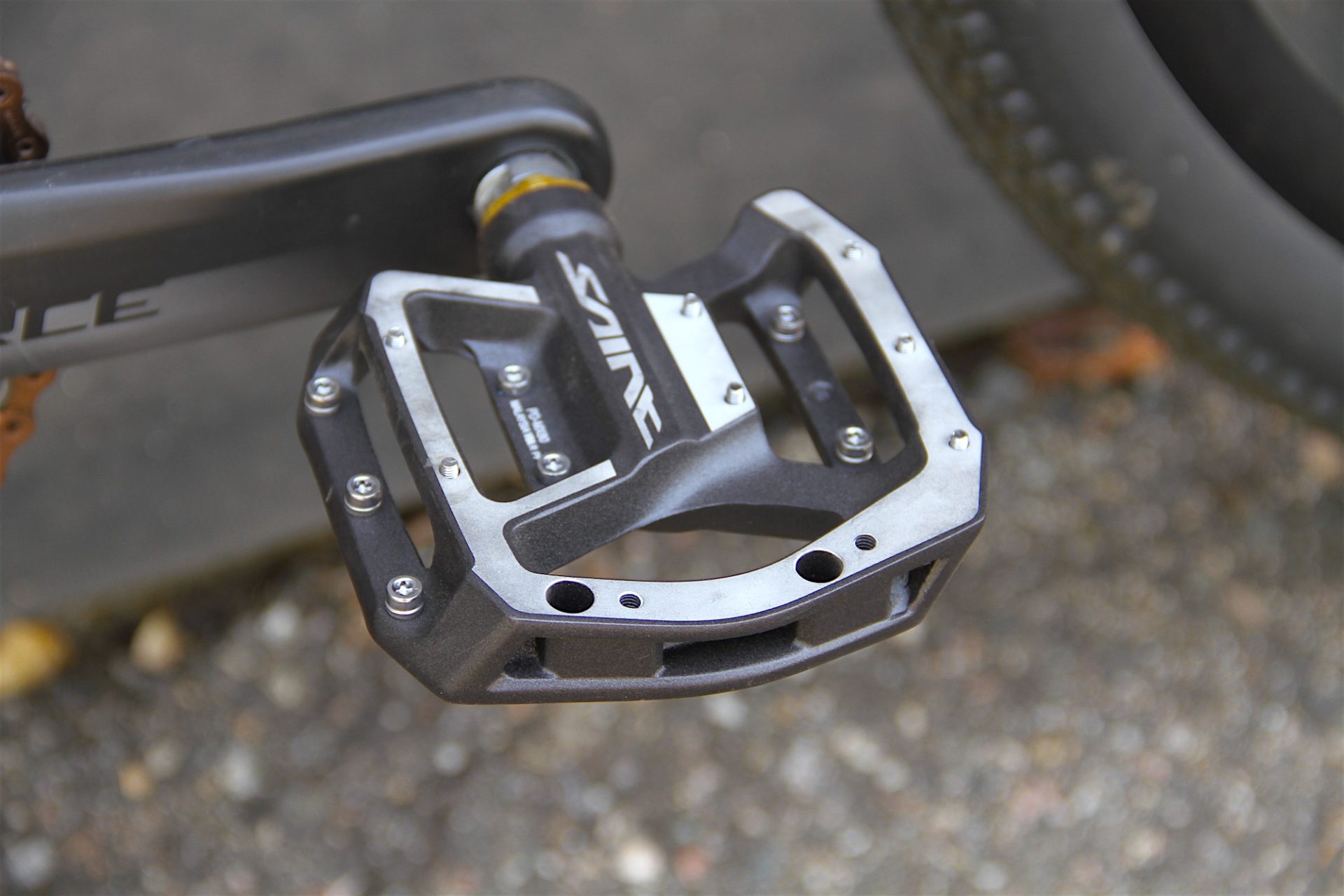 Yes, those are Shimano Saint DH pedals.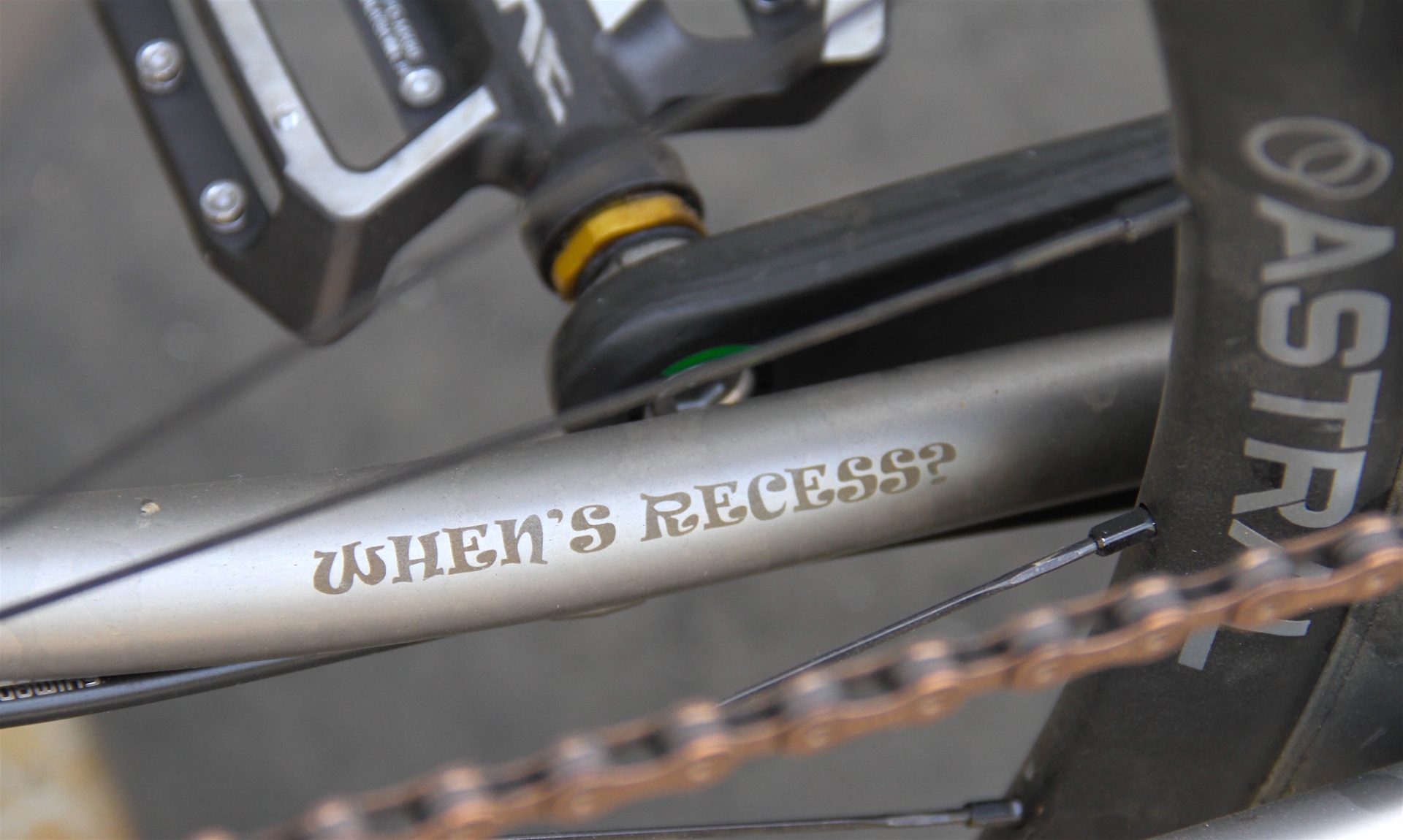 Always thinking of play time!
Ride Notes from Scott:
"I wanted to build something that I could cruise on gravel in a more upright position and then venture onto some light singletrack." "With the Routt YBB able to handle 50mm tires this fit the bill perfectly."  "And yes, this makes an amazing commuter."