In early January of 2021 Moots kicked off its 40th year anniversary by introducing a new head badge that will adorn every bike we ship in 2021. A beautiful piece that seemed very fitting to celebrate 40 years of building bikes. When we were thinking of what we could do that would be special for the year, we started by looking back at what we had done in previous milestone years.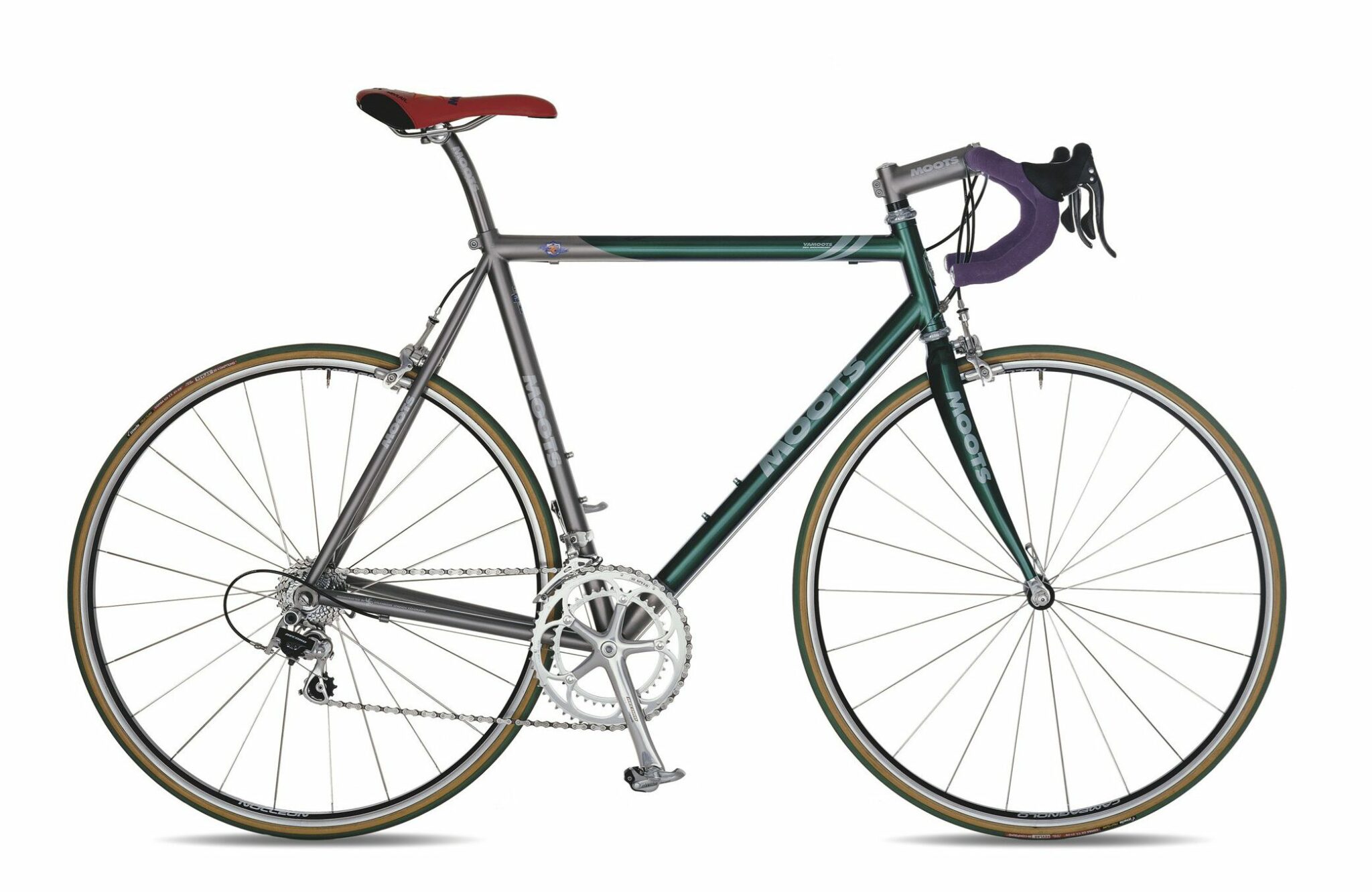 The 2001 VAMOOTS 20TH ANNIVERSARY LIMITED EDITION ROAD BIKE.
Starting with the 20th year anniversary in which we produced a road bike edition that had a very unique paint job on fifty of them. This was well before social media and mass amounts of internet reach. It was successful but was limited to those that wanted a road bike that year. During our 20th anniversary we also had a decal that went on every bike out the door that year. To this day we still have owners that seek us out at events and show us their 20th anniversary decal on the seat tube. They are proud and honored to own that edition each one of them.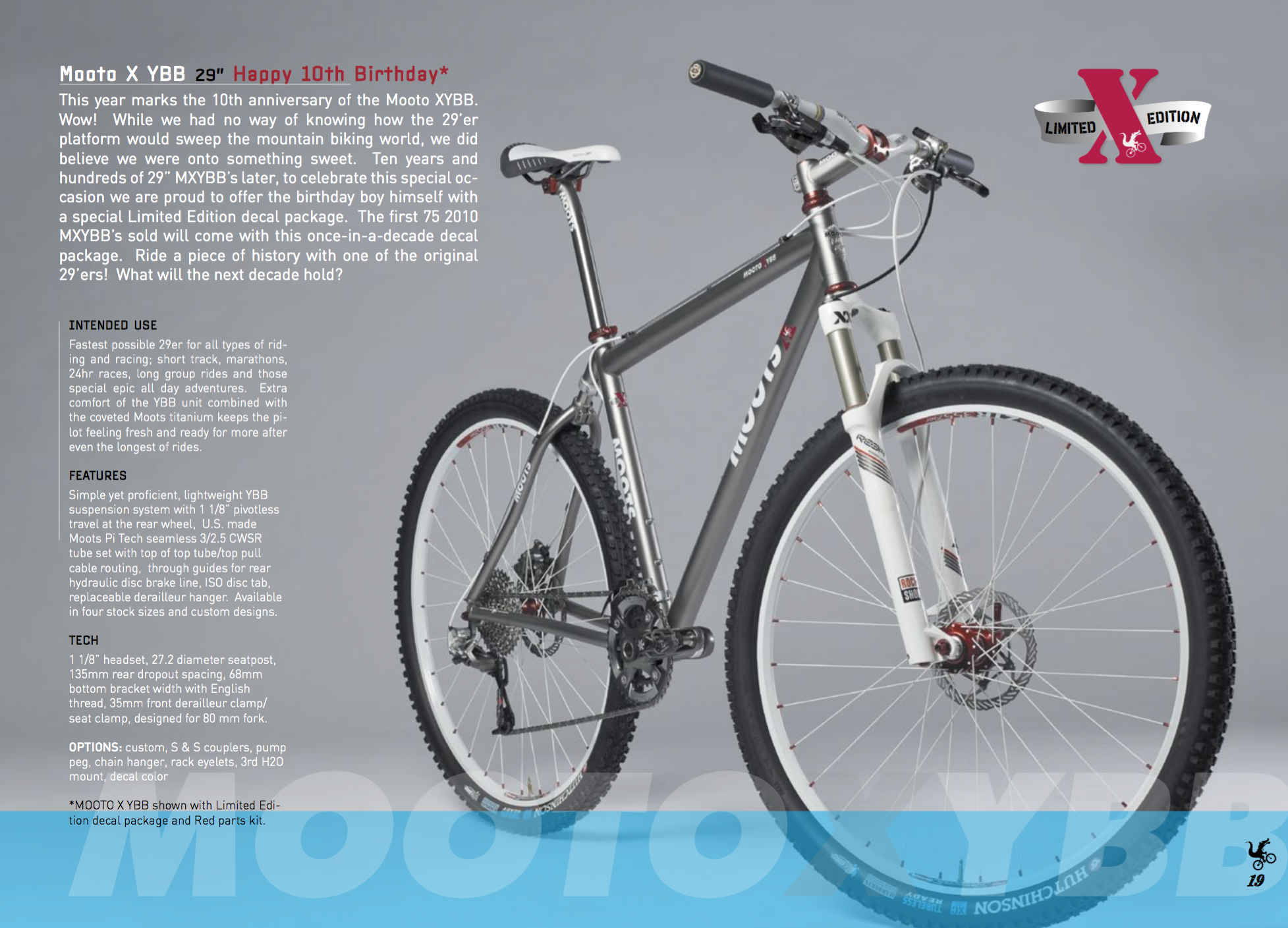 In 2010 we produced a 10th Anniversary of the Mooto X YBB, which was celebrating a decade of making 29inch wheels. That bike was built-out with a specific build kit with white and red accents throughout. Again, a full bike that limited participation by our customers to those that wanted a 29er soft tail in a white and red color scheme. It was a show stopper that year in Vegas as I remember and still being ridden on trail to this day.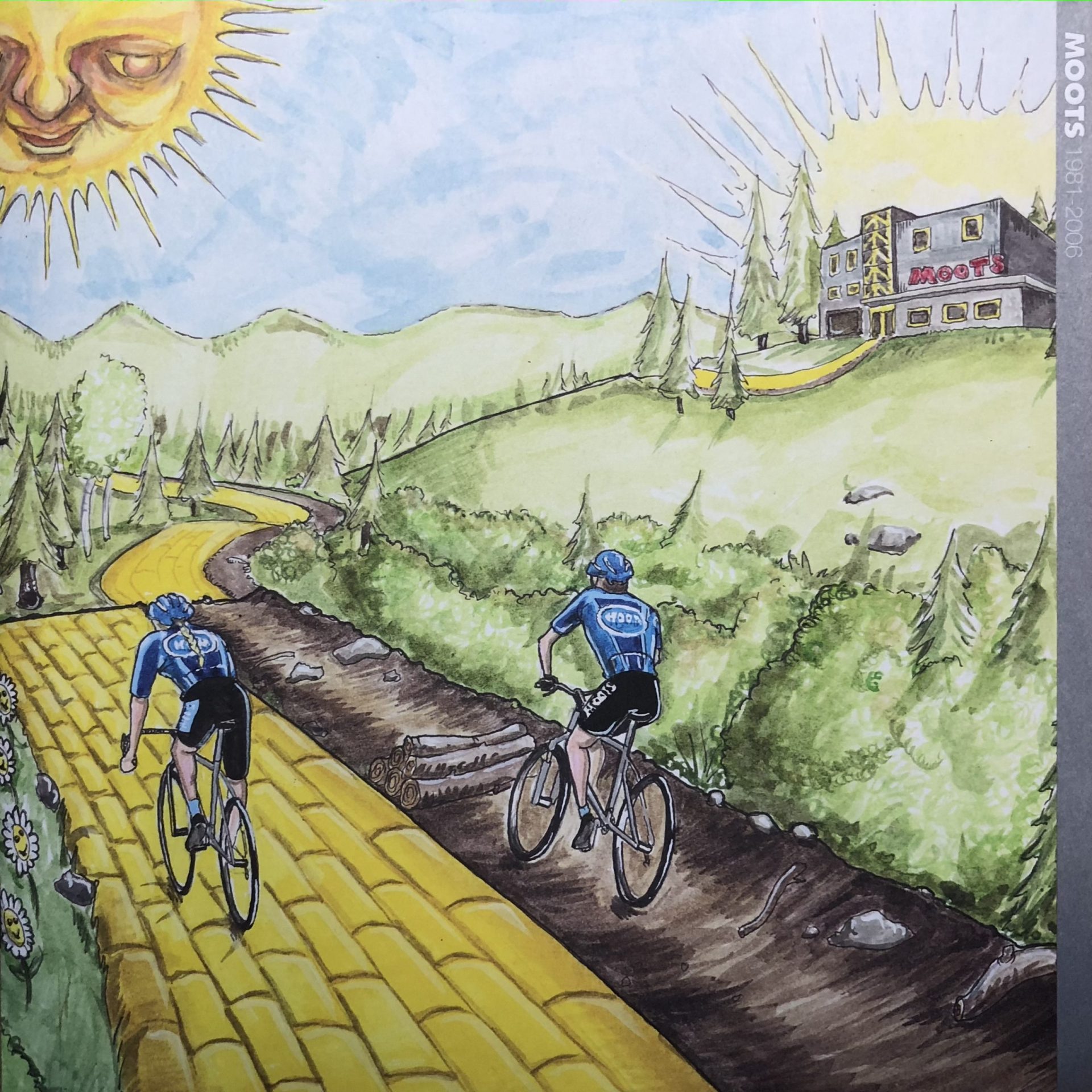 The "cartoon catalog" cover of 2006. Each page was illustrated by Stevil.
The entire crew in 2006.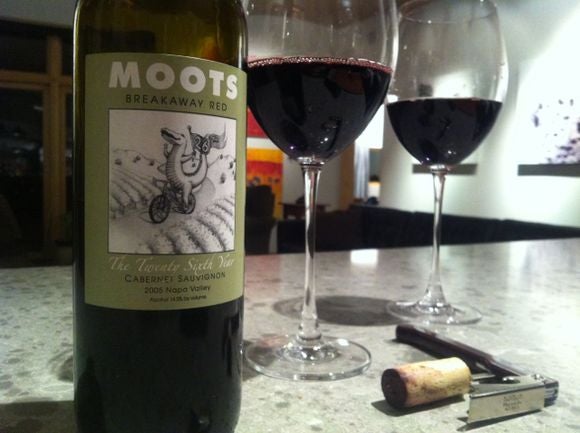 And yes, the employees got PRO pricing on the wine…..there was a lot of wine.
Next up was our 25th anniversary where we celebrated by commissioning none other than Steve Smith (aka Stevil Kinevil) to make artwork for what would be known as the "cartoon catalog" ….a true collector item and can still be found on eBay……for a price. We also hosted a party at the HQ in which some crazed Kiwi stayed with us until the keg was gone, or he may have even left with it! During the 25th year we also had a special bottling of wine by Silverado Winery, again, if you know where to look you can find bottles for sale for upwards of 200-300 bucks. A fine year to say the least.

2011–we hit 30 and that year and we didn't put out any special builds or special models, we focused on keeping our heads down and building great bikes.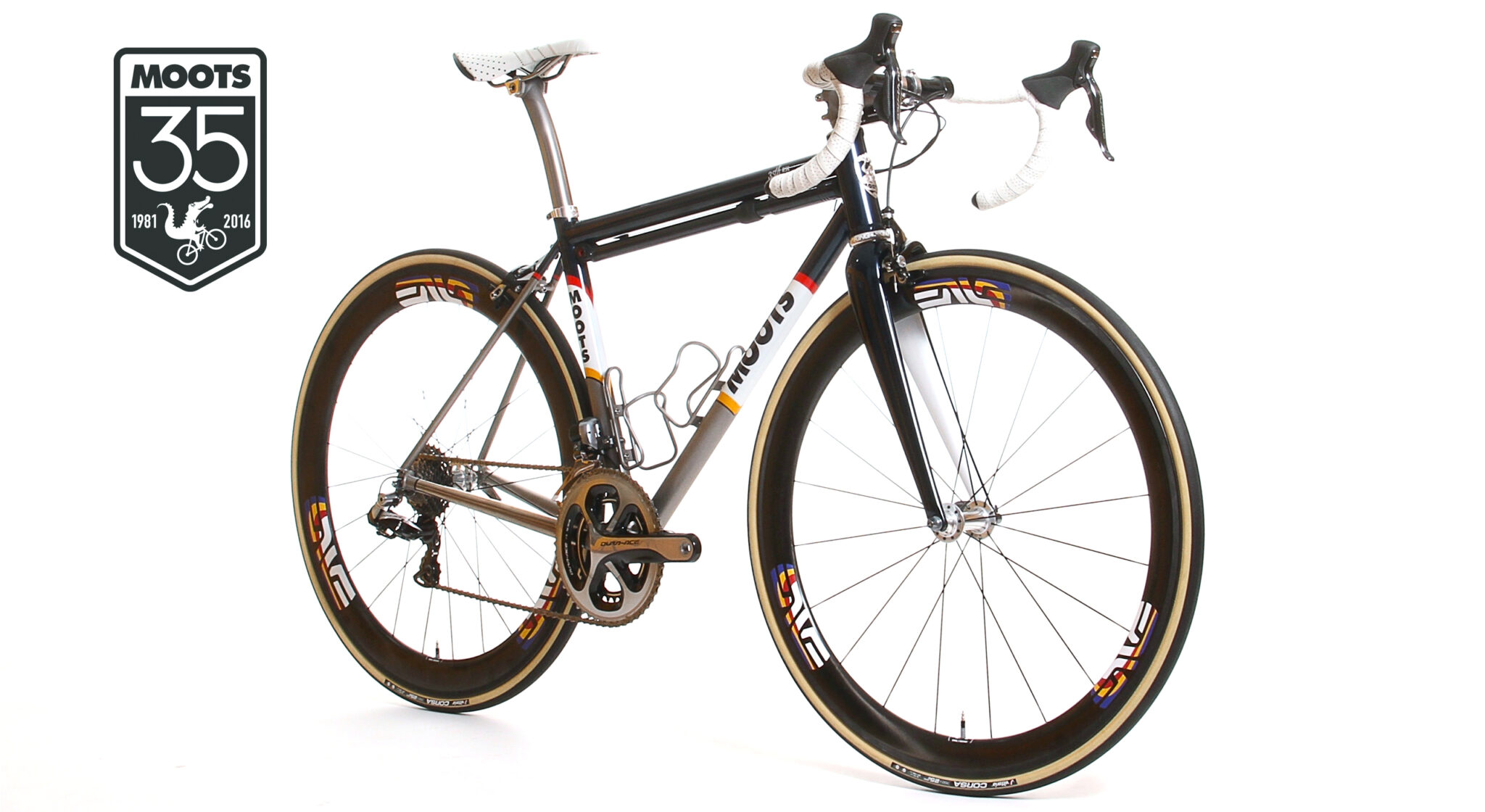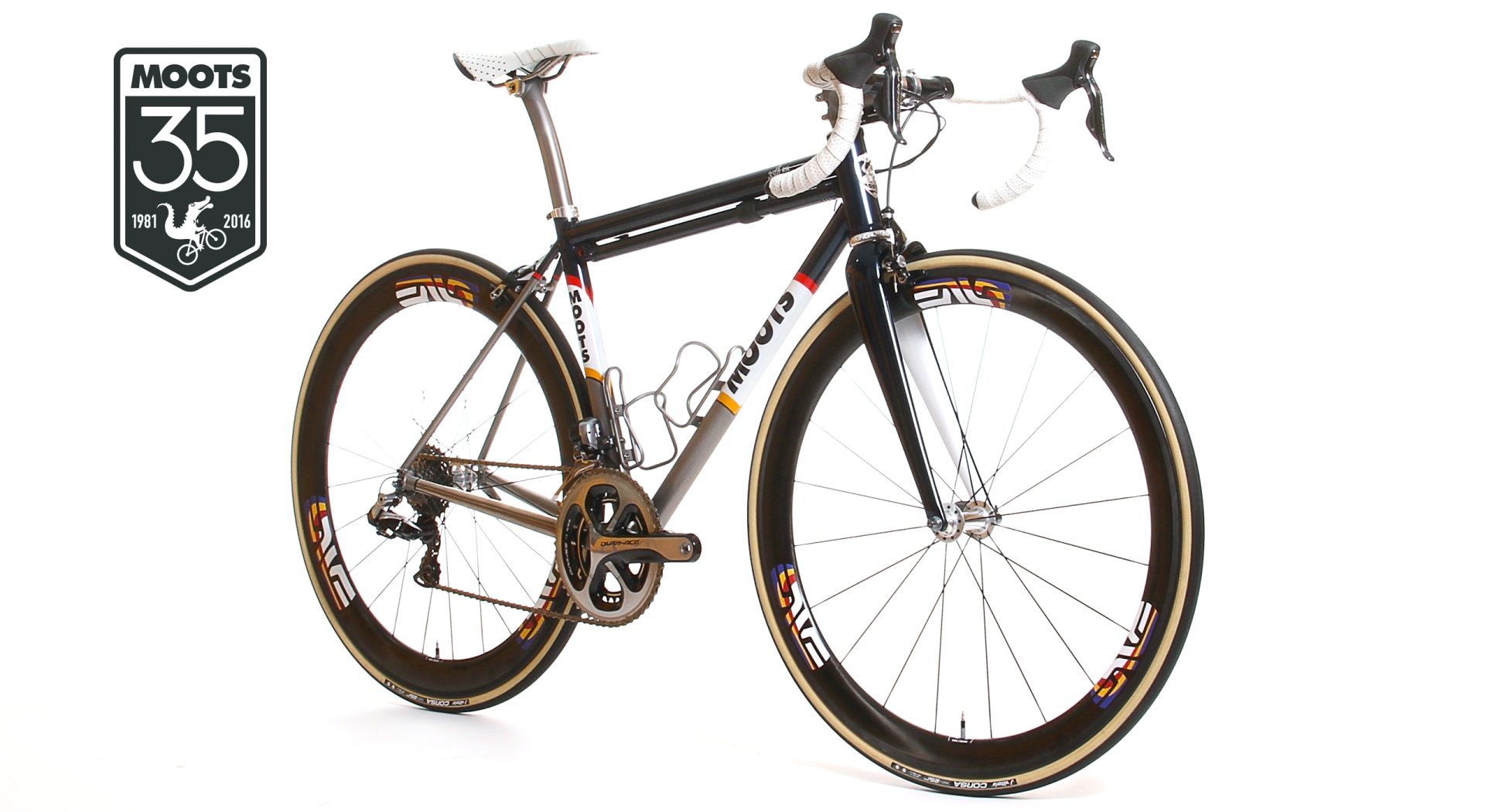 In 2016 we hit 35 years old and marked the occasion with a 35th anniversary Limited Edition Vamoots RSL. This build had a special motif of a Colorado themed color paint job, ENVE wheels with matching colorway decals, special saddle & bar tape and was offered in limited numbers.  You had to be in the market for a road bike and you had to like the colorway we landed on.  Not everyone's taste, but still a beautiful build.
So that leads us to the 40th milestone. It's a big number. It's a HUGE number in the bike world. When we sat down as a small steering group and before we decided on anything, we looked back at the previous special touches we had put on those years along the way. All very special to each owner as well as those here at Moots.  As a group we really felt that whatever we did, everyone that received a bike from us in 2021 should be a part of it. After all, our customers are the reason we are still able to do this over 4 decades. This is how we landed on the head badge that would go on every build. The 40 Anniversary bikes, like those 20th Anniversary bikes with the special paint or special decal will be around in 20 years from now, when we turn, gulp…..60.
As we launched the 40th badge to the public in early January we tracked which bike would finish first and receive this special badge. That bike turned out to be a  ROUTT YBB that landed at our dealer/partner STUDIO VELO and is pictured below with full build details.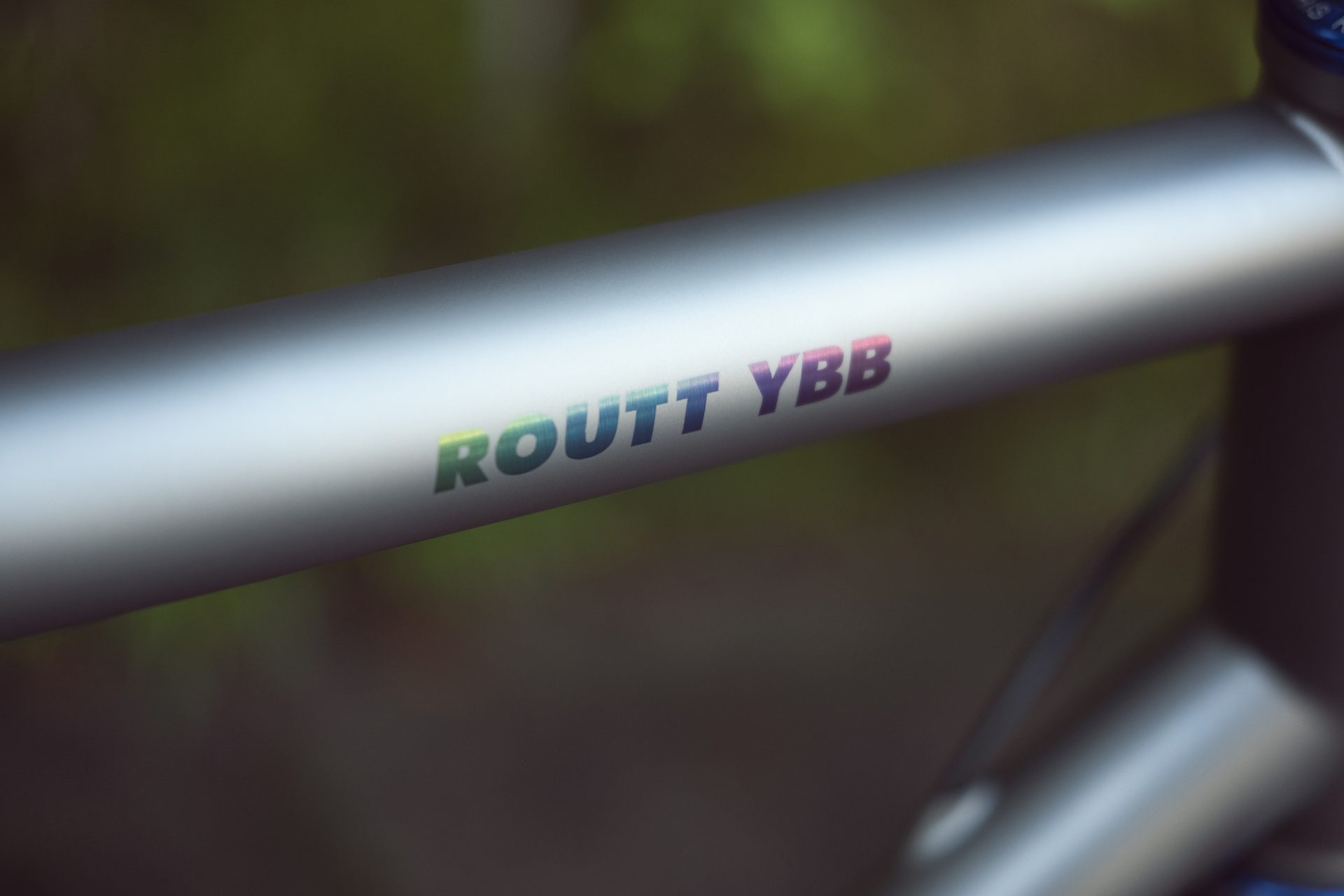 Named after the county which we have called home since 1981: Routt County, Colorado.
The legendary YBB unit built into a modern gravel bike.
The STANLEY finish does not make for a dull boy.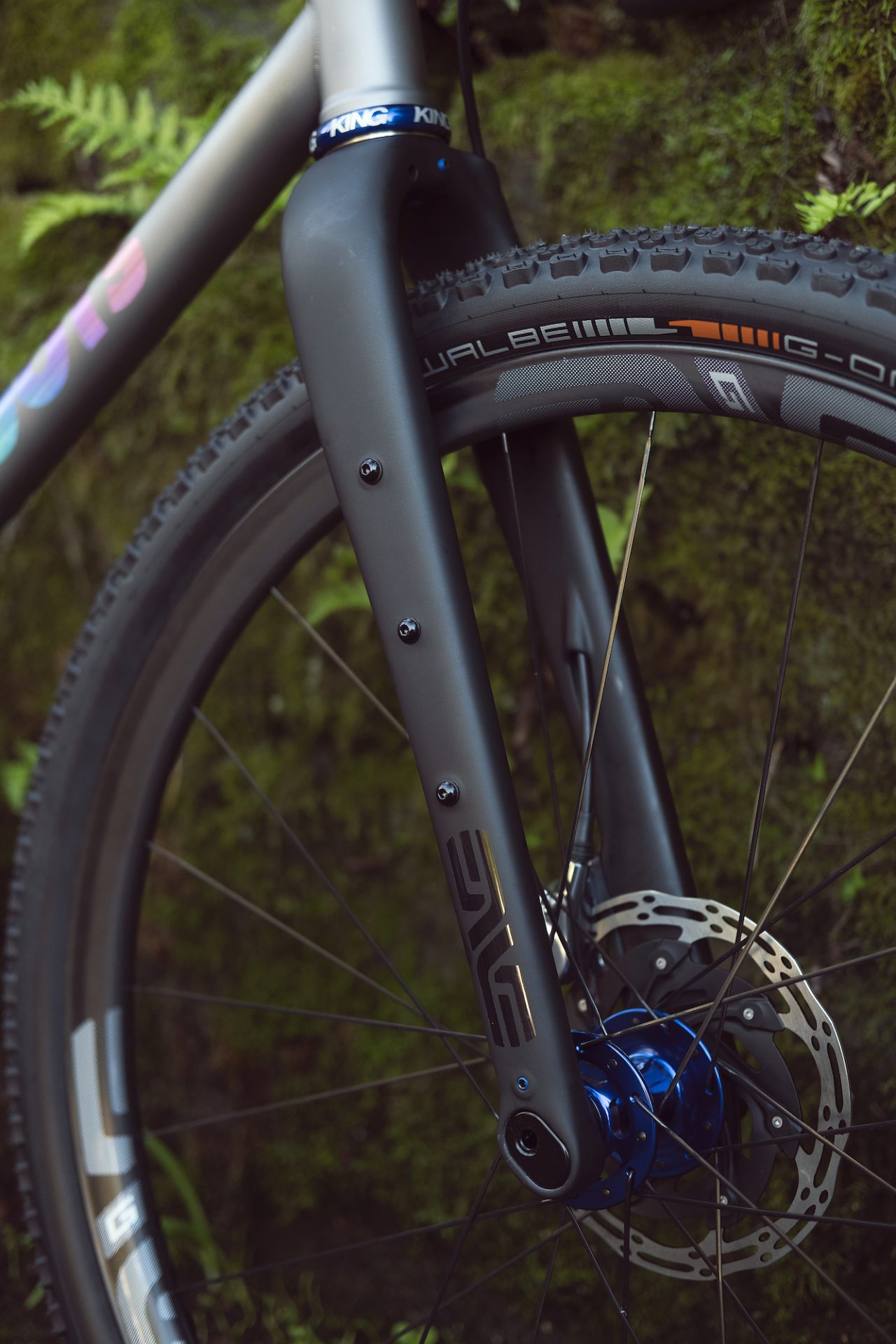 The build out for the customer used the ENVE ADVENTURE FORK for the added ability to carry more.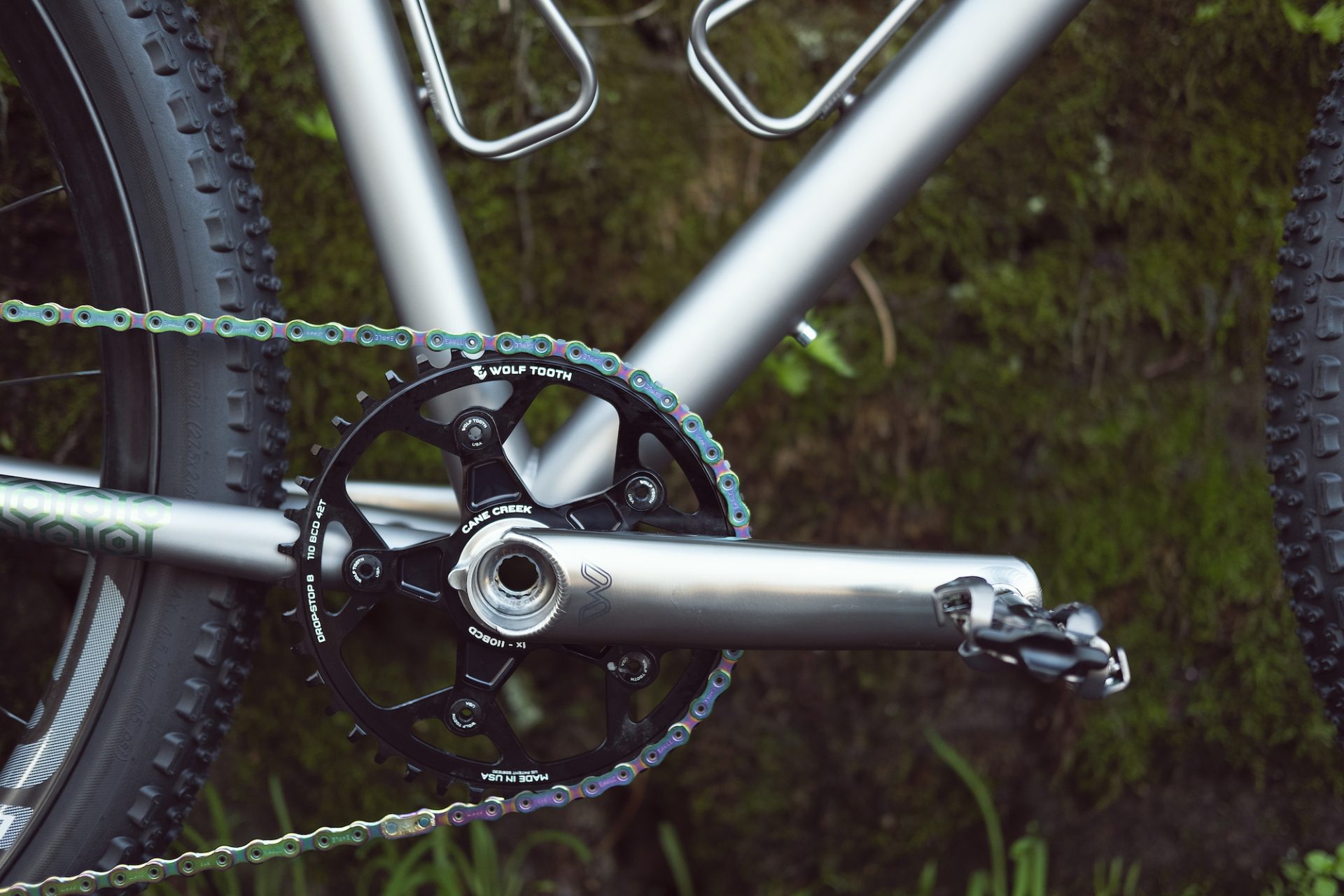 To top off the bottom end of the bike a titanium crank by Cane Creek. Pairs nicely to this beauty.
The final build by: Adam Schwarcz 
All Studio Velo images by: Zachariah Epperson
Frame: ROUTT YBB
Fork: ENVE ADVENTURE
Finish: STANLEY ANODIZED BY MOOTS
Headset: CHRIS KING
Group set: SRAM ETAP MULLET 1 X 12
Wheel set: ENVE G23
Stem: MOOTS TITANIUM
Post: ROCK SHOX WIRELESS DROPPER
Crank: CANE CREEK TITANIUM
Extras: KING CAGE TITNAIUM CAGES
We can't wait to see how other 40th Anniversary bikes get built out over the year ahead. Stay tuned as we'll be peeling back layers of history of this beautiful little company over the months to come!