GRASS MOOTS
GrassMoots Racer and world traveler Patrick Wilder writes in this week about sticking to your "creed" as best you can and his time bagging the toughest course in the world on a Cyclocross bike….Patrick writes…..
Years ago I came up with a "creed" to summarize my riding/ racing goals:
"To ride the toughest course in the most challenging conditions against the best competitors." I had heard 3 Peaks was touted as the toughest course period.   Little would I know my "creed" would be tested in full.
The story begins like any good adventure should, over a beer with friends.    In January of this year I'm sitting Brugge with the guys from Pave Cycling Classics sipping an enormous glass of brown liquid.   Each man is recapping highlights from the day (Koskidje World Championships).   The conversation moves onto each man's riding interests for the upcoming year.  Alex mentions 3 Peaks Cyclocross.  I come to full attention.  Impulsively I say to Alex, "if you can gain me an entry into the race I'll do it."
Fast forward to June.  A suspicious European email hits my inbox.   I hit delete thinking its spam from the European cyclocross feeds I've streamed all winter.   Later I get a message from Alex telling me we're in and I should have received notification of the entry.  I frantically dig through the trash folder of my inbox.
Over the next few months the plans come together.  Over the years I've learned to enjoy the logistical pieces of these adventures.   Travel schedule, airfare, bike preparations, rendezvous and supplies all start months before an event like this.   One of the key challenges I had to manage was the rendezvous with the guys.  Pave Cycling is based in Lille, France.  They planned to bring Clem's camping car across the English Channel and pick me up at Heathrow.  Not wanting to hassle with the bike I arranged to have the Moots shipped weeks in advance through Bike Flights to William's house in Lille.  He'd assemble and I'd step off a plane and race the next day.
6 hours later on the wrong side of the road we arrive in Yorkshire Dales National Park in Settle England (about 100 miles from Scotland).    We proceed to immediately get the camping car stuck only to be pulled out by a trusty Land Rover.  Quickly we unpack and head out for a ride to spin the legs in some of the most amazing country I've ever seen.    After a proper English meal (meat, potatoes and local ale) we're fast asleep.
The alarm comes quickly.   Excitement quickly dilutes the jet lag.  (My start time is essentially 12 a.m. back in the states).  Also perking my attention grey, sky and light drizzle.  I smile and tell the guys, "Looks like a typical Pacific Northwest Sunday".
The ride would be anything but typical.  I finished in 4:50. My goal was simply to ride within myself and finish.    To compete the 3 Peaks, that's a whole other level.   The conditions were so grueling and intense I can't imagine turning Rob Jebb's time of 3:09.
Weeks later I'm still contemplating what exactly makes a tough race.  One thing I'm certain 3 Peaks sets the bar for my creed: toughest course, conditions and competitors.
Well done lads, well done.
Patrick
GrassMoots Racer Andrew Carney writes in about a race that was moved due to the fires this last summer and taking a bacon hand-up….bike racers that smile and good people that put on great events.
Andrew is based in Carbondale, Colorado.
Early last spring I signed up for the 40 in the Fort race in Fort Collins and at the time figured that racing single speed was a good plan. After a few pre-ride laps on the course it was pretty obvious that the course was a very technical one with plenty of climbing. Roughly 7,000 feet in a scant 40 miles.  Sure they were my backyard trails for several years, but dang, that's a lot of up for only 40 miles. When the High Park fire started in June and shut down both parks West of Fort Collins the race date was moved to this past weekend so I made the trip back to town to race.
After the start I made it up to the top of the first climb in 5th position overall, however I've been really good at crashing lately so I was a bit hesitant descending and allowed a bit of a gap to form on the first descent not wanting to push things too hard until I got some confidence back.
Once back to the valley I noticed that one of my water bottle cages was about ready to fall off. Not wanting to have to pick through the weeds looking for bolts if it came completely off I opted to stop and tighten it thus allowing a few more people past me. Once everything was tight again I chased hard and made up some good ground but also worked myself over as well.
My very good friends Stacy and Dan had once again set up their renegade aid station, Bacon Hill, and were busy handing out bacon, doughnuts, bacon-doughnut sandwiches, and all sorts of other items you really don't crave at the top of a wicked steep climb. Racers would pass through their little slice of real estate 4 times total and would risk getting shot with a marshmallow out of a slingshot each time.
Even if I had refused the bacon, I'm fairly sure that Dan would of tackled me and forced it down my mouth so of course I took a few bacon handups. From about halfway through the first lap on I would pretty much ride alone and couldn't seem to make up any ground on those ahead of me.
In the end I finished up 2nd overall in the SS class and someplace around the top 10 overall I believe. Big thanks to Overland Mountain Bike club for a great race and to Stacy and Dan for running what is perhaps the most amazing aid station ever and reminding all of the racers to put a smile on their face…..and eat some bacon.
Dan Seaton roosting to a better than expected result…..
Our European based GrassMoots racer Dan Seaton gets his Cyclocross season into gear with a visit to his favorite race. It seems his less-training-more-intensity-approach is working. He writes…..
I went out to one of my favorite Belgian races, in Knesselare, last
Saturday. After becoming a dad in the middle of last season, I've had a lot
less time to train — though I've used the time I had to train very, very
hard — so really I wasn't sure what to expect in my first race since
January. But it actually went very well. The race organizers changed the
course a lot since last year, removing some long, power sections in a cow
pasture and adding a huge section of really fun whoop-de-doos to a course
that already had it's share of little ups and downs. They also added a
totally classic Belgian 'cross feature: a massive pile of dirt, maybe 15
feet tall, with a steep approach and a nearly straight-down plunge back on
to the course on the other side.
Anyway, after chatting with a guy who drove down from Sweden for his first
taste of Belgian 'cross for a while, we lined up and pretty quickly got the
gun. I didn't do anything spectacular, but I got into a group of guys who I
was not usually able to stay with last year, stuck with them until the
moment seemed right, and then rode them all off my wheel. So it felt like a
solid start to the season.
This year's calendar in Belgium is a little sparse early in the season, so
I'll take next weekend off from racing and spend some time gluing tires and
getting organized to start another season of writing about pro 'cross in
Europe for VeloNews.com, and get back to racing in Antwerp the last weekend
of September.
GrassMoots rider Dave Gensch got out this last weekend for a Psychlo X adventure ride. Dave is based out of Carbondale, Colorado which leads to riding options more than the mind can imagine.  He write's …..
"The Creek Loop"
Many miles of dirt, exciting single track, some pavement, a good friend, and Cross bikes…A Sunday well spent.
Starting at 6:15 a.m. Darin and I ride from our collective doorsteps in Carbondale, up the ranch road to the start of the Prince Creek single track.  The cool crisp air brings a freshness that hasn't been felt since the last spring freezes. Autumn is here.  Summiting the divide, the Blue moon, a few days waning, sets in the west as the sun rises through the stubborn monsoonal clouds left behind from the night before.  Mount Sopris sits closely on the Southern horizon and the ride unfolds before us.
The next 30 miles covers mostly dirt back roads through lots of stunning ranchland, and rises and falls along the base of the Elk Mountains to the base of Snowmass Ski Area.  A steep climb takes us past the archeological site of the Mammoth fossil discovery, recently shut down to continue excavation at the site for snowmaking…Really  Then up to the top of the Rim Trail.
With in seconds we find ourselves helplessly laughing as we test the edge of control on the super fast single track and the Cross set up.  My new Psychlo-X rallies hard and sticks corners that I think for sure, aren't going work out.  Climbing up the steep shale is physically tough but feels faster than a mountain rig.
After more giggle inducing and sideways sliding downhill, we hit the pavement for the next 20 miles and start up the Cattle Creek hill in the heat of the day.  The climb is relentless and rewards us with a, Pavement Ends sign.  Now on the other side of the Roaring Fork Valley, we ride up Coulter Creek and into Spring Valley. The north-facing valley where we had been only a few hours ago, is now getting drenched in rain and we ride on through the picturesque valley.
A steep, hairball dirt road spits us back onto the valley floor and on to the bike path.  Ten miles to go, but in good Belgium style, we stop off for some "recovery" suds to enjoy on the path home.  The viewpoint, now our furthest point West on the ride, picture frames most of the 91 miles we road and we cheers to a Sunday well spent.
You can check out the ride data here: THE CREEK LOOP
The bike that took Dave there and back:
Our GrassMoots Northwest stand our Patrick Wilder came to visit us over Fathers Day weekend in June and brought his Father.  He followed up recently with some thoughts and insight to what matters most to him….The PROest Pro…..he writes:
Ever since I read these words I've been thinking about the PRO-est PRO I know.
I didn't grow up with World Champion Cycling pedigree, but nevertheless my dad evokes all things PRO.
There are times in your life you can remember crystal clear.  That day for me was the fall of 1986…..sitting in Mr. Montarbo's history class.  The phone rings and Montarbo tells me I'm summoned to the office.   No explanation, just report to the office.   You know the drill walk of shame, peers jeering, fingers pointing.  I report to the office and to my surprise my dad is standing there.  My mind is racing I'm trying to figure out what the heck I've done.    Dad tells me he's come to pick me up from school.  School is done for the day, grab my stuff.
We jump in the Chevy pickup, Chevy family and head downtown.  Dad pulls into Bikes Etc on Tehema Street.   In my high school years Bikes Etc. would go on to cater to the skateboard crowd but in 1986, the era of RAD Bikes Etc was still all things BMX.
Don't get me wrong I loved the Univega with gold ano everything, but when dad told me to go ahead and pick out any bike I wanted the choice was easy- The GT Mach 1.
The same bike I'd go on to win my first BMX race on.  The bike I'd learn from dad about the importance of manipulating gear choices for different tracks.   Countless hours I'd spend on that bike.
Fast forward 25 years.  In April I surprised my dad with a break from the grind.  I arranged to meet dad in Denver Colorado for Father's Day weekend.   Together we made the trip across the Great Divide and into the valley of Steamboat Springs for a trip to Moots factory.    25 years later I returned the stoke to the man without a doubt is the PROest PRO I know.
~Patrick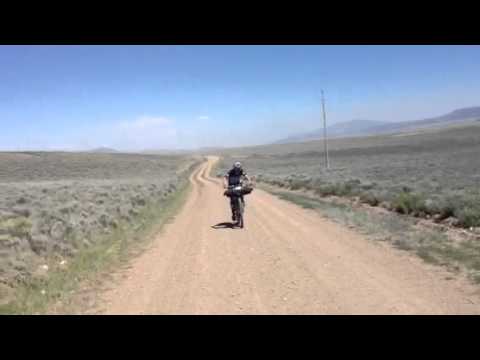 Over the weekend Tracy…aka "The Girl on the Moots" found herself pushing through snow high atop a pass in Montana.  Did she ever think she would be where she is? Not really.  Talking to yourself while off trail has much to be desired as it turns out.
Tracy writes:
In Whitefish the guys at the bike shop predicted there would be snow on Richmond peak ; so as I got closer I prepared myself. Let me tell you…I had no idea… I was a babe in the woods. When i got near the pass the cue sheet said turn left and follow single track around Richmond peak ….so I turned left. The single track was in the thick of bear country so I turned up the volume and frequency of my voice. The trail began to close in and get snowy, I began to get nervous and ….more nervous. I worked my way around the mountain side talking loudly and pushing in knee deep slushy snow and getting … Nervous. As I made the turn around the mountain I entered a huge, vast, expansive valley full of …. snow, lots of snow. And lots of trees hiding bears-with-cubs and mountain lions. I started talking like there were two people (I thought that was a pretty good strategy)
"hey jack"
"what?"
"get the chain saw"
"why?"
Then later ….
"hey jack"
"what?"
"get the shot gun"
…. That one made me feel a bit better. I must admit I DO NOT like being part of the food chain.
My head was down, it was hard going and then ….I noticed I was off trail. I was walking in the mountains, alone, off trail and did not know where I was. You guys had more of a clue than I. I looked into the vast wilderness in front of me and the endless valley leading in both directions away from me and my conversation slipped into this.
"Oh Tracy you have done it this time".
Then I mimicked myself (hand on cocked hip, mousy voice)
" I want to find my limits".
Then I asked myself
"have you found them? Huh? You are in the thick of grizzly country in a vast valley and you are lost!"
"Have you found your limits?"
I yelled ….
"I do not like this!"
All at the top of my voice. With great ,let me tell you, GREAT relief I found my trail. I went back to the jack-get-the-chain-saw-or-gun conversation. When I finally got out of the snow I celebrated with wine and cheese (Gatorade and three day old cheese sticks). I was elated.
READ MORE: TRACY BURGE
Tracy posted up a report of last night (I think)….strangers with firearms, headlights and the "security" a bathroom can offer.
She writes:
When I pulled into Helena I went directly to the bike shop. As we all know the MOOTS has been flawless but I needed to take care of her….a little TLC was in order. As the mechanics worked I planned. I looked at maps, talked to locals, and yes, I googled the route out of Helena to see how long it would take me to get to the camp ground at the top of the pass. Google said three hours, it was 6:30 so I decided to push on. Let me tell you it was a HAUL. Twenty some odd mile climb…. in the granny ….huffing and puffing …and…. I do not think google ever did it on a loaded bike at the end of the day. At 10 pm I am finally at the turn for the camp ground. As I turn this guy in a pick up comes by (I have not seen a car on the road in four days except in Helena). He stops and we talk for a minute and then he hops out of the truck. I notice he has a firearm on his side. That kind of shakes my nerves a bit. He goes to the back of the truck where he has a cooler and pulls out an ice tea and hands me one…and I think … Okay he is a nice guy. Right? Then he offers to drive the little bit to the camp ground to show me the way, its only a quarter mile, its off route and he insists so I say okay. I figured when I got among other campers things would be fine. When we arrived there were no other campers….none. Not even an empty trailer. He looked around, I looked around, he looked me up and down and then said …"you gonna be alright?" I said "yes absolutely" and he left. I went directly to the rickety bathroom and locked the rickety door. I should have moved on but I was cold, tired and hungry. The bathroom won out over more miles. I ate, laid my stuff out, fought the mice for floor space and finally dozed off. The crunch of gravel and head lights through the glazed bathroom glass woke me, my heartbeat crowded out any further sounds. The lights shone in the window for a moment then moved toward the direction of the campground. I stared out the window and watched the lights take a slow path around the sites and back down to the bathroom. I ducked below the window and was swallowed by my heartbeats once again. Then the truck moved away and toward the exit… I was wishing for a bear.
Our "Girl on the Moots" Tracy Burge continues to make progress on her goal of becoming the oldest women to complete the Tour Divide ITT.  Her latest photos put her near Salmon, Idaho….Elk Park to be more specific. She is up beat and staying focused.  She looks pretty happy (from the photos) anyway.
Follow her on SPOT TRACKER and read more about TRACY BURGE.
Our Fort Collins GrassMoots Racer Andrew Carney checks in this week with some insight to the Bailey Hundo.  Andrew is known for his one gear adventures and lightweight overnight bike touring antics.  Seems that even in the "shorter" races he finds some bad weather and tight racing.
He writes in……
What's up? I headed down to the Bailey Hundo again this year trying to repeat my win from last year. The day started early with a 6 AM start from downtown Bailey as we headed out on a 7 mile road roll out before the singletrack started. As last years SS winner I got a first row call up, but on the road I was spinning with all I had to get a decent position into the singletrack.
Ready on the start line….3, 2, 1, ….Once off the road we were treated to 50 miles of fast, rolling, and flowing singletrack. It's pretty dang easy to keep things red lined when you're grinning ear to ear railing corner after corner. At the 60 mile mark we left the singletrack for good and finished the last 40 miles out on pavement and dirt including climbs up and over Windy Pass and Stoney Pass. I kept on the gas as much as possible even through a good 15 minutes of hail and rain near the top of Stoney Pass
For the last 10 miles I was trading blows with another singlespeeder and we took it to the line with him coming across only 30 seconds after I did. Racing down to the wire is type 2 fun at its best!  All told it was a great day riding with good friends for a good cause as the event proceeds help to benefit Trips for Kids and the Colorado High School Mountain Bike League. Add this race to your calendar for next year!!
Andrew
The Summer Solstice is upon us and the mountain bike race season is reaching a peak around Colorado.  I had the chance to catch up with Moots mountain bike Pro Kelly Boniface after a storming weekend of racing….literally.
On Saturday Kelly was on hand in Colorado Springs for the Ute Valley US PRO XCT race.  The race featured a 4.2 mile course which the women did 5 laps.  Kelly in the past has been primarily a long 50-100 miler, however this year she has been doing many shorter more intense races and coming out doing really well.  She has also been racing our local Town Challenge series with the Men Open group.  Racing with the men has done a couple of things for Kelly…now she starts faster than she would when racing the women and also has to chase the faster carrot that is out in front of her.  Kelly attributes some of her great results to the quicker start, faster pace she is doing with the men. It seems to be working….
Back to Saturday…..she lined up on a dry start line with the best in the business….Women that pin it from the start and keep it there for the duration of the event.  In this case a 5 lap race that should have run about an hour and twenty minutes.  Once the chaos of the start was sorted out Kelly was positioned in a top 10 spot and feeling great.  About mid-race a pounding storm turned the dusty dry track into a mud/clay fest.  The thick clay mud packed up drive trains and wheels rendering her bike into an overweight single speed for most of the race.  Kelly pushed on and rode well in the tricky conditions.  Going into the final lap she was sitting 5th and looking to make the podium at a very high level national event.  Then just 2 miles from the finish her bike would go no more.  She had to stop on the side of the course and resort to scraping mud off the tires with a nearby stick. Kelly got passed by 3 races and she rolled in with a fine 8th place on the day.
Talking with Kelly after the event she was optimistic and up-beat with her accomplishment.  She attributed her great finish to those days spent riding in snow during the winters around Steamboat Springs…"it was about being tenacious and keeping it upright as much as possible".
Next up for Kelly is a little rest before hitting our next Town Challenge race, a Winter Park XC race and then capping off the 4th of July with the Firecracker 50 in Breckenridge, CO.  Once that event is finish she'll take a vacation with her family and then get back on the bike and continue the last half of the season.
Moots could not be more proud of Kelly.  She takes it all in stride, as she balances the full time work of a mom, business owner, and Pro bike racer.
Nice work Kelly!