GRASS MOOTS
Josh Cady gets his miles where he can, when he can.  Like a lot of us our commutes can help add some much needed milage, when time is tight. Josh flys the Moots flag on the GrassMoots Team…he writes:
…..It's groundhog day.  Again.  Living in Los Angeles makes everyday feel a lot like the day before.  Cycling here can either make you complacent or motivated.  After being moved here for work two years ago, I chose to be motivated.  I'm not sure if it is the weather or the location, but there is a lot here to be thankful for.
I get to ride to work every day of the year.  Sometimes that means I follow a familiar, less inviting path
but a lot of times I find myself on my cyclocross bike, burning up the local fireroads prior to reporting to work.
The majority of the time I'm riding my Moots Psychlo-X RSL.  I'm continually challenged in the local road, mountain, and cyclocross race series so I feel like getting on the Psycho-X covers all the bases.  In the summer I switch out the front chain rings and run a 50/38 or 53/39.  In the fall/winter, the bike gets prepped and run in a pure cross setup.  This year, with Cyclocross Nationals close to home, I've let the bike stay setup in cross mode a little longer, something I'll be dialing in until January 2014.
Where ever you are, getting up early to ride is often a good idea.  Here in LA, you get a little more for your money.
Nick Stilwell gets his GrassMoots season rolling on his MX Ybb and plots his course for some amazing events….he writes…..
This year I'll again be riding for Moots, a boutique titanium frame builder that prides itself in providing quality road, mountain, & cross frames. These frames, as well as many components, are shaped, welded, and built by hand in a small town in northwest Colorado. I had the opportunity to visit the Moots factory this past summer when I went out to ride the Steamboat Stinger. Here are a few pictures from my visit. My ride of choice for this year will be the MootoX YBB. I'm a big fan of the efficiency of a hard tail and the YBB provides the near quickness of a hard tail along with just enough cushion for longer rides.
The 29-inch wheels are a must for the rides here in the Santa Ana Mountains of Southern CA. I've managed to get some good time in the saddle since the beginning of the year as I work towards building the endurance to complete Vision Quest, a ride that's only five weeks from now and quickly approaching. Last year I was happy with my finishing time of 6:29 (Vision Quest 2012). I'd like to better my time this year and ultimately work towards beating the 6-hour mark one of these years. While I'm not sure I'll be able to get there this year, I'm still hoping for a good result. The Vision Quest is not a true race, but more of a test of yourself. While finishing times are recorded and many treat it like a race, there are no categories or places. I'm constantly wondering if I'm getting in enough training – and the right type of training.
The past few months at work have been extremely busy and it's been a challenge to get out during the week. Last year my goal was to get out twice during the week and then a long ride on the weekend. Those quick hour and a half rides during the week, along with the long efforts on the weekends, I think are critical in maintaining a fitness level and endurance to complete a 6+ hour ride at a race-type pace. It's been a challenge so far this year to get out more than once during the week. It should be an interesting few weeks getting ready for the long ride.
Dan takes the barriers as others take cover from the rain…Belgium….gotta love it.
Our solo European based GrassMoots racer Dan Seaton writes in about riding the ground as much as his bike at times during a nasty spell of Belgium Fall weather.  Dan is an astrophysicist based in Brussels, Belgium, he has a passion for Cyclocross and also writes for Velonews during the field riding season.  He writes…….
It's been a tough couple of weeks of Cyclocross here in Belgium.  I did back to back races in pouring rain, gusting winds, and cold weather.  Of course these are the conditions that make Belgian Cyclocross truly Belgian Cyclocross, the kind of conditions where the true Belgian hard men, guys like Sven Nys, excel.  So I've been doing my best Sven impression, suiting up and getting muddy and testing myself in fields that included both the Masters 30+ World Champion, Belgian 30+ National Champion, and a host of guys who, until a year or two ago, were racing with some success in Superprestige and the Trofee series.  Needless to say, despite my best efforts, I've been a little bit outgunned the past couple of weekends.
Two weeks ago we went to Meerhout, which is a beautiful, rural village not too far from Antwerp.  The course was mostly smooth, but twisting and undulating singletrack through what must usually be a peaceful little forest, with a few sandy stretches and a few stretches in a cow pasture thrown in for good measure.  On a dry day it would have been fast and technical, but in the pouring rain it was slick, sloppy mud that I doubt anybody escaped without falling at least once.  I'm without a pit bike for the moment, and after a couple of laps my front derailleur broke and my rear derailleur was so clogged with mud that I was more or less riding a single speed.  I did my best, fell about 10 times, and tried to have fun.
Unfortunately, the results got messed up, presumably because everybody's race numbers were so muddy that the officials couldn't quite tell who was who, so I don't have any idea of how I did.
Then last weekend we went the other direction, to Serskamp, another tiny, rural village not far from Gent.  The race there was folded into a little apple orchard, and contained what seemed like about 50 turns, of which all but about four were 180 degrees.  Again it was pouring rain, and I switch-backed my way around track, racing many of the same, very fast guys.
In tackier conditions, I think my pretty-good fitness would have helped me pass a lot of people, but again I spent about as much time on the ground as I did on the bike, so I did more chasing and less passing that I might have liked.  But I did manage to get around a few people for a not altogether terrible result — enough that I'm not just outside the top ten in the overall season standings.  That's sure to change as the season picks up and I get busy writing about the Pros over here in my VeloNews.com column, but it feels good that perseverance and determination have paid off for the moment, even if that's pretty much all I've had going for me in two miserably, muddy races.
Now I'm starting to get ready for the real heart of the season, which includes a bunch of my favorite races and a lot of tough, physical courses.
So I'm getting very exciting about the coming weeks.  First, though, we head to a classic Flemish race: in a trailer park just off the beach near the North Sea.
So stay tuned for more!
GrassMoots racer Andrew Carney writes in with his end-of-season race and a look into what stokes us to ride and what he has on the map for 2013….he writes:
I ended the season with the Crested Butte Classic at the end of September.  It is an event I've always wanted to do and a great way to end the season as for the past 5 years I've either ended with 24 hours of Moab Solo or 24 Hour Nationals Solo which means I always ended the year with a empty tank and a healthy limp. The CB classic was the opposite of that as I finished tired certainly so, but mentally stoked to still be on the bike. Again, it's been a great year flying the Moots colors even though I didn't race as much as years past. However, it's all part of a plan to try and give the Tour Divide a go next year and hopefully a slight step back this summer will allow me to fully step up my game next spring. Here's a brief write up from my blog about the CB classic.
Hope all is well up at the Moots mothership!
~Andrew
There are moments in a bike race or even in a hard effort when the world seems to close in around you and your whole world shrinks to the screaming of your legs, the burn of your lungs, and the lactic acid filling your body. For some that focused pin-hole view of the world is what they crave. Sure, it feels good to strip down to that primal level now and again, it allows for focus. However, all too often as racers we live in that small world too often. We forget to look around and really take it all in.
My last race of the season was the Crested Butte Classic this past weekend and I spent the first of the three laps trying to get my racing legs underneath me. However the hard truth was that my legs were like the engine in a Honda Civic trying to tow a trailer over Independence Pass. I would stomp on the gas, but nothing would happen. Some days you're the statue, some days you're the pigeon.
Leaving for the second lap was a hard choice as I knew I wasn't really racing, but rather out riding. The ego is a tough egg to crack sometimes. At the base of  Slate Du-Huez  (mile 40 or so) I made a deal with myself. The scenery was stunning, the Aspen leaves were peaking, and all I could think about was how the simple experience of being in an Aspen grove can make me smile from ear to ear. It really was that simple. I quit looking at my stem, expanded my world from the ache in my legs, took a big deep breath, and looked around. The deal I made with myself is that I would ride the rest of the route with a giant smile plastered on my face. If that smile ever started to fade to a grimace I would slow down until the smile returned.  Simple.
For the next ~60 miles I grinned from ear to ear and even let out whoops of joy as I carved through Aspen groves along a thin yellow ribbon. It was intoxicating.
For the past past 5 years I've ended the season with either 24 Hours of Moab or 24 Hour Nationals and put a lot of pressure on myself to perform well. That pressure took its toll on me, the enjoyment I took from a simple ride in the woods, and those close to me. It was a tough way to end each year. As much as I enjoy trying to ride as fast as my body and mind allows I need to take a step back and remember that I ride bikes because I love the feeling of floating along through the woods, not because I take home a paycheck.  The motivation needs to come from the feeling of riding not from standing on a podium. I can't think of a better way to end this seasons racing than to remember what it feels like to smile so hard for so long that your face is just as tired as your legs. All from the simple action of going for a ride in the woods
GrassMoots Racer and world traveler Patrick Wilder writes in this week about sticking to your "creed" as best you can and his time bagging the toughest course in the world on a Cyclocross bike….Patrick writes…..
Years ago I came up with a "creed" to summarize my riding/ racing goals:
"To ride the toughest course in the most challenging conditions against the best competitors." I had heard 3 Peaks was touted as the toughest course period.   Little would I know my "creed" would be tested in full.
The story begins like any good adventure should, over a beer with friends.    In January of this year I'm sitting Brugge with the guys from Pave Cycling Classics sipping an enormous glass of brown liquid.   Each man is recapping highlights from the day (Koskidje World Championships).   The conversation moves onto each man's riding interests for the upcoming year.  Alex mentions 3 Peaks Cyclocross.  I come to full attention.  Impulsively I say to Alex, "if you can gain me an entry into the race I'll do it."
Fast forward to June.  A suspicious European email hits my inbox.   I hit delete thinking its spam from the European cyclocross feeds I've streamed all winter.   Later I get a message from Alex telling me we're in and I should have received notification of the entry.  I frantically dig through the trash folder of my inbox.
Over the next few months the plans come together.  Over the years I've learned to enjoy the logistical pieces of these adventures.   Travel schedule, airfare, bike preparations, rendezvous and supplies all start months before an event like this.   One of the key challenges I had to manage was the rendezvous with the guys.  Pave Cycling is based in Lille, France.  They planned to bring Clem's camping car across the English Channel and pick me up at Heathrow.  Not wanting to hassle with the bike I arranged to have the Moots shipped weeks in advance through Bike Flights to William's house in Lille.  He'd assemble and I'd step off a plane and race the next day.
6 hours later on the wrong side of the road we arrive in Yorkshire Dales National Park in Settle England (about 100 miles from Scotland).    We proceed to immediately get the camping car stuck only to be pulled out by a trusty Land Rover.  Quickly we unpack and head out for a ride to spin the legs in some of the most amazing country I've ever seen.    After a proper English meal (meat, potatoes and local ale) we're fast asleep.
The alarm comes quickly.   Excitement quickly dilutes the jet lag.  (My start time is essentially 12 a.m. back in the states).  Also perking my attention grey, sky and light drizzle.  I smile and tell the guys, "Looks like a typical Pacific Northwest Sunday".
The ride would be anything but typical.  I finished in 4:50. My goal was simply to ride within myself and finish.    To compete the 3 Peaks, that's a whole other level.   The conditions were so grueling and intense I can't imagine turning Rob Jebb's time of 3:09.
Weeks later I'm still contemplating what exactly makes a tough race.  One thing I'm certain 3 Peaks sets the bar for my creed: toughest course, conditions and competitors.
Well done lads, well done.
Patrick
GrassMoots Racer Andrew Carney writes in about a race that was moved due to the fires this last summer and taking a bacon hand-up….bike racers that smile and good people that put on great events.
Andrew is based in Carbondale, Colorado.
Early last spring I signed up for the 40 in the Fort race in Fort Collins and at the time figured that racing single speed was a good plan. After a few pre-ride laps on the course it was pretty obvious that the course was a very technical one with plenty of climbing. Roughly 7,000 feet in a scant 40 miles.  Sure they were my backyard trails for several years, but dang, that's a lot of up for only 40 miles. When the High Park fire started in June and shut down both parks West of Fort Collins the race date was moved to this past weekend so I made the trip back to town to race.
After the start I made it up to the top of the first climb in 5th position overall, however I've been really good at crashing lately so I was a bit hesitant descending and allowed a bit of a gap to form on the first descent not wanting to push things too hard until I got some confidence back.
Once back to the valley I noticed that one of my water bottle cages was about ready to fall off. Not wanting to have to pick through the weeds looking for bolts if it came completely off I opted to stop and tighten it thus allowing a few more people past me. Once everything was tight again I chased hard and made up some good ground but also worked myself over as well.
My very good friends Stacy and Dan had once again set up their renegade aid station, Bacon Hill, and were busy handing out bacon, doughnuts, bacon-doughnut sandwiches, and all sorts of other items you really don't crave at the top of a wicked steep climb. Racers would pass through their little slice of real estate 4 times total and would risk getting shot with a marshmallow out of a slingshot each time.
Even if I had refused the bacon, I'm fairly sure that Dan would of tackled me and forced it down my mouth so of course I took a few bacon handups. From about halfway through the first lap on I would pretty much ride alone and couldn't seem to make up any ground on those ahead of me.
In the end I finished up 2nd overall in the SS class and someplace around the top 10 overall I believe. Big thanks to Overland Mountain Bike club for a great race and to Stacy and Dan for running what is perhaps the most amazing aid station ever and reminding all of the racers to put a smile on their face…..and eat some bacon.
Dan Seaton roosting to a better than expected result…..
Our European based GrassMoots racer Dan Seaton gets his Cyclocross season into gear with a visit to his favorite race. It seems his less-training-more-intensity-approach is working. He writes…..
I went out to one of my favorite Belgian races, in Knesselare, last
Saturday. After becoming a dad in the middle of last season, I've had a lot
less time to train — though I've used the time I had to train very, very
hard — so really I wasn't sure what to expect in my first race since
January. But it actually went very well. The race organizers changed the
course a lot since last year, removing some long, power sections in a cow
pasture and adding a huge section of really fun whoop-de-doos to a course
that already had it's share of little ups and downs. They also added a
totally classic Belgian 'cross feature: a massive pile of dirt, maybe 15
feet tall, with a steep approach and a nearly straight-down plunge back on
to the course on the other side.
Anyway, after chatting with a guy who drove down from Sweden for his first
taste of Belgian 'cross for a while, we lined up and pretty quickly got the
gun. I didn't do anything spectacular, but I got into a group of guys who I
was not usually able to stay with last year, stuck with them until the
moment seemed right, and then rode them all off my wheel. So it felt like a
solid start to the season.
This year's calendar in Belgium is a little sparse early in the season, so
I'll take next weekend off from racing and spend some time gluing tires and
getting organized to start another season of writing about pro 'cross in
Europe for VeloNews.com, and get back to racing in Antwerp the last weekend
of September.
GrassMoots rider Dave Gensch got out this last weekend for a Psychlo X adventure ride. Dave is based out of Carbondale, Colorado which leads to riding options more than the mind can imagine.  He write's …..
"The Creek Loop"
Many miles of dirt, exciting single track, some pavement, a good friend, and Cross bikes…A Sunday well spent.
Starting at 6:15 a.m. Darin and I ride from our collective doorsteps in Carbondale, up the ranch road to the start of the Prince Creek single track.  The cool crisp air brings a freshness that hasn't been felt since the last spring freezes. Autumn is here.  Summiting the divide, the Blue moon, a few days waning, sets in the west as the sun rises through the stubborn monsoonal clouds left behind from the night before.  Mount Sopris sits closely on the Southern horizon and the ride unfolds before us.
The next 30 miles covers mostly dirt back roads through lots of stunning ranchland, and rises and falls along the base of the Elk Mountains to the base of Snowmass Ski Area.  A steep climb takes us past the archeological site of the Mammoth fossil discovery, recently shut down to continue excavation at the site for snowmaking…Really  Then up to the top of the Rim Trail.
With in seconds we find ourselves helplessly laughing as we test the edge of control on the super fast single track and the Cross set up.  My new Psychlo-X rallies hard and sticks corners that I think for sure, aren't going work out.  Climbing up the steep shale is physically tough but feels faster than a mountain rig.
After more giggle inducing and sideways sliding downhill, we hit the pavement for the next 20 miles and start up the Cattle Creek hill in the heat of the day.  The climb is relentless and rewards us with a, Pavement Ends sign.  Now on the other side of the Roaring Fork Valley, we ride up Coulter Creek and into Spring Valley. The north-facing valley where we had been only a few hours ago, is now getting drenched in rain and we ride on through the picturesque valley.
A steep, hairball dirt road spits us back onto the valley floor and on to the bike path.  Ten miles to go, but in good Belgium style, we stop off for some "recovery" suds to enjoy on the path home.  The viewpoint, now our furthest point West on the ride, picture frames most of the 91 miles we road and we cheers to a Sunday well spent.
You can check out the ride data here: THE CREEK LOOP
The bike that took Dave there and back:
Our GrassMoots Northwest stand our Patrick Wilder came to visit us over Fathers Day weekend in June and brought his Father.  He followed up recently with some thoughts and insight to what matters most to him….The PROest Pro…..he writes:
Ever since I read these words I've been thinking about the PRO-est PRO I know.
I didn't grow up with World Champion Cycling pedigree, but nevertheless my dad evokes all things PRO.
There are times in your life you can remember crystal clear.  That day for me was the fall of 1986…..sitting in Mr. Montarbo's history class.  The phone rings and Montarbo tells me I'm summoned to the office.   No explanation, just report to the office.   You know the drill walk of shame, peers jeering, fingers pointing.  I report to the office and to my surprise my dad is standing there.  My mind is racing I'm trying to figure out what the heck I've done.    Dad tells me he's come to pick me up from school.  School is done for the day, grab my stuff.
We jump in the Chevy pickup, Chevy family and head downtown.  Dad pulls into Bikes Etc on Tehema Street.   In my high school years Bikes Etc. would go on to cater to the skateboard crowd but in 1986, the era of RAD Bikes Etc was still all things BMX.
Don't get me wrong I loved the Univega with gold ano everything, but when dad told me to go ahead and pick out any bike I wanted the choice was easy- The GT Mach 1.
The same bike I'd go on to win my first BMX race on.  The bike I'd learn from dad about the importance of manipulating gear choices for different tracks.   Countless hours I'd spend on that bike.
Fast forward 25 years.  In April I surprised my dad with a break from the grind.  I arranged to meet dad in Denver Colorado for Father's Day weekend.   Together we made the trip across the Great Divide and into the valley of Steamboat Springs for a trip to Moots factory.    25 years later I returned the stoke to the man without a doubt is the PROest PRO I know.
~Patrick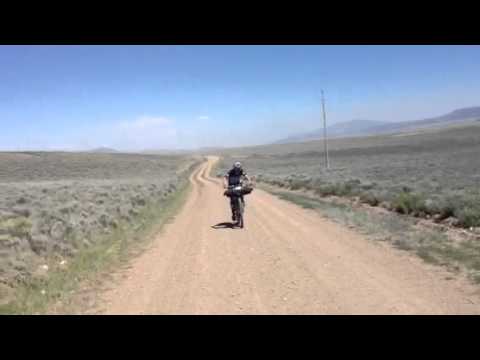 Over the weekend Tracy…aka "The Girl on the Moots" found herself pushing through snow high atop a pass in Montana.  Did she ever think she would be where she is? Not really.  Talking to yourself while off trail has much to be desired as it turns out.
Tracy writes:
In Whitefish the guys at the bike shop predicted there would be snow on Richmond peak ; so as I got closer I prepared myself. Let me tell you…I had no idea… I was a babe in the woods. When i got near the pass the cue sheet said turn left and follow single track around Richmond peak ….so I turned left. The single track was in the thick of bear country so I turned up the volume and frequency of my voice. The trail began to close in and get snowy, I began to get nervous and ….more nervous. I worked my way around the mountain side talking loudly and pushing in knee deep slushy snow and getting … Nervous. As I made the turn around the mountain I entered a huge, vast, expansive valley full of …. snow, lots of snow. And lots of trees hiding bears-with-cubs and mountain lions. I started talking like there were two people (I thought that was a pretty good strategy)
"hey jack"
"what?"
"get the chain saw"
"why?"
Then later ….
"hey jack"
"what?"
"get the shot gun"
…. That one made me feel a bit better. I must admit I DO NOT like being part of the food chain.
My head was down, it was hard going and then ….I noticed I was off trail. I was walking in the mountains, alone, off trail and did not know where I was. You guys had more of a clue than I. I looked into the vast wilderness in front of me and the endless valley leading in both directions away from me and my conversation slipped into this.
"Oh Tracy you have done it this time".
Then I mimicked myself (hand on cocked hip, mousy voice)
" I want to find my limits".
Then I asked myself
"have you found them? Huh? You are in the thick of grizzly country in a vast valley and you are lost!"
"Have you found your limits?"
I yelled ….
"I do not like this!"
All at the top of my voice. With great ,let me tell you, GREAT relief I found my trail. I went back to the jack-get-the-chain-saw-or-gun conversation. When I finally got out of the snow I celebrated with wine and cheese (Gatorade and three day old cheese sticks). I was elated.
READ MORE: TRACY BURGE