AFTERNOON Ti
Moots will be on hand July 2nd, 3rd, & 4th to demo bikes through our dealer CYCLES OF LIFE in Leadville, Colorado the home of the Leadville 100 Race.  Come get ready for the race and check out our latest models.
Hours of Moots Demos:
Wednesday July 2nd: 3-6pm
Thursday July 3rd: 7am-6pm
Friday July 4th: 7am-6pm
If you don't already know of him or have seen pictures of the bike he rides,….please meet Nic Handy.  Nic and his Farrhoots (Serious Moots Adventure Bike) are now 1,000 miles into the Tour Divide.  That puts him just to our north in Wyoming.  So far he's faced the snow hiking, the sore knee, the sore achilles and a mud packed up bike that would have most of us crying at the side of the road.  Nic is doing it! He had the concept for this bike just before the NAHBS 2013 in Denver.  A bike that would take the miles, take the abuse all while requiring little up keep.  Did I mention Nic is also a SUPER PRO mechanic? Yes, he's when it comes to his bike, he'd rather be riding it than working on it.
Above you see the bike as it was at the NAHBS in our booth.  Zero miles on it, just sitting ready to be ridden.  After the show, Nic started with the normal 300 mile weekends and went from there.  Now, just about a year and a half after the bike was built he's taking it for the long one.  Tour Divide.  By the looks of it we should be meeting up with Nic just north of Steamboat in the next handful of days.  We'll be there….camera in hand, handshake at the ready.  If the timing is right we'll be able to sit at the Clark store and have a coffee or burger.  We are watching Nic, you are doing great….keep the rubber side down and bring that beast back to home!
The mud of the northern sections of the Tour Divide…..that's a Moots under all of that.
Nic's Tour Divide set up as seen in Idaho.
We'll see you soon.
That's just one dedicated person on a Moots this year doing the Tour Divide.  There are others…..many others.  We will do our best to grab them as they come our way.  Also on course this year:
Nic Handy———->Denver, CO———->MOOTO X (FULL RIGID, ROHLOFF)
Ton Litson———->Qatar—————->MX YBB
Andy Amik———>Castle Pines, CO—–>MX YBB
Alic Drobna——–>Utah——————>MOOTO X SINGLE SPEED
Michelle DuLieu—->Rochester, NY——->MOOTO X
Evan Deutsch——->Portland, OR——–>MOOTO X (FULL RIGID)
You can track all the Tour Divide riders here:  TOUR DIVIDE 2014
Summer Solstice is this weekend and most of us have some big rides planned.  And when I say big rides planned, that can be a realative thing.  Rich Rogers of Cultivator Ads & Design in Denver Colorado is loaded up and ready for some "light" bike packing.  He's headed off on his Psychlo X (seen above).  Ready to go where the wind may take him and his wife.
Everything he carries….
The creator of the ST240 (Barrett Brown)  pulled the winning number.
The day we have been working towards and waiting for has come.  The Routt County Riders have a new SINGLE TRACK ST240 machine to build those narrow trails we love.  In April Moots got involved to help the club meet the offer of a private individual to match any funds up to $12,500 that could be raised by the end of May.
The Moots crew…..Single Track Lovers.
The group here at Moots loves single track as much (if not more) than the next guy or gal.  These trails that surround our facility are the fiber of our community and where we test, design and re-test any new products we might produce.  So we thought…., what if we raise some money by offering a fully built bike to one lucky winner?  The plan was made, important industry contacts for support were brought in and bam! We had a full bike to raffle.  The raffle went live on our web store and sent out to our Moots Owners Newsletter and within 72 hours all 250 tickets had been bought!  That's exactly 12,500 dollars! The match was made!
So this brings us to today and the arrival of the ST240 machine.  The Routt County Riders took delivery late Monday evening and then had a quick appointment with our friends at Lone Oak Studio to apply sponsors logos to the machine and then it made the rounds to Moots and Yampa Valley Bank for photo opps and one very important drawing for the winner of the fully built Moots Rogue Ybb.
And the winner is……..
ALAN PERKINS of Steamboat Springs, Colorado!
Alan received the call and I can tell you his reaction was priceless.  Over the moon with excitement and the thrill of winning a MOOTS! Alan bought 2 tickets and really thought he didn't have much chance to win, but he really likes to support great groups like the Routt County Riders.  He happens to be a very active member in the club and moved his family to Steamboat just 7 short months ago.  Why did he move here? Because of the small town feel and great riding.  Jackpot!
Alan will be rolling on new trails on a new rig.  Moots Rogue YBB w/XT kit, DT Wheels, Fox fork.
Congratulations to Alan and congratulations to all that participated.  You should be super proud to support a great club and a town that has put great riding at the front of its priorities.
Our original GrassMoots racer Kelly Boniface races at the PRO level during the season and right along with the challenges of training, being a mom and dividing up her time volunteering at pretty much any event in Steamboat, she guides a group of young ladies called "IT'S A GIRL THING".  This past weekend she rounded up 5 of them and set off for the front range of Colorado and the BETI BIKE BASH. She writes in with how it went……
Sunday was the 5th annual Beti Bike Bash.  www.betibikebash.com if you want more info on the race.  Colorado's first and only all female mountain bike race.
I brought 5 of my girls from the SSWSC Cycling Club (ages 12 and 13) for the Juniors Race.  Our cycling program doesn't start until the end of June and most of the girls have only ridden their bikes to and from school and soccer so far this spring. But, I sent out an email to the girls that I coached last year and these brave girls decided to give it a go.  There were 3 options in the Juniors Races to pick from: 1, 2 or 3 laps.  Of course, I signed all my girls up for the 3 laps.  If we are going to drive all the way down to Denver, we are going to race three laps!
This was the biggest Juniors field that the Beti's had hosted thus far.  There were almost 40 girls in the 3 lap race alone.  The girls were extremely anxious about getting to the front of the start line.  It was hilarious to watch them jockeying for position, but they got themselves to the front.  I love the picture from the start line where they are intensely focused.  I wish I'd gotten some action shots during the race, but I was too busy cheering them on and dumping water on them as they rode by (these girls hadn't seen temps like that in a long time!)
They rode like champs…4 in the top 10 (but most importantly, they had a blast!)  They got to meet a lot of the women in the Pro field, had fun stopping by all the purveyor tents, and of course, chatting it up with Larry Grossman on the mic.  He gave us (the girls, me, Steamboat, Moots) tons of props as I'm sure you can imagine.
The results:
4th place, Maddie Heydon
6th place, Isabelle Boniface
7th place, Riley Hodges
10th place, Annika Malacinski
23rd place, Caitlin Smith
Not one mechanical (amazing since I'm sure a couple of those bikes had just been pulled out from last summer), crash, nor tear was shed.
After a stop for burritos and ice cream, it was back up the hill to Steamboat. I expected a tired and quiet trip home, but instead they were so fired up.  They tortured Siri with important questions like "How much wood would a woodchuck chuck if a wood chuck could chuck wood?"  and sang to the Pop Hits XM station (which plays the same 5 songs over and over again)  If I ever hear said 5 songs again, it will be too soon.  However, I wouldn't change a thing about the day.  We all agreed we're going to do it again next year!
FrostHammer in summer mode with 29er+ wheel set
It finally has happened here in SkiTown USA, the deep snow of winter has given way to dry mountain bike trails…..at least low in the valley.  The snow up high is still there and still VERY deep.  We might see the divide trail sometime in August….for about 3 weeks…..if we are lucky.  But back to those dry trails down low and mountain bike season…it's on.
FrostHammer 5" fat bike to 29er+
Last fall we introduced the FrostHammer frame set, which is our second offering in our snow bike, fat bike, what ever-you-want-to-call-it-bike catagory.  It started with the Frosti, which can hold a 4 inch tire. Building off that and what seems like a "standardization" of fat bike components, the 5" tire quickly became the go-to bike for winter riding die hards.  The FrostHammer is built for a 5" tire, 190 rear spacing, 100mm bottom bracket shell and 135 front spacing.  With that move to the 5" tire came the option of slipping in a 29er+ wheel size without messing with the geometry too much. The chainstays are a touch longer longer and the seat tube angle a bit steeper, making top of tire clearance good on the 29er+. Those two specs allow the 29er+ wheel to work.
190mm rear spacing
One bike, two wheel sets, two seasons
Our finish department manager Sam Gordon committed to the FrostHammer during the winter and sold off his other mountain bike to do just that. He ran it set up for winter adventures and when the snow melt opened up trails, he slipped in the 29er+ wheel set and off he went on dry trail.
Tip toe through the tulips…..summer ready FrostHammer
Sam runs a 2 x 10 set up winter and summer
FrostHammer winter mode….5" tire and some freshies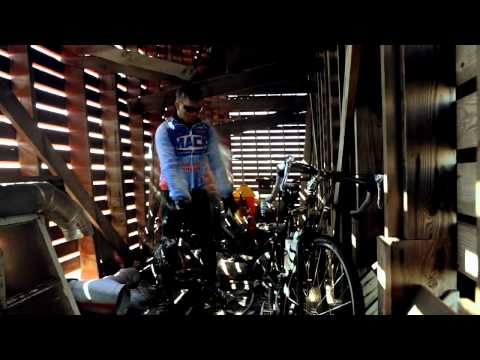 The good folks at North Central Cyclery put this fun video together to promote The Gravel Metric that is coming up May 25th. We will be on hand and have committed to a title sponsorship worth millions to the event.  The day before the event we will be at North Central Cyclery for a Moots Demo Day, stay the night and participate in the event on Sunday.
If you live in the Midwest and can't make the North Central Cyclery demo, check out the rest of our tour here:  MOOTS MIDWEST DEMO TOUR
Come check out some beautifully set up Psychlo X's that feature our new "gravel friendly" geometry, chat with Jason from Moots and get set for a great ride.
If you haven't made your plans yet, do so now.  This crew knows how to put on a good event you don't want to miss.
This early 80′s steel Moots has some crazy stuff going on…..size specific double seat tube? Whoa.
As I do many times during the week, I fire up my computer early in the morning and take a seat with a good, dark cup of coffee (no cream, no sugar, black only please) and take a spin around the internets to see what is going on in the bike world. Race results, live feed (if something is on), and then a cruise of the more "tech" oriented bike web sites.  At this point in my morning routine there is usually something on one of the "tech" sites that almost makes me blow my coffee out through my nose.  It's either some wild claim about "stiffer", "lighter", "more vertically compliant" spew that causes my reaction or just reading the comments that are below the article.  This can be pretty amusing for sure.
This week I was cruising around one such "tech" site and read the article about a major brand addressing ride quality of their new frame by adjusting the layup of the carbon fiber tubes throughout the frame and changing said layup dependant on frame size, which would address the rider size and weight as you moved up or down from size to size.  Revolutionary, right? Not so fast.  They have a really cool phrase for their new found technology and have registered a TM for said phrase.
Welcome to the club
In the hand built world of bike frame making we like to call it "size specific tubing" (insert TM).  It's been around for I'd say a couple decades, if not longer.  When using "size specific tubing" this means that we change the tubeset (even in our stock sizes) from size to size to get the best ride quality for the given rider that would fit on said size.  Bigger frames get bigger diameter tubes and slightly thicker wall and as you move down in sizes the frames get smaller diameter tubes and thinner walls, so across our size spectrum you get a bike that rides incredibly well.  This means we don't use the same tube set for a 58cm as we do for a 50cm and vise versa.  If you used that 58cm tubeset for a 50cm build the ride quality of the frame would be way too stiff and make the rider uncomfortable after a short time on the bike.  Use the same 50cm tubeset for the 58cm and the bigger rider would feel too much flex.  There is a balance between over built and under built.  Here at Moots we balance this over 13 or so models that come in an absurd number of sizes varying from 9 sizes per model to 6.  That's a lot of titanium tubing to keep at the ready.
I'm not trying to bash on the guys that are now "size specific" tuning their frames, but welcoming them to the club of great riding bikes.
Now back to cleaning the coffee off my computer monitor.
As the Moots Demo Tour continues in North America, we find out next stops located in the midwest.  This region of the US is steeped in cycling and we are ready to ride! Check out these Moots Dealers and make a point to come and test ride a Moots! We have several demo models…choose from: Vamoots RSL, Vamoots CR, Psychlo X (multiple, disc, gravel) Rogue Ybb's, Rogue RSL's, Mooto X RSL's, Mooto X Ybb's and MX Divide.
GREEN BAY CYCLES Winnetka, IL
MONDAY-MAY 19TH  2-7PM
GRAND PERFORMANCE-ST. PAUL, MN
WEDNESDAY MAY 21ST  2-7PM
ANGRY CATFISH BICYCLE + COFFEE BAR Minneapolis, MN
THURSDAY MAY 22nd  2-7pm
MACHINERY ROW BICYCLES Madison, WI
FRIDAY MAY 23rd 2-7pm
NORTH CENTRAL CYCLERY Dekalb, IL
SATURDAY MAY 24th  11-6pm
Stay for THE GRAVEL METRIC on Sunday! We are a proud sponsor!
Shimano neutral support bikes supplied by Moots
Starting back in 2011 Moots was asked by Shimano to build a fleet of Cyclocross bikes for their neutral support that would travel to major races across the US. The fleet lived in New England that first year and was a staple at the Shimano NEPCX series. The fleet served time in the neutral pit and anyone in need of a bike could borrow one. They were put to the test in that series as well as US CX Nationals in Madison, WI during the two-year run in Verona. The fleet also spent time in Colorado during last Cyclocross season at the Boulder CX Series put on by WITHOUT LIMITS. They are kitted out with a mix of mechanical and electronic shifting as well as canti or disc. The CX fleet totals 12 full bikes. Shimano wanted to invest in a frame that could have a lifespan of more than a season or two, which is what they had been getting from the carbon and aluminum builds from the past years. They were also very excited to be able to send the frames back during the off-season and have them refinished so they looked sharp at the start of each season. With Moots this can be done year after year. The fleet also saw time at Elite Cyclocross Worlds in Louisville, KY 2013.
Fast forward to 2013 and Shimano found themselves in the same boat with their extensive neutral support road fleet. The other materials did not take kindly to the rigors of shipping and life on top a car. Shimano wanted the same for the road side, only a bit bigger fleet to support the NRC series, dealer events and onto 2015 Road Worlds in Richmond, Va. We worked with Shimano during the Fall of 2013 and delivered 20 frames to them in late November to their Shimano North America headquarters in Southern California.
Since the delivery the bikes have been built up and assigned to a long list of events.  This past weekend they went to collegiate road and crit nationals that were run on part of the course that will be used during road worlds in 2015.
If you happen to race or attend any of the NRC races this year or next, make sure you check out the Shimano set up.  Also keep an eye out for that blue Shimano follow car with the satin bead blast finish of 20 Moots on the roof racks.