AFTERNOON Ti
Our International Sales Director Matt Alford gets around…..globe trotting and adapting to cultures that dot the world.  I've traveled with him overseas and can say that he is unflappable….without doubt the coolest, calmest person in any situation.  From "camping" at Euro Bike with only a tent and the clothes on our backs, to traveling to the furthest reaches of Indonesia…he's a great one to have at your side.  He also is up to ANY foreign food challenge hands down.  He normally picks the most bizarre item on the menu. His latest adventure took him many time zones and flights to the east…or is that west? Not sure, but he got out there and made some great friends and met some of the most enthusiastic Moots Owners he's ever met.  He snapped loads of photos and wrote up this piece…..he writes….
Packing or un-packing?….not sure which at this point.
My trip began, as most good ones do, with a careful packing up of my Routt 45 "Suitcase 'O Courage" travel bike into its slightly battered S&S coupler hard case.  Slotting and layering the bits and pieces, spare tubes, extra socks and other miscellaneous doodads away for the loooong journey to Jakarta and a date with the Moots Riders Club of Indonesia.  Indonesia is the 12th country the Suitcase 'O Courage has found itself in over the last year and assembling it in the early dawn light filtering into my hotel room I was thankfully on wrenching autopilot as severe jetlag was wrecking havoc with my fine motor skills .  But after fishing the post-mount barrel nuts out from under the bed for the fourth time I was ready to go and Jakarta had kindly banned cars from the roads in the city center  just for cyclist to enjoy the morning.
Euro Cycle bulding up a nice Vamoots DR
The good folks at Euro Cycle and Sepeda Kita expertly organized our sendoff and before I knew it I was in a pack of 50 Moots riders making hot laps among the closed banks and government buildings, passing and being passed by different cycling clubs, lone riders and teams all out early on a Sunday morning to put in some blissfully traffic-free miles.
The Indonesian Moots Riders could not have been nicer as we took photos, swapped stories and admired all sorts of Moots bikes from Campy equipped RSLs to MX mountain bikes and even a 20th Anniversary Vamoots.  The enthusiasm was infectious, Euro Cycle put on a great brunch and Q&A session after the ride and we raffled off a Routt 45 frame to one lucky rider!  My smiling muscles were pretty much shot for the rest of the day.
Closed course in Jakarta….just for cyclist on this day.
The following days involved more trips around the Jakarta area visiting Moots dealers, eating some delicious satay and dodging the ever present scooter hordes before a short flight to eastern Indonesia and some great countryside riding in Bali.
Jakarta 1st meal, duck!
The amazing stonework, terraced rice fields, distant (but not that distant) volcanic cones and greenery were a bit overwhelming  coming from a Colorado just starting to see Spring growth emerging.
Matt in front of the ride terraces.
The seafood wasn't too shabby either!  Best of all though was getting to see the types of roads and trails, even a bit of singletrack, that the locals are riding on.  Truly great conditions for a comfortable and stable titanium Moots frame and the Suitcase 'O Courage got it done on all surfaces, even following Ronald of Spectrum on his YBB through the rice paddies and singletracks linking the back roads around Ubud.
4 month rice on the left, 6 month jasmine rice on the right.
Moots owners gather for a ride.
Big thanks to all the great riders, Dealer owners and staff,  and distributors in the Moots Indonesia family for all the hospitality, enthusiasm and good cheer.  It makes me proud to see the bikes we put so much time, energy and attention into being enjoyed so thoroughly half way around the world.
Ronald leading the pack on his sweet Campy RSL.
Matt & Ronald take a break outside a temple in Bali.
Post-ride luncheon thanks to Sepeda Kita and raffled off a Routt 45 to one lucky rider!
Jakarta at night is crazy busy.
Matt & Ronald in the rice paddies.
Moots Owners parking.
Kite fighting in Bali.
Have ROUTT 45, can do single track.
From the volcanoes to the sea, Bali has great riding terrain everywhere you look.
Balinese temple.  …and the ROUTT 45 suitcase of courage. #mootsworld
Alice makes time to stop at Moots during Tour Divide 2015.
No the title is not misspelled; ROUTT refers to our county we live in and also is the name of the National Forest that surrounds our area.  So these are notes from the sidelines of Steamboat as we see the riders pass through our little section of the bigger picture.  We are at the halfway point of the 2,745 mile odyssey that is the TOUR DIVIDE so we have a steady stream of riders hitting Steamboat.  Last night we (our Tuesday night road ride) ventured north to circle Steamboat Lake, this route takes us up a dirt climb to the west of the lake and past a point where the Tour Divide riders come out of the forest and have about 25 miles into town.  As we made our way up the dirt in the late evening we began to encounter TD riders.  One here, one there, a pair…all got a shout out from our 6 rider group, thumbs up and hi-fives.  As we inched closer to the road that connect them to the road we were on, I told the group about Alice Drobna who is on our GrassMoots Team and was on course again this year.
Ti King Cage & Moots….a match made in Colorado.
Last year she won the women's division….single speed style.  This year she is going for the triple of the Arizona Trail (which she won in April), The Tour Divide and then the Colorado Trail Race.  She means business is an understatement.  Serious stuff but always with a smile…..Anyway, back to last night….I had just finished telling the bunch that if we see her I was turning and riding with her….30 seconds later we rounded a corner and there she was….with a smile.  I 180′ed and rode for a bit and chatted with her, snapped a photo or two and then let her be on her way to Steamboat.  She was excited for a long nights rest in a warm place.  She has been having knee pain so she "said" she was riding at 60%….she also had ridden through 300 miles of Wyoming with a broken saddle rail.  I don't know her very well, and have only met her while she was doing the Tour Divide last year and this year, but she really seems unflappable no matter what.
The control center for 2,745 miles.
We passed her once more last night as our group rolled back towards Steamboat, giving her more words of encouragement and a "see you in the morning" shout.  She always stops at Moots when passing through…it's now a tradition of two years running.  I can almost mark the calendar and day she will grace our front door at Moots.
Alice uses a Dynomo thru-axle hub to power a light, charge her Garmin and phone.
So this morning we brought donuts and made coffee early at the HQ and waited for her arrival.  Sure enough at 8:00am she rolled into the Moots parking lot…smiling….We offered donuts and coffee, but knew she would decline knowing she's on a mission and has her food dialed.  Conversation, photos and a quick call to our local dealer for service and she was once again pedaling down the road.  8 more days until rest.
USB port on the down tube for charging needs.
She had really been hoping to be in the lead at this point and was excited this year that the competition would be better than last year when she rode away with the win easily.  I think that is a mark of a true competitor…..they don't want to run away with it…they want to be pushed, but due to the sore knee and broken saddle, she is resigned to finish and recover for her next adventure on the Colorado Trail.
Did I say single speed?  Moots slider drop outs & Chris King thru-axle keep it locked down in the rear.
The rest of the meat of the field has yet to pass, we'll keep an eye out for them and wish them luck and safe travels as they pass us on The Routt.
One for the road.
Ranch Rally Riders ride down Deep Creek with the Zirkel Wilderness in the distance.
The dust has settled and we are just about done with the cleanup of the 2nd Annual Moots-Colorado Ranch Rally.  This past Saturday over 150 riders took to the course and they were treated to dirt road conditions that left almost everyone with a giant smile in the end.  By participating in the event these riders helped raise $5,000.00 dollars for our local Community Ag Alliance.  Ranching in our valley dates back to the first settlers and this group (the CAA) strives to educate, preserve and grow agriculture for generations to come. Plus, we all like to know where our food comes from right?
Perfect conditions and windy roads lined with ranches.  Not a bad day.
The Ranch Rally went off without a hitch… (Pardon the pun) other than a small re-route off a b road due to the wet spring we can all attest to.
Early on in the ride a more "spirited" group rides with the Rocking C Bar Ranch in the background.
Riders were treated to lunch (post ride) at the Rocking C Bar Ranch and then an evening social at Moots, for beers, food, factory tours and raffle where we got to give away a ROUTT frame, Mavic Shoes, Veloscapes 2 day Pro Tour Challenge trip, CAA gift basket, Moots Rocket Bag and Moots belt buckle.  But most important as the title says, we raised $5,000.00 for the CAA and that is a great thing.
Photos only tell part of the story.  Have a look at our FLICKR account and make plans to be at the 3rd Annual Moots-Colorado Ranch Rally in 2016.
Smiles as big as ranches.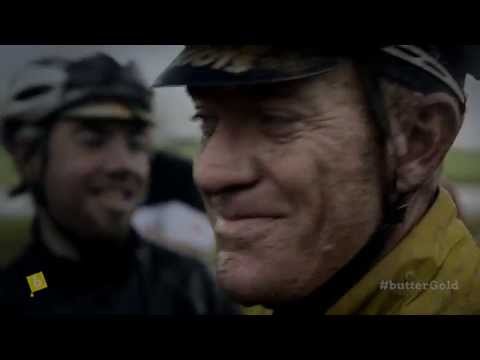 I've been trying to put down some words that would best describe the #ButterGold event that was back in late April.  It really didn't hit me until Michael Robson posted the video the other day, which this in many ways is how so many of our brother & sister cyclists are riding.  It's and event that really is not an "event"… it's off the radar of the local permit-red-tape, rul- book swinging establishments.  Not on purpose of thumbing our noses at them, but a gathering of riders that love a good challenge, a great course and company of their fellow hard working bike riding friends….., plus we aren't out there being jerks.  Ride hard, eat/drink go home.
Anyway, Mr. Robson opened up his studio and his giant sized Australian heart to his community of mainly Cyclocross racers to a day of equipment wreaking fun.  5 hours in the rain, with sand/dirt drizzled into places I can't write about.  Needless to say the sensation of riding in liquid sandpaper sounds worse than it really was….that was until you cracked open your hubs/bottom bracket/jockey wheels/pedal spindles….it was worse all right.  Many a Boulder shop should be sending Robson a 750ml of premium vodka along with dancing girls.  That day single handedly paid some rent at those shops for sure.
I hijacked some photos from some friends and only hope that you and your friends get out and do the same….maybe with less liquid sandpaper, but get out, go ride and have fun.  I know we did. We'll be back in 2016.
Moots prototype in aciton….left side drive train is where it's at….always the dirty side.  (photo Tim Faia)
Soiled chamios anyone?  Misery loves company….rain and 50F at altitude.
That's just the hat I wore……that chamois will never be the same.
Inside my front hub….mainly water and the grease was replaced by sand/dirt.
Brown grease.
Mr. Robson and the pounds of dirt we left in his joint.
This week the Moots Demo Tour continues with a swing through the midwest.  We have some fun stops planned and hope to get out and ride with you! Take a look below for our stops in Minnesota & Illinois.
Angry Catfish Bike Shop & Coffee
Minneapolis, MN
Friday May 22nd
2pm-7pm
Demo fleet rides & talk titanium with Jon & Jerimiah
Chicago, IL
Saturday May 23rd
8 am-7pm
Demos, Ti talk & BBQ
De Kalb, IL
May 24th
Gravel Metric
Moots Demos
Come ride some super gravel with the crew from North Central Cyclery, along with Jon & Jerimiah from Moots. 100km of good times!
Ever wondered what it is like to ride a Moots? Join us at the shop Thursday May 14 to experience some of the finest hand-made titanium bicycles out there. The van will be at the store with many of their road, mountain, touring and cyclocross bikes, but select sizes will be in short supply so call ahead to make sure we can accommodate you.
For more details contact the shop at 401.789.8664.
More details: MOOTS DEMO DAY MAY 14TH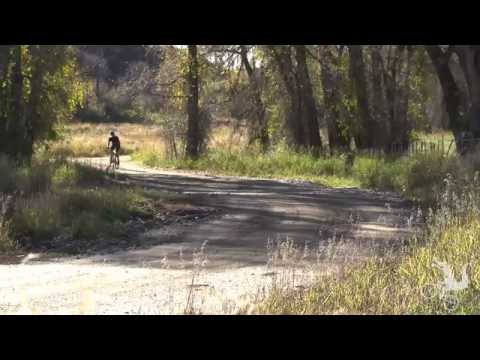 We are coming up on the 2nd Annual Moots-Colorado Ranch Rally on June 13th and have a new model video for the bike that knows no boundaries.  The ROUTT 45 is super versatile.  Our own Matt Alford takes us through the features and why, this might make the perfect bike.
As I type this today, Matt is in Singapore visiting Moots distrubutors and has his "suit case of courage" along with him.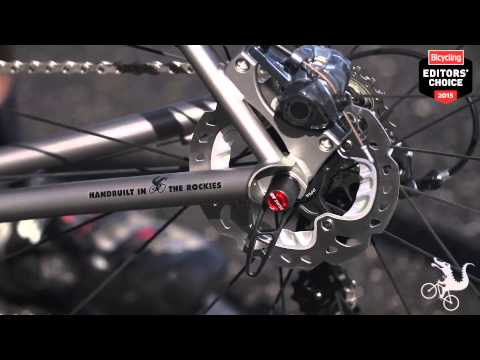 Late last fall we began shooting new model videos for our entire line of bikes, we took advantage of our warm and extended fall weather to shoot outside and bring you some insight of why a certain model might be the Moots for you.  First up is the Vamoots DR, which in case you don't know just won 2015 BICYCLING Magazine Editors' Choice award.  One of only 19 bikes (out of the 50 that made the finals) to receive this honor. Did we time that perfect or what? Okay, it wasn't planned, but wow, the timing could not be better
You can view the video above to watch Butch walk through the highlights and you can also flip through the photos below.
Over the next few weeks we will be sharing more of these videos.  We hope you enjoy them!
The 2015 Vamoots DR-2015 Bicycling Editors' Choice Awards
Dura-Ace Di2 disc
Mavic Ksyrium Disc Pro wheel set
Chris King head set
Enve disc road fork
Moots Ti stem
Moots Ti Cinch post (layback)
King Ti cages
Full build comes in at 17.5 lbs
#EdChoice15 is a great name to have on your top tube.
Epoxy holds the junction box of the Di2 in place under the stem-strapless.
Iron Man looking hoods of the Di2 Disc Hydro levers.
View from the riders perch.
The Di2 port on the down tube.
30mm tires fit into the Vamoots DR….bigger is better!
The Di2 wire exits the chainstay/drop out. Replaceable derailleur hanger just in case.
English threaded 68mm bottom bracket is the norm on the Vamoots DR