AFTERNOON Ti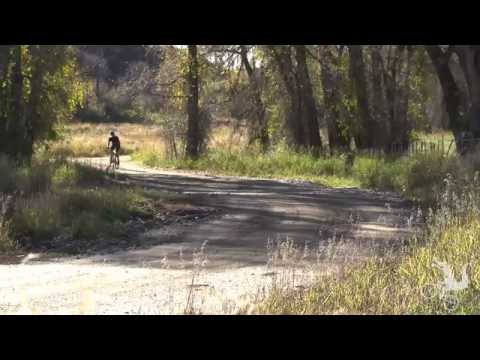 We are coming up on the 2nd Annual Moots-Colorado Ranch Rally on June 13th and have a new model video for the bike that knows no boundaries.  The ROUTT 45 is super versatile.  Our own Matt Alford takes us through the features and why, this might make the perfect bike.
As I type this today, Matt is in Singapore visiting Moots distrubutors and has his "suit case of courage" along with him.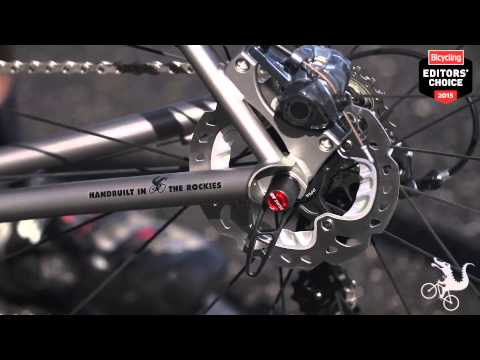 Late last fall we began shooting new model videos for our entire line of bikes, we took advantage of our warm and extended fall weather to shoot outside and bring you some insight of why a certain model might be the Moots for you.  First up is the Vamoots DR, which in case you don't know just won 2015 BICYCLING Magazine Editors' Choice award.  One of only 19 bikes (out of the 50 that made the finals) to receive this honor. Did we time that perfect or what? Okay, it wasn't planned, but wow, the timing could not be better
You can view the video above to watch Butch walk through the highlights and you can also flip through the photos below.
Over the next few weeks we will be sharing more of these videos.  We hope you enjoy them!
The 2015 Vamoots DR-2015 Bicycling Editors' Choice Awards
Dura-Ace Di2 disc
Mavic Ksyrium Disc Pro wheel set
Chris King head set
Enve disc road fork
Moots Ti stem
Moots Ti Cinch post (layback)
King Ti cages
Full build comes in at 17.5 lbs
#EdChoice15 is a great name to have on your top tube.
Epoxy holds the junction box of the Di2 in place under the stem-strapless.
Iron Man looking hoods of the Di2 Disc Hydro levers.
View from the riders perch.
The Di2 port on the down tube.
30mm tires fit into the Vamoots DR….bigger is better!
The Di2 wire exits the chainstay/drop out. Replaceable derailleur hanger just in case.
English threaded 68mm bottom bracket is the norm on the Vamoots DR
Wheelworks and Moots are pleased to this opportunity to test ride Moots Bikes.
Come out to test ride a Moots titanium road, mountain or cyclocross bike at Belmont Wheelworks.
Wheelworks  experts and representatives from Moots will be on hand to answer questions and get you set up on a test bike. Don't forget to bring your shoes and pedals!
Event Details:
Moots Demo Day

Date: Sunday, May 10th
Demos – Road & Mountain: Noon – 5pm
Group Road Ride: 10am – 11:30 – a relaxed pace 20 mile loop – RSVP Kevin Schwartz
Place: Belmont Wheelworks
Contact: Kevin Schwartz for more info or to RSVP.
Requirements: Group ride – Pedals, Helmet, Driver's Licence & Major Credit Card DEMOS: Driver's Licence & Major Credit Card
Moots Demo Event @ Marty's Reliable Cycle of Randolph
Friday May 8th & Saturday May 9th
MORE INFO HERE: MOOTS DEMO
Come out to test ride a Moots titanium road, mountain and cyclocross bikes at Marty's Reliable Cycle in Randolph. Moots staff will be on hand to answer questions and get you setup on a test bike. Please contact Eric@martysreliable.com to RSVP a bike, and don't forget to bring your shoes and pedals.
Friday 5/8: Demos available from 3:30pm – 7:00pm
Saturday 5/9: 8am Shop Road Ride, demos available. Ride leaves promptly at 8:00 arrive early
Saturday 5/9: Demos available from 10am to 12:30pm
Dave Gensch rides on our GrassMoots Team and has a good record of knocking out the White Rim route in a day during early spring.  This year the weather gods did not play nice, so even though the ride was a "wash" the adventure of getting there was not.  Dave writes…..
As Matty P, Greg and I pulled out of Glenwood the snow had turned to rain and the ever changing forecast roughly related to the weather. The further west we got, the worse it got until we turned south on Hwy. 313. "See, that's what my phone said, said Greg". However as we climbed up to Island in the Sky it became quite clear through the fog and snow, that a 5:00 A.M. start on Saturday was very much in question. We dropped some water at the top of the Schafer Road and went to the visitor's center to get our bike permits. $15 dollars later we headed back to get the camper to the top of the Mineral Bottom road.
This was one of the more exciting/stupid decisions that I have recently made. With the truck in 4 Wheel drive, we surfed her and my 20 foot camper trailer down the slurry that was once a firm road. There were some touch and go moments but it all worked out. Even though the destination was the bottom of Mineral Bottom, we made the right call to camp at the top and not become a permanent fixture joining the other mangled remains of vintage automobiles that didn't stick the line on the way down.
Our friends Chris and Lindsay, some hours behind us, smartly spent the night where the pavement met the dirt and we hooked up with them later the next morning at the entrance to Island in the Sky. I had told them to get there bike permits and Chris said, "Oh, it's fee free weekend, you don't need any". As we tried to refund our $15 from the day before we were reminded of how the government works. The ranger explained, "Well that was on yesterdays till and I don't think I can make the books work today if I refund you". Happy to pay but classic none the less.
We spent the bulk of the day going to the overlook sites and waiting for the Mineral Bottom road to dry out enough to get their rig down to mine. By mid afternoon we got Chris and Lindsay down to the top and we all then dropped into the canyon and set up camp on the banks of the Green River. We knew that our only chance to ride the loop was to leave very early on Sunday with little or no more rain and then all have to drive home for work on Monday. After a spin around to at least tease the need for a bike fix, we began packing our frame bags when yet another rain storm came in. The joke of, "well that's what Greg's phone said" was beginning to wear thin. But Greg assured us that it was a "dry rain" so we continued our preparations. There were two separate periods of amazing rainbows and the sunset as the weather cleared was spectacular.
"Oh, Shit, it's 3:30" said Matty. I had set my alarm for 2:20 a.m. but the sound did not accompany the subtle vibrations under my heavy head. (note: need new I-phone). Chris had started a fire and we all quickly got ready as 3:30 was our intended start time. By 4:30 we rolled out of camp under clear starry skies feeling great and enjoying the excitement as we road through various warm and cold pockets of air on very tacky soil. "Is this the first climb", Chris asked? I told him that it was coming soon as we discussed whether our single speed gear ratios were appropriate. Almost at the top of the Hard Scrabble climb, Chris got off his bike and was fooling with a dropped chain. He thought he had folded his chain ring but we quickly realized that he had broken one of the spider arms on his crank. In any group, especially a new group, there often is a respective dance of inquiry without "driving" the ship to formulate the best plan with the known and unknown knowledge. After some back and forth from all of us, we decided that the right thing to do was let Chris start walking/riding back while we finished the rest of the climb and the then turn around to join him in the morning twilight and assist him home as opposed to finishing the White Rim. We each took turns pulling him with a tube and pushing him along the mostly rolling terrain back to camp. Often I think that a group that leaves together should stay together whenever possible. We all feel fortunate that this happened 10 miles in, not 50, and that it was of the mechanical nature not the medical kind.
It is easy to focus on the goal and the destination. This trip was another great reminder that each day we wake up with a plan, and life has a plan for us too. Sometimes they line up and sometimes they don't. The journey is always part of it all, and can change any minute. I was honored to be with the four of you as the weather, luck and spirit presented us with our trip as we all rolled along with it. Thanks guys.
David
The VAMOOTS DR has won Bicycling Magazine Editors' Choice Award for 2015!!!
Read the review notes here:  MOOTS VAMOOTS DR-EDITORS' CHOICE 2015
Our long standing relationship with Shimano neutral support started with a 12 bike Cyclocross fleet in 2012 and has grown into an additional 20 bike road fleet.  Shimano neutral support and those sexy blue wagons and trucks are out fitted with 20 Vamoots CR models that run a range of mechanical and electronic group sets.  How would you like to get handed a Moots during a crisis in a race?,…..no team car? No pit? No problem.  Hand in the air when some of our coutries best racers are killing themselves during a NRC race and Shimano will have their back if their team car is not around.
After years of using other brands and materials that just would not hold the test of time Shimano approched Moots to build a fleet that would be on the cars and under racers for years to come.   We jumped at the chance to really showcase the durability of our bikes and funny enough, after a pro or two has had to use one, they really love the ride as well.
For 2015 Shimano will be at the entire NRC series and finally at the end of summer when Road World Championships roll into Richmond, Virginia….guess what will be on the top of those cars?  Moots.
If you get a chance to visit one of the races, make sure to stop by the boys in blue and get up close with a nice fleet of Moots.
Early mornings on race day for the Shimano crew.
Always clean and always dialed…..the fleet at the ready.
A good reason to have a mechanical?
Schwab Cycles is located in Lakewood, Colorado which is the perfect distance from Denver and the mountains and road routes that dot the area.  Schwab is truly a family run business.  At the helm is Bruce Schwab who practices what he preaches when it comes to riding, racing and carrying only product that he would ride himself.  Bruce is a very accomplished racer both in Cyclocross and road disciplines.  In the early 90′s our Colorado Cyclocross series was largely fueled by Bruce and his business.  Not only were they the go-to shop for equipment that you could not find anywhere but Europe, they also supported the race series as well. Known as "The Boss of Cross" I got to know them when I worked at another shop and purchased my very first real Cyclocross frame set from them….they always had the parts you could not find anywhere.
Always taking care of their customers and building out gorgeous Moots.
FAMILY
Bruce runs the shop while his mother Doris keeps everyone in line and the product stocked in every category.  If you have ever met them, you know what true Colorado cycling icons they are.  When we visit Schwab's it's more like family than business.  They know the names of our kids….and are truly interested in how they are doing.
CUSTOMERS
Schwab's also has the distinction of being one of, if not the longest running Moots Dealer….anywhere….They started carrying Moots in the very early 90′s and have been with us ever since.  Their support of our company is exceptional and does not go unnoticed by all at Moots.
If you find yourself in Denver, make sure to check them out.