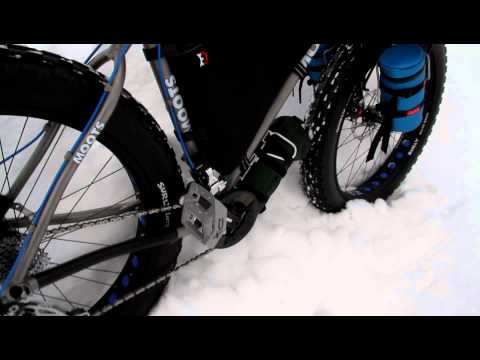 Eric's 2011 Sneew Bike….(that's Dutch for snow) loaded and heading to the ArrowHead 135
What do you do when you live in a place that gets on average 350 inches of snow, you work for a frame builder and, well you might have some spare time on your hands?  Of course, you build a titanium snow bike.  Room for almost 4" tires, sure, why not? Going to be out for awhile? Add some racks, a bivy sack, food, hand mits and viola, you are ready to take on the Arrowhead 135 in the northern most reaches of Minnesota. 
The bike you see here is not our first ever snow bike, they've been around for awhile, but not made to sell.  They are a special beast for sure.  Our own Eric Hindes has been riding through our winters on 4-6 psi for several seasons.  He can typically be found designing parts, programing computers and finally; running our CNC machines here at Moots.  He's gifted for sure. 
E. HINDES in his favorite font
This year he has decided to take his love of riding during the winter to a new level.  He will depart in a couple of days and head to International Falls, Minnestoa where he will take part in a race over snow packed trails for 135 miles.  Last week we had the pleasure of sitting in on Mike Curiaks slide show of the Alaskan adventures….you could see the glow in Erics eyes from accross the room. 
The build:
Moots Rigor Mootis Snow Bike Frame w/super modified MX RSL flattened & bent chainstays.
Salsa Steel rigid snow bike fork
Moots Stem
Moots Cinch Post
Fully closed cable housing on brakes and shifters
Surly 3.8 Larry Tires
Surly Rolling Darryl Rims
Very large inner tubes
Lots of room down there! Modified MX RSL chainstays…..100 bb shell
**Required gear for the race…mandatory by the "race" officials..
Sleeping bag, Pad, Bivy, sack, Flares(fire starter), minimum of 3000 calories worth of food…..see the "regs" here: AH135 some are kind of funny.
Loaded with all the gear….58 lbs light.
Fully enclosed housing top to bottom…in Ford blue..
The weather looks pretty "good" for the race at this point…hi-temps around 10F….light winds, possible snow mobiles on the trail and sled dog encounters…should be good times. 
Good luck Eric.  Can't wait to hear the tales of the adventure.