FrostHammer in summer mode with 29er+ wheel set
It finally has happened here in SkiTown USA, the deep snow of winter has given way to dry mountain bike trails…..at least low in the valley.  The snow up high is still there and still VERY deep.  We might see the divide trail sometime in August….for about 3 weeks…..if we are lucky.  But back to those dry trails down low and mountain bike season…it's on.
FrostHammer 5" fat bike to 29er+
Last fall we introduced the FrostHammer frame set, which is our second offering in our snow bike, fat bike, what ever-you-want-to-call-it-bike catagory.  It started with the Frosti, which can hold a 4 inch tire. Building off that and what seems like a "standardization" of fat bike components, the 5" tire quickly became the go-to bike for winter riding die hards.  The FrostHammer is built for a 5" tire, 190 rear spacing, 100mm bottom bracket shell and 135 front spacing.  With that move to the 5" tire came the option of slipping in a 29er+ wheel size without messing with the geometry too much. The chainstays are a touch longer longer and the seat tube angle a bit steeper, making top of tire clearance good on the 29er+. Those two specs allow the 29er+ wheel to work.
190mm rear spacing
One bike, two wheel sets, two seasons
Our finish department manager Sam Gordon committed to the FrostHammer during the winter and sold off his other mountain bike to do just that. He ran it set up for winter adventures and when the snow melt opened up trails, he slipped in the 29er+ wheel set and off he went on dry trail.
Tip toe through the tulips…..summer ready FrostHammer
Sam runs a 2 x 10 set up winter and summer
FrostHammer winter mode….5" tire and some freshies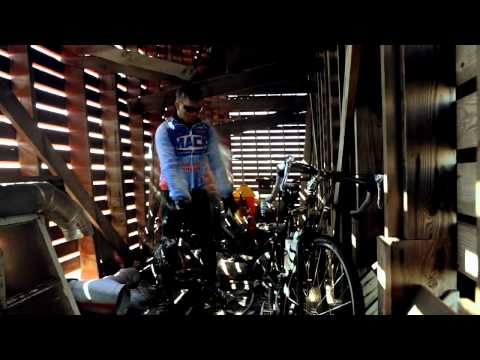 The good folks at North Central Cyclery put this fun video together to promote The Gravel Metric that is coming up May 25th. We will be on hand and have committed to a title sponsorship worth millions to the event.  The day before the event we will be at North Central Cyclery for a Moots Demo Day, stay the night and participate in the event on Sunday.
If you live in the Midwest and can't make the North Central Cyclery demo, check out the rest of our tour here:  MOOTS MIDWEST DEMO TOUR
Come check out some beautifully set up Psychlo X's that feature our new "gravel friendly" geometry, chat with Jason from Moots and get set for a great ride.
If you haven't made your plans yet, do so now.  This crew knows how to put on a good event you don't want to miss.
This early 80′s steel Moots has some crazy stuff going on…..size specific double seat tube? Whoa.
As I do many times during the week, I fire up my computer early in the morning and take a seat with a good, dark cup of coffee (no cream, no sugar, black only please) and take a spin around the internets to see what is going on in the bike world. Race results, live feed (if something is on), and then a cruise of the more "tech" oriented bike web sites.  At this point in my morning routine there is usually something on one of the "tech" sites that almost makes me blow my coffee out through my nose.  It's either some wild claim about "stiffer", "lighter", "more vertically compliant" spew that causes my reaction or just reading the comments that are below the article.  This can be pretty amusing for sure.
This week I was cruising around one such "tech" site and read the article about a major brand addressing ride quality of their new frame by adjusting the layup of the carbon fiber tubes throughout the frame and changing said layup dependant on frame size, which would address the rider size and weight as you moved up or down from size to size.  Revolutionary, right? Not so fast.  They have a really cool phrase for their new found technology and have registered a TM for said phrase.
Welcome to the club
In the hand built world of bike frame making we like to call it "size specific tubing" (insert TM).  It's been around for I'd say a couple decades, if not longer.  When using "size specific tubing" this means that we change the tubeset (even in our stock sizes) from size to size to get the best ride quality for the given rider that would fit on said size.  Bigger frames get bigger diameter tubes and slightly thicker wall and as you move down in sizes the frames get smaller diameter tubes and thinner walls, so across our size spectrum you get a bike that rides incredibly well.  This means we don't use the same tube set for a 58cm as we do for a 50cm and vise versa.  If you used that 58cm tubeset for a 50cm build the ride quality of the frame would be way too stiff and make the rider uncomfortable after a short time on the bike.  Use the same 50cm tubeset for the 58cm and the bigger rider would feel too much flex.  There is a balance between over built and under built.  Here at Moots we balance this over 13 or so models that come in an absurd number of sizes varying from 9 sizes per model to 6.  That's a lot of titanium tubing to keep at the ready.
I'm not trying to bash on the guys that are now "size specific" tuning their frames, but welcoming them to the club of great riding bikes.
Now back to cleaning the coffee off my computer monitor.
As the Moots Demo Tour continues in North America, we find out next stops located in the midwest.  This region of the US is steeped in cycling and we are ready to ride! Check out these Moots Dealers and make a point to come and test ride a Moots! We have several demo models…choose from: Vamoots RSL, Vamoots CR, Psychlo X (multiple, disc, gravel) Rogue Ybb's, Rogue RSL's, Mooto X RSL's, Mooto X Ybb's and MX Divide.
GREEN BAY CYCLES Winnetka, IL
MONDAY-MAY 19TH  2-7PM
GRAND PERFORMANCE-ST. PAUL, MN
WEDNESDAY MAY 21ST  2-7PM
ANGRY CATFISH BICYCLE + COFFEE BAR Minneapolis, MN
THURSDAY MAY 22nd  2-7pm
MACHINERY ROW BICYCLES Madison, WI
FRIDAY MAY 23rd 2-7pm
NORTH CENTRAL CYCLERY Dekalb, IL
SATURDAY MAY 24th  11-6pm
Stay for THE GRAVEL METRIC on Sunday! We are a proud sponsor!
Shimano neutral support bikes supplied by Moots
Starting back in 2011 Moots was asked by Shimano to build a fleet of Cyclocross bikes for their neutral support that would travel to major races across the US. The fleet lived in New England that first year and was a staple at the Shimano NEPCX series. The fleet served time in the neutral pit and anyone in need of a bike could borrow one. They were put to the test in that series as well as US CX Nationals in Madison, WI during the two-year run in Verona. The fleet also spent time in Colorado during last Cyclocross season at the Boulder CX Series put on by WITHOUT LIMITS. They are kitted out with a mix of mechanical and electronic shifting as well as canti or disc. The CX fleet totals 12 full bikes. Shimano wanted to invest in a frame that could have a lifespan of more than a season or two, which is what they had been getting from the carbon and aluminum builds from the past years. They were also very excited to be able to send the frames back during the off-season and have them refinished so they looked sharp at the start of each season. With Moots this can be done year after year. The fleet also saw time at Elite Cyclocross Worlds in Louisville, KY 2013.
Fast forward to 2013 and Shimano found themselves in the same boat with their extensive neutral support road fleet. The other materials did not take kindly to the rigors of shipping and life on top a car. Shimano wanted the same for the road side, only a bit bigger fleet to support the NRC series, dealer events and onto 2015 Road Worlds in Richmond, Va. We worked with Shimano during the Fall of 2013 and delivered 20 frames to them in late November to their Shimano North America headquarters in Southern California.
Since the delivery the bikes have been built up and assigned to a long list of events.  This past weekend they went to collegiate road and crit nationals that were run on part of the course that will be used during road worlds in 2015.
If you happen to race or attend any of the NRC races this year or next, make sure you check out the Shimano set up.  Also keep an eye out for that blue Shimano follow car with the satin bead blast finish of 20 Moots on the roof racks.
44mm Head Tube pictured with 1.5" lower external for tapered 1.5" fork
We've been getting a lot of questions about 44mm head tubes lately and we'd like to go over a few items on the subject.
Q: What Moots frames come stock with the 44mm head tube?
A: ALL Moots mountain, cyclocross and Vamoots DR (disc road)  frames come stock with 44mm head tubes.  The reason for this is that the movement to tapered steerer tubes is prevelent in the bike industry.  The 44mm head tube also provides a stiffer front end for precise handling and braking.  It also gives us a larger landing platform for oversized top and down tubes, thus increasing stiffness.
Q: What Moots road frames come with the 44mm head tube as stock?
A: One.  The Vamoots DR (disc road) comes stock with a 44mm head tube to handle tapered steerer tubes and disc brakes.
Q: Why do the Vamoots RSL, Vamoots CR and Vamoots come stock with 1 1/8" head tubes?
A: They come stock with 1 1/8" head tubes because they are approximately 50 grams lighter and offer more ride comfort in the front end of the bike.  The 44mm head tube is an OPTION on these 3 models for an upcharge.
Q: What head set do I run on a 44mm head tube from Moots?
A: Current model Moots frames that have a 44mm head tube have been corrected to run an external lower bearing. For mountain models you will want a 1.5" lower bearing. It is possible to run a road fork that is 1 1/4" tapered with a 1 1/4" lower external bearing on road bikes that are ordered with the 44mm head tube.
Q: If I get the 44mm head tube can I still run a fork with a straight 1-1/8" steer tube?
A: Yes Chris King offers the Devolution crown race which makes both the i7 and i8 headsets compatible
44mm Head Tube pictured with 1 1/4" external lower with 1 1/8" fork with devolution base plate
50 miles with 2400′ of climbing on dirt/gravel mix
The Moots Colorado Ranch Rally is a 50 mile cyclosportive held on the dirt and gravel roads around Steamboat Springs.  Just 5 miles of the route are on pavement.  The other 45 miles feature rural dirt and gravel roads that connect area historical ranches and farms. You will pass by historic Elk Mountain Cemetery, climb up to Mystic, touch the Wolf Mountain area and descend down Deep Creek before the rolling hills of County Road 52E and finish it off with a small climb over Fly Gulch. Enjoy a stunning day on the bike.
The event starts and finishes at Moots World Headquarters.  This is a non-timed, non-competitive ride.  You can ride at your own pace or that of the group around you.  There are no awards other than seeing the amazing countryside around Steamboat Springs and meeting some great people along the way.  When you enter the event you will also be entered into the drawing for a Moots Psychlo X frame.  (choice of 7 stock frame sizes)
Moots is partnering with the Community Agriculture Alliance (CAA) to showcase the importance of the local ranches and farms in our area.  All proceeds from the event will go to CAA.
This route will pass several Centennial Farms and Ranches of Routt County.  Lunch will be served at a working ranch that is on the route. Later that evening we will meet at Moots HQ for an evening of factory tours, "adult beverages", hors d'oevures and the drawing for the Moots frame.
We are limiting the event to 100 riders, first come, first serve.  SIGN UP NOW to make sure you have a spot in this event that is sure to become a Moots Classic.
Go here to enter:  MOOTS COLORADO RANCH RALLY 2014
WHAT YOU GET
• Lunch at a nearby ranch
• Moots factory tour
• Entered into the MOOTS FRAME DRAWING just for this event
• Event t-shirt
• Event water bottle
• Route cue sheet
• Event bandana
• Locally raised beef jerky
• Evening social at Moots HQ
• Amazing ride through Routt county
• Half way point aid-station
• Mingle with Moots staff during ride and social evening
PARTICULARS
• Event date: Saturday June 28th, 2014
• Packet pick up: Friday June 27th 4-7pm & Saturday June 28th 7am-8:30am
• RIDE START TIME: June 28th 9:00 am sharp from Moots HQ
• Evening social at Moots HQ from 4pm to 7pm that evening
WHAT YOU NEED
Recommended equipment:
Road Bikes: Yes, you can do this route on a road bike.  However we recommend new tires and no less than a 28mm tire.
Cross Bikes: Yes, you can do this route on a Cyclocross bike.  Stick with a tire of 30 or 32mm that is a semi-slick tread.
Mountain Bike: Yes, you can do this route on a mountain bike.  Recommended tire on a mountain bike would be a 1.5'' width.
Along with the above you will need a good working pump or Co2 set up…2 spare tubes and small seat bag tool kit.
The event will be run on open public roads that have minimal traffic.  There are no painted center lines so it will be of most importance to obey all traffic laws while on the route. We will have one main support stop about half way around the route but will rely on you to be self-sufficient at fixing a flat tire and fueling yourself.  There will be snacks and drinks at the main support stop as well as an assortment of mechanical supplies if you need them.
Rules of the road
• Please be safe and remember that safety is in your own hands and ride by these rules:
• This is not a race but a timed tour. Ride within your means. If you haven't ridden in a large group before don't.
• Wear a helmet at all times – NO EXCEPTIONS
• Carry ID and relevant medical information
• Rules of the road apply; same rights and duties as the driver of any other vehicle
• Ride single file where necessary, maximum of two abreast when conditions allow, do not impede traffic. Ride as far right as reasonable
• Obey all traffic lights, signs, and regulations.
• Pass on the left only, announce "passing" or "hello" or "on your left"
• Use hand signals to indicate road hazards, stopping, slowing, right, and left turns
• Prepare properly: nutrition, hydration, training, and for sudden changes in weather conditions
Respect others: riders, volunteers, host communities, motorists, pedestrians, law enforcement, and the environment
Riding dirt roads on road bikes or cross bikes is nothing new to cycling.  Located in Routt County Colorado, Steamboat is situated at 6700' feet above sea level at the foot of the Continental Divide that shoots up to 10,000 + feet.  The county itself has about 600 miles of unpaved dirt and gravel roads vs. the 159 miles of paved roads; this offers us many options and the chance to get up close to amazing views and the road less traveled.
Go here to enter:  MOOTS COLORADO RANCH RALLY 2014
**You will need to sign a waiver at packet pick-up**
You can read more about our dirt road riding and the Community Ag Alliance:
Steamboat dirt road riding: TAKING THE DIRT ROAD LESS TRAVELED
CAA article about our rural roads: RIDING RURAL ROADS
THE ROUTE
50 miles with 2400′ of climbing on dirt/gravel roads.
Elk Mountain
Drinking morning coffee while sniffing around the interweb I was drawn to another "review" of a titanium bike. As it goes this one is sold by a company that is proud to have made the commitment to building 29er's for the last 9 years. That got me to dig into my memory about our start into "big wheels" and the birth of the Mooto-X Ybb in 1999.
We received our first set of WTB Nanorapters in 1999 with a request to build a softail frame around them. Word was there were only 10 pairs of tires in the US at that time so we went about designing and building a bike for the first 700c tire with mountain bike tread. First we had to identify a fork to use. V-brakes were the order of the day for stopping so the fork had to be built for 700c rims.
I knew Wes (Williams) and Bruce (Gordon) had built fork pieces for an RS-1 for some of the Rock and Roads Bruce built and Wes' personal bike, but we needed a product we could provide to our dealers and customers. In the Manitou warehouse there sat 100+ 700c compatible shocks. The Manitou 4 based design needed to have the elastomer bumpered travel limited so the tire did not buzz the bottom of the crown, but it was available.
So in 1999 we built it and rode it bringing it to the Interbike trade show and putting it into the model year 2000 catalogue as you see it here (drop bars and all). We saw this as the awesome gravel bike/monster cross and put it next to our Psychlo-X in the catalogue. Truthfully, for tight singletrack we preferred our 26" wheeled bikes, but on fire roads and doubletrack it rocked.
The summer of 2000 Moots followed the NORBA and World Cup races around the western US showing our wares in various parking lots and fields. At Deer Valley, walking through the Expo I introduced myself to Dan White of White Bros. My first question, have you guys thought of making a 700c compatible fork to fit the Nanorapter? He was positive they could do something, so after a summer of pestering him with random phone calls we installed one on our Mooto-X Ybb on the tradeshow floor at Interbike for model year 2001. This time we used flat bars touting it's all around ability on gravel roads and singletrack. In the catalogue it still sat next to the Psychlo-X because of the shared rim size.
Today we still produce, ride and sell the Mooto-X Ybb. It has matured into a great singletrack design with forks, tires and parts mating to our current frame design beautifully. Experience has taught us a lot over the years. Now in its 15th year of production we have never stopped updating and changing to improve the ride while holding onto one simple plan, build the best we can.