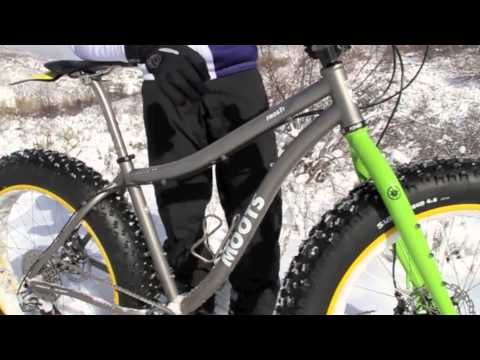 With winter headed our way, we've been out testing the NEW FROSTI 5" snow bike in Steamboat.  Since October 1st the ski area has reported 61 inches of snow fall! Looks to be a big season ahead of us.  All the snow fall has let us get out and start riding the normal routes on the snow bike.  First impression…the 5" is the money!
We are taking orders for both the 4" & 5" bikes with a December delivery.
Have a look and a listen to Nate and get ready for the white stuff.
Just about a week ago a pretty amazing person cleaned off his bench, turned in his keys and walked away from a storied career of helping others.  Peter Chisholm of Vecchio's in Boulder, Colorado was that person.  Peter to some, is Mr. Campy. The guy with the awesome mustache, the campy tattoo, the guy that would give you shit right back if you didn't know what the hell you were talking about. His BS meter is well tuned. He's one of the guys that disliked the move of our industry sourcing; bikes, bike components and pretty much all of the associated items being made in China.  "Crap" he calls it..You want a hand built set of wheels that will outlast you? Vecchio's is the place, Peter and Jim are the hands you want building them. This place is loose ball bearings, not cartdrige bearings, Eddy and Andy not Wiggins & Fromme….hand made tires, not mass produced, it's that type of place.  Beer in the fridge, coffee on, hot and black.
I had my first encounter with Peter when Moots was looking for a new dealer in Boulder. Peter had struck out on his own and envisioned a shop based on high quality service and great quality products they themselves really liked. One of the first calls I had with Peter was a bit strange, because he told me  …"listen here, we're going to be a dealer and here's why"….  He believed that Moots was and is doing the right thing, by building frames with the best materials possible, with the best processes possible to make a frame that would last. No "gimmicks" …"no marketing BS"  as he put it…much different than the main stream companies choose to use….basically products that had soul. All good quotes from Peter. Anyway, I got off the phone and to be honest, told my co-worker…"I'm a little scared of this guy"….I really didn't know how to take Peter at first as many have said over the years.  But once I fired back with a similar no bullshit tone and upfront honesty, we seemed to get along very nicely.  So it was.  Vecchio's Bicicletteria became a Moots dealer in 2000.
Peter knew what he liked and would come to the industry trade show to see what we had and to see the "crap" that was being force feed to so many others….  I made appointments with him and Jim to walk through the Moots line. One memorable meeting back when integrated headsets became the "thing to do", Peter looked me in the eye and said…."we're not going to see any of that crap today are we?"Or "no glued in carbon seat stays right"?…..No I would reassure him; we don't believe that is the best way.  He would say "good….we don't want to see that''…"good stuff you guys have here".  So we would walk through the Moots line and go from model to model and I would say, "we haven't changed anything with the xxxx model and he would say "why would you"…it's perfect" …don't be one of these companies that changes every year…we hate that.  "It's not needed"…."keep doing what you are doing" was another quote he would often hit me with when I walked through the doors at Vecchio's.  And as always, I'd have a 12 pack of bottled Peroni beer under one arm….those I believe are his favorites.
Now, I don't profess to know Peter better than anyone, say like Jim Potter, who takes over the reins full time at Vecchio's, but I do know enough about Peter to say he's a hell of a good guy.  One of the very few people our industry has that will speak his mind, when the rest are willing to go along like lemmings over a cliff.
Funny how time goes and you experience the highs and lows of life along with people you do business with…In Peter's case it was more than that…it was hearing the news of him being hit from behind while on his bike and the near miss he had with death that day.  Hospitalized and broken, Peter recovered and was back at it.  The doctors said that if he had not been in the drops when he was hit, he would have been killed. By being in the drops it helped absorb the impact.  I keep that in the back of my mind as I ride.  When I'm out riding I imagine his voice in my mind saying "get in those drops, they'll save your life"….so I get in the drops for as long as I can…..and turns out…they will save your life.  If not being hit by a car, then just pulling on the bars that little bit harder during a ride. Good for the soul.
Peter is gone from the shop, out riding on his own schedule, spending time with grand kids and enjoying those days of a much deserved retirement.  Don't worry, Vecchio's is left in great hands and will keep being a stand-out Moots dealer and that special shop that has been forever touched by a Patriarch.
Congratulations Peter!
See you on the road.