HAPPY THANKSGIVING FROM THE MOOTS CREW!
There are many things to be thankful for in this world.  During the holiday season we hope you are happy, healthy and sharing some quality time with the ones you love.  I jotted down a few of those items that come to mind around here. Without sounding too preachy here they are in no particular order:
1-Sunshine, I think John Denver sang a song about this..Yes, it makes you smile.  Get some.
2-Bike rides, no explanation here, long, short, really any ride.  Do one.
3-Family, whatever your family looks like, their yours. Love them.
4-Friends, the saying goes; you can't pick your family but you can pick your friends.  Have some.
5-Kids, we can learn loads from them.  If you don't have some, spend time with your friends' kids or nephews/nieces….laugh with them. Their way funnier that most adults.
6-Apples, because an apple a day keeps the doctor away.
7-Time here, for some it's short, for some it's long…don't waste it.
8-Change of seasons, it would be boring if it was the same every day.
9-Soft CX tubulars, because I'm a bike nerd…ride some.
10-Smiles, share one.
11-New days.  No matter how bad we sucked today, it's a new day tomorrow.
12-Strangers. You never know who you might meet.
Our dealer partner Bicycle Haus in Scottsdale, AZ just moved into a new home.  A bit more room, loads of natural light and beautiful fixtures highlight the new shop.  If you live in the area or are headed down south for some warm winter miles, stop in and check them out.  We are sure you'll like what you find.
Late November and there is a slight lull in the Cyclocross season for most to catch their breath and get ready to dig deep for the big push towards state championships and even a bigger push towards national championships.  A good friend of ours is taking his own "break" in the form of a family vacation to the islands;  Turks and Caicos to be exact.  Jamie Kripke shoots for Moots and creates the action photos you see on the site and in our catalog.  You've probably seen his work in other places as well, you just don't know about it.  He's shot an American Express commercial and also has shot other works.  Mostly outdoor activities.
This year Jamie and a friend of his are aiming to take part in Cyclocross Nationals in Boulder, Colorado in January.  A first for both of them and a goal to be 40+ and on form.  They have sought out a coach to be better prepared for the event, but mind you they have no thoughts of going PRO or ProMasters.  They just want to through down a good race in their home town.
Jamie travels a good deal for his work and a few years back he shot our stuff and took a trade in payment.  The barter system is alive and well.  What did he want?  He wanted a bike he could travel with and not get hit with heavy airline fees. He wanted a performance bike that could be assembled in the parking lot and raced just as hard as any other bike. He wanted a bike that could go on adventures with the change of tires….his choice? The Psychlo X with S & S couplers.
Now, Jamie has put this bike through its paces in North America, Europe and even the tropics.  He's landed in NYC and got on the train to Boston, then onto Gloucester.  Assembled the bike literally in the parking lot, pinned up his number and won the race.  Packed it back up and left the scene.  He and the bike operate like a hit man that has a precision rifle in a case only to be taken out and assembled when the dirty deed is at hand.  How does it work? Flawless is what Jamie says….the couplers, not even a thought when on course.
This past September Jamie and his wife took off for a long overdue couple's bike retreat to Italy.  Jamie once again packed up his rifle and away they went. For the road, he packs a smaller road tire that really makes this bike serve multi-duty, cross, road/dirt and beyond.  His wife uses a Ritchey Break-Away, but soon will be on the Moots program we are sure.
Is it possible to have a bike that does it all? Jamie seems to think so.  Come January he'll be lining up with the nation's best masters and unleashing that weapon in the box once again.
For now Jamie and family are taking in the warm sun of the islands, Psychlo X in tow.  And he's brought a little "home work" along for the trip:
Our cycling family just about lost a good one a few weeks ago.  Geoff Fenelon of Rockford, IL (nicknamed "The Doctor" by his close friends) has been a long time Moots owner, good friend and riding pal to many in the Rockford area as well as here in his adopted home away from home of Steamboat. Over the last year he had mentioned to me he really felt like "old age" had caught up with him and he felt slow and under powered. His friends noticed that when the group ride really put the hammer down, the usually at the front "Dr." was dangling off the back.  Not normal for Geoff. Now we all know getting older, things start to happen to our bodies and our limitations grow just a bit.  But this was more than just that.
Geoff  had been to the doctor and had normal physicals and checked out fine.  On he rode, still chalking it up to getting just a bit slower with age.  Geoff has a long history of being way above the normal physically fit American.  He Nordic skis at a very high level (think Birkebeiner) he cross country runs, tele skis and can kill it on the bike any day, any time.
Well, he was out a few weeks ago with the "Terrible Tuesday" ride in Rockford and from all accounts Geoff blacked out on the bike and crashed. He crossed 4 lanes of traffic and ended up in the ditch after a very hard impact. In the crash he broke; ribs, collar bone and sustained a concussion. What happened? Geoff had suffered a heart attack while riding and the impact of the fall was so hard, it restarted his heart on the site. His Garmin file shows exactly the point that his heart stopped and then started again. He was rushed to the ER and tests were run. As he was admitted the staff cut his entire Moots kit off of him, which really got Geoff mad.  Zippers people!
We all know how this cycling family takes care of its own at times and this is where the story gets really good.  The staff was moments away from discharging Geoff, when a good cycling buddy (who happens to be a cardiologist) got word Geoff was in the hospital.  He rolls through to see Geoff and wish him well.  He looks over the charts and asks where the EKG test results are?  None had been run.  The cardiologist friend steps in and takes over the case, has the tests run and finds that Geoff is running on about 30% of his heart capacity.  Blockage everywhere.  Genetics….it runs in his family.  They schedule surgery for a week later and Geoff undergoes a quintuple bypass. Talk about turn of events.
So now, two weeks since the surgery and Geoff is recovering and walking a little bit more each day.  He's an athlete and we all know how athletes can be.  He's impatient and bored.  He wants to ski, he wants to ride……he's chomping at the bit. Soon he'll be back to 100% and ready to take on life.  Riding and skiing just like he did before.  We are fortunate to have him with us and me personally I'm looking forward to buying the guy a beer and maybe dropping a tele turn with him by spring break here in Steamboat.
Back to his nickname to finish this off, (and I know Geoff would be the guy that would not want anything written about him, because…he's that way.)  A Selfless person to all.  Friends of Geoff's have called me to fill me in on Geoff and why they call him the "Doctor"…by trade he's an engineer, meticulous in everything he does, bike prep, ski prep, work….He's the guy that has a work space in his basement to care for all his toys.  He cares for them with surgical precision…and not just his, but his friends. Refuses payment other than maybe a Corona Beer now and then.  He's also the guy that stops for anyone that flats during the group ride.  Priding himself on how quick he can get the tube changed and get back on the road.
Geoff, we are really glad you are still with us.  Heal up; you are one of the good ones…thankfully it's not your time yet.
See you on the road soon!
Secret stash-
Hopefully you have one. That place where you turn laps, experiment with tire pressure, two wheel drift and let the imagination run.
One of my favorite parts of Cx season is the practice course.
Oak bottom ,Tabor, Pier Park, Randall's Island, Vancouver Lake all places I've invested hours turning laps.
One of my favorites was a tight course I'd practice while living in NYC. West Side park with it's tight turns around those iconic NYC Park and Rec garbage cans. Dodging joggers and dogs, and looks from people wondering what on earth I was doing.
My latest course in OlyWA- AKA "the secret stash" has quickly become a favorite. Who can blame me? last week I rode a flat half way home on a leaf covered trail and made a bike exchange in my own garage to finish the workout.
Here's to enjoying your own "Secret Stash"
Barrier sector in the Woods behind my home
Rhythm Single track Sector along the canal.
Wet covered leafs= perfect 2 wheel drift practice
Run Up-
HUP! HUP!
Our Northwest GrassMoots Team rider Patrick Wilder hits the nail on the head with this post….Secret Stash. Patrick participates in all disiplines of cycling and has completed several Rapha Gentlemen's Races from coast to coast.  You can read more about Patrick here: GRASSMOOTS-PATRICK WILDER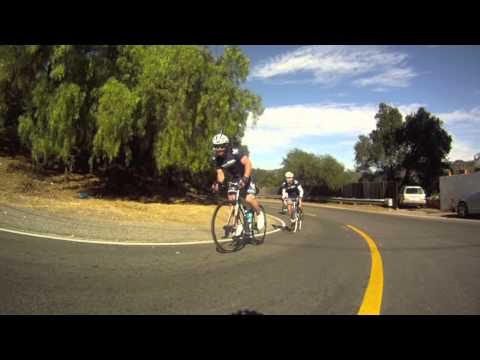 This past weekend we spent a sunny two days with our dealer based in Calabasas, California–Pedalers Fork and The Shop at Pedalers Fork.  This is a very unique setting based on a farm to table restaurant with an intergrated bike shop that sells only Moots bikes.  You can find all the other accesories you might need as well.   Mike Kalenda mans the shop and serves up top notch service, builds and advice on what might work best for your cycling adventures. He really knows his stuff. They have been open for 6 months now and have quickly established a great following for cyclist looking to start or end a ride any day of the week or build out that bike they have been dreaming about.  With the 10 Speed Coffee Shop serving up the caffine goodies what more could you need?
We hosted a mountain bike demo on Saturday that was a little short lived due to a "technicality" over a permit.  No worries though, we got everyone out on the bikes they had waited for and next time we'll make sure to pay off the rangers.
On Sunday we hosted a road ride demo from the shop, which did not require a permit! On hand were several Moots owners from the area and a demo fleet worth of test riders to log some great miles on those unforgettable twisty SoCal roads on some new rides that ranged from the NEW Vamoots DR, Vamoots RSL and Di2 equipped Vamoots CR's.
Robbie, who is a partner in the business guided us around the roads and of course the Southern California weather did not disappoint.
Thanks to all that took the time to come to the event.  Stay tuned as we look to do another event at Pedalers Fork in the Spring.
If you happen to live in the area or are visiting to log some warm miles, make sure to look Robbie, Gideon and Mike up, we think you will love what you find.
Frosti 5" for your winter needs.
Frosti 5" converted to 29+ for your summer needs.
So we've been posting some pictures and video of the NEW Frosti that can handle the 5" wide tire lately.  Yes, you can still get the 4" version and some choose to go that way.  But with the 5" version you can change out the wheel set for dirt riding to the 29er+ wheel size.  Pretty sweet right? Yep, pretty sweet.  When we went about designing the new 5" model we wanted to be able to fit the 29er+ for those that want to use this rig year-round.  So with a change out as seen above, you can install; a suspension fork (or stick to the rigid), 29er+ wheels and be off riding your favorite trails when the white stuff melts away.  The frame itself sports a 44mm head tube, 100mm bottom bracket shell and 190mm rear spacing.  Run with a 1 x 11 set up and it very well could be the perfect bike for all of your needs.
The frame retails for $ 3975.00
We are taking orders now for early winter deliveries.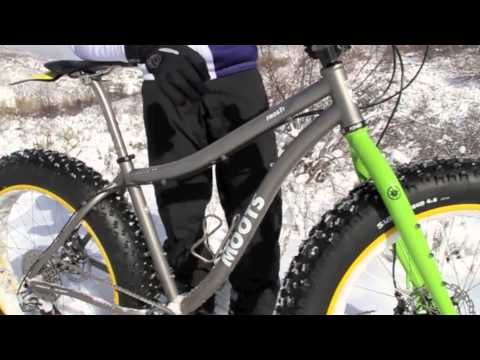 With winter headed our way, we've been out testing the NEW FROSTI 5" snow bike in Steamboat.  Since October 1st the ski area has reported 61 inches of snow fall! Looks to be a big season ahead of us.  All the snow fall has let us get out and start riding the normal routes on the snow bike.  First impression…the 5" is the money!
We are taking orders for both the 4" & 5" bikes with a December delivery.
Have a look and a listen to Nate and get ready for the white stuff.
Just about a week ago a pretty amazing person cleaned off his bench, turned in his keys and walked away from a storied career of helping others.  Peter Chisholm of Vecchio's in Boulder, Colorado was that person.  Peter to some, is Mr. Campy. The guy with the awesome mustache, the campy tattoo, the guy that would give you shit right back if you didn't know what the hell you were talking about. His BS meter is well tuned. He's one of the guys that disliked the move of our industry sourcing; bikes, bike components and pretty much all of the associated items being made in China.  "Crap" he calls it..You want a hand built set of wheels that will outlast you? Vecchio's is the place, Peter and Jim are the hands you want building them. This place is loose ball bearings, not cartdrige bearings, Eddy and Andy not Wiggins & Fromme….hand made tires, not mass produced, it's that type of place.  Beer in the fridge, coffee on, hot and black.
I had my first encounter with Peter when Moots was looking for a new dealer in Boulder. Peter had struck out on his own and envisioned a shop based on high quality service and great quality products they themselves really liked. One of the first calls I had with Peter was a bit strange, because he told me  …"listen here, we're going to be a dealer and here's why"….  He believed that Moots was and is doing the right thing, by building frames with the best materials possible, with the best processes possible to make a frame that would last. No "gimmicks" …"no marketing BS"  as he put it…much different than the main stream companies choose to use….basically products that had soul. All good quotes from Peter. Anyway, I got off the phone and to be honest, told my co-worker…"I'm a little scared of this guy"….I really didn't know how to take Peter at first as many have said over the years.  But once I fired back with a similar no bullshit tone and upfront honesty, we seemed to get along very nicely.  So it was.  Vecchio's Bicicletteria became a Moots dealer in 2000.
Peter knew what he liked and would come to the industry trade show to see what we had and to see the "crap" that was being force feed to so many others….  I made appointments with him and Jim to walk through the Moots line. One memorable meeting back when integrated headsets became the "thing to do", Peter looked me in the eye and said…."we're not going to see any of that crap today are we?"Or "no glued in carbon seat stays right"?…..No I would reassure him; we don't believe that is the best way.  He would say "good….we don't want to see that''…"good stuff you guys have here".  So we would walk through the Moots line and go from model to model and I would say, "we haven't changed anything with the xxxx model and he would say "why would you"…it's perfect" …don't be one of these companies that changes every year…we hate that.  "It's not needed"…."keep doing what you are doing" was another quote he would often hit me with when I walked through the doors at Vecchio's.  And as always, I'd have a 12 pack of bottled Peroni beer under one arm….those I believe are his favorites.
Now, I don't profess to know Peter better than anyone, say like Jim Potter, who takes over the reins full time at Vecchio's, but I do know enough about Peter to say he's a hell of a good guy.  One of the very few people our industry has that will speak his mind, when the rest are willing to go along like lemmings over a cliff.
Funny how time goes and you experience the highs and lows of life along with people you do business with…In Peter's case it was more than that…it was hearing the news of him being hit from behind while on his bike and the near miss he had with death that day.  Hospitalized and broken, Peter recovered and was back at it.  The doctors said that if he had not been in the drops when he was hit, he would have been killed. By being in the drops it helped absorb the impact.  I keep that in the back of my mind as I ride.  When I'm out riding I imagine his voice in my mind saying "get in those drops, they'll save your life"….so I get in the drops for as long as I can…..and turns out…they will save your life.  If not being hit by a car, then just pulling on the bars that little bit harder during a ride. Good for the soul.
Peter is gone from the shop, out riding on his own schedule, spending time with grand kids and enjoying those days of a much deserved retirement.  Don't worry, Vecchio's is left in great hands and will keep being a stand-out Moots dealer and that special shop that has been forever touched by a Patriarch.
Congratulations Peter!
See you on the road.