Back at the end of August Moots made the trip to Germany for what is the World Championships of bike shows….Eurobike.  Held in Friedrichshafen Germany, which sits on the edge of a giant lake that is surrounded by, Germany, Switzerland and Austria.  A beautiful setting to say the least.  At times during the week it was hard to remember what time it was and that we were even at a bike show.  Long days on your feet while battling jet lag made for some interesting napping locations.  But hey, I'm not complaining by any means.  To this day it's amazing to me how the bicycle can bridge language barriers and cultural differences so easily.  I've said it before and I'll say it again, the bike is the international friend maker.  If we don't speak the same language hand gestures and body movements can easily get the point across that we all love to ride.  Another point that was clear to me during the show was how much people appreciate handmade; blood-and-sweat-poured-into-it-products, even across oceans of space. People do really care about products that are well made no matter where they are from.
During the show we were able to get out and do a couple of short rides with the fine folks from Rapha, which really made working and traveling those long hours worth it. The stories and people we met during our trip are too great to put into words, but below is a collection of photos that we took along the way.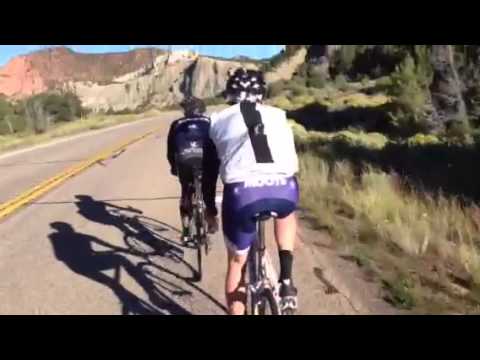 Ah, yes the lovely place that is Las Vegas.  The host of Interbike for the past 16 years.  This year, in my opionion did it right.  We stayed off the strip, away from the casinos and  cigarette smoke and we even managed to ride those bikes we make.  What? Ride bikes? Yes, it's what we love to do….about as much as making them. We all returned home none the worse for wear….tired yes, better than usual….yes.  Those bike rides helped for sure.
We gathered a small amount of photos of our travels, which you can view here: MOOTS FLICKR-VEGAS
Look for new updates on MOOTS.COM this week.
The race where it all began. The course took an unusual detour through an elementary school gymnasium.
European based GrassMoots racer Dan Seaton has had a rough go of it, but through it all, he's found a new love for the bike….he writes:
It's about love, this relationship, though sometimes we forget it. We make it about something else: suffering or glory or just plain desire. We ride our bikes to win, to achieve, to push ourselves beyond some previously impossible limit, and in so doing, lose sight of what first drew us to the bike in the first place.
We all know it, and, of course, we all do it sometimes. Our motivations shift, we find different reasons to ride our bikes, and there's nothing wrong with that. Still, I've been reminded recently of the pure delight of achieving symbiosis with a bike that loves you back and it has changed the way I ride.
My story starts on a brisk, sunny Sunday last November, on a fast, technical cyclocross course on the banks of the Meuse river, which flows northwest through the hilly Ardennes region of Belgium. I was excited about my chances on a compact, grassy course well-suited to my strengths, and the race got off to a very promising start. But on a tricky, off-camber turn where the course transitioned from grass to pavement, my front wheel slid out from under me and I tumbled hard, head-over-heels, onto the road.
The crash effectively ended my 2012 cyclocross campaign. The fall aggravated a back injury that had been nagging for weeks already, and, as one of the foulest Belgian winters in recent memory took hold, between the pain and gloom and rain, my passion for the bike dribbled away. I realized, a few weeks later, that I was riding like a zombie, pedaling, empty and unmotivated, with no love at all. I hung the bike up, turned my attention to covering the growing excitement of a pro cyclocross season that would, for the first time ever, climax with a world championships in America, and took my longest break from cycling in more than a decade.
Our back yard and how it looked for much of the winter. An unusual sight in a country where snow is a rarity.
Europe, meanwhile, sunk deep into a winter that would not release its grip. Cyclocross season ended under a blanket of late February snow and road season barely sputtered to life. They canceled the spring semi-classic Kuurne-Brussel-Kuurne. A month later they nearly canceled Gent-Wevelgem. The Ronde van Vlaandered started in sub-freezing weather. And, meanwhile, my own spring of cycling got fitfully underway. I rode heavily bundled, often interrupted by snow and rain.
But the winter finally broke, roughly at the same time as Fabian Cancellara was winning his third Paris-Roubaix. April blossomed and I, reenergized after a long hiatus, uncorked one of the hardest months of training I've ever done. I suffered and pushed, practically willing myself back into shape. I wish I could say this was the moment I rediscovered my love for the bike, but it wasn't. I was still preoccupied by form, by effort, too focused on wringing every possible drop of pain from my riding to remember to make room for joy.
Maybe it was this preoccupation that led to the fall a few weeks later. It was not one of those slow-motion accidents cyclists know so well, the kind that starts with that impossibly long moment in which we realize the ground will get the better of us no matter what we do.
Rolling downhill, fast, the ground got me before I even knew anything had gone wrong. I landed hard. My left arm hit first, then my face. Then the rest of me, crumpling awkwardly onto the road.
As soon as I climbed to my feet I knew it was bad. There were too many bystanders, too many people offering help for it to have been a routine road rash and bruises affair. Though I felt little pain as a dragged myself and my bike to the curb, I could already sense what was to come, spiraling outwards, inevitably: the police, the ambulance, the phone call to my wife — a message delivered as calmly as possible, "I'm ok, don't worry, but they're going to take me to the hospital."
A week after coming home from the hospital. Starting to heal up.
Then the X-rays and IVs and stitches, surgical consultations and long, uncomfortable days in a hospital bed. Wednesday night turned into Thursday, Friday, and — finally — Saturday morning. 56 hours after I first arrived at the hospital I walked home, my left arm bolted back together with several screws and a metal plate.
Evidence from my rough encounter with the road in May.
The final medical report says I both fractured my forearm and dislocated my wrist, an uncommonly serious and difficult injury, according to my orthopedist. I sustained extensive abrasions over my whole body and a laceration above the eye. Amazingly, my helmet was barely scratched so, fortunately, I had not even the slightest sign of a concussion or brain injury.
For many people, this may have been the moment to step back, to reassess goals and think about why I was riding. Not for me. Still focused on form and training, a few days after I came home I rebuilt my bike one-handed, dragged my trainer out onto our patio, and started pedaling in place, sweltering in the bright May sunshine. First I just pedaled, then pedaled hard, then started doing intervals.
Because surgery had more or less repaired the damage to my arm, I wore only a brace, no cast, and three weeks after my surgery, the doctor cleared me to start riding on the road again. I worked my way back from easy 45 minute trips to three hour epics with 1200 m of climbing, all the time maintaining singular focus on the form I hoped would lift me to great things when cyclocross started again in September.
Then: today.
I'm ticking over a nice, relaxed tempo with my friend David on a bike path that follows the canal out of Brussels and towards the industrial cities of southern Belgium when a guy I don't know pulls alongside me.
"We're going to a group ride," he says in enthusiastic French. "You have to come with us!"
I dither. It's been a long time since I've ridden in a group, and we have a workout planned, steep Flemish hills to climb. But he's persistent.
"It's a good ride," he says. "Lots of people. Really nice roads."
We follow him to a nearly deserted suburban street. A few other cyclists ride a lazy loop back and forth along the short city block, waiting. At 5:30 we roll languidly out, perhaps a dozen of us.
This is not what I was promised, I think skeptically.
But then we turn the corner and a few more people connect with the back of the group. Another corner, another few. Twenty minutes into the ride I turn around and see a train of people that stretches backwards as far as I can see. The pace is friendly, the evening is cool, bathed in golden sunlight, and the roads are perfect little Belgian roads. We wind southwest, snaking between the dairy farms and cornfields that dot the Flemish countryside.
An hour into the ride it hits, as hard as the pavement now those many months ago: today I have regained something that had been lost for a very long time.
I am not thinking about training. I am not thinking about suffering or injury or victory. I am just one of a multitude—perhaps a hundred cyclists by this point—flying across the countryside under the fading August sun.
Just after my first ride on the road. I spent my first few weeks back on the road on my cyclocross bike; the more forgiving position and geometry helped keep my not-fully-healed arm more comfortable.
It's about love, this relationship. It's about me and my Moots moving in perfect harmony, so close that the bike ceases to be an external object and instead becomes an extension of myself. Everything—all the work I've done, all the pain I've endured these many months—fades away behind me and ahead is nothing but this perfect late-summer evening, a hundred brand new friends, and the open road.
Kelly Boniface is a key member of our GrassMoots Team and a stand out of all things that you want in an ambassador and all-round good human being.  She's been laying low off the race circuit this season, but trust me, she's been doing some super pulls in the game of life.  She writes in….
Did you retire?
I've had that question posed to me quite a bit this summer.  Hmmm, how do you retire from something that defines a part of who you are as a person?
I've been a competitive athlete for as long as I can remember.  Aside from a couple of pregnancy years (which is an athletic feat if there ever was one) I've always found myself with some kind of race on my radar.
But, this summer has been different.    As the spring unfolded it became clear that circumstances in my personal life were going to make traveling around all summer to bike races impossible.  I needed to make a shift in my priorities. Instead of looking forward to riding my bike I was trying to schedule it into my day because I "had to."  That's not me, that's not why I ride and that's not why I race.  I race because I like to, but more importantly, I LOVE to ride my bike. So, I put my heart rate monitor in the dresser drawer and just rode my bike.  For fun.  With friends.  Or solo.  I rediscovered my love for the soul ride.
Look how happy I am!
My daughters are now athletes themselves.  Many of my weekends have been spent watching soccer games, swim meets and dance recitals.  Here I am getting in a few quick Lunch Loops at a youth soccer tournament in Grand Junction.
I've also been coaching for the Steamboat Springs Winter Sports Club Cycling program.  "It's a Girl Thing" is a new program focused on teaching tween girls the joys of mountain biking.  A perfect fit for me! Here we all are (my older daughter is in this cute posse, too.)
So, the answer to the question is "no, I'm not retired."  My days of racing every other weekend all summer may be over, but I'm still a mountain biker that loves to ride her bike.  You can't retire from that!  And, I'm CERTAIN that I have not strapped a number plate to the front of my bike for the last time.
This last week we had a dear friend, co-worker and overall amazing person here at Moots move along to the next phase or chapter in her life.  It's interesting how time goes along, just the other day Amy was starting her life here at Moots as our front line customer service point person.  She was thrown into the fire to say the least. Life on the phone can be a busy place to start out, but she handled it with style.  Most always with that killer smile of hers. After a couple of years of dealing with us bike nerds and our ways of details, UPS deliveries of new parts and pretty much geeking out at all things bikes, she wanted more.  She wanted to weld.  Amy was use to working with her hands as one of the best pastry chef's in town.  Laying down the batter and beads of icing was a passion for her and something she excelled at.  Just ask any of us here at Moots what we liked most during those times and it would be without doubt the "Amy made some crazy good'' (insert any of the following: cookies, muffins, cake, and so on)….She was also known if you were REALLY lucky to bake you a birthday cake.  She baked me a cake for my Masters Cyclocross Worlds efforts…..how cool is that?!
So Amy took those skills and her patients to the welding department here at Moots.  She attended a 2 day class at UBI on the basics of welding, which teach you how to turn on the machine and how not burn yourself.  Amy returned to Moots and took her spot in the welding department.  What came from her hands from there on out was perfection…which Amy would argue; ''there is no such thing as perfection''….which is why she was a Moots welder.  Always striving for and chasing the perfect.
We lose her not to another company, not to another industry, but to school.  Amy come to find out has a big aptitude for math.  So she leaves us to further her knowledge of Applied Mathematics and Atmospheric Sciences at the University of Colorado in the Republic of Boulder. We'll miss her, but know she has a very bright future ahead of her.  We have 5 other welders to pick up the slack but will always have an open chair for her when she stops in.
I'd also just like to throw this out there as well…. and I mean no offense to the fine people of Boulder. …….I know a lot of you there in that town, and I'd like you to know what a great person Amy is and how lucky you are to have her…..treat her nice or we'll come crush you.
Amy, good luck, watch your back and please come see us every now and then.