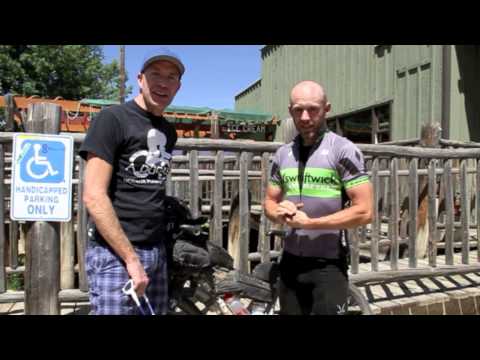 We caught up with Scott McConnell just north of Steamboat this morning.  The Clark Store staff has been following all the racers as they come through.  A great place to refuel.Scott is doing really well in his first attempt at the Tour Divide Race.  Scott is riding single speed, fully rigid Mooto X, with all the bike packing grear he needs to make it on his own.  He said today is the first day his legs did not hurt!  It must be that his Moots is so close to its' birthplace!
Go Scott, Go!
In just a matter of a couple of days a group of hardy souled cyclist will push away from Banff, Canada to set our on this years Tour Divide route.  It's the same route year after year with very small deviations depending on snow pack and road construction.  At Moots we have close ties to this event.  The 2745 mile course travels through the area we live in and comes just 200 yards from out front door.  Many of the riders on course make a stop to share their stories and sit in the shade of the building.  Another tie we have to the event is the number of Moots bikes that have made this journey along the divide. Some in it for the fun and adventure, some in it to chase the win.  This year there is about 6 or so Moots bikes pushing away from the start on Friday June 14th heading south.  As they make progress towards Steamboat we'll update on our friends and those that choose to stop in for a spell here at Moots.
Moots in The Tour Divide 2013:
Andrew Carney: Carbondale, CO (MX 29 hardtail w/gears)
Scott McConnell: Nashville, TN (MX 29 hardtail single speed)
Yair Nahmias: Israel (26" Ybb)
Father & Son duo (both on 29 Ybb's)
For now we have our GrassMoots hard man Andrew Carney posting this lead up to his Grand Départ on Friday.  He's rolling his Moots MX 29 hardtail to the start line this year.  Can't wait to see him pass through Steamboat.
Andrew writes:
"It seems like just yesterday I was shivering in the cold winter chill of Summit County day dreaming of racing Tour Divide this summer, however; time has flown by and I am currently just a week and change out from pointing my bike south out of Banff. I am ready as you can ever be for an undertaking like this, but when staring down the barrel of 2,745 miles and a mind numbing 200,000 vertical feet of climbing can you ever really feel prepared?  You pack, repack, check, recheck, tweak, change, research, and prepare until your eyes bleed and then suddenly one day it's just time to go.
I can't yet completely wrap my head around the entire route nor do I really want to. Sure, it's a race and I fully expect to experience soul crushing lows and silly giddy highs however I really am out there for the experience of traversing the county (and then some) via bicycle and seeing what my limits are both mentally and physically.
So, starting the morning of June 14th you can follow along as I drag this beast up and down the Rocky Mountains in search of a comfy patch of ground to lay my head in for a few hours that night.
You can track Andew here: TOUR DIVIDE LIVE TRACKER
It's always nice to see the people that carry our bikes ride them.  They have access to any brand they carry, so we always feel a very special connection when they choose ours as thier personal ride.  Here's a quick look at Kevin Schwartz at Belmont Wheelworks and his Vamoots CR:
RIDER: Kevin Schwartz
Position at Belmont Wheelworks: Sales
SHOP: Belmont Wheelworks, Belmont, MA Moots Dealer and historic shop: BELMONT WHEELWORKS
BIKE: Moots Vamoots CR
THE BUILD:
Saddle: Specialized toupe expert Ti
Post: Moots Ti
Handle Bar: Enve carbon 44 cm
Stem: ritchey wcs
Headset: Chris King
Fork: Moots
Wheels: Mavic Ksyrium SLR
Tires: Yksion Pro
Crank: Campy Chrous carbon ct
Shifters: Campy Chrous Carbon
Rear der. : Campy record
Front Der.: Campy record
Brakes: Campy Record
Pedals: Shimano Ultergra
Quote from Kevin:
"First words I said when  I walked in the door this morning from a good fast ride " MOOTS MAGIC!!"  Incredible ride!!"