Josh Cady gets his miles where he can, when he can.  Like a lot of us our commutes can help add some much needed milage, when time is tight. Josh flys the Moots flag on the GrassMoots Team…he writes:
…..It's groundhog day.  Again.  Living in Los Angeles makes everyday feel a lot like the day before.  Cycling here can either make you complacent or motivated.  After being moved here for work two years ago, I chose to be motivated.  I'm not sure if it is the weather or the location, but there is a lot here to be thankful for.
I get to ride to work every day of the year.  Sometimes that means I follow a familiar, less inviting path
but a lot of times I find myself on my cyclocross bike, burning up the local fireroads prior to reporting to work.
The majority of the time I'm riding my Moots Psychlo-X RSL.  I'm continually challenged in the local road, mountain, and cyclocross race series so I feel like getting on the Psycho-X covers all the bases.  In the summer I switch out the front chain rings and run a 50/38 or 53/39.  In the fall/winter, the bike gets prepped and run in a pure cross setup.  This year, with Cyclocross Nationals close to home, I've let the bike stay setup in cross mode a little longer, something I'll be dialing in until January 2014.
Where ever you are, getting up early to ride is often a good idea.  Here in LA, you get a little more for your money.
Sand, sun, green grass and bike racing! This all sounds really good to us just as we get nailed by yet another "spring" winter storm.  Oh the humanity.
Moots will be attending the 2013 SEA OTTER CLASSIC on the sun drenched hills of Monterey California.  We'll be showing our NAHBS Award Winning Trail Maintenace Bike, complete with chain saw, as well as our 27.5 YBB.
We will also have demo bikes on hand for you to check out.
Stop in and say hello, we'll be under the Moots flag!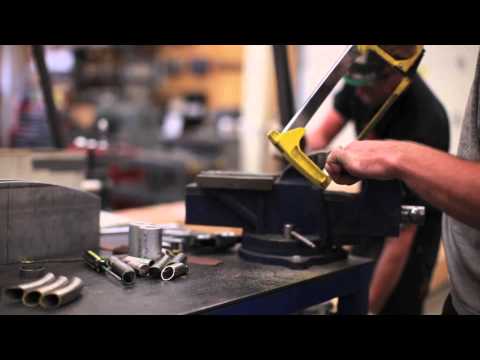 This Friday, Saturday and Sunday the worlds finest handmade bicycles will be on display at BESPOKE BRISTOL-UK.  Our outstanding Moots Dealer, Mosquito-Bikes in London will be on hand to display our craft.  The show itself is standing room only and is a wonderful time to get up close to the amazing details that run through our hand crafted industry.  Steel, carbon, titanium and alternative materials will be on display.  Please make your plans to attend and bring a comfortable pair of shoes.
You can find the fine folks from Mosquito-Bikes in booth number 61.
Mosquito Bikes location in London, England.
123 Essex Road
Islington
Just prior to the North American Handmade Bicycle Show we had the chance to show the crew at Velo (Velonews) around our place.  Last summer several of them had come to stay with us to relax and ride.  This time around we went into an in depth Moots tour.  Showing them just how we build our bikes and explaining to them some of the things that guide us in design, technique and our small mountain lifestyle.  You can pick up a copy of the May issue of VELO to read the entire special section on a select group of small frame builders.  For now you can click on the link to our story titled "The (Little) GIANT, we hope you enjoy it.
VELO MAY 2013—MOOTS "The (Little) GIANT
By now you may have seen the coverage of the North American Handmade Bicycle Show or NAHBS and our project bike called the Trail Maintenace Bike.  We though it might be nice to give you a little insight to the background, build and just how this bike came to be.
IN THE BEGINING
Let's back up to late September 2012…you remember…late summer, warm weather with Fall colors right around the corner.  Back then the idea of a project bike for NAHBS came up around Moots.  We don't often go down this road of one off-show-specific-bikes….it's just not our nature.  Building show specific bikes takes a lot of time that pulls us away from our normal builds, that keep our dealers and customers happy. One feeling that really drove this project from the start was that it would be a REAL-USABLE-BIKE in the end….meaning that when the snow melts, we'll be out maintaining our trails with it, and also loaning this rig out to our local trail club for trail days and hopefully passing the bike around to other trail days beyond Steamboat. Plus the crew put in loads of after-hours work on this….a labor of love and dedication. So off we started……
We invited our local IMBA chapter club (The Routt County Riders) and some good folks from the IMBA Headquarters office in Boulder, Colorado. We sat down with this group of people and asked a list of questions to base the direction of this build.  First and foremost we needed to know what tools it would need to carry.  The list of key tools was made and then we moved onto the plateform that we would use….Wheel size.  29er plus…not a fat bike, not a normal 29er….bigger tires to spread the load and carry both equipment and rider to thier destination with good ride quality.
DESIGN
Once the basics where covered off on, the crew here at Moots starting laying out drawings (really big drawings) for the frame work.  The tube set started coming together….some of our tubing and spec choices:
44mm head tube
100mm bottom bracket shell
Moots Custom built Titanium Fork 1 1/4" diameter, smooth gentle curve, with Paragon 9mm drop outs 135mm front wheel spacing
1.64" downtube
1.64" top tube
Rack material: 3/8" tubing
Chainsaw bar gaurd: 3/8" double wide, custom bend
7/8" Chain stays….extra long, extra stout
7/8" Seat stays large diameter and curvy
170mm rear wheel spacing
Rabbit Hole 29+ rims
Shimano Saint 4 piston disc brakes front & rear with 203mm rotors (post mount on both)
Shimano Xtr clutch rear der
The crew wanted to show off there skills and what was possible in tube forming, joining and one-off customization.  The frame itself borrows several ques from our stock line of bikes…curved tubes in large diameter, machined parts of perfection, a custom chainsaw bar-gaurd as well as two custom racks to handle any load…(in this case a chain saw and rouge hoe….and "beverages").
Custom built titanium bar gaurd.
3/8" Tubing for racks, front & rear…31.8 stem clamps to hold hoe handles…
Engraved Mr. Moots and welded in place racks.
The crew at Moots is very happy the way the project turned out.  As Spring rolls our way we will be planning trail work days in Steamboat and looking at ways we can tie other IMBA trail days into the use of the bike. BUILD IT. RIDE IT. IMBA played a big part of the inspiration of the build of this bike.  Our hope is that this will move more people to get involved with their local trails and groups that make it possible for all of us to enjoy those trails that get us outside, riding and smiling.
You can learn more by clicking IMBA and find out what is happening with the trails in your area.
We are also selling a LIMITED EDITION MOOTS/IMBA/ROUTT COUNTY RIDERS T-SHIRT with all proceeds going to these two great organizations. Get yours today!
You can visit our MOOTS FLICKR account for many more photos of this great build.
There we have it…the first "bad ass" ride award of the month.  If you follow us on Strava in the Moots Riders Club account you could be a winner just like Nathan. Not the longest ride, not the most vertical, not the most "epic"….just a really good ride.  This one qualified on many fronts.  The distance is nice….69.5 miles…the perfect lenght to almost make you want to be off your bike late in the ride.  Climbing…yes, there was some of that, but not a ton.  The real determining factor comes in the form of a broken spoke, flat tire, bike change and then friends willing to wait for you to rally. Determination to ride for sure.
Nathan wins a nice selection of Moots Schwag from the Schwag lock-up here at Moots.
Stay tuned and keep riding….our next Strava-Schwag-Ganza will be April 15th.