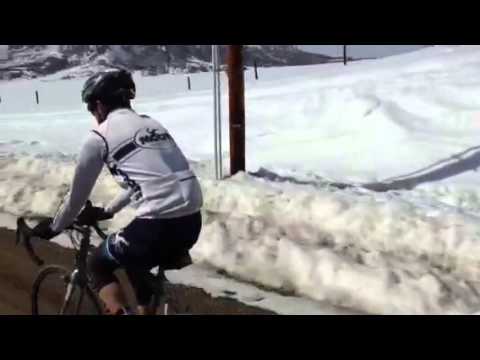 Spring is officially here! We have been doing our part to help it along by getting out on some rides.  The snow banks are giving way to earth that has not seen light since November…a welcome sight.  The pavement and dirt roads around the Yampa Valley are riding great.  Now we need our first 50 degree days to really get things rolling.
This short video was shot on March 8th…a Friday Moots shop ride…nice to stretch the legs.
You know we are huge fans of cyclocross bikes here at Moots right? Yes, we are.  The versatility of this bike is amazing.  A recent event done by a self proclaimed Moots Fanatic pushes that point home.  Michael Saenz lives in Edmond, Oklahoma and has his sights set on The Dirty Kanza…for a fitness and gear check he knocked off what he calls a "prelude"….
Land Run 100 – a Prelude to Dirty Kanza
By Michael Saenz, a Moots Fanatic
So I am a huge fan of all things bicycles.  With this in mind, I've been paying a lot of attention lately to the wildfire-like spread of gravel grinder events popping up across the country.  Reading about riding these gravel roads with hundreds of miles of virtually traffic-free routes really took me back to the basics of bicycle riding – carefree exploration.  I felt like a child again with youthful exuberance and the anticipation of adventure and I hadn't even set foot on a gravel road yet!  I just knew that after 25 years of bicycle riding I needed to go outside my comfort zone and give this a try.
Of course, I've never been one for moderation, so I hopped right on the bandwagon and signed up for the granddaddy of them all – Dirty Kanza.  We all know signing up is the easy part.  Now, I needed to prepare.  I would need a bicycle that could handle the gravel roads as well.  This choice was a no brainer for me – I looked no further than the good folks at Moots.  Having ridden the Vamoots now for several years and absolutely loving everything about it, I decided to re-engage the formula N – 1 (N being the number of bikes before your spouse leaves you for buying too many bicycles) and order a Psychlo X.
As for preparation, I signed up for the inaugural Land Run 100 out of Stillwater, Oklahoma.  I sent out email after email to my ride group buddies hoping to recruit a few cohorts to share the experience.  I received a few "maybes," but no definites and so being somewhat naive, I continued to push on in preparation for going it alone.
Land Run 100 is promoted by District Bicycles in Stillwater, Oklahoma and took place this past March 9th.  The route was designed to highlight some of Oklahoma's best gravel and dirt roads with over 5,200 feet in elevation gain over the 106 mile route; setting out to prove Oklahoma is anything but flat.  The race proved to be epic in the truest sense of the meaning!
In the days leading up to Land Run 100 I noticed increasing rain chances.  Anyone even remotely familiar with Oklahoma red dirt knows that water and clay-based soil don't mix and result in a gooey mess completely unfavorable to riding a bicycle.  I watched the weather forecast like a hawk contemplating not riding.  However, I'd already told everyone I know about riding the ride.  Forget about being stuck in a mud pit during an unsupported ride in the middle of the boondocks, there was pride at stake now so I had no choice but to push on and show up for the start.
Driving to the start I was met with drizzle and a forecast calling for 90% chance of thunderstorms.  I began to overlook the drizzle as the realization set in that I'd been so fixated with the rain I did not even think to consider the 18 mph headwinds that awaited us for the start.  I began to question my decision to ride and thought maybe I should have ridden gravel more than three times leading up to Land Run 100. That's ok, I still had youthful exuberance as seen in this photo.
Well, as 121 riders lined up for the 8am start, we had a nice rain shower to send us on our way.  Fortunately, the rain at this point was brief and didn't impact the roads, but certainly made us question what was in store for the day.
The first leg of the ride took us 57 miles on a mostly Southern route to the town of Carney where we were to check in to get our map for the second leg of the ride.