This weekend kicks off the Shimano New England Cyclocross Series.  This historic series leads racers to the hallowed grounds of Gloucester, Ma to the legendary Roger Williams Park in Providence, RI the following weekend.  The series lasts well into December and is the stomping grounds for some of the best racers in the country.  If you happen to be so lucky to race this series you can count on some pretty amazing neutral support from Shimano. But take a closer look at the Shimano set up and you will see a fleet of Moots Psychlo X cross bikes ready for you to use, if yours should fail you.  Stop in and kick some tires, chat with the Shimano folks and take a Moots for a drive around the course.
The Moots fleet will be in New England for the entire season.
For those of you that are from the left coast, have no fear.  We are just now delivering a Moots cross fleet to the Pacific Northwest Shimano neutral support crew and will have those, Di2, disc brake equipped bikes at the ready as the major series get rolling in that part of the country.
Shimano will also be returning to Cyclocross Nationals in Wisconsin as well as Masters Worlds and Elite Worlds in Louisville, Kentucky with a combined Moots fleet of 12 bikes in the neutral support area.
We'll be updating soon with a more defined Shimano schedule of events throughout the Cyclocross season.
HUP! HUP!
GrassMoots Racer Andrew Carney writes in about a race that was moved due to the fires this last summer and taking a bacon hand-up….bike racers that smile and good people that put on great events.
Andrew is based in Carbondale, Colorado.
Early last spring I signed up for the 40 in the Fort race in Fort Collins and at the time figured that racing single speed was a good plan. After a few pre-ride laps on the course it was pretty obvious that the course was a very technical one with plenty of climbing. Roughly 7,000 feet in a scant 40 miles.  Sure they were my backyard trails for several years, but dang, that's a lot of up for only 40 miles. When the High Park fire started in June and shut down both parks West of Fort Collins the race date was moved to this past weekend so I made the trip back to town to race.
After the start I made it up to the top of the first climb in 5th position overall, however I've been really good at crashing lately so I was a bit hesitant descending and allowed a bit of a gap to form on the first descent not wanting to push things too hard until I got some confidence back.
Once back to the valley I noticed that one of my water bottle cages was about ready to fall off. Not wanting to have to pick through the weeds looking for bolts if it came completely off I opted to stop and tighten it thus allowing a few more people past me. Once everything was tight again I chased hard and made up some good ground but also worked myself over as well.
My very good friends Stacy and Dan had once again set up their renegade aid station, Bacon Hill, and were busy handing out bacon, doughnuts, bacon-doughnut sandwiches, and all sorts of other items you really don't crave at the top of a wicked steep climb. Racers would pass through their little slice of real estate 4 times total and would risk getting shot with a marshmallow out of a slingshot each time.
Even if I had refused the bacon, I'm fairly sure that Dan would of tackled me and forced it down my mouth so of course I took a few bacon handups. From about halfway through the first lap on I would pretty much ride alone and couldn't seem to make up any ground on those ahead of me.
In the end I finished up 2nd overall in the SS class and someplace around the top 10 overall I believe. Big thanks to Overland Mountain Bike club for a great race and to Stacy and Dan for running what is perhaps the most amazing aid station ever and reminding all of the racers to put a smile on their face…..and eat some bacon.
Dan Seaton roosting to a better than expected result…..
Our European based GrassMoots racer Dan Seaton gets his Cyclocross season into gear with a visit to his favorite race. It seems his less-training-more-intensity-approach is working. He writes…..
I went out to one of my favorite Belgian races, in Knesselare, last
Saturday. After becoming a dad in the middle of last season, I've had a lot
less time to train — though I've used the time I had to train very, very
hard — so really I wasn't sure what to expect in my first race since
January. But it actually went very well. The race organizers changed the
course a lot since last year, removing some long, power sections in a cow
pasture and adding a huge section of really fun whoop-de-doos to a course
that already had it's share of little ups and downs. They also added a
totally classic Belgian 'cross feature: a massive pile of dirt, maybe 15
feet tall, with a steep approach and a nearly straight-down plunge back on
to the course on the other side.
Anyway, after chatting with a guy who drove down from Sweden for his first
taste of Belgian 'cross for a while, we lined up and pretty quickly got the
gun. I didn't do anything spectacular, but I got into a group of guys who I
was not usually able to stay with last year, stuck with them until the
moment seemed right, and then rode them all off my wheel. So it felt like a
solid start to the season.
This year's calendar in Belgium is a little sparse early in the season, so
I'll take next weekend off from racing and spend some time gluing tires and
getting organized to start another season of writing about pro 'cross in
Europe for VeloNews.com, and get back to racing in Antwerp the last weekend
of September.
Simon's Psychlo X Disco based largely around a stock PX, with 44mm head tube…..18.4lbs.
As Cyclocross season looms, racers are dialing in what they will ride for the season that for only the second time in US history will take us deep into January.  This season looks to be a good one.
Around the Moots shop the Cyclocrossers have been dialing in bikes for a good while.  This week we take a look at Simon Demby-Myers new Psychlo X Disc.  We have been doing disc brake mounts on cross bikes before it was the rage…..and believe me, this year it's going to be the rage.  Unless you are an old school-got too many wheel sets-and cantis-rule kinda person, you should really check them out.  Even for me (as described in previous sentence) they represent a huge advancement for the sport.  Plus, I think this will help turn people onto cross bikes a bit more, when in the past they suffered from brake fear….or lack of them.  Anyway, onto Simon's build…..
3T Luteus Team fork is stiff and has loads of tire/mud clearance…
Chris King external lower for the tapered 1.5 to 1.125 (1 1/8") fork to  keeps things tight up front….
Avid BB7 mechanical stoppers with 160mm rotors are the common choice this year….
Again, Avid BB7 mechanical disc for the rear…ISO mount, 135mm axle spacing, with a POST mount coming after Jan. 1
Yes, you heard it here first.  Starting on January 1st we will be ready to go with POST mount disc mounts on Moots Mountain frames and Cyclocross frames…until then….ISO as standard.  No more adaptor needed!
No cantis….solid housing thru-stops for the next step hydro lines…yes, they are coming.
Clean lines of the rear ….note shift thru stops for solid housing….
Simon found a left over PX RSL top tube (note squish) to add to his mutt-bike.
Clean groove cable routing on the 3T fork…
Good clearance with the larger tire on a Stans Crest Rim……Psychlo X & Psychlo X RSL can be order with or without the chainstay bridge.
If green is your thing…..Simon ordered a one-off set of green decals….
Simon added the 3rd H2O bottle for those long Northwest Colorado dirt road outings
It's a nice build for sure and we will only see disc for Cyclocross get lighter and move to hydraulic versions in the near future. Knocking a couple of pounds off this would be pretty easy…well, maybe not on the wallet.
It's that time of year again, no not Cyclocross (but yes it really is that time too), but it's time to think Winter and SNOW BIKING.  For the second year in a row,  Moots will be offering a limited run of Moots "FROSTI" snowbikes for the fast approaching winter season.  The leaves  are changing and the cooler weather is just around the corner, which means the snow is not far away.  Moots will be making a run of these fat-tire-cold-weather-loving-bikes in our stock sizes listed below.  It's time to commit….ride your favorite single track covered in snow or make that trip of a life time to the Northern latitudes and get hooked on super fat tires.
Some of the story:
Several years ago Moots began to experiment with snow bikes, because well,  we live where snow is king for a large part of the year and we wanted to see what we could build to get around on the packed out trails that litter our town.  We started by building a few of these machines for our good friend and snowbike racer Mike Curiak.  From there we built a few for the inside guys here at Moots, morphing what we had learned and following what was quickly dare I say …a standardization of snow bike parts? We also built a show worthy version that made it to the North American Handbuilt Show in Portland Oregon.
Last year we offered our very first production run of this rare breed and saw a boom not only in our "local" snow bike scene, but across the country the super fat tire revolution is underway.
So if you love riding packed snow trails during the dead of winter, we are ready to make you a Moots FrosTi.
The specs of the bikes:
Retail $3975 (frame only)
Specs:
–44mm HT
–100mm bb
–170mm rear spacing
–standard dropouts with replaceable der hanger
–single curved DT
–geo designed for Salsa Enabler rigid fork
–also suitable for 80mm 29er fork for summer use
–curved TT on 3 smallest sizes
–30.9 seat post
–160mm rotor compatible
–through guides for full housing for ders
–4 stock sizes:
16"=22" TT  (all top tubes measured effective)
18"=23.5" TT
20"=24.5" TT
22"=25.5" TT
Custom: No, stock sizes only.
Options: 3rd h20, upper/lower eyes,  colors
NOT options: YBB, Slider, Couplers
Special: Will require a direct mount front der and direct mount adaptor (Problem Solver, Salsa)
3.7 tires max
will need a 100mm bb shell crankset (Surly Mr. Whirly or e13)
Program: Orders must be placed along with $1000 non-refundable deposit through your local Moots dealer by November 1, 2012.  Delivery by Dec 15th, 2012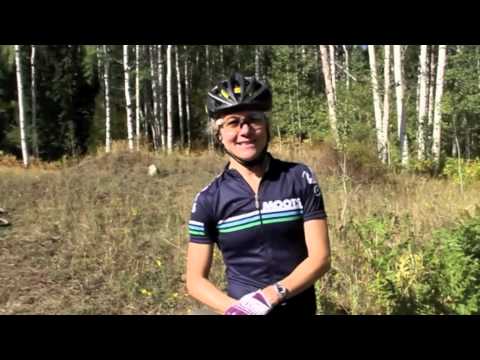 We caught up with Kelly Boniface last week on the trails of Emerald Mountian here in Steamboat Springs.  Kelly has had a long season on the mountain bike with some great results along the way.  She looks to cap off her season with a trip to Marathon Nationals in Bend, Oregon September 15th, followed by some great Fall riding around the area.
Thanks to Kelly for a great season of flying the Moots flag!
GrassMoots rider Dave Gensch got out this last weekend for a Psychlo X adventure ride. Dave is based out of Carbondale, Colorado which leads to riding options more than the mind can imagine.  He write's …..
"The Creek Loop"
Many miles of dirt, exciting single track, some pavement, a good friend, and Cross bikes…A Sunday well spent.
Starting at 6:15 a.m. Darin and I ride from our collective doorsteps in Carbondale, up the ranch road to the start of the Prince Creek single track.  The cool crisp air brings a freshness that hasn't been felt since the last spring freezes. Autumn is here.  Summiting the divide, the Blue moon, a few days waning, sets in the west as the sun rises through the stubborn monsoonal clouds left behind from the night before.  Mount Sopris sits closely on the Southern horizon and the ride unfolds before us.
The next 30 miles covers mostly dirt back roads through lots of stunning ranchland, and rises and falls along the base of the Elk Mountains to the base of Snowmass Ski Area.  A steep climb takes us past the archeological site of the Mammoth fossil discovery, recently shut down to continue excavation at the site for snowmaking…Really  Then up to the top of the Rim Trail.
With in seconds we find ourselves helplessly laughing as we test the edge of control on the super fast single track and the Cross set up.  My new Psychlo-X rallies hard and sticks corners that I think for sure, aren't going work out.  Climbing up the steep shale is physically tough but feels faster than a mountain rig.
After more giggle inducing and sideways sliding downhill, we hit the pavement for the next 20 miles and start up the Cattle Creek hill in the heat of the day.  The climb is relentless and rewards us with a, Pavement Ends sign.  Now on the other side of the Roaring Fork Valley, we ride up Coulter Creek and into Spring Valley. The north-facing valley where we had been only a few hours ago, is now getting drenched in rain and we ride on through the picturesque valley.
A steep, hairball dirt road spits us back onto the valley floor and on to the bike path.  Ten miles to go, but in good Belgium style, we stop off for some "recovery" suds to enjoy on the path home.  The viewpoint, now our furthest point West on the ride, picture frames most of the 91 miles we road and we cheers to a Sunday well spent.
You can check out the ride data here: THE CREEK LOOP
The bike that took Dave there and back: