Our GrassMoots Northwest stand our Patrick Wilder came to visit us over Fathers Day weekend in June and brought his Father.  He followed up recently with some thoughts and insight to what matters most to him….The PROest Pro…..he writes:
Ever since I read these words I've been thinking about the PRO-est PRO I know.
I didn't grow up with World Champion Cycling pedigree, but nevertheless my dad evokes all things PRO.
There are times in your life you can remember crystal clear.  That day for me was the fall of 1986…..sitting in Mr. Montarbo's history class.  The phone rings and Montarbo tells me I'm summoned to the office.   No explanation, just report to the office.   You know the drill walk of shame, peers jeering, fingers pointing.  I report to the office and to my surprise my dad is standing there.  My mind is racing I'm trying to figure out what the heck I've done.    Dad tells me he's come to pick me up from school.  School is done for the day, grab my stuff.
We jump in the Chevy pickup, Chevy family and head downtown.  Dad pulls into Bikes Etc on Tehema Street.   In my high school years Bikes Etc. would go on to cater to the skateboard crowd but in 1986, the era of RAD Bikes Etc was still all things BMX.
Don't get me wrong I loved the Univega with gold ano everything, but when dad told me to go ahead and pick out any bike I wanted the choice was easy- The GT Mach 1.
The same bike I'd go on to win my first BMX race on.  The bike I'd learn from dad about the importance of manipulating gear choices for different tracks.   Countless hours I'd spend on that bike.
Fast forward 25 years.  In April I surprised my dad with a break from the grind.  I arranged to meet dad in Denver Colorado for Father's Day weekend.   Together we made the trip across the Great Divide and into the valley of Steamboat Springs for a trip to Moots factory.    25 years later I returned the stoke to the man without a doubt is the PROest PRO I know.
~Patrick
With little to no water in the state of Colorado this year, most of our 4th of July fireworks shows did not happen.  Dusty trails, rivers at record lows and fires breaking out everywhere all things considered, it was a good call.
However, one fire works show did go off in Breckenridge….the Fire Cracker 50, which is held, yes on the 4th of July.  Two laps of a 25 mile course, with much of the racing taking place at 10,000 feet of altitude or more.  That will make you see stars for sure.
Our action hero Pro Mountain Bike racer Kelly Boniface has featured on the podium for the past 3-4 years.  8th, 5th, 3rd…and this year a 2nd! She's moving up the steps of the boxes nicely.  I had the chance to talk to Kelly on Wednesday just after she had put the bike in the car and was headed off to a week long family vacation and mid-season break off the bike.  She was super up-beat and for the most part her race went to plan.  Follow Gretchen Reeves and be there in the end.  Well, she managed that and if it had not been for a flat tire fix and a cart-wheel crash down the Flume, she might have just got that top step.
Super stoked for Kelly….que the Katy Perry.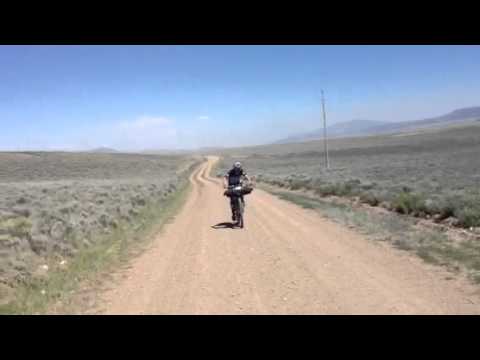 Over the weekend Tracy…aka "The Girl on the Moots" found herself pushing through snow high atop a pass in Montana.  Did she ever think she would be where she is? Not really.  Talking to yourself while off trail has much to be desired as it turns out.
Tracy writes:
In Whitefish the guys at the bike shop predicted there would be snow on Richmond peak ; so as I got closer I prepared myself. Let me tell you…I had no idea… I was a babe in the woods. When i got near the pass the cue sheet said turn left and follow single track around Richmond peak ….so I turned left. The single track was in the thick of bear country so I turned up the volume and frequency of my voice. The trail began to close in and get snowy, I began to get nervous and ….more nervous. I worked my way around the mountain side talking loudly and pushing in knee deep slushy snow and getting … Nervous. As I made the turn around the mountain I entered a huge, vast, expansive valley full of …. snow, lots of snow. And lots of trees hiding bears-with-cubs and mountain lions. I started talking like there were two people (I thought that was a pretty good strategy)
"hey jack"
"what?"
"get the chain saw"
"why?"
Then later ….
"hey jack"
"what?"
"get the shot gun"
…. That one made me feel a bit better. I must admit I DO NOT like being part of the food chain.
My head was down, it was hard going and then ….I noticed I was off trail. I was walking in the mountains, alone, off trail and did not know where I was. You guys had more of a clue than I. I looked into the vast wilderness in front of me and the endless valley leading in both directions away from me and my conversation slipped into this.
"Oh Tracy you have done it this time".
Then I mimicked myself (hand on cocked hip, mousy voice)
" I want to find my limits".
Then I asked myself
"have you found them? Huh? You are in the thick of grizzly country in a vast valley and you are lost!"
"Have you found your limits?"
I yelled ….
"I do not like this!"
All at the top of my voice. With great ,let me tell you, GREAT relief I found my trail. I went back to the jack-get-the-chain-saw-or-gun conversation. When I finally got out of the snow I celebrated with wine and cheese (Gatorade and three day old cheese sticks). I was elated.
READ MORE: TRACY BURGE