Spring 2012. The season that follows Winter, which in this case the Winter that was not.  We've had a lack luster snow season this year (which is fine with me personally) and I figure after living in one of the snowiest places for around for 20 years, I pretty much hoped for it.  Enough so we could ski and feel like the seasons changed from fall to Winter, but not so much we have to live with it until August.
As we wait for our mountain bike trails to peek out of the minuet snow banks we are busy getting in our base road miles.  We are lucky to not live in a dead-end canyon resort area here in Steamboat, so this gives us a multitude of road routes available to us.  Go a little deeper and the dirt roads that spur off of the pavement are even more abundant.  These dirt roads like those in other parts of the country can be tackled on road bikes with a slightly bigger volume tires for comfort and flat protection. The feeling of turning off the pavement and onto the dirt while gliding along at 20mph is pretty amazing.  For me the dirt is loose enough to require more attention in the corners and smart line choices can be the difference between a flat tire and dented rim.  It's a good way to move progressively towards complete mountain bike season before the single track is open.  Handling skills….learn some.
The bike you see here is a standard Psychlo X ….and really it's an older model frame that is the Psychlo X SL, which used a 6/4 butted front triangle to save weight and not detract from stiffness.  I love this bike….this season it became my road bike as well.  I've decided to fore-go a traditional road bike this year (so I can upgrade my cyclocross stable) and stick to riding this in group rides, gravel grinders, road races….pretty much anything you would do on a normal road bike, with the ability to swap out several different wheel sets depending on the route of the day.  23c tires…got 'em….27mm….check….33.333 Jack Browns for the nastiest gravel you can find?…love 'em.  I'm ready with the "Swiss Army" bike…..
Tools…Under the saddle I'm running a Rapha Tool Roll.  It's a great way to carry a tube, patch kit and multi-tool.  As the name implies, your supplies roll up into the canvas (no zippers to fail) and is attached to the saddle rails via a leather toe strap.  Remember those? L-E-A-T-H-E-R. This way I can fill my jersey pockets with food, phone and jacket if needed.
I'm running standard road gearing…53/39 with an 11/26 cassette.  I have a compact crank that I can install for the steeper-longer-looser climbs that will open up in the high country as the snow recedes.
Air…I prefer a full length frame pump if I happen to flat.  I've done the Co2 thing and find it a bit wasteful….I've done the mini pump way and find them frustrating…so I settled on a nice Topeak full length pump under the top tube….more times than not I find I'm the guy on the ride that provides the pump because the others are using the other two options.  They use the pump and say "wow…gotta get one of those"…..I say, yes you do….
Drink….Another item on the bike I'd like to point out….The water bottle cages…Titanium King Cages.  Really you can't find better than these.  Hit a cattle gaurd at 30+ miles an hour….you bottles will still be with you.  Very important in our part of Colorado where planning your water stops can be tricky as we don't have 7-11′s or even houses for miles at a time.  Never fails that during a dirt road ride, someone in the bunch will loose their bottles, lids come off and all of a sudden you are down a full bottle. Can you have some of mine? No. Buy some good cages. Mine are blasted to match the finish on our frames….and I'd share if I had too.
Tires….At the moment I'm in love with the Challenge Pargi Roubaix clincher.  27mm of pure ride quality.  I run them around 70psi, which keeps me from bouncing off the gravel so much.
Fork…Simply put, I am very fond of the Moots Psychlo X Carbon Fork.  It provides a ton of clearance, stiffness and sex appeal…not to mention spending time on it during the "road" season on pavement really gives me a pure sense of feedback on the good job we did designing this unit.  Marketing smoke and mirrors…not here.  This fork rocks.  A funny side note about the fork….I choose to run the traditional under-the-stem brake-hanger for my front brake, which leaves the hole in the crown open….I've noticed that at a certain speed and if the wind is just right it makes a whistling sound at exactly 21.8 mph..no more, no less. Chris King Headset…enough said there.
Cables…This summer I am experimenting with the newer Gore Cables.  If they hold up all summer, they will be on my Cross rigs for next season…so far they are the smoothest feeling cables I've ever had.  More miles will will be the test of time and neglect.
So, that's it for what I'm riding.  Next time around I'll grab another bike from the rack out front of Moots and show you what someone else is riding here at the shop.
How about you? What are you ridin'?
News Flash!
Check it out – our newest product, Kid's Pajamas.  The GAP Kids product team was so kind as to take it upon themselves to design and sell this wonderful Moots Wheelie Gator all-over-print pajama, oooops, I mean Dino BMX pajama (not sure how we could possibly confuse them) in all of their stores and on its website.  It's wonderful to have business partners who do such great work and don't even ask for compensation.   We're thinking that they are really just very busy and were planning on getting around to talking to us about doing a line of kid's clothes, together.   We'll give them some time.  After all, great things take time to develop.  And, this could really be great.  Our brains are going crazy with ideas; the obvious gift-with-purchase of any Moots bike by a Mom or Dad with a young child –that's a no brain-er. What about après-ride wear? Or three-pack boxers, or lingerie for all of our female owners.   Oh, better yet, a onesie shop suit – hmmmm Moots factory uniforms?   This opens up huge opportunities as we won't be challenged anymore by large minimum requirements.  But the really big one we're drafting a strategy around is bringing The GAP into our family of Authorized Moots dealers.  We're seeing dedicated Moots in-store concept shops in its flagship stores and a scaled down version in all B-level stores. What could be better, shop for some denim, a few flannels, some socks, lingerie, color tees and a MootoX RSL.  With all of their longstanding knowledge on fit, they should be able to sell high-end bikes easily.  We better start ramping up our capacity – we may finally hit the big time.  In the meantime,  you better get your kid's PJ's in a hurry.  We hear they are selling fast.  And, something tells us they may not be available for too much longer.
Also a feature of the new line is the GARANIMAL style tags to make sure you match your styles & colors of other Moots apparel….we can't have you out there looking bad now can we?
Yesterday we celebrated a little here at Moots.  We were named one of Colorados' Companies to Watch!  An honor that each and everyone of us here at Moots is very proud to be a part of.  Well thought-out product, hard work, smart decisions and a dedicated staff made all of this possible.  But just because we took such an honor means we are resting on our chamois's.  We'll be pushing forward to one up ourselves and continue to offer the best titanium bikes your money can buy.  You can read a little more about what the achievement means:
Moots has joined a select group of Colorado companies to be recognized as one of Colorado Companies to Watch.  This selection acknowledges the hard work, dedication and contribution of Moots as a growing company in the state.  Colorado Companies to Watch honors second stage companies that develop valuable products and services, create quality jobs, enrich communities and create new industries throughout Colorado.
Launched in 2009, the Colorado Companies to Watch program awards 50 companies annually.  Moots was a finalist in 2009.  In 2011, Moots was selected as a Colorado Company to Watch from more than 400 nominees.
Colorado Companies to Watch is different from other awards programs.  Because the program focuses on our entire state, and not specific industries, it provides an opportunity to paint a realistic picture of a true statewide economy.  Since applicants are evaluated on more than growth, it widens the playing field to companies not often recognized for the critical differences they make in their industry, their community, region and our state.
Moots cake!
Moots' President Rob Mitchell (R) takes one for the team!
As a long time bike junkie, I have always been fond of cycling publications that capture the essence of the sport.  Dating back to my BMX days when BMX PLUS! and BICYCLE MOTOCROSS ACTION ruled the roost….Oakley made grips and Tinker Juarez was getting rad in empty swimming pools on a Freestyle BMX bike.  Those days and years formed me as a cyclist.  Once into high school and college my interest turned to mountain biking and road cycling…a more refined and "respected" form of cycling. Those BMX days however, will always be with me.
A few years back the rumor of a Cyclocross spcific publication started to make the rounds….why not right? Mountain biking has had many, Road cycling has too many to count, so why shouldn't Cyclocross have its own dedicated magazine? Was it possible to print in this day and age of digital "gottta-have-it-nowness"?  Enter Andrew Yee and the good folks at CYCLOCROSS MAGAZINE. They stepped up and took a risk to bring us junkies a dedicated Cyclocross publication that covers what was once a "fringe" sport….similar to BMX in the late 70′s & early 80′s. For those of us that build Cyclocross frames to earn part of our living, (they are now much more than a 3rd or 4th bike in the garage)….. we thank them. They have helped expose our passion, our love and our craft to a new generation of cyclist, that in the end some of them will be the new wave of junkies, just as BMX once was for many.
Which brings me to CYCLOCROSS MAGAZINE ISSUE #16 (now on newstands)….. 2011 Editors' Choice Awards and Readers' Choice Awards.  Our very own Psychlo X RSL came out on top in both catagories of Editors' Dream Bike and Readers' Dream Bike awards.  We are honored to have these awards hot off the heals of NAHBS BEST CYCLOCROSS BIKE.
I personaly encourage you to pick up a copy, read it, pass it on…turn to page 16 in Issue 16 and learn what BMX can do for your skills….read about doing Cyclocross on the cheap, learn about frame builders and passionate fans.  It's really good stuff….it's just the type of magazine that might light your fire to get out there and ride more….gravel roads, commute, adventure ride or race….get after it!
The Moots Demo fleet hits the road
Moots Southeast Demo Days….
So, you have always wanted to ride a Moots.  Your local dealer doesn't have the model or size you are looking for…what to do? Well, in the next 10 days if you live in the Southeast portion of the country, you may just have your chance.  Our inside man Corey P will be piloting the Moots Sprinter van (loaded with demo bikes) through the region.  He has planned out 4 demo events with our dealers. (A 5th to be added once a time is nailed down).
Onboard the Moots van will be a selection of road, mountain and cross bikes.  Ranging from Mooto X Ybbs, Mooto X RSL's, Vamoots CR's, Vamoots RSL's and even the Psychlo X RSL for good measure. These are mostly 2012 models with top shelf components…Moots stems & posts, Chris King head sets…Sram drive trains.
Below are listed; dates, Dealers and times the demos will be taking place.  In order to assure a demo bike, we are asking for you to call ahead and schedule with the dealer to reserve a bike.
We hope to see you on the road!
Tuesday March 20th
Grand Fondo, Nashville, TN—-afternoon demos from the shop
Wednesday March 21st
MOAB BIKES, Franklin, TN—afternoon demos from the shop
Thursday March 22nd
Liberty Bikes, Asheville, NC—afternoon demos from the shop
Friday March 23rd
Franks Cyclery, Raleigh, NC—demo from 12 -5pm (please call shop for location)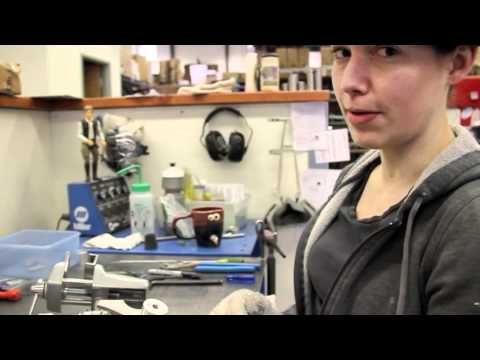 As we go to production of the MX DIVIDE & DIVIDE bikes we are shooting some bits as this moves through the production process.
You can catch all of our videos on our MootsYouTube channel if you like.
Bethel Cycle-Bethel, CT makes its home in a renovated train station.
Here at Moots we don't open new dealers everyday or even every week.  It's not our focus to be in every bike shop in America…we look for quality over quantity in our dealer base.  Just recently we added such a dealer. Quality, knowledgeable staff that is welcoming to cyclist of any type.  They know their product and they also ride a pretty big amount.  They are a fixture in the community….a hub if you will for local cyclists to meet, share stories and share rides.
Bethel Cycle hits these points and more.  They have signed on as a Moots dealer and now have one of our flagship Vamoots RSL bikes on hand to view and ride.  If you live in the area, stop in and say hi to Greg and the staff.  We are sure you will like what you see and hear.
We couldn't be more thrilled to have them…..welcome to the Moots family!
A Vamoots RSL at Bethel Cycle ready for a ride….
It's always nice to have shops on the look out for something special.  The wide aray of bikes that go through the work stand on a daily basis is amazing.  Wheat Ridge Cyclery in Wheat Ridge, Colorado had just such a bike roll thier way.  They sent along these photos of a Vintage Moots Mountaineer.  From my estimate it's about a 1984 vintage.  Love the blue color and pretty sure I might have worked on this rig when I worked at Sore Saddle Cyclery back in the day.
We have been fortunate to have some amazing GrassMoots racers and riders over the past couple of years. These racers span the country and really exemplify the Moots values and spirit.  This year is no different.  We'd like to introduce you to Jill Damman.  She lives in Park City, Utah and from our sources on the ground, we have landed one great person to represent Moots. Just reading through her blog and looking at the adventures she takes on makes me personally want to run out the door and get lost on my bike.
Jill rides and races a Mooto X RSL
Anyway, Jill has started off her 2012 race season and posted a great finish in the expert category in a xc race in St. George, Utah.  A nice way to kick start a long season of racing.
Check here for regular updates on all GrassMoots racers.
You can also go to Jill's Blog and learn more about her there.
It's March 8th already….time to ride and race!