This coming weekend the Cyclocross World Championships will take place in Koksijde, Belgium. Known for it's sand dunes, wind, rain and what looks to be a chance of snow this weekend.  There has been over 30,000 tickets pre-sold for the event…THIRTY THOUSAND! That does not count the at-the-gate sales…look to see 40,000 plus surround the course during the men's elite race.
If you have never seen Cyclocross take place on a sandy course, the 2011 World Cup (above) will give you an idea of what to expect. This is the course they will race Sunday.  If you have ever ridden a bike through sand, you know how power sapping it can be.  There is an amazing amount of technique required as well.  If you never have, go out and find the biggest sand volley ball court you can find and ride it.  Mountain bike or cross bike….try turning, try running…you'll get the idea of just how skilled these guys have to been to do this at this speed….to me…amazing stuff.
I like minute 19 in the hour long race above…Sven Nys riding the high line like he is on a motorcycle….while the others run….He's my pick for the big race….Nys, Nys, Nys…he's Versnellen (accelerating) listen for those words on Sunday…..it's coming.
If you are looking to watch Cyclocross Worlds live you can find live streaming links here: CYCLING FANS
A complete listing of start times can be found here: WK CYCLOCROSS 2012
I'll be up, coffee in hand, computer fired up, watching it all go down from here.
HUP HUP!
Dreamride in Moab, UT gives us the bike of the week…
Dreamride out of Moab, UT sent this little bit along…..Psychlo X RSL, track ends, Deep green paint single speed.  It is nicely topped off with a Moots RSL stem painted to match, Moots Cinch post & Brooks saddle.  Carbon hoops, Eno Crank and (gulp) a flat bar.  Very slick.
44mm head tube with Mr. Moots long for the ride!
The North American Cyclocross season goes running into the sunset…or stairs as it was..
We've unpacked most of the dirty clothes, washed up a few muddy bikes and for the rest of it….we'll just let it hang in the garage until the mud falls off on its own.  Cyclocross season came to a close for me on Sunday January 8th…just over 4 months after it started.  A good long season with plenty to be thankful for and plenty to bring me back for more next season.
Updated 1/17/12: The inside story to the issues I had during the race……so what happened?
I'm not a guy that would make excuses for my races.  I don't believe in racing that way,  plus I pride myself in having zero mechanical issues during races.  I take the "to finish first, you must first finish". Period. I'm of the old school Norba stance that you should be able to fix your stuff without outside assistance.  Of course Cyclocross we have the pit and that is part of the game.  There is some luck involved, but really you make your own luck on the race course. For  me the mechanical I had was my own doing…..lesson learned.
THE SKINNY:
The story is I started on the wrong tires (and I know better)…I had pre-rode the course on a Grifo tread and felt confident in them.  For the first two laps of the race they were fast, but the course was quickly going south.  A thin layer of mud on top of those beautiful ice ruts.  I decided to pit and take the bike that had the Dugast Rhino mud tires and instantly felt faster and started to close down the gap to Don.  However, my B bike had a suspect chain guard/guide set up and with the super bumpy ruts the chain would bounce out of the guide and wedge between the chain ring and the inner guide.  I had to stop 3-4 times with two laps to go to pull the chain out of the "stuck" rhymes with…never mind.  I finally got to the pit and went back to the other bike to finish off the race.
My mistake.  Lesson learned.
Still a great race……the day after the mechanic for Myrah came by and told me they thought I might have had him if for not the mechanical I had……but that is bike racing. It was nice of them to say and I'm really happy with 2nd…don't get me wrong….I hope to be back at nationals in 2013 and be towards the front of the race.
Finishing out the season at nationals was great…being in the hunt for the win was all I could wish for and coming up 2nd makes me think I have and know what it takes to be at that level again. As with every passing season of Cyclocross, I even learned a few things along the way…..
Some are a given…others are not:
– Family (they tend to be your/my biggest supporters) take care of them first, the rest is bonus.
– Tires….they need to fresh…they need proper pressure (I know all of this and didn't follow it)…don't skimp.
– Good Pit Crew….by luck I got Matt Pacocha from Bike Radar to be my pit man….none better….(should have listen to him on tire choice).
– Don't be stubborn…..(read line above again: tire choice)
– Travel with fun/good people (family or friends) Thanks to Michael Robson for logging 2200 miles round trip with me. Never a dull moment.
– It's bike racing….like Adam Myerson once said…"it's just stupid bike racing, you know,….but it means everything"……
– Drink that beer. Life is too short to live like a monk all of the time….have an adult recovery beverage now and then….it's okay.
–Don't stop riding a bike….duh.  As I age, it has kept me young at heart….
I'm sure I learned way more than that this year, but that is what pops out at the moment.  I've put together some other photos I took during the trip to Wisconsin….you can view them here on our MOOTSFLICKR if you like.
Until next time Cyclocross,….I will be dreaming of you and your mud, and snow, and ice and cuts and bruises and low pressure tires, and good smelly stuff I put on my legs and course tape I blow through and finish lines in the dark and so on and so on…..only 8 months til Vegas!
But who's counting?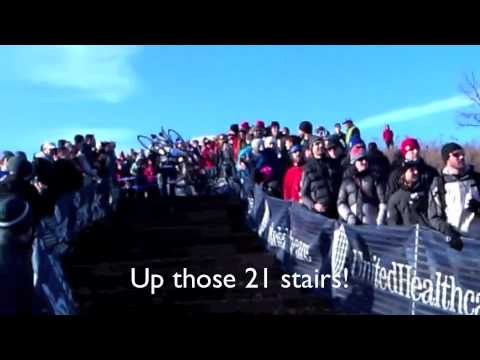 This short clip of the stair run up at Cyclocross Nationals comes to us courtesy of long time Moots friend Chris Setter.  He captured Jon hitting the stairs just behind Brian Hludzinski of Boulder Cycle Sport…who funny enough I've know for 20+ years and have battled countless times on the cross courses across the country.
Always good to be surrounded by friends.
HUP! HUP!
Silver medal in Wisconsin!
A quick update and thank you to all the folks of Madison/Verona Wisconsin for putting on a great event.  I had the luck/legs to fight my way onto the podium in my new age group.  Getting old? I don't feel like it…especially when you get to play in the mud like a kid. A great race and really makes me appreciate my family support and the support of Moots for my Cyclocross endevors.  It's been a great trip with many stories to tell.
One more race to close out/start the 2012 year.  Michael Robson & I will be lining up with the pros to fight one more time on Sunday.  Once the race and expo are closed we head home to our familes and get things cranking for 2012!
Thanks for all the well wishes and congrats! I am humbled
January in Wisconsin you say? Yes, I did. Fun in the Cold, wind and ice? Yes that too.  We are loading up the Sprinter van as Moots has so kindly put their support behind two of us wanta-be old-ish bike racers.  Michael Robson & I will be arriving on site sometime Thursday morning, give or take a bit.  We will be set up in the Cyclocross Nationals Expo area for the duration of the event.  We'll also be posting along the way on the Moots Facebook page and our great little Moots Twitter account. There might even be some video if appropriate for public viewing.
We are headed there to compete with the nations best and see where the chips fall.  It's new ground for the US cycling scene….Cyclocross nationals in January like the rest of the world. We made it through the holidays with very little weight gain and even had good weather to train. Hopefully it pays off.
If you happen to be a Mootsie (or not) and you are in the land of milk and cheese, please stop by the Moots compound.  We'll share what we have, and would love to meet you in person.
See you there!